Tableau Support Self-Help Resources
Learn more about all Support resources available to you.
Introduction
Welcome to the Self-Help Resources page where we will give you a tour of the different resources that are available to you for whenever you encounter a problem or have a question about the product.
Our goal is for you to feel empowered searching for the best resource that will resolve your issue. We want to help you find the answer to your question quickly, so you can get back to analyzing your data.
This page will also cover best practices about how to use such resources, why they are important to you and your peers, and how you can provide feedback on some of the content.
At the end of this page, you will find a success story and little "Did you know?" facts that might also be of interest.
Support Self-Help Resources
TABLEAU KNOWLEDGE BASE
Consult troubleshooting articles, product Help guides, whitepapers and more
+ The Knowledge Base contains tons of questions and answers as well as detailed product guides.
+ To see if a Knowledge Base article is translated, use the language drop down menu located at the bottom of every tableau.com page.
+ Feedback is important, especially when it is positive! If an article helped you, do let us know by clicking the Yes button at the bottom of Help and Knowledge Base content. We use this data and read the comments all the time.
+ Our team is eager to improve based on your feedback. Including any and all resources you have tried when reaching out to us will enable us to make more effective changes. For example, by providing feedback on a Knowledge Base article, you can ask for a little video-clip to be embedded, or a specific article to be translated.
+ When searching for a resolution/an answer, use the different filters located on the top and on the left of the search results pages, use different term combinations and refine your search query.
+ If you encounter difficulties when searching, visit the Search Tips and Tricks page for help as you may be using special characters in your query, or you might be searching for a very long error or too generic message (such queries will impact the search results).
TABLEAU COMMUNITY
Raise and answer questions to become an active member of the Community
This is where the Tableau Community members help each other in a friendly and respectful way.
+ Search for previous questions first as someone has likely run into the same issue as you have.
+ Create a new post to ask for help and ensure to always add your workbook, the full error message and the steps you have tried. This will help product experts narrow down the issue and help you faster. The Community is composed of skilled contributors (including product experts like Tableau Visionaries) who know the product inside out.
+ When someone's response resolved your issue, please mark the reply as Correct or Helpful so that it can help future readers too.
+ Answer questions if you know the answer, check out the unanswered questions and grow your reputation on the forums by earning Points, Levels and Badges
+ Vote on existing, or create new Product Ideas to help the Tableau team drive and deliver product innovation.
+ Become a data rockstar by following the Think Data Thursday User Group, or join your local user group!
---
TABLEAU TRUST
Tableau Cloud environment info
Tableau Trust can be a good resource for you to check before contacting Tech Support about an issue that affects Tableau Cloud or Tableau Public.
+ Go to trust.tableau.com to see if the status of a specific environment is degraded, interrupted or under maintenance.
+ This information is available for both Tableau Public and Tableau Cloud.
+ To view specific information, click the Incident history link.
+ Use the Subscribe option to get notifications to receive updates on incidents.
TABLEAU SUPPORT HUB (SERVICES, FAQS AND MORE)
Take a tour of the Support Hub to view practical information
+ Pay attention to Alerts banners at the top of the page, they contain important information about current hot issues or communications you need to be aware of.
+ Browse through our different resources: Drivers, Release Notes, Known Issues etc.
+ Consult our different services and Support FAQs for details about our offerings for Technical Account Management, Training, Consulting etc.
+ When searching, best practice tips include: refining/using different word combinations, using the advanced filters and using other sources (like the Community, Learning, or All web sections). Visit our Tips and Tricks page if you encounter difficulties when searching.
+ When a new major release is launched, the following pages contain information about upgrades, compatibilities issues, deprecated/new features overview, and many more details: Tableau Desktop Upgrade, Tableau Server Upgrade, Tableau Hyper Resources, and many more.
+ If you notice anything wrong on any www.tableau.com/support page– report it/email website-content-support@tableau.com to let us know.
TABLEAU TWITTER SUPPORT
@TableauSupport is also on Twitter
+ Follow us at https://twitter.com/TableauSupport to get updates on Tableau Cloud availability, trending Technical Support issues, popular KB articles, and Community news!
+ Talk to us for simple questions.
+ Or go ahead and share your own tips and tricks with the rest of the Twitter Community! Use #TableauTips and tag us! We will retweet a few each week!
A Self-Help Success Story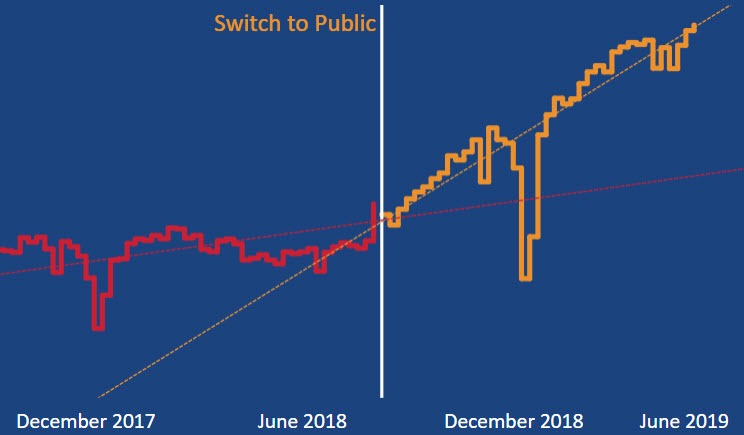 More than two million video views thanks to your feedback.
The Knowledge Base contains more than 155 silent HowTo videos in its library. When these videos launched back in 2016, they were published as Unlisted on YouTube and remained like this for about two years. Over that time period, they accumulated about 800k views. Since August 2018, these videos are now "Public" and can be searched and found via your preferred search engine. Since this switch, the videos have reached more than 2M views!
Go To Our Knowledge Base Success Story
Did you know?
Our tech experts also use the above Self-Help resources for support during Tableau Doctor sessions during Tableau Conferences.
Tableau's website search uses machine learning to provide the best results to your search.
Every article you read in the Knowledge Base has helped resolve at least one customer issue! Since 2013, Tableau's Support team has used the Knowledge Centered Services (KCS) methodology to create and share knowledge.
The Having Trouble page will help you report website issues, non-product issues, fix videos that do not load. Access it at https://tableau.com/having-trouble, from the sasquatch page, trial page, free learning videos etc...