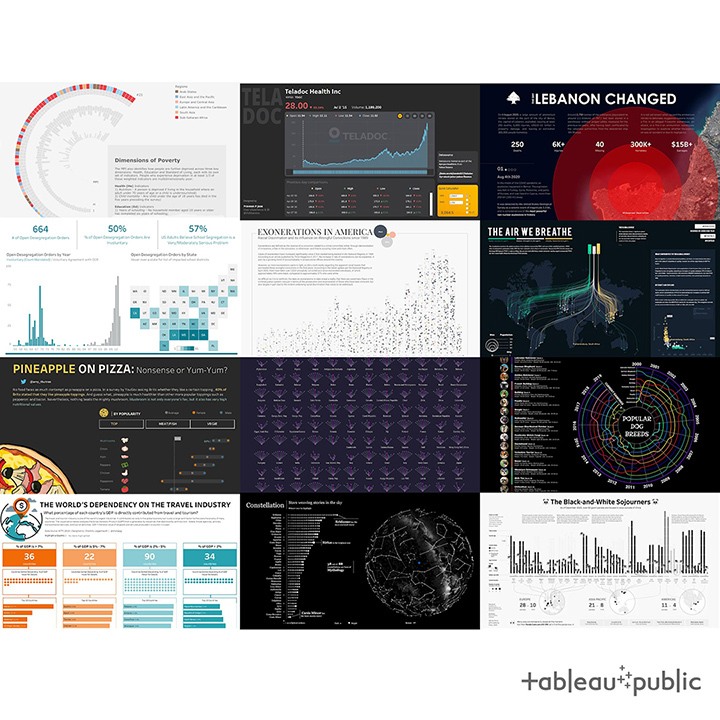 Find inspiration and improve your data skills with Tableau Public
Tableau Public isn't only a free platform for visualizing public data, it's also where the Tableau Community can find limitless inspiration and learn from one another, but don't just take our word for it. Hear from Tableau Zen Master and Tableau Ambassador, Chantilly Jaggernauth, on how Tableau Public has impacted her life both personally and professionally.
Watch Now
Tableau your mind. Daily.
Sign up for Viz of the Day, for your daily dose of creativity from the Tableau Community
View the latest and greatest from Tableau Public
Check out these community members for inspiring visualizations
Following Tableau Public authors helps you discover new topics, visualization ideas, and community activities. Get started with our Featured Authors, a group of hand-picked data rockstars.
Alexandria Heusinger
Alexandria was first introduced to Tableau through an Accounting Analytics course taken as an undergrad. She was very intrigued when she found out that data visualizations were used in the accounting field quite often so she wanted to dive deeper into data visualizations, which she was able to do through the Millennials and Data
#MAD4
Program. Alexandria joined Tableau Public in 2020 and her favorite part about being part of the community is being able to look at other creators' vizzes and see how they interpret data on any topic. Alexandria looks forward to creating more vizzes and sharing them with the Tableau Public community! Feel free to connect with Alexandria on
Twitter

Opens in a new window.
or
LinkedIn

Opens in a new window.
.
Allison Wright
Allison is a Tableau Certified Desktop Specialist and graduate of the Millennials and Data program in December 2020. She first discovered Tableau in 2016, and following a long hiatus, has become an active member of the
#DataFam
via Twitter and on Tableau Public. She is constantly being inspired and motivated by everyone's content and the community, allowing her to continue growing throughout her visualizations. She currently participates in the
#MakeoverMonday
challenge and intends to also participate in
#Viz5
,
#VizforSocialGood
,
#WorkoutWednesday
, and
#IronViz
. Feel free to reach out to Allison on
Twitter

Opens in a new window.
or
LinkedIn

Opens in a new window.
!
Dhruv Popat
Dhruv is a Business Intelligence Analyst at Blend360 in Maryland where he develops intuitive modern business dashboards. Throughout his journey, these past couple of years, he has kept exploring the Tableau Public platform both to draw inspiration for work and to contribute back to the community. He highly recommends following the
#MakeoverMonday
and
#WorkoutWednesday
challenges to improve the design and technical skills that would help you develop ideal dashboards. He has attended several Tableau User Groups (TUG) and keeps learning more about the tool and its use cases for a professional setting. He recently showcased some of his visualizations and shared his experience with the Tableau Public community at one such (TUG). He has created several topical dashboards that relate to one's social well being. When he is not vizzing, he is either reading business articles, watching soccer, or working out. You can connect with Dhruv on
LinkedIn

Opens in a new window.
and
Twitter

Opens in a new window.
where he posts about visual best practices regularly.
Dzifa Amexo
Dzifa is a recent graduate from Mercy College who was introduced to Tableau through a class at her university and was instantly fascinated! She loves Tableau Public because, like food, it allows people from all over the world to be connected. She is a Tableau Public Ambassador and has been active on Tableau Public and in the #DataFam since early 2020. Dzifa credits her growth over the past year to the community and is a supporter of the inspiration, learning, and creativity it fosters. She enjoys creating visualizations as a hobby on various topics such as pop culture, social issues, and diversity. Get in touch with her on
Twitter

Opens in a new window.
and
LinkedIn

Opens in a new window.
!
Garima Anand
Garima is a Visual Analytics Consultant at Decisive Data where she builds dashboards using Tableau to generate insights. Inspired by Hans Rosling's dramatic flair at showcasing data visualizations using world health data, she started using Tableau last year to create her own data stories by participating in community viz challenges like
#MakeoverMonday
and
#IronQuest
. She has also been documenting her learnings via her blog on Medium and loves to engage with the
#DataFam
community on Twitter. Her favorite part about Tableau public is the ability to view so many interesting visualizations and perspectives using Viz of the Day. She recently completed her Tableau training at Millennials and Data, (
#MAD4
cohort) under Zen Master Chantilly Jaggernauth. She loves to viz on social data topics that involve helping the underdeveloped communities across the world be heard. Get in touch with Garima on
Twitter

Opens in a new window.
or
LinkedIn

Opens in a new window.
.
Jahi Hamilton
Jahi is currently a student at the Howard University School of Business. He came into contact with
Millennials and Data
through school, which is what led him to discover Tableau. Upon discovering Tableau, he was thoroughly impressed by the creativity and skill of data analysts around the world creating visualizations, which lit a fire in him to begin working on this new craft. His favorite part of Tableau is seeing how community-oriented the platform is, with so many people coming together to unite on a shared passion. Jahi believes in making dashboards visually appealing in order to make interaction with the data an enjoyable experience. Feel free to connect with him any time on
LinkedIn

Opens in a new window.
!
Janee' Pridgen
Janee Pridgen was a complete novice to Tableau, with limited exposure before winning a scholarship to
Millennials and Data
, where she was awarded "Most Improved" student. Previous to that, some of her work in analysis includes Learning Development and talent pool management with HR in the hospitality industry where she used Excel dashboards. So she decided to up her game and learn about the power of data visualization. The Tableau Public community has truly provided inspiration and challenges which have allowed Janee to remain current with trends and new ways of organizing data. Janee's
LinkedIn

Opens in a new window.
profile can be found here.
Nia Hill
A 2020 graduate of Howard University, Nia is currently pursuing a Master of Science in Nonprofit Management at Columbia University. Her participation in
Millennials and Data
helped her realize the power of data visualization. Thus, one of her favorite parts about Tableau Public is being able to see thousands of design styles. Although she has only been on Tableau Public for a few months, if she ever needs inspiration as to how to tell the story of data, she usually goes to Tableau Public. Her favorite topics to viz about are the impact that nonprofits have on communities and data relating to Chicago, her hometown. She hopes to leverage her experience with Tableau later this year as she begins her career as a management consultant, as well as within her fledgling nonprofit, which aims to provide resources to those who were formerly incarcerated, such as transitional housing and job training. Feel free to connect with Nia on
LinkedIn

Opens in a new window.
,
Twitter

Opens in a new window.
or
Instagram
!
Sanaz Jamloo
Every dataset has stories to tell, and Sanaz appreciates the power that Tableau gives her to unveil the hidden stories behind datasets aesthetically and creatively. Sanaz previously worked as a data analyst at the office of Governor Newsom, State of California. She started her Tableau journey in 2018 when she learned Tableau as part of her Database and Data Analytics program at the University of California, Santa Cruz. She also joined
Millennials and Data
online course in the summer of 2020 to further expand her dashboarding and information design skills. Sanaz wants to get her Tableau Desktop Certificate this year. She sees the Tableau Public community as a reliable and inspirational resource for her data visualizations and believes that effective dashboard design is both an art and a science, and when used appropriately, it has the power to make a change in the most meaningful ways. Her favorite data visualization topics are civic and government data, social and climate justice, and gender equality. Connect with Sanaz on
Twitter

Opens in a new window.
and
LinkedIn

Opens in a new window.
!
Seema M. Rathod
Seema is a Data Analyst at the Massachusetts Department of Elementary and Secondary Education and is part of the Student Assessments team. She started using Tableau three years ago and began creating vizzes in fall 2020 as a member of the
Millennials and Data
#MAD4
Cohort. What she admires the most about Tableau Public is that it can help democratize the use and analysis of complex data without the need for data gatekeepers. She is constantly inspired by the vizzes and the support that the
#DataFam
offers. She is passionate about working to bring educational equity and quality in K-12 schools and gets very excited whenever she sees or has the chance to create a viz related to the field of education. Connect with Seema on
LinkedIn

Opens in a new window.
and
Twitter

Opens in a new window.
.
Sharon Acquah
Sharon's first introduction to Tableau was during her graduate studies where she is focusing on health informatics and data analytics. In the Fall of 2020, she was part of the
Millennials and Data
cohort where she deep-dived into how to effectively use Tableau and began the journey to become a certified Tableau Desktop Specialist. Sharon aspires to use data visualization and storytelling to help impact health care delivery. Tableau Public has become an inspirational platform for Sharon where she is able to see the amazing work of the
#DataFam
community. You can connect with Sharon via
LinkedIn

Opens in a new window.
or
Twitter

Opens in a new window.
.
Simran Gera
Simran is a student at George Mason University majoring in Information Systems and is a Data Warehouse Intern at GDIT. She recently became passionate about data visualization after participating in a business analyst boot camp and completing the Tableau Desktop Specialist certification. Tableau has enabled Simran to explore her artistic side, and she is so grateful that she discovered it at a networking event. After creating a Tableau Public account, she became inspired by the Tableau community's creativity and inclusivity. Simran hopes to become more involved with the community by participating in the
#MakeoverMonday
challenge and other community initiatives. So far, she has primarily created business visualizations but is excited to explore new topics such as animal rights and climate change. Connect with Simran on
LinkedIn

Opens in a new window.
or
Twitter

Opens in a new window.
!
Stephen Skinner
Stephen is an independent Analytics Consultant and refers to himself as a 'visual data architect'. With an emphasis on design thinking, his practice is at the intersection of advanced technology, information design, and visual communications. With a background in architecture and design, Stephen spent his early career doing 3D CGI and data visualization in the US and Europe. Stephen is passionate about viz, analytics, cartography and loves visualizing large spatial datasets. He started using Tableau in 2019 as a project solution to visualizing real estate datasets. Tableau Public is a must-have resource for Stephen and he uses it for inspiration and collaboration. A former CIO who is certified in Tableau and an active member of the global
#DataFam
. He serves as an Ambassador for
Viz for Social Good
and is a member of the Data Visualisation Society and the ACM Siggraph 'Pioneers' group, recognizing his significant early work in 3D computer graphics.
Syeara Dunlap
Syeara Dunlap is a junior, majoring in Marketing at Howard University. Outside of school Syeara is building the brand of her own businesses and creative projects. Learning Tableau has allowed her to express her creative vision within business. As a new member of the Tableau community, Syeara has grown to love the support and information given from the community. As she continues to find her Viz voice, entertainment and science vizzes really catch her eye. Syeara most recently participated in an annual school drive called "Cutting Back to School'' which is an initiative that supplies free haircuts and school supplies to students. As she prepares to finish strong in her 2020-2021 school year Syeara invites you to follow her on
Instagram
and check out her
podcast
.
Varun Goenka
Varun graduated with a Master's Degree in Information Systems in December 2020 from the University of Maryland. Coming from a non-designer background, Tableau Public helped him to see other people's amazing work and get inspired by them. He had used Tableau a couple of times in his internship but realized its actual potential when he started learning in the
Millennials and Data
boot camp in September 2020. He also enjoyed taking part in the
Iron Viz: Student Edition
and was impressed with how Tableau is engaging with students for them to learn and use the tool. He is a huge fan of the Tableau community and how helpful and supportive they are. He hopes to participate more in
#ProjectHealthViz
and
#IronQuest
challenges in the future. Feel free to contact him on
LinkedIn

Opens in a new window.
and
Twitter

Opens in a new window.
.
Featured Tableau Public Vizzes
See the latest from Tableau Public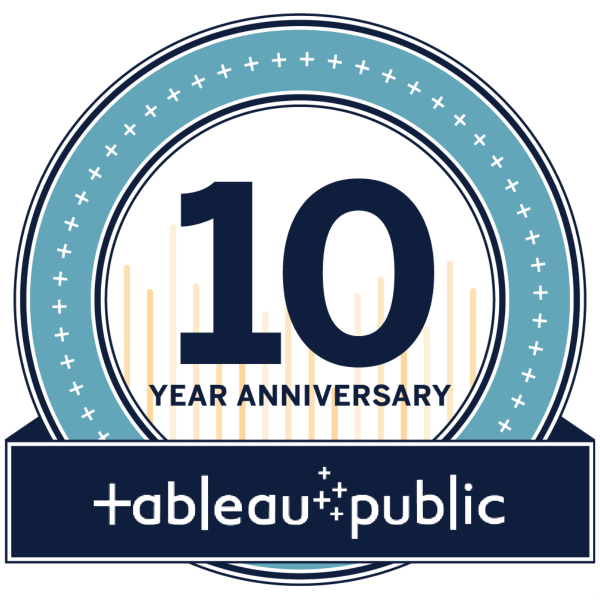 Get involved to make the most of Tableau Public