Data Doctor Implementation Toolkit
How to implement a Data Doctor program in your organization
Empower your organization's community of Tableau users with a Data Doctor program— a peer-to-peer solution that gives them the opportunity to learn from and support each other. A Data Doctor program helps your data enthusiasts remove each others' roadblocks and learn best practices, all by leveraging volunteer Tableau experts from your own organization.
This toolkit will help you implement a Data Doctor program, wherever you are on your journey toward a Data Culture. The Data Doctor program builds on your data community foundation. Take it even further with other options outlined in Tableau Blueprint.
How to use the Data Doctor toolkit
This toolkit lays out simple but effective instructions for building a Data Doctor program in your organization. It contains 3 options, each adapted for different sized teams and the maturity of your community. All options contain specific recommendations on how to build, run, and expand your program (and how to mature when you've outgrown a particular solution!)
Option 1 - Chat channel
Create a chat channel as the go-to place for your Tableau users to connect and ask questions. All chat channel members can help other members whether they are an expert or just getting started.
Low effort to implement
Low maintenance
At least 1 Data Doctor needed
Option 2 - Office hours and appointments
Engage your internal Tableau community to drive higher Tableau product usage, reduce the number of IT tickets created, and connect in one-to-one interactions
Moderate effort to implement
Weekly maintenance
At least 2 Data Doctors needed
Option 3 - Add a Data Doctor practice to your Tableau events
Raise awareness, generate excitement, and connect with your community during Tableau Day events multiple times a year.
High effort to implement
Dedicated time needed to plan and execute, with at least 10 Data Doctors needed
Resources
Jumpstart your implementation by downloading resources for each Data Doctor option, and read more about driving a Data Culture in your organization.
Option 1 - Chat channels at scale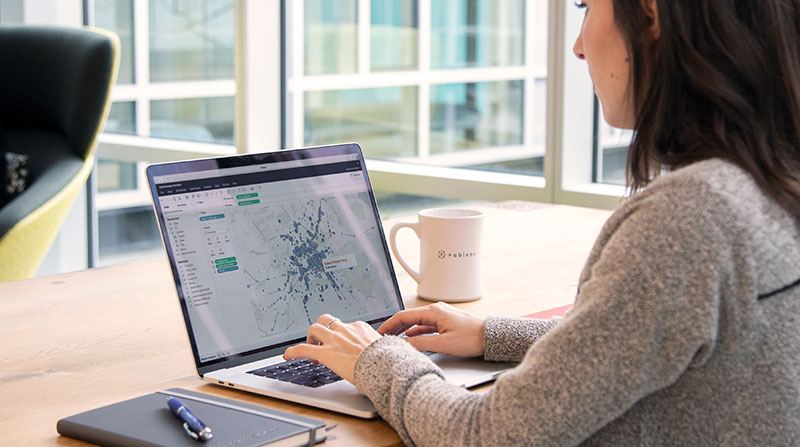 Start small with a few simple chat channels for your community of Tableau users, giving them a common space to ask questions and get answers. Chat channels centralize questions and enable all users to help each other troubleshoot, no matter where they are around the globe or which time zone they work from. This can lead to more visibility, collaboration, and self-service.
What it looks like: The chat channel is the go-to place for your Tableau users to connect with each other, ask questions, and get answers. All chat channel members can help other members whether they are an expert or just getting started.
Implementation effort: Low effort | Low maintenance
Minimum number of Data Doctors needed to start: 1
Making it happen
Building
Identify the right chat platform
Take the time to research, identify, and implement the chat platform that answers most of your company's business needs. Create two chat rooms or channels dedicated to enablement: one for announcements (future events, deployments, maintenance), and one for your users to ask their Tableau questions.
Have clear guidelines for engagement
How do users ask a question? Where can they find training or FAQs? What resources do they have apart from the chat channel? Make this information easily accessible on your chat channel using descriptive text or starring or pinning features.
Empower your Data Doctor(s)
Ask your Data Doctors to update their chat profile picture with a small Tableau or Data Doctor logo (available in the Appendix of Resources) to help other users identify them as experts. They might also add their credentials such as certifications into their chat profile description or in their email signature.
Start tracking frequently asked questions
Track the number of questions asked and what topics are most often covered. This information will help you identify common topics and categories for questions, and what training you can offer to fill those knowledge gaps.
Running
Promote new chat channels
Announce the newly created channels and explain their purpose to your audience. Download our promotional templates in the Appendix of Resources to view some ideas.
Link to the channel on frequently used dashboards
Content consumers (people who view dashboards) also have questions and will need help when they hit a roadblock. For ideas on how to promote the chat channel in your published or embedded dashboards, see the Visual Best Practices section of Tableau Blueprint.
Create a separate channel for your Data Doctors
As your team of Tableau experts grows, create an additional chat channel for your Data Doctors. Use this space to share resources, help them connect with each other, and discuss and organize new ways to enable your users.
Reward and recognize active participants
Recognize and reward volunteers who are answering questions, or consider adding gamification strategies or incentives. For more on recognition, see Accountability and Reward Systems in Tableau Blueprint.
Expanding
Look beyond chat channels
Take a step back and consider whether your chat channels are enough to help your users. Are the channels flooded with too many questions? If so, you might try adding new features to your chat channels or trying a new Data Doctor enablement option.
Invest in your experts
Who are the most active users in your chat channel? Help them grow with internal skill belts, training strategies, and certifications. By identifying and supporting more Tableau experts, you'll be able to expand your program's reach.
Customize your chat channels with new features
When using chat platforms like Microsoft Teams, WeChat, or Slack, consider adding apps, webhooks, or bots to streamline interactions, enhance the employee experience, and increase operational efficiency. Work with your IT and Security teams to investigate and identify which solutions will work best for your Data Doctor program.
Slack workflows
Push your Slack channels to the next level with Slack workflows. Get new insights on topics/categories of questions that are being asked to identify training gaps; identify your power users in your Slack channel; report on the user engagement of your room; get metrics on resolutions or escalations. Instructions on how to create Slack workflow are included in the Appendix of Resources.
Option 2 - Office hours and appointments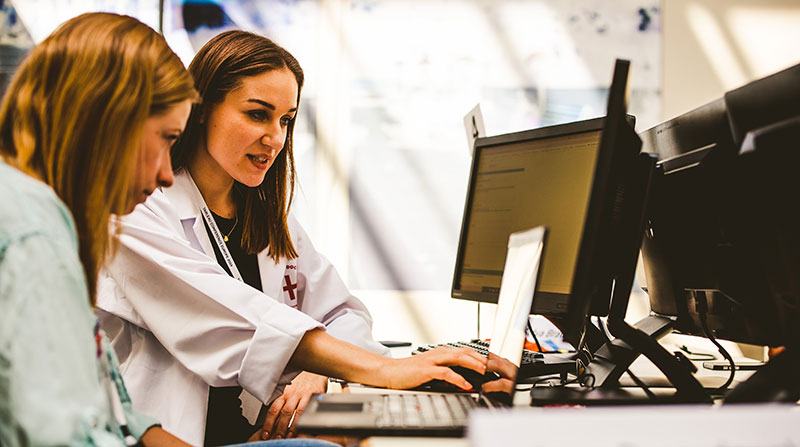 Sometimes chat channels aren't the best way to explore new ideas or troubleshoot technical questions. Instead, you might want to connect users directly with Data Doctors through one-to-one appointments or office hours. You might choose to offer pre-scheduled appointments, drop-in sessions, or even a combination of both— whatever suits your Data Doctors' expertise and availability without disrupting their day-to-day responsibilities.
What it looks like: When your users have complex questions or want to explore how to create business value through new Tableau use cases, they create an appointment with a Data Doctor or join Data Doctor office hours. Because users are leveraging their peer's expertise, they are less likely to request help from IT, reducing the number of internal support tickets.
Implementation Effort: Moderate effort | Weekly maintenance
Minimum Number of Data Doctors Needed to start: 2
Making it happen
Building
Keep it simple
Scheduling a meeting with another coworker during a specific time or joining an office hour should be easy and not create obstacles for users who need questions answered.
Decide on dates and duration (or frequency and times)
Start with a 2-hour session on the calendar, once a week or at larger intervals, where users can drop in as needed. Gather their questions ahead of time via email, form, or any other preferred method. Receiving the questions in advance will help your Data Doctors research solutions, and not feel overwhelmed.
Appointment scheduling
When selecting a tool, keep in mind the data that you want to collect from your employees, the type of appointment scheduling your Data Doctor practice is offering, and how best to match "patients" to a Doctor with the skills to help them. Take a look at our list of tools recommendations in the Appendix.
Virtual
Adapt to the virtual shift to meet your users digitally on the platform (Zoom, WebEx etc.) you use to meet with other coworkers or customers every day at work.
Communicate
Publish your office hours where your audience is located: by pinning them to a chat channel, in an intranet/wiki banner, or near the coffee machine of your office. Additionally, ensure communications cover what to do if all appointments are booked out, or if the office hour was full and a question could not be answered. Finally, recommend that employees get their data and dashboards ready before their appointment, since 30 minutes goes by quickly.
In person
Identify where your Tableau power users are so that it is easy for them to join you physically in a room to ask their question. Prepare the logistics and communications (if you are meeting in a specific meeting room, a cafeteria, or another space, and if this location changes) and always follow and respect your workplace safety measures.
Running
Track issues
Ask your Data Doctors to fill out a form, or document the topics/questions that were asked in a consistent format as these are helpful during program business reviews with your sponsors. Issue collection data resources are included in the Appendix of Resources.
Plan for breaks
If your Data Doctors are taking a lot of questions in a row, or are scheduled in back-to-back appointments for a long period of time, think about scheduling breaks in their calendars so that they also get some rest.
All questions are welcome
Advise your Doctors not to reject questions that are too complicated; it's okay not to know the answer. Learning from new challenges will stretch your experts' knowledge and skills.
Collect feedback from patients
Advise employees to fill out a satisfaction survey after they've met with their Data Doctor. Highlight success stories with leadership and sponsors, and share any positive feedback with a Data Doctor's manager to reward and recognize their work and volunteering efforts. A Patient survey template is included in the Appendix of Resources.
Set the right expectations for patients
Advise patients to do a minimum of research and work before meeting with their doctor. Remind patients that doctors are volunteers and that a 30-minute appointment is very short, and not all questions may be answered.
Keep the momentum
Schedule office hours or appointment availability throughout the rest of the year so that all participants are aware and plan for it in their weekly tasks. Make these office hours easy to find and attend for new hires or new Tableau users.
Expanding
Connect with your Data Doctors
On a monthly basis, connect and network as a group to learn from each other with specific examples of solutions or questions answered.
Skills assessment
Assess your employees' skills to find knowledge gaps at the team, department, or organizational level. This can help you to determine what the next expansion steps can be for your program: whether offering a themed Data Doctor day or recurring practice would be the most impactful solution. A skills assessment survey example is included in the Appendix of Resources.
Themed Data Doctor Sessions
Organize your Data Doctor sessions around a theme to raise organizational competency around visualization best practices, performance optimization, or calculations competency, for example.
Add to Tableau Days
Add Data Doctor appointments/office hours to your Tableau Days events so that patients have additional opportunities to ask questions outside of the regularly scheduled hours. For more information about adding Data Doctor to Tableau Days events, see "Option 3 - Clinic / Practice".
Increase capacity
Add more office hours/appointments based on demand (for example, if all appointments are scheduled week over week or office hours are not long enough to answer all questions). If there is a need to add more appointments/office hours, there may also be a need to expand your team of Data Doctors. Recruit more Data Doctors and make sure they can be onboarded quickly and easily.
Link your chat solution with your appointments/office hours
If you are also enabling your Tableau users with a chat room/channel, consider linking the two solutions together. For example, Data Doctors can redirect any unanswered questions to the chat room/channel, or advise a Tableau user asking a complex question in chat to make an appointment.
Option 3 - Clinic / Practice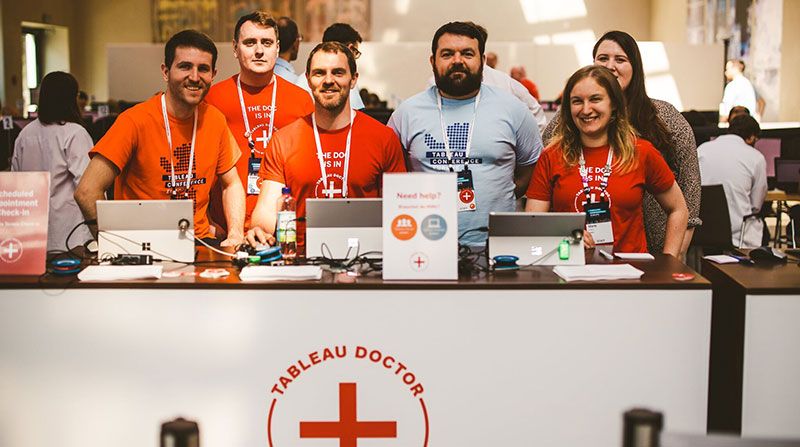 Connect your organization's data experts with their colleagues for live, peer-to-peer support during your Tableau Day events. Aside from Tableau, you will need a couple of different technology solutions to allow your patients to schedule appointments, to collect data on the issues your Doctors treat, to assess the skills of your team, and select the best staff for the job.
What it looks like: Raise awareness, generate excitement, identify departmental or organizational knowledge gaps, and connect with your Tableau community multiple times a year.
Implementation effort: High effort | Dedicated time needed to plan and execute
Minimum number of Data Doctors needed to start: 10
Making it happen
Building
Appointment scheduling
Select a tool that will help you match patients to a Doctor with the skills to help them. For example, while two Doctors may have extensive Tableau Desktop knowledge, one doctor may be an expert at maps, and the other may be excellent at calculations; the selected tool should allow a patient to be paired with the maps expert from the scheduling menu. Review the suggested tools recommendations in the Appendix of Resources.
Skills assessment
Assess your Doctors' skills to find out how they can be matched accurately with other employees, and identify common appointment topics/offerings. A skills assessment survey example is included in the Appendix of Resources.
Location requirements
Data Doctor practices with 5 or fewer Doctors can easily operate out of a standard conference room that fits 10+ people. For larger Data Doctor practices, seek out spaces that accommodate large group meetings, especially spaces that can be set up with separate tables for each Doctor (in these settings, for example, you will need a desk large enough for 1 – 2 laptops and at least 2 chairs).
Issue collection
We recommend starting with a tool that is simple to learn and easy to use to reduce training time for your Data Doctors and ensure all necessary information is consistently and accurately collected. This is especially important for data you want to track to evaluate your Data Doctor practice. View the Issue collection data examples in the Appendix of Resources.
Create new roles
Your Data Doctor team is composed of volunteers from your organization and it is important you find the right people for the job. Some roles (like a Chief of Staff) are essential to successful Data Doctor practices, regardless of size, and some are only needed when you start to expand and scale across your organization. No matter the role, search for individuals who are organized, self-starters, hard working, and have both the skills and bandwidth to fulfill their role. Review the Staffing schedule template in the Appendix of Resources for more information.
Running
Promote and run your practice
Whether it's by word of mouth, intranet, email, or internal signage, your goal is to raise awareness, generate excitement, and connect with your Tableau user community. Promotional templates and signage are included in the Appendix of Resources.
Arrive early
Encouraging your team to arrive early the day your Data Doctor practice allows you to answer any last-minute questions, provide any final hands-on training, and get everyone excited about the event! Circulate through the room frequently to ensure that your staff and your patients have everything they need to succeed – whether that's pens and paper, water, or restroom breaks.
Capture patient satisfaction
Advise patients to fill out a satisfaction survey after they've met with their Data Doctor. Such a survey may capture their experience about their appointment, what their product issue was, if they have learned something new, and if they would recommend the Data Doctor service to another coworker. Refer to the Patient survey template in the Appendix of Resource for more information.
Collect feedback from your Data Doctors
At the end of the event, send a survey to your Data Doctor team to capture their feedback on what went well and what needs to be improved. Assess their feedback to iterate the practice at future events. A Doctor participation survey template is included in the Appendix of Resources.
Success reporting
Gather data to track the success of your practice: compare the number of appointments with the number of bookings, how many appointments were fulfilled or missed, how many doctors are there in your Data Doctor team etc. Use this information to iterate and evolve your practice. Tie Data Doctor to your community engagement metrics to assess the overall impact of the program to your organization.
Expanding
Hackathon
With your Data Doctor team of experts, participate in a hackathon project for a local non-profit to keep your experts engaged and share their experience for a good cause. Head to Tableau Foundation to learn more about how you can help, request donated licenses for non-profit work, or request a session with volunteers to help out.
Alternatively, work with your Data Doctors on an internal business data source for your team, your department, a sponsor, or for your organization to discover new insights and add value to your business.
Join the Tableau Community
Head to the Tableau Community to discover the latest news, featured blogs, explore Community-led projects and events that could benefit your Data Doctor team. Empower them to be a part of the #datafam and connect with other Tableau Community leaders.
Run the practice full time
If the practice is successful and your Data Doctor team is available to answer questions more frequently, we recommend running the practice as its own program to replace any existing drop-in sessions/office hours. Additionally, consider implementing the method in other teams or departments for them to network and collaborate together on other topics or products used in your organization.
Consider decentralizing your topics
Different needs or questions may arise from enabling peer-to-peer collaboration and you may need to decentralize by department or region (a Data Doctor program for your Finance team, a solution for your Asia-Pacific Region etc). Simply ensure that all decentralized programs are following an aligned procedure to capture questions, recruit, grow, and upskill their Data Doctors, and collect the same data across your organization for easy reporting and program health status.
Make it fun
If you are meeting in person, bring in some Data Doctor branding like you may have seen at Tableau Conference: lollipops, cough drops, or white jackets.
Appendix of Resources
All resources are currently available in English only. We appreciate your patience while the resources are being translated.
Build a Data Culture with Tableau Blueprint
Tableau Blueprint is a step-by-step guide to building the capabilities you need to create a successful Data Culture in your organization.