Tableau Product Innovations from Dreamforce 2022
Discover upcoming product innovations featured in the Tableau keynote at Dreamforce 2022.
At Dreamforce 2022, Salesforce Co-CEOs Marc Benioff and Bret Taylor showed us an exciting vision of a connected, data-driven world in the face of rapid, global change. While we can't predict the future, we can work to stay agile and succeed in the face of change. Thankfully, data can help us quickly respond to—and proactively prepare for—change, to find a path forward and not only survive, but thrive in times of uncertainty. This is data's moment.
It's a new day for business because we have data to help us understand what customers need, make smarter decisions, and take action fast. Data helps us innovate not only technology, but also customer experiences. And companies need real-time data and analytics, a single source of truth, to meet changing customer expectations. 
But we understand that this isn't easy because there is a "data gap" in the ability of companies to use data to drive decisions. Everyone agrees that data is important, with 83% of CEOs saying they want to be more data-driven, but only 30% of employees say their company is actually data driven.1
So why is there a gap between the desire to be data-driven and the execution? Because organizations have more data sources and systems than ever, with an average of 976 business applications, leading to data chaos. And frankly, analytics can be scary or intimidating to the average employee who likely lacks data skills or isn't part of a mature Data Culture. 
But Salesforce has a vision for creating a data-driven world, one where Tableau helps unlock all of your data and enable analytics everywhere, for everyone. Let's take a look at all of the product innovations we shared in the Tableau keynote at Dreamforce.
Unify your data and unlock insights with Salesforce Genie
Instrumental to bringing the vision of a data-driven world to life is Salesforce Genie, the new, real-time data platform for customer magic that powers the Salesforce Customer 360. Salesforce Genie takes the Customer 360 and adds real-time data streams, so that you can capture and ingest data from anywhere and at high scale. 
So how does this all work? Genie has built-in connectors that bring in data from every channel—mobile, web, APIs—even legacy data through MuleSoft and historical data from proprietary data lakes, in real time. 
And Salesforce Genie harmonizes all of the billions of data points, automatically identifying your customer data, from any system or interaction, to build a real-time customer graph. Unifying this data into one, clean profile, it becomes your real-time customer truth—a truth that evolves as your data does. This truth can be activated for real-time customer personalization, workflows, analytics, and more across the Salesforce Customer 360.
With the power of Genie, Tableau and CRM Analytics help unlock analytics everywhere for everyone, so that you can build magical experiences that are more automated, more intelligent, and more real-time. Sounds like magic, right? It is. Here is how.
Tableau Genie turns real-time insights into customer magic. With Tableau Genie, you can automate analysis on all of your data, and have an entire organization collaborating and acting on real-time insights. AI insights powered by Genie help you and your organization reach insights 29% faster, so that you can make smarter decisions.  
All Tableau dashboards can now become real-time with the power of Genie. Best of all, Genie is real-time and available today. Like Tableau Genie, CRM Analytics powered by Genie also helps you turn real-time insights into magic for all your customer experiences, right in the flow of work. 
Figure 1: Salesforce Genie turns your data into real-time customer magic by bringing the power of real-time data to Customer 360 with the first ever, real-time CRM.
The Genie Connector for Tableau and CRM Analytics can help easily connect all your Customer Data Platform (CDP) data to your analytics platform of choice. Already available today, the Connectors help you tap into this single source of truth to get a unified, real-time profile for a 360-degree view of each and every customer.
Instant Analytics allows you to go from data to insights at the speed of light. Instant Analytics will give you the power to explore and visualize all of your Salesforce Genie data in Tableau with a single click. (Yes, you read that correctly.) No complicated passwords or second login: In a single click, you'll instantly have trusted, real-time, and unified data and analytics at your fingertips, right in the flow of work. Instant Analytics is available in CRM Analytics today and is coming to Tableau in 2023. 
Figure 2: Within your Customer Data Platform, Instant Analytics directly connects with Tableau and visualizes all your data in Salesforce Genie with one click.
Prepare for the future with AI-powered predictive analytics
Customer needs and expectations change quickly, often in response to today's shifting economic and environmental landscape. Organizations need to uncover actionable insights to rise up and respond to changes fast. 
That's why we've introduced new artificial intelligence (AI) capabilities to CRM Analytics. Automatically uncover simple answers to complex business questions across the data lifecycle with insights powered by AI and machine learning (ML). These new capabilities help businesses understand data at scale with purpose-built analytics and intelligent guidance to help you make smarter, faster decisions.
Data Stories help you understand what's changing, why, and what to do
When you're working on a complex business problem with many variables and factors, it's not always clear what you should do and when. Data Stories help you understand what's changing across your metrics, why, and what action to take by using AI to automatically generate narrative insights within your dashboard. Currently available in Tableau Cloud, this data storytelling feature will bring even more AI-powered insights to CRM Analytics in Summer 2023.
You can more easily and confidently track the performance of your KPIs using personalized, natural-language explanations about trends or changes and their causes to inform what actions you should take. Data Stories show curated, personalized metrics and goals for each user and use case, so that people can go from data to insights to action faster than ever before. And as you interact with your dashboard, the dynamic stories written by Data Stories adjust, allowing you to dive deeper into data and surface relevant insights quickly. 
Powered by natural language generation (NLG), Data Stories generate insights everyone can understand, making them accessible to everyone regardless of their analytics skill level. Now, your organization can spend less time analyzing and interpreting data, and more time driving better business outcomes with smarter, faster decisions.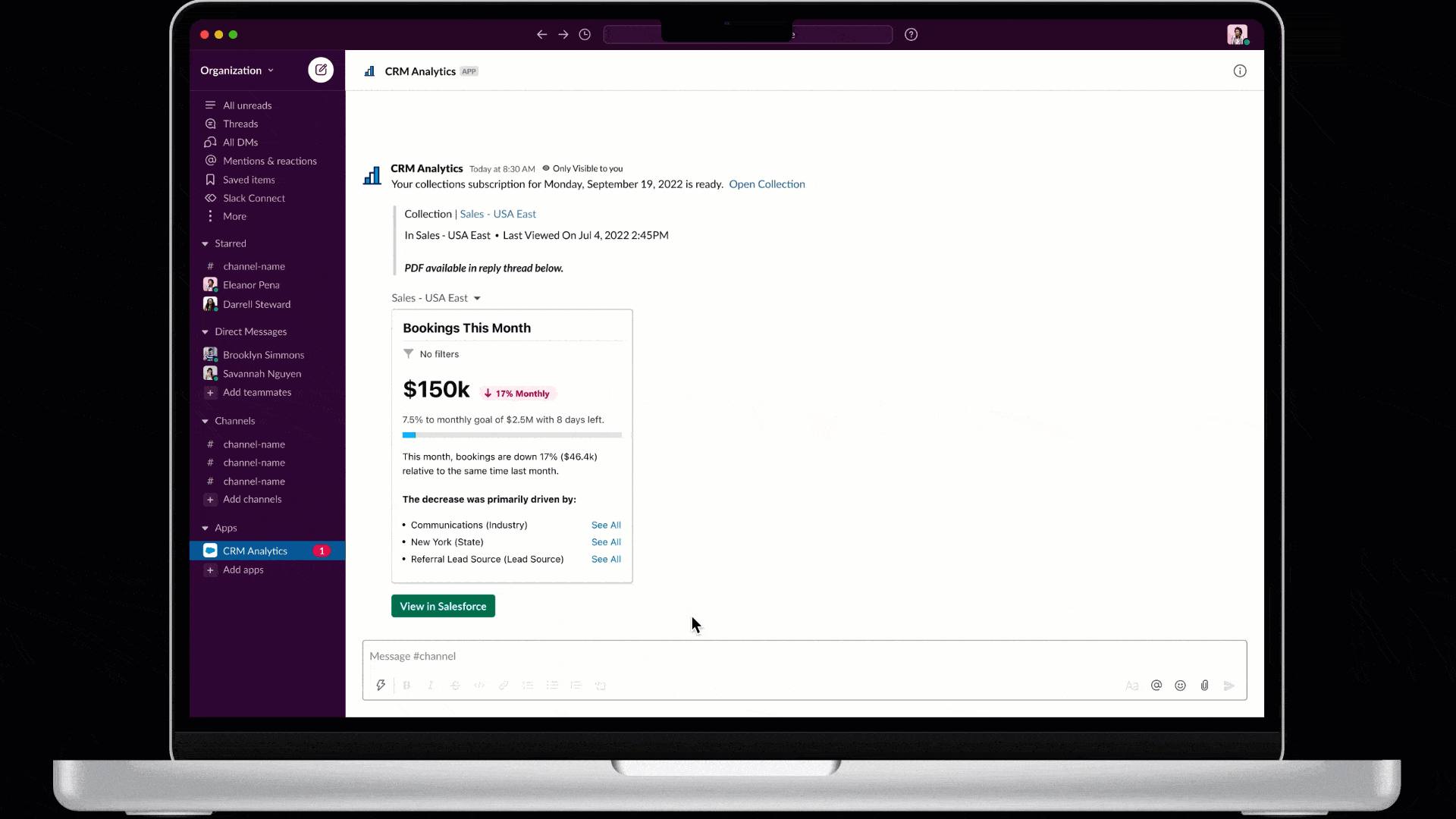 Figure 3: Data Stories help business users track metrics and goals personalized to their business. Easily see what's changing and why in plain English.
Enrich real-time, AI predictions with Live Predictions from Snowflake
Navigating uncertainty is no easy feat, but it helps when you can combine contextual, historical human expertise with AI-powered suggestions. This gives us all the more reason to advance our AI-powered prediction engine, Einstein Discovery, which has already supported and guided thousands of customers with over 93 billion predictions generated each day. With Live Predictions with Snowflake, we're making it faster and easier to gather the data needed for the trusted, transparent predictions and recommendations you rely on to chart a path forward. 
Live Predictions with Snowflake makes it possible to pull Snowflake data directly into Einstein Discovery to make predictions in real time. External data combined with Salesforce data enriches predictions, explanations, and recommendations to add even greater value and insight.
Staying within the Salesforce flow of work, Live Predictions with Snowflake help you generate on-demand or batch predictions and take action. You're also able to build and maintain model features in Snowflake and consume them back in Salesforce through an external feature store. Live Predictions with Snowflake will be available at the end of next year.
Figure 4: Live Predictions with Snowflake help you generate on-demand or batch predictions and take action.
Decision Optimization drives business outcomes with AI-powered recommendations
Every organization has constraints to manage, whether it's time, budget, staffing, or another consideration. To help you manage your constraints and prepare for evolving challenges, we have another advancement in the evolution of Einstein Discovery: Decision Optimization. 
Decision Optimization allows you to add real-world constraints to your predictive models and get recommendations on the next best action. AI-powered recommendations that factor in constraints show you the true state of your business. These recommendations optimized to your business needs means that you can balance all of your objectives and important business KPIs to drive positive outcomes. 
Now you can go from data to prediction to optimized decision efficiently, making the most of your resources. Decision Optimization will be available Spring 2024.
Collaborate and act on real-time insights
Delivering on the business and customer expectations of today requires organizations to upskill and empower their people with data in the flow of work, and collaborate and act on insights—fast. You need to automate simple and complex processes across systems, bring together data sources, and automate flows to put data into every conversation, every process, and every decision.
Access and share insights in Slack with Digital HQ for Analytics
With increasing demands on resources and teams working from everywhere, it's never been more important to reach your people where they already are with the insights they need—and when they need them. We've taken collaboration to the next level with the Digital HQ for Analytics, our Tableau and CRM Analytics integrations with Slack. These integrations help you put data at the center of every conversation so you stay on top of your business with data-driven alerts about your metrics directly in Slack. You can easily find the analytics content you need using intuitive search commands. And experience the seamless sharing of Tableau dashboards and visualizations with their coworkers in channels or group messages without leaving the app.
Digital HQ for Analytics allows people to effectively collaborate, make good decisions, and take action to move their work, and their organizations, forward. This is available today. You can go to the Slack App Directory to download the Tableau App or the CRM Analytics app.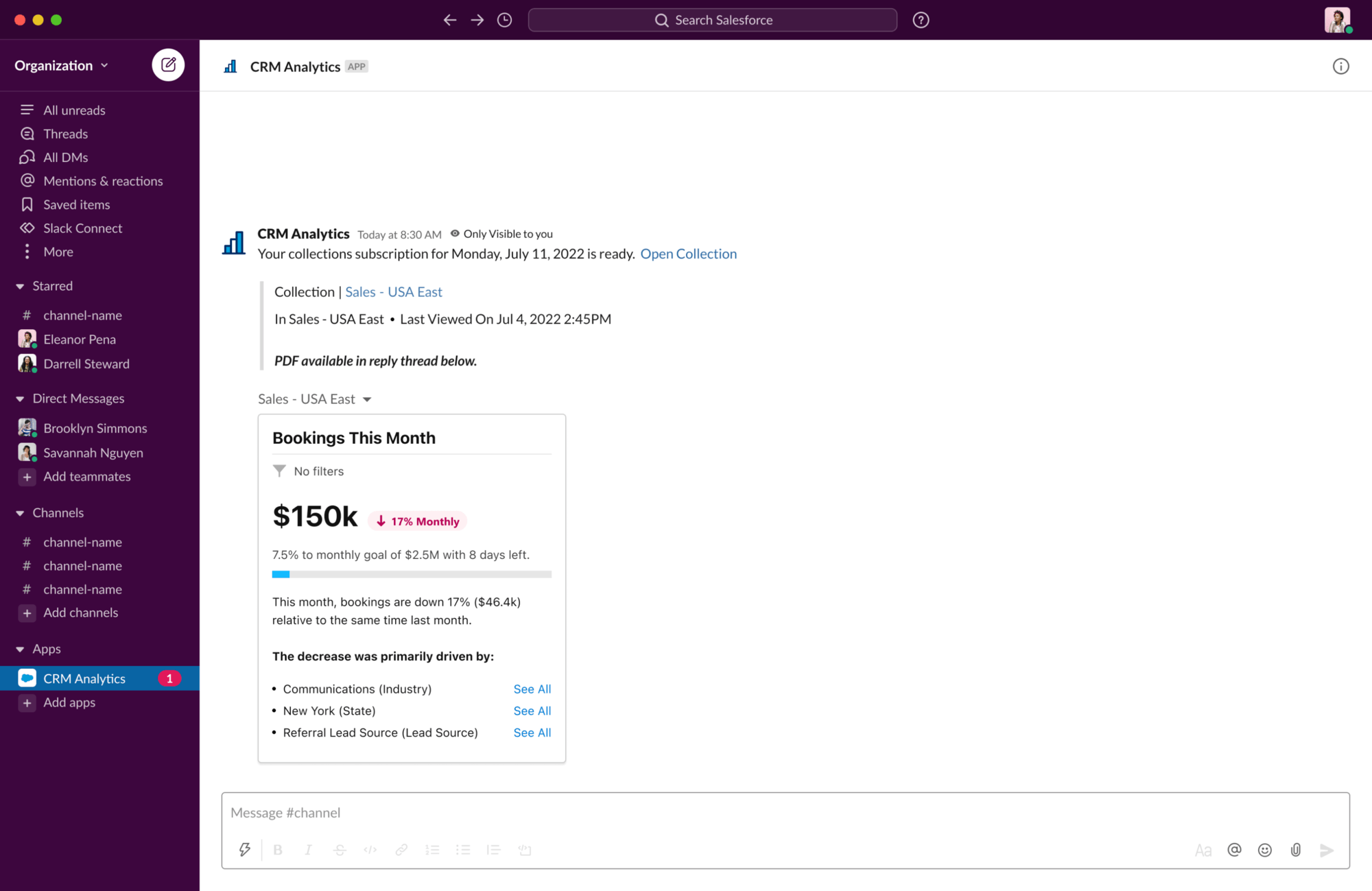 Figure 5: Tableau and CRM Analytics integrations with Slack put data at the center of every conversation with data-driven alerts and insights, seamless sharing, and collaboration.
Another feature that helps people be more efficient and stay within the flow of work is Tableau External Actions, coming later this year. Tableau External Actions help you go from question to answer all in one place. 
Tableau External Actions allows you to connect to other workflow engines like Salesforce Flow and trigger actions directly from within Tableau. Without ever leaving the platform, you can create a new opportunity record, schedule a meeting, send an email update, and more in external engines. 
Scale analytics beyond your organization with Embedded Analytics
To truly unlock analytics everywhere for everyone, organizations need to be able to share data externally at scale. But with rigid licensing models and budgetary constraints, sharing analytics with all your partners, suppliers, and customers used to be near impossible. Usage-based licensing for Tableau Cloud Embedded Analytics is here to change that. With our new licensing model, you can leverage the market-leading Tableau platform in a more scalable, flexible, and cost-effective way.
Usage-based licensing provides a new licensing option for Tableau Cloud Embedded Analytics, in addition to our existing role-based offerings. Under the usage-based licensing model, you pay for consumption—not licenses—keeping costs more closely aligned to the value you receive. Best of all, this licensing model scales with your business. As demand grows, you can incrementally add volume, and keep up with the ever-changing business environment. 
This new offering brings together an innovative licensing model and our best-in-class analytics platform to maximize the value you receive from your data investments. Usage-based licensing will be available by the end of this year. 
Did you miss the Tableau keynote? Or want to learn more?
In case you missed out on on the Tableau keynote at Dreamforce, you can watch it on demand here: Tableau Keynote - Unlock Analytics Everywhere for Everyone.
You can learn how to make customer data accessible everywhere and analytics actionable for everyone with a Data Culture. Start or continue your Data Culture journey by watching the Tableau series Salesforce+: Dreamforce - Data Culture series on demand.
Lastly, thank you to every member of the amazing Tableau Community and Trailblazer Community for making our company and products better with your inspiring passion and impressive creativity. Your feedback and support are critical to our continued innovation on the Tableau platform. Thank you and we're looking forward to seeing the magic you create for yourselves and your customers with all of these new products and features!
1. IDC Whitepaper, Sponsored By Tableau, How Data Culture Fuels Business Value In Data-Driven Organizations, Doc. #US47605621, May 2021.
Subscribe to our blog
Get the latest Tableau updates in your inbox.