Democratizing analytics: Tableau's CPO talks innovation, product roadmap, and the future of data
Chief Product Officer Francois Ajenstat highlights a year of Tableau product innovation—from AI-powered analytics and integrations with Slack to the Tableau Economy—and shares his vision for the future of work with analytics everywhere.
Kicking off Tableau Conference, our opening keynote is always an opportunity to share our vision for democratizing analytics and how we are bringing data to anyone, anywhere—and that includes how we're evolving the Tableau platform to better meet the needs of our customers and partners.
The last few years have shown us what the power of data can do. There has been a massive transformation in how people live and work around the world. Organizations quickly moved operations to the digital world, and that digital transformation has caused a data transformation resulting in an explosion in data. Speed, agility, and empowerment have become paramount to thriving in this new reality.
Our focus is on helping people sort through this data chaos so they can easily find insights, make better decisions, and thrive in this new data-driven world. At TC21, Chief Product Officer Francois Ajenstat recapped the big year we've had in product innovation, highlighting new features we've brought to the Tableau platform. This included major product integrations with Slack, helping people stay on top of their data directly where they work.
We introduced Tableau Business Science, a new category of analytics that makes sophisticated data science techniques more accessible for business people. And we've made Tableau Data Management capabilities more robust and enterprise-ready, balancing empowerment with control so even more people can trust the insights from their data for fast decision making.

Here, Francois tells us more about his year in product and his vision for what's next, including opportunities for the greater Tableau Economy, our ecosystem of customers, partners, and data people leading the world's data transformations.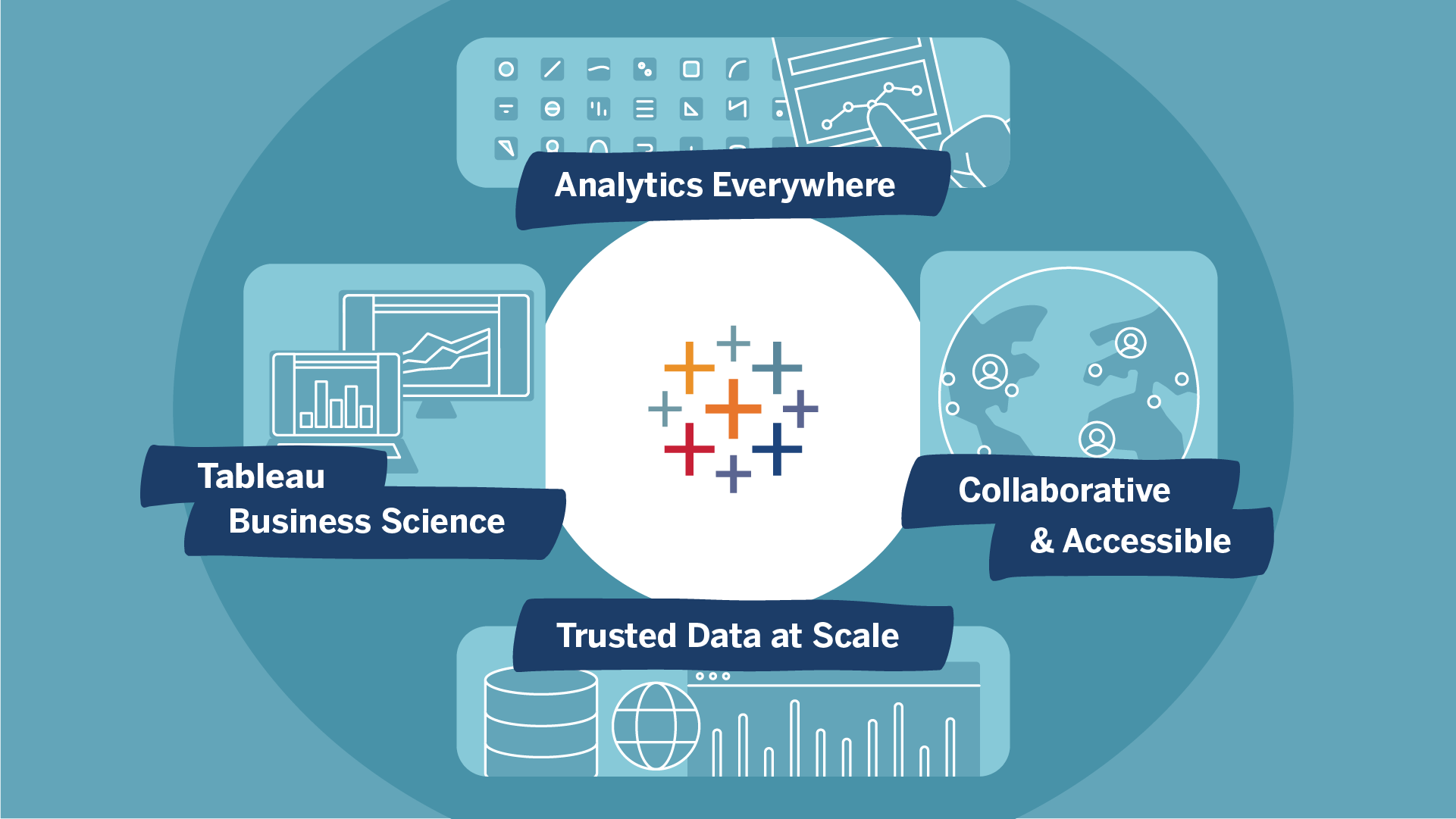 Can you tell us about the keynote. What are the key themes this year?
Francois: The keynote is really focused on how we're expanding Tableau to deliver analytics to anyone, anywhere with any data. We're truly trying to democratize analytics and make it ubiquitous across organizations. And doing that means making analytics easier to use, more powerful, more actionable, more predictive and integrated into the flow of business.
Another way to think about it is to say that the theme next year is MORE. More data sources, more extensions, more people, more use cases, more security, more power, more speed, more scale, more success. More, more, more.
First, let's talk about Slack integrations. We announced Tableau for Slack, putting analytics into the flow of business. Next, we're focusing on putting Tableau's AI capabilities into Slack, too. Why was it important to start with these integrations first?
Francois: Many of us can now work from anywhere, and how we work has changed. Slack is more relevant than ever and is changing the workplace everywhere. It's more than communication—it's engagement through channels and with suppliers and customers beyond your organization. It's about driving processes easily through Slack. Organizations are building their digital HQs on Slack. You're going to see data and analytics as a foundational part of a digital HQ.
Tableau has always been about helping people dig deeper into their data—it's not about creating a pretty picture but it's about enabling creative thinking, exploration and empowering people to do their best work. Because creativity in analytics means better answers, clearer thinking, deeper thinking and better ideas.
With Slack, we first focused on how to stay on top of your data in Slack with alerts and notifications. Then we wanted to make asking a question feel as simple as talking to a person. So we're adding Ask Data in Slack, so you can use natural language queries to get answers easily.
We didn't want to stop there, so we are imagining all the ways people might interact with Tableau in a Slack-first world. We want to enable unlimited exploration directly in Slack.That's why Explain Data in Slack is coming, too. When you get your answer, you don't only want to know the number was '12,' you want to know why it was 12. And you want to know what's possible with these answers, so we're adding Einstein Discovery in Slack to surface AI predictions to help people take better actions with their data.
Data is not the scary thing anymore, it's just there and you can ask it questions. That's what drives our thinking: Relevance, engagement, and getting value from your data where you are.
Where do you see Tableau and Slack going next?
Francois: A really powerful capability of Slack is Slack Connect, the ability to extend Slack beyond one company and extend it to suppliers and customers. Imagine being able to collaborate with suppliers about their data in a trusted, secure way and bring them into the conversation in an interactive way. It's an important differentiator and an untapped opportunity to create this new workforce and collaboration and break down the walls that exist between companies. The idea of sharing beyond your HQ is a powerful one for the future of work.
This year, we also launched Tableau Business Science to bring even more data science capabilities to business people. Can you tell us why it was so important to integrate AI with Einstein Discovery into the platform from the start?
Francois: The ethos of Tableau is to make the hard things easy; the complex, simple. Really of all the things we talk about, that's the common theme.
Salesforce already had powerful AI in its platform with Einstein Discovery. We thought, how could we leverage this trusted capability used to drive billions of predictions and make it applicable to the Tableau DataFam? That's when we said, great let's make that happen. So, we integrated Einstein Discovery with Tableau and brought it across the platform—in dashboards, in calculations and in Prep. It's been incredible to see how people have started using these new capabilities to bring predictive analytics directly in Tableau.
In the keynote, your team said that we're adding Model Builder and Scenario Planning to Business Science capabilities, which will help people with more advanced insights, build and deploy models, and compare outcomes. How will these work?
Francois: When we talk about model building and scenario planning we talk about keeping people in the flow. Today, analysts leave Tableau to build their models, and then have to bring them back. We are making it more seamless and easy, so more people can use this powerful capability. Tableau Model Builder is bringing the ability to create predictive models right inside Tableau, just like how you can create a dashboard, you will be able to create predictive models. This is great for so many use cases, from predicting customer churn, to identifying potential risks, to identifying where to optimize processes.
But we didn't stop there, we saw a common pattern where customers were using Tableau to do lots of what-if analysis. Doing this kind of analysis is hard, manual, frustrating, and takes a lot of effort. We thought about how we could make that easier, more intuitive, more visual, and smarter. Imagine simulating different outcomes based on three potential business decisions? With Tableau Scenario Planning, we thought we could start combining visual analytics and models together to help people see the outcomes and see their business in a different way right in Tableau—and make that accessible to the business person.
For next year, more Business Science capabilities are coming. What can customers expect?
Francois: Artificial intelligence and machine learning are going to be a core capability of Tableau. Tableau will be smarter with these capabilities, our products will provide more context, surface relevant information and become more proactive with these capabilities. You'll see it come alive in different ways, you'll simply experience it as part of how software works. There will be better recommendations, and better outlier and anomaly detection. The power of prediction can influence everything from consumption of dashboards to data prep to the entire end-to-end Tableau platform.
Data management is key to trusting your data, especially as you manage new information flowing in. We've expanded capabilities with Tableau Prep and Tableau Catalog to secure and govern data. Can you tell us more about the improvements?
Francois: We talk a lot about trust. It's why we say trusted data at scale. You can't trust the insights if you can't trust the data. But there's always this tension between governance and self-service. It's an 'or' proposition—empowerment or control. Well, I don't believe in 'ors,' I believe in 'ands.' I believe you can have your cake and eat it, too. You can empower people while still providing trust and security that organizations demand.
Our point of view addresses this last mile of data management to bring it to business people in the context of their work. Integrating it into the flow of analytics, all seamlessly connected together. Tableau Data Management offers increased visibility, trust, and governance applied across all categories, including Prep and Catalog, so when you see the data, you have confidence it is the right data, and when you interact with that data, it will result in better outcomes. And we're making it easier to centrally manage data connections and define data policies such as row-level security. This ensures that the right people have access to the right data. One place to manage and ensure that everything is secure downstream.
How will the Tableau Economy—especially the addition of new offerings in the Tableau Exchange—help fuel this transformation?
Francois: The Tableau Economy is driving the world's data transformations. It's built on the broadest, deepest data and analytics platform, and encompasses our entire ecosystem of customers, partners, and data people. One of the key components we're starting with is the Tableau Exchange, which is all about connection. You want to connect customers with solutions. We want to connect builders and creators with an audience who can use it.
Imagine starting in Tableau and 10 solutions show up right away that could give you a head start and let you do what you want to do much faster—unlimited possibilities, time-to-value dramatically reduced. We will be able to drive more relevance for customers and enable them to be more successful more quickly. We'll enable the Tableau Partner Network to broaden their reach and impact people all over the world in a way that wasn't possible.
Just like we've seen with the Salesforce AppExchange, we can only dream about what people will come up with through the Tableau Exchange. They will inspire each other and extend capabilities for each other, and this will be a self-reinforcing engine for success.
At TC, we talk about our vision and product plans. It's a lot of news to take in all at once, but if you had to sum it up what do you think is most important for customers to take away from your Product keynote?
Francois: I want people to hear that the Tableau they know and love is doing well and thriving. I want people to know that Tableau is where analytics success and innovation happens. And I want people to know that Tableau is focused on driving their success.
We do one thing extremely well: We help people see and understand data. With these expansions, the people we're trying to reach–yes, it's the data rockstars, data stewards, the analysts, and IT professionals. But it's so much more than that. We help people. And that means everyone.
Learn more about Tableau Product innovation from the people who build it every day. Tune into Devs on Stage this Thursday, Nov. 11, at 9 a.m. PT.
Subscribe to our blog
At Tableau, we find exciting news about data, analytics, and visualizations every day. Sharing that news through our blog is a key part of our mission to help people see and understand their data. From tips on using Tableau more effectively to learning how everyday people are dealing with data challenges, the Tableau blog is a place for data lovers.