Iron Viz 2021 is coming! Are you ready?
We are less than two weeks away from crowning a new champion of the world's largest data visualization competition, and we need your help. Do you know how to participate in live voting? Or cheer the contestants on? Do you know who will be judging the contest and the criteria they'll use? If not, read on. The virtual stage is set for an intense lightning round of live viz-tastic storytelling, but it would be lackluster without you.
This year's finalists, Lisa Trescott, Pradeep Kumar G, and Samuel Parsons, rose to the top from hundreds of incredible vizzes about what brings you joy—320 to be exact. Now the three of them are on their way to Tableau Conference where they'll battle it out for glory as well as thousands of dollars in prize money for themselves and the charity of their choice.
California, United States
How can I watch it?
It all happens virtually on day two of the Tableau Conference, at 9 AM PT on November 10th, and thousands of data enthusiasts from all over the world will be tuning in. Mark your calendars so you don't miss a minute of the action.
Haven't saved your free seat for Tableau Conference yet? Register for free.
How can I participate in live voting?
Sign in to tc21.tableau.com
Navigate to All Episodes
Select "First Broadcast - Americas" in the regional filter
Search and select "Iron Viz" at 9:00AM PT
Add to your schedule: MyTC21
There are three broadcasts. Make sure to select the first Iron Viz broadcast on November 10 at 9 AM PT.
How can I show my support?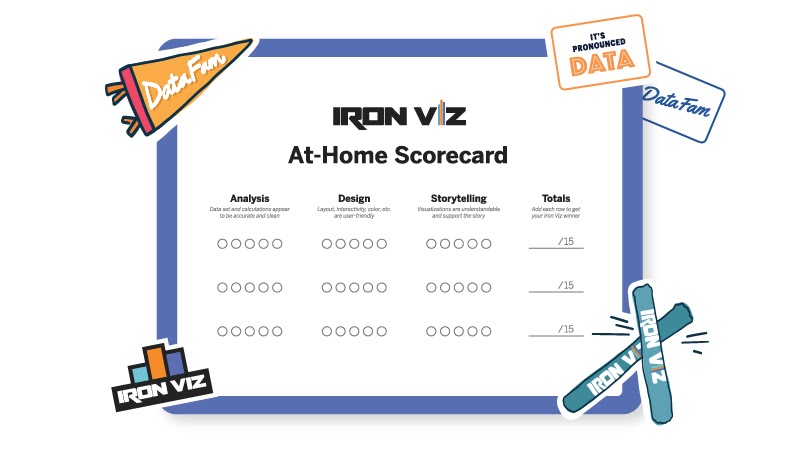 Iron Viz 2021 Supporter Kit featuring the At-Home Scorecard, which helps track your observations while watching the live championship.
Can't wait for the live broadcast? Neither can we. Download your Iron Viz Supporter Kit, start up your printer, get your Viz Stix ready, and let the games begin. Of course, you don't have to wait for the live competition to post on Twitter or Instagram, so shoot a selfie with your sign and share it using hashtag #IronViz.
What is the judging criteria?
Judging is based on three areas: analysis, design, and storytelling. During the live broadcast, each finalist will have 20 minutes to build their visualizations and can earn a potential total of 100 points. Our judges will allocate 90 of those points, and the last ten points are up to you. The individual with the highest number of points will be crowned the winner.
Design: How appropriate is the design for the story that is being told?
Storytelling: Is there a clear story being told or a question being explored, and is there appropriate context?
Analysis: How sophisticated and appropriate is the data that is being used for the story?
Be sure to cast your vote for your favorite viz—text to vote numbers will be announced when the voting window opens during the live event. Visit tableau.com/iron-viz for more details and check out the official rules.
Special thanks to our judges this year—Jock Mackinlay, Taha Ebrahimi, and the 2020 Iron Viz Champion Christian Felix. Fun fact alert! Did you know Christian Felix recently started working at Tableau? It's true. Read all about it in this blog post, From Iron Viz to Tableau: One champion's journey in data.
Know your Iron Viz history?
Curious to learn more about Tableau's Iron Viz competition, who's participated in prior years, when the first event was held, and more fun trivia? Kevin Flerlage put together this handy viz when he entered Iron Viz this year (talk about meta) and we love it. Take a look.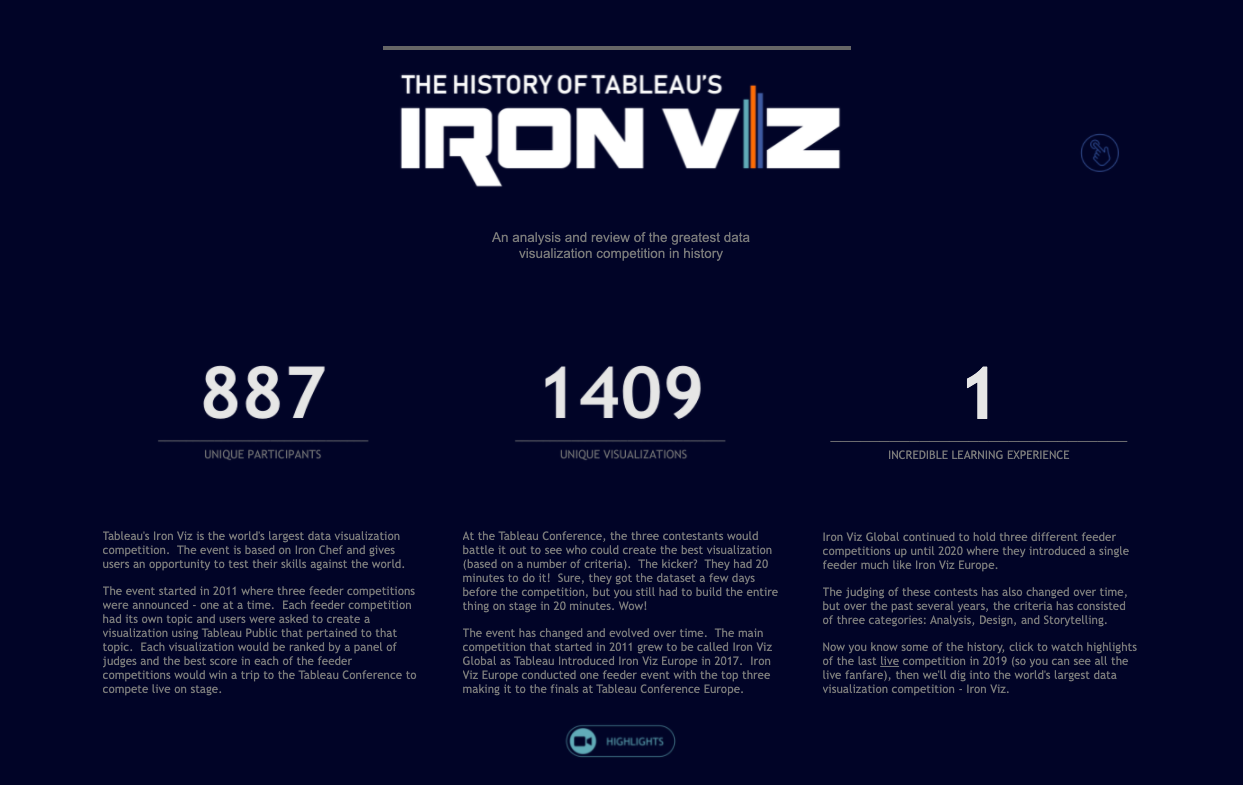 The History of Tableau's Iron Viz - Iron Viz 2021 Entry by Kevin Flerlage
Remember to mark your calendars for the live Iron Viz broadcast on November 10 at 9 AM PT if you want to vote, and keep in mind that there are two live rebroadcasts of the event as well. But if you want to vote and help decide this year's champion November 10 at 9 AM PT is the date to save. We can't wait for you to join us.
Subscribe to our blog
Get the latest Tableau updates in your inbox.