Where will the next great data viz come from?
Our 2022 global qualifier contest is open until 11:59 p.m. PT on February 7.
Visualize yourself in the 2022 qualifier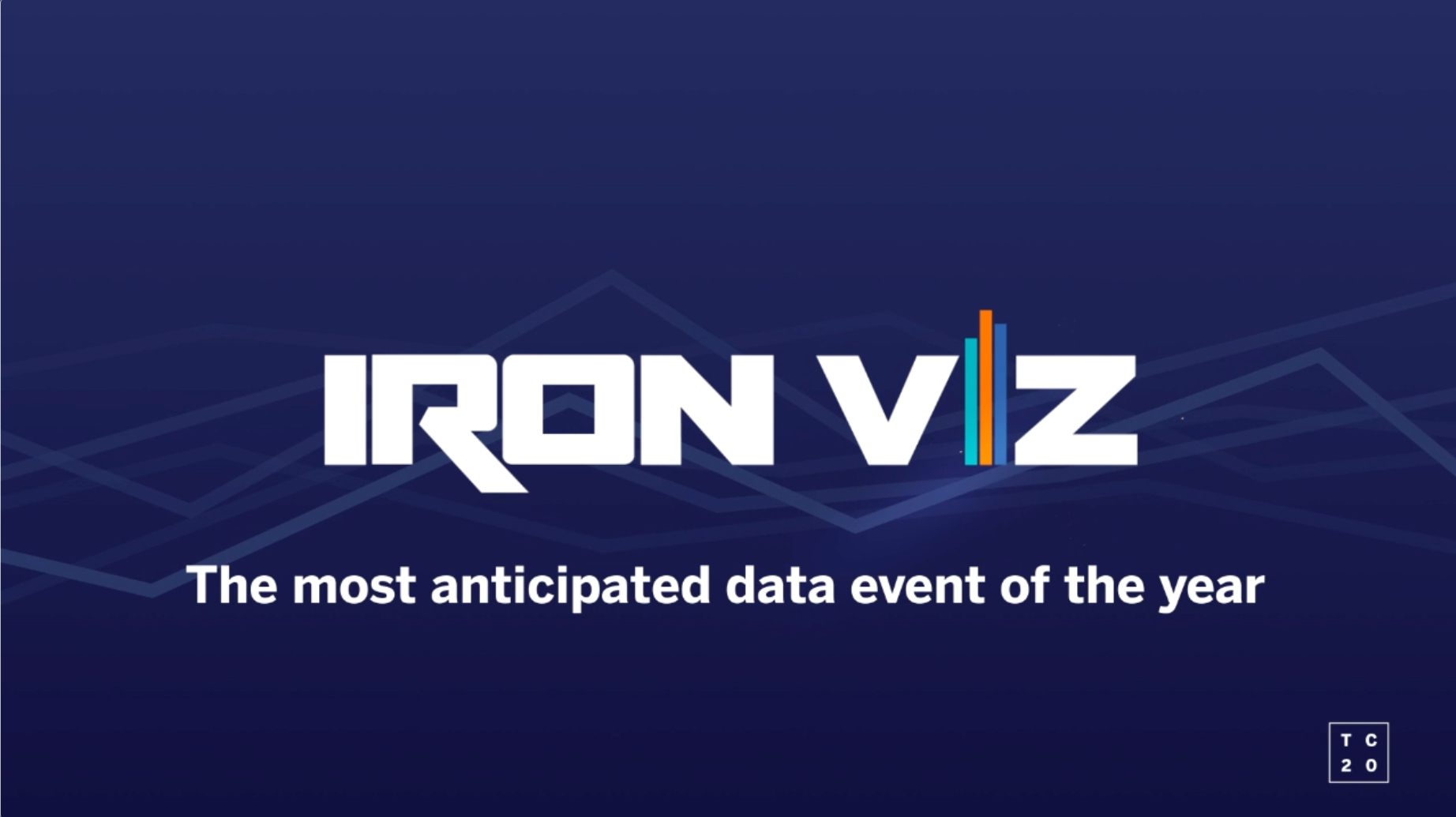 Iron Viz is the world's largest data visualization competition. Contestants from around the globe attempt to be one of the elite three in the finals at Tableau Conference. At stake?  A $10,000 grand prize. Think you've got what it takes?  
This year's theme is Visualizing the Arts.  From drawing and painting to photography, film, music or dance, your data set can be anything art-related.  
Challenge yourself, learn something new, engage with an amazing community. 
What to expect
User group webinar: January 24 & 25
Need a boost getting started or strategies for taking your submission to the next level, join our Iron Viz User Group webcast. Sarah Bartlett, Iron Viz finalist and Iron Quest founder, and 2021 Iron Viz Finalists Lisa Trescott and Pradeep Kumar G, share their experiences and tips. Plus, we're saving time for a Q&A. Register now
I entered the feeder competition as a learning experience and never expected to be a finalist. I just started vizzing for fun earlier this year, and I thought putting together a submission for Iron Viz would be a great way to enhance my skills, connect with others in the community, and have fun with data. It has been all of those things, and I've learned way more than I ever expected!
Iron Viz 2021: Data rocks our world
Day two of Tableau Conference 2021 saw three fierce contestants take the virtual stage. In front of a massive global audience, they each had 20 nail-biting minutes to whip up an awe-inspiring viz.
Congratulations to Lisa Trescott who impressed the judges and live audience with her visualization on breakthrough artists.
Read our blog for a detailed recap. 
And if you want to get the inside scoop from all three finalists, check out If Data Could Talk  episodes that deep dive into each visualization.
Qualifier Contest FAQ
What is the theme and what is the submission deadline?
| Contest | Theme | Announcement Date | Submission Deadline |
| --- | --- | --- | --- |
| Iron Viz Qualifier | Visualizing the arts | January 10, 2022 | February 7, 2022 |
What are the terms of participating?
How many entries may one person make?
One entry per person. If you need to make changes to your viz after submitting, please make those changes prior to the submission deadline.
This qualifier contest allows for any data. Please ensure the data set(s) you choose are related to the theme. Please be considerate of others, and do not use a data set that might be found overly offensive. We would also like you to consider image rights when including visuals in your visualization.
Am I required to make my data set(s) or viz downloadable?
If possible provide a link to your source(s) in the footnote or description of your viz and allow 'Download' for the viz you submit. This allows others to learn from your work, just as you can learn from others. Making vizzes downloadable can be done by signing in to Tableau Public, click on the viz you created, and checking the box "Allow workbook and its data to be downloaded by others", then click save.
Who can I contact if I am having problems with Tableau Public?
You may contact Tableau Public at public@tableau.com, please include Viz Contest in the subject line. Note that submissions can only be made via the submission form.
How will the winner be chosen?
A panel of judges comprised of Tableau ambassadors, previous Iron Viz finalists, data viz experts, and guest judges will evaluate all submissions based on the following criteria:
Design
Storytelling
Analysis
Analysis will be the tiebreaker in case two vizzes have the same overall score. Should the Analysis score also be tied, the panel of judges will make a final decision.
Will I receive my scores?
We will publish the scores for the top 10 vizzes on the Tableau Public blog. Scores for the Top 100 entrants can be provided upon request after the contest is over.
Can I receive feedback on my work?
Yes, all entrants will receive their scores after the contest is over. The 'top 10' are eligible to receive additional feedback directly from the judges.
Why isn't my country included in the list of eligible countries for participation?
Some countries are not listed because of particular requirements to run a sweepstakes like Iron Viz.
Why are the scores I received in my feedback email higher than the scores of the top 10?
All submissions are scored by a panel of judges. The average of these scores is what you see in your feedback email. From those scores, the 'top 10' submissions are identified and provided to a panel of industry expert judges. The scores from this panel are what you see in the results blog posts.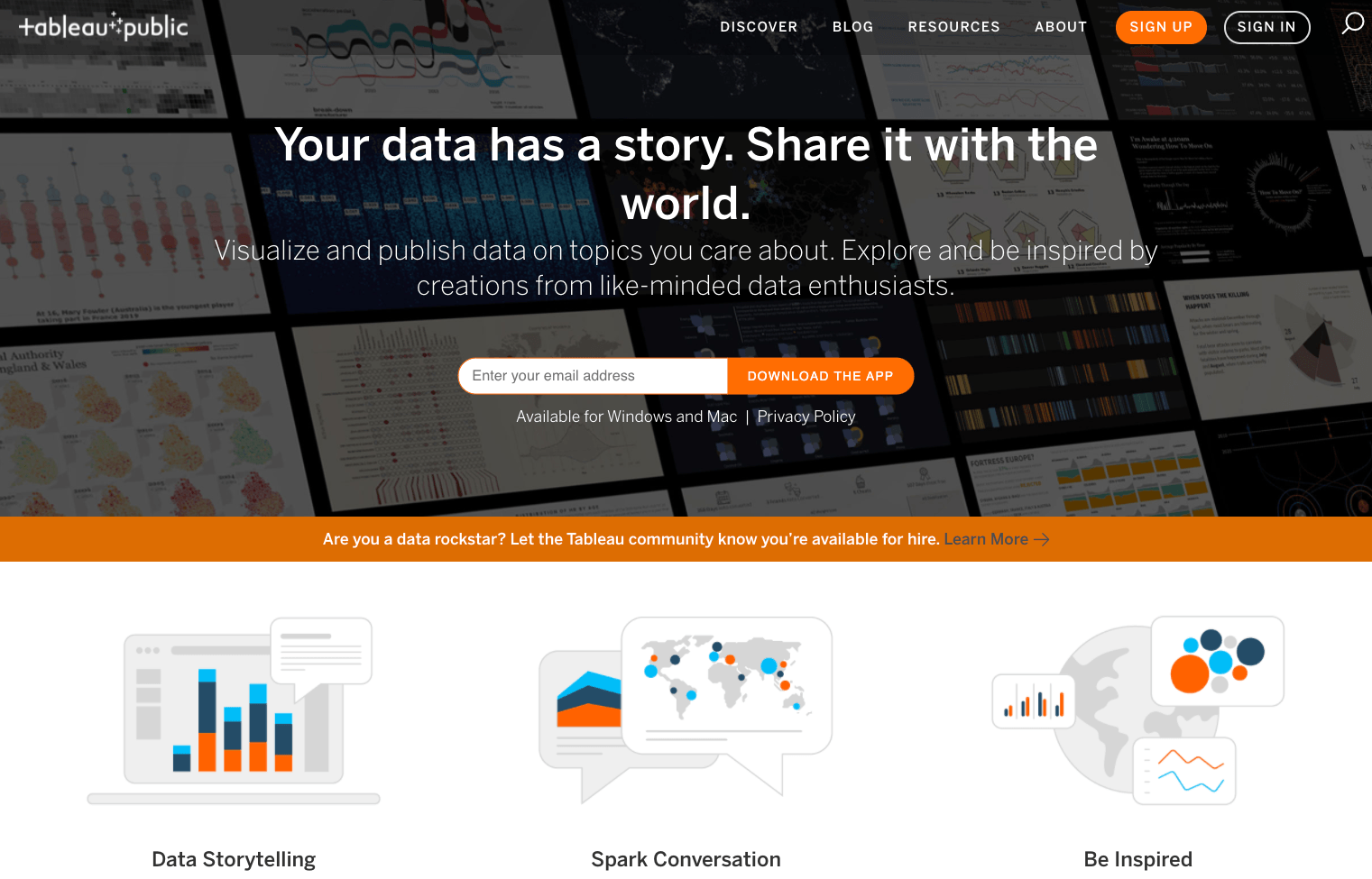 Powered by Tableau Public
Tableau Public is the backbone of Iron Viz. This free platform to explore, create and publicly share data visualizations online is also the largest repository of data visualizations in the world. Utilize it to advance your career in analytics by learning from limitless data inspiration and creating an online portfolio of work.
Get inspired
Iron Viz 2022
Date
Name
Announcements
Prizes
 

January 10, 2022 - February 7, 2022

Iron Viz Qualifier*

Finalists receive free registration for Tableau Conference 2022

 

TBD 2022

Iron Viz Championship

We will soon announce the date for the Iron Viz Championship at Tableau Conference 2022. 

1st place: $10,000 cash prize and $5,000 donation to a nonprofit of choice
2nd place: $5,000 cash prize and $2,000 donation to a nonprofit of choice
3rd place: $2,000 cash prize and $1,000 donation to a nonprofit of choice

 
Official Iron Viz Qualifier Rules
#community-footer (embeddable)