How to Measure, Plan, and Build a Data-Driven Organization
Learn how to assess, navigate, and track your journey to a data-driven organization—from Data Culture to core capabilities—with the Tableau Blueprint Assessment.
The call to build a data-driven organization is as loud as ever, but how do you do so in a data-driven way? Where are you on your journey, and what gaps do you have? What actions should you prioritize to scale the use of data and build a Data Culture? Those are just some of the BIG questions for which the publicly-available Tableau Blueprint Assessment provides very practical answers.
The United Nations World Food Programme, Red Hat, JPMorgan Chase, Nissan, F5, and more have turned to Tableau Blueprint for holsitic guidance on how to bring together people, processes, and technology to drive outcomes through the use of data. The Tableau Blueprint Assessment is based on Data Culture research and Tableau Blueprint—a mashup of analytics best practices and the expertise of thousands of customers, curated to help Tableau customers turn repeatable processes into core capabilities. The assessment measures your organization's current maturity and provides a detailed plan to help you navigate the journey to becoming a data-driven organization. With questions, answers, and recommendations specific to you—whether you're a Chief Data Officer, Director of Analytics, Line-of-Business Leader, Tableau Server Administrator, Community Leader, or other stakeholder—the assessment features paths personalized by role to guide holistic success. 
And did I mention that the assessment—along with all the resources in the Tableau Blueprint —only takes minutes to complete and is available for free?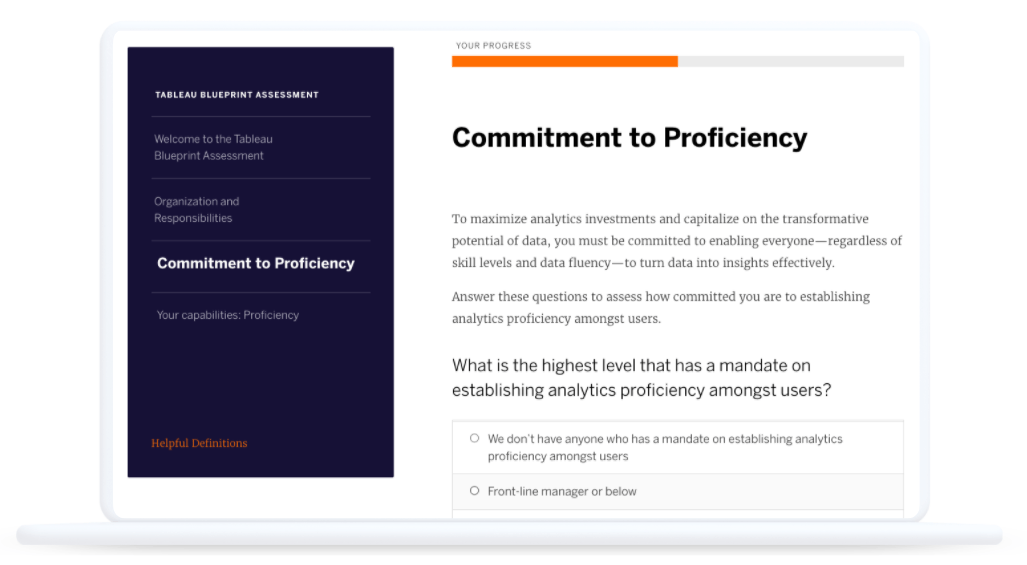 Use the Tableau Blueprint Assessment to measure, plan, and build a data-driven organization. 
Foster the behaviors and beliefs that lead to a successful Data Culture
Tableau defines Data Culture as the collective behaviors and beliefs of people who value, practice, and encourage the use of data to improve decision-making. Data-leading organizations enjoy benefits like improvements in customer retention and acquisition, employee retention, and production time. In the assessment, executives answer questions about their Data Culture, spanning business priorities, decision-making, data literacy, and more.
Data Culture questions include:
What function is responsible for developing a Data Culture? IT or the line-of-business?
Are business outcomes clearly defined before using data and analytics to make strategic decisions?
Do enablement or training programs exist to help employees at every level develop data skills? 
Adopt processes and best practices across agility, proficiency, community, and governance
Whether you're new to modern, self-service data analytics or need to broaden, deepen, and scale the use of data, Tableau Blueprint provides prescriptive, documented guidance. Those processes and best practices have been converted to questions and answers to help your hands-on leaders (Admins, Data Stewards, Community Leaders, etc.) better understand their current capabilities. In addition, Executives responsible for agility, proficiency, community, or governance receive questions to assess their commitment to each area.
Capability questions include:
What processes do you have in place for monitoring your Tableau Server environment?
What processes are in place to provide training on analytics best practices?
Commitment questions include:
What is the highest level that has a mandate on ensuring the Tableau environment is agile and high-performing?
What is your ability to demonstrate the impact of analytics proficiency on business value?
Measure where you are in your journey
You can complete the assessment no matter where you are in your journey. But, taking the assessment before deployment will ensure you get the most from your Tableau investment. Once you complete your assessment, you'll receive a score for each section and a simple visualization that indicates where you are today.
To help you better understand where you're aligned (or misaligned) across your organization, encourage other stakeholders to take the assessment. We now give you the tools to combine multiple responses on your own. Learn how by completing our Tableau Blueprint Basics Trail and visiting our Tableau Blueprint Tool Kit.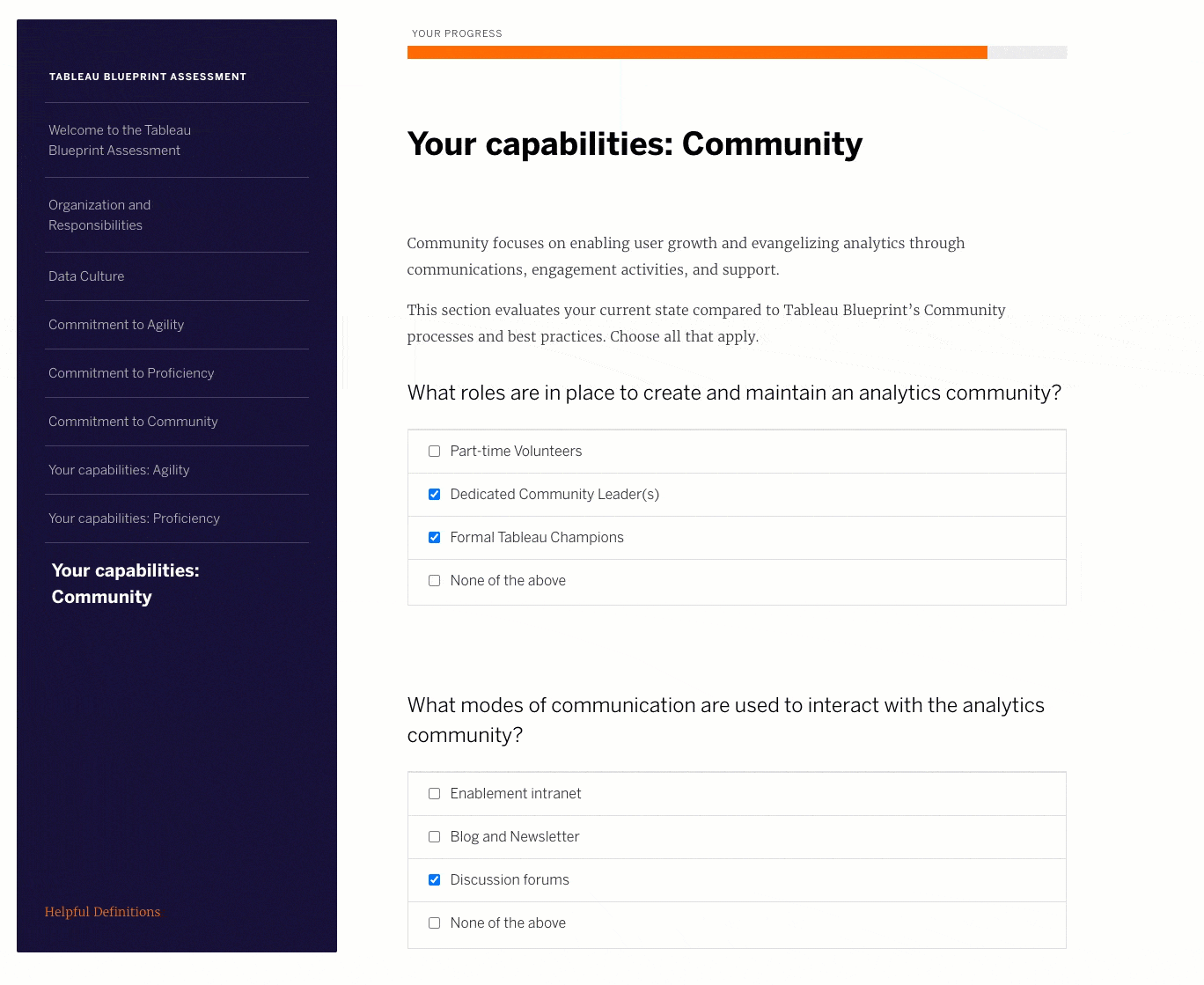 Use recommendations to build a plan—and track your progress along the way
In addition to measurements, you will also receive personalized, actionable recommendations, listing out the tactical steps needed to grow your organization's capabilities. Your results will also feature use cases from data-leading organizations such as the United Nations World Food Programme and Red Hat to JPMorgan Chase and Nissan, stories you can turn to for inspiration as you progress in your journey.
Think of this as your guide showing you how far you've progressed in your journey. You can toggle the status for each action item, indicating its status. As you complete each recommendation and mark it as "Done," your score will dynamically update, showing how far you've progressed in your journey. To keep track of your progress organization-wide, we recommend having your stakeholders retake the assessment on a semi-annual or annual cadence.
As we learn, the Tableau Blueprint evolves
We're regularly adding new processes and best practices to Tableau Blueprint based on what we hear from customers like you. From defining an analytics vision and showing business value from your analytics investment to establishing a peer-to-peer support system through Tableau Data Doctor, the ever-evolving Tableau Blueprint exists to help you scale the use of data and build a Data Culture. 
As we head into this accelerated digital transformation era, we're working to include themes that will enable your organization to be successful with data in general across multiple toolsets—Tableau, CRM Analytics, augmented analytics, and Salesforce Genie Customer Data Cloud, powered by Tableau. In other words, the Tableau Blueprint becomes more of a Blueprint for Analytics, and we look forward to further exploring this in the coming months.
Get started today: Learn more about Tableau Blueprint and how to run the Tableau Blueprint Assessment within your organization by taking the Tableau Blueprint Basics Trail.
Subscribe to our blog
Get the latest Tableau updates in your inbox.