Building data skills and community with Tableau's Academic Programs Lunch and Learn sessions
With more instructors bringing data skills into their classroom, the Tableau Academic Programs team wanted to create a space for sharing, learning, and building community.
With more people seeking out data skills, the Tableau Academic Programs team wanted to create a space for sharing, learning, and building community. In 2021, the Lunch and Learn sessions launched to help enable students and teachers around the world with critical data skills. Each segment runs for 30-60-minutes as a virtual event organized by the Tableau Academic Programs team, hosted by students and instructors. Each session falls into one of three themes:
Whether you're an educator or are interested in Tableau education and data skills learning, we have many sessions that cater to a multitude of learning needs. Here are just a couple of many you will find on-demand:
On-demand now: Bringing accessibility to the classroom
During our Tableau Online in the Classroom session, an educator and student from Podium Education shared their experience using Tableau Online in the classroom and the impact it has had on accessibility. During the session, they walk through how they leverage Tableau Online throughout their entire course, from classroom set up, to completing homework assignments, and collaborating with peers. Podium Education chose to utilize Tableau Online for their courses because the platform is fully hosted on the cloud, making it accessible for students with tablets and other machines that do not support Tableau Desktop. With Tableau Online, students can access the platform from anywhere, anytime. This session has helped dozens of instructors make the switch to Tableau Online.
On-demand now: A student's guide to becoming Certifiably Tableau
For future job readiness, many schools are introducing the Tableau Desktop Specialist Exam. In our eLearning and Certification session, Tableau's Certification team shared how to prepare for the exam, become Certifiably Tableau and boost their resumes. Students got studying tips and learned more about the format from the team who made the exam.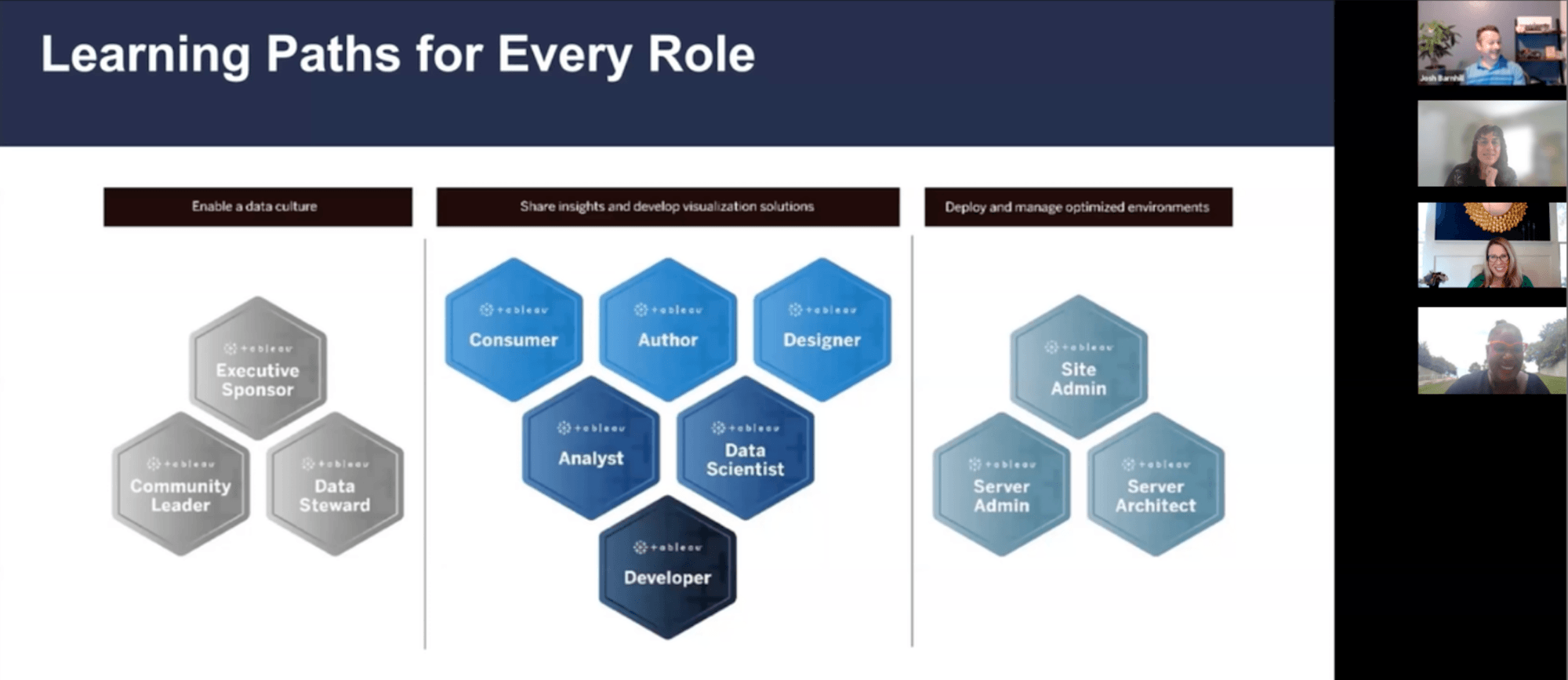 A group of attendees at the eLearning Lunch & Learn session.
What's next?
Come join us! We produce at least one Lunch and Learn session a month. The hosts for each session alternate between the Tableau Academic Programs team and our broader academic community. The Tableau hosted sessions are a space for the community to ask questions about our programs, and to learn more about the resources we offer—think office hours! For sessions hosted by our academic community—the format of these can be totally up to you, share course content, surveys, provide demonstrations, or present on your latest success. Each session is hosted live online. Registration for upcoming sessions can always be found on our webpage. After the live session, the recording will be available for on-demand viewing. Whether you've been teaching Tableau in the classroom for years, or you're exploring incorporating it into your class, you can find value in attending the discussions.
We're always looking for hosts from the broader Tableau Community. If you'd like to participate let us know by filling out our facilitator form here. We look forward to continuing to grow this important program and we can't do it without the support of our Community.
When it comes to elevating people with the power of data, Tableau makes it easy to incorporate visual analytics into any curriculum. Our Academic Programs provides students and instructors around the world with free access to Tableau Desktop, Tableau Prep, and eLearning. Learn more here.
Subscribe to our blog
Get the latest Tableau updates in your inbox.