7 Ways to Stand Out and Secure Your Next Data Analytics Role
Tips for getting hired, creating a free data visualization portfolio, connecting with other data enthusiasts, landing your dream data viz job, and more.
You may already know that Tableau Public is a great resource for learning new data skills and connecting with an incredible community of data enthusiasts - but did you also know that Tableau Public can help you stand out to potential employers? Whether you're actively looking for your next opportunity or just quietly quitting your current job, we've outlined 7 ways to secure your next role with Tableau Public.
1. Build a Strong Portfolio on Tableau Public 
Create a portfolio of visualizations on Tableau Public showcasing your abilities. Choose a variety of data sets and demonstrate different visualization types, from bar charts to maps. Ensure your profile is complete by including your name, preferred pronouns, and relevant social media links. 
Pro tip: To learn more about getting started creating your Tableau Public profile, check out our Beginner's Guide.
2. Enable the Hire Me Button on Your Profile
Enabling the Hire Me Button on your Tableau Public profile is a great way to let prospective employers know that your data skills are available for hire. All Tableau Public authors that have the Hire Me Button turned on will be searchable using our Hire Me Viz. Using this viz, hiring managers will have the ability to filter potential candidates based on skill-set and location.
Pro tip: Want to maximize your reach to prospective employers? Let your followers on social know you're #OpentoViz by using the hashtag or share the link to your Tableau Public profile with your professional network on Linkedin.
3. Legitimize Your Data Skills with E-learning and Certifications
Whether you're new to a career in data analytics or a seasoned professional, it's never too late to uplevel your data skills. Below are a few resources to help you get started:
Pro tip: Keep your professional network updated on your latest achievements by sharing updates on the certifications you've earned.
4. Growing your network on Tableau Public and beyond
Grow your Tableau Public network by following authors and favoriting vizzes that inspire you. Log in and visit the Recent Activity channel on the Tableau Public homepage to find the latest viz updates from the authors you follow. 
Leverage LinkedIn to connect with Tableau Public authors and other like-minded data professionals in your desired industry. Share your Tableau Public visualizations to increase your visibility to prospective employers.
Pro tip: Have a Tableau Public viz that you're really proud of? Share how it was created with your professional network to spark conversation.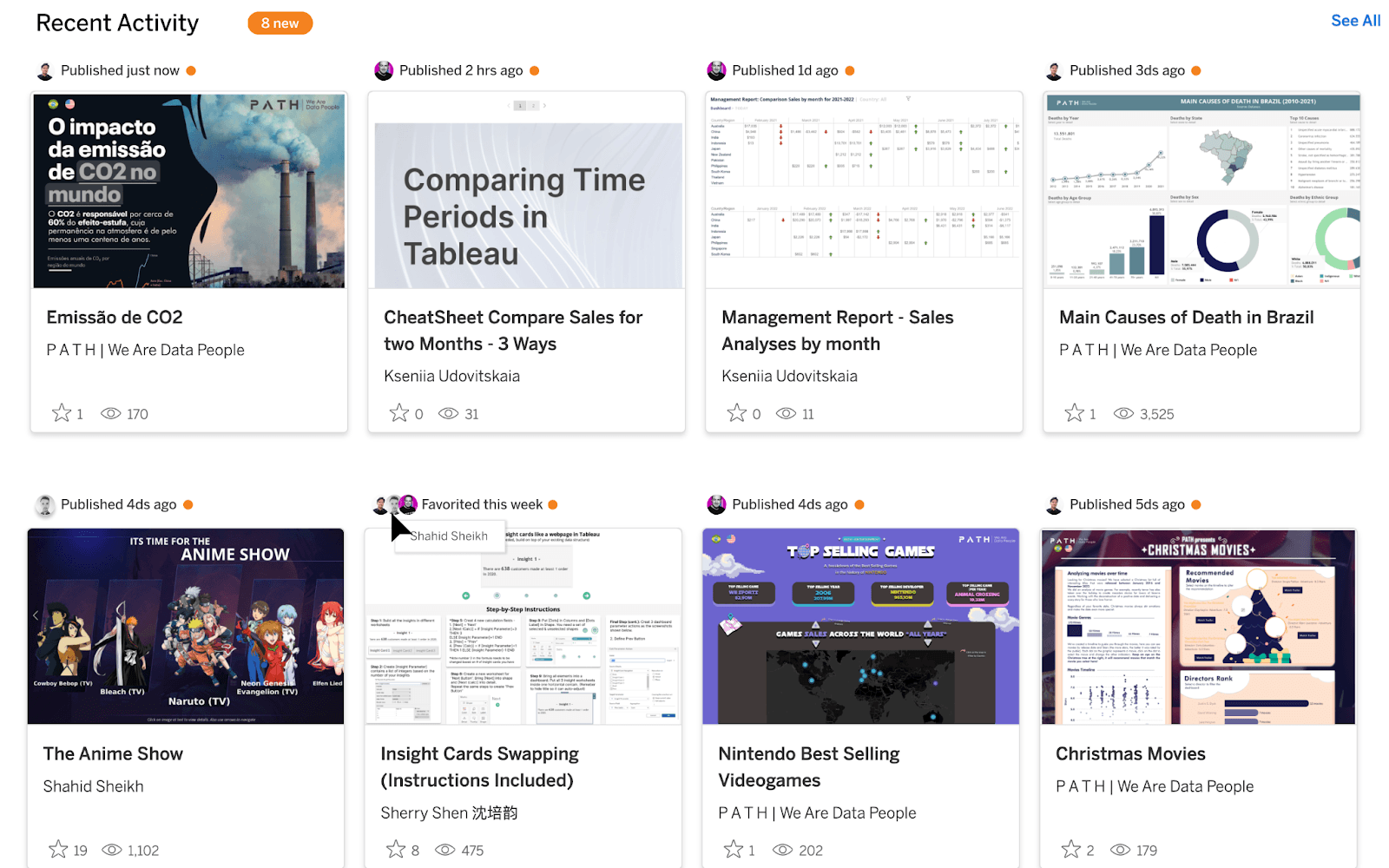 Recent Activity channel on Tableau Public with personalized content based on the authors you follow
5. Customize Your Resume and Cover Letter 
Tailor your resume and cover letter to highlight your Tableau expertise. Specify the projects you've worked on, any certifications you hold, and your proficiency in using Tableau's features to analyze and present data effectively.
Pro tip: Adding the URL to your Tableau Public profile to your resume to showcase your visualization portfolio. 
6. Participate in data challenges and competitions 
Ready to show off your data skills or challenge your expertise? Join a Community Project like Makeover Monday, Workout Wednesday, or Viz for Social Good. Prepare to take on other Tableau Public all stars with Iron Quest and enter to win the world's largest data visualization competition - Iron Viz.
Pro tip: The more vizzes you create, the higher likelihood you may get nominated for Tableau Public's Viz of the Day (VOTD). Subscribe to VOTD to see what type of visualizations are selected!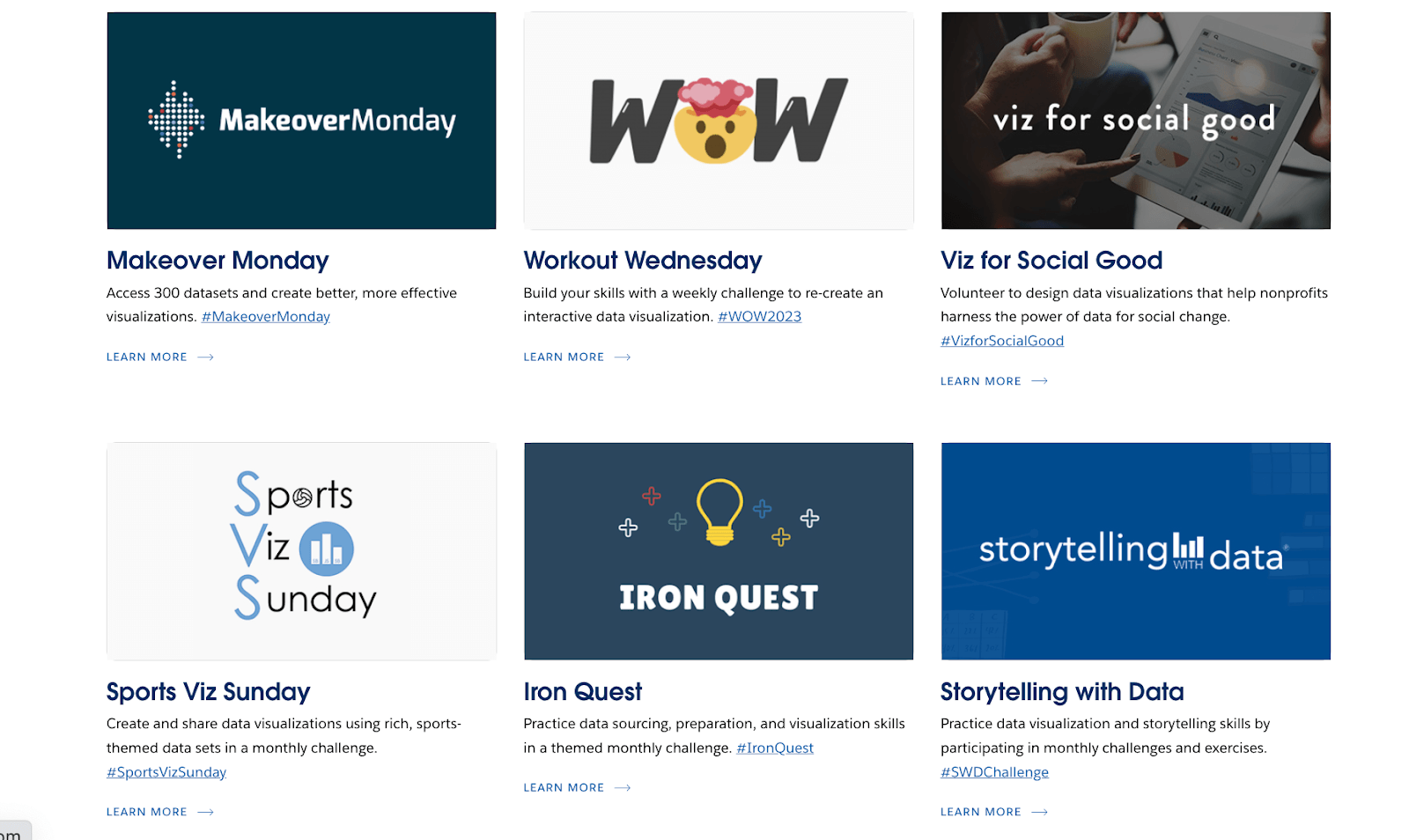 Just a few of the many Community projects we have available to get you started on your learning journey
7. Become a community leader 
Take your data skills on the road and connect with other data rockstars by joining one of the many Tableau user groups (there's even one for Tableau Public) - or apply to be a Tableau Public Ambassador. Making contributions to the Community is a great way to get noticed by other like-minded data enthusiasts and build up your network. 
Pro tip: Looking for tips on your next big data-skills project? Don't be afraid to reach out to one of our current Tableau Public ambassadors, they're here to help!
For more tips on getting started with Tableau Public, check out our Beginner's Guide series and don't forget to follow us on social! 
Subscribe to our blog
Get the latest Tableau updates in your inbox.