What is Salesforce Data Cloud for Tableau?
Discover hidden insights in all your customer data with Salesforce Data Cloud for Tableau.
In the quest to become a customer-focused company, the ability to quickly act on insights and deliver personalized customer experiences has never been more important. Every company today is being asked to do more with less, and leaders need access to fresh, trusted KPIs and data-driven insights to manage their businesses, keep ahead of the competition, and provide unparalleled customer experiences. 
But good data—and actionable insights—are hard to get.
Traditionally, organizations built complex data pipelines to replicate data. Those data architectures were brittle, complex, and time intensive to build and maintain, requiring data duplication and bloated data warehouse investments. As a result, making informed business decisions was frustrating and time consuming. 
Salesforce Data Cloud for Tableau solves those challenges. It's easy to use, deploy, and scale. All your customer data is instantly accessible. Up to date. Trusted. Secure. Data Cloud for Tableau is the fastest and most scalable way to unlock customer data and help deliver actionable, real-time insights. 
Let's explore how. 
What is Salesforce Data Cloud for Tableau? 
Salesforce Data Cloud, the #1 CRM data cloud, is a real-time data platform that provides a single source of truth for customer data to help you tackle your biggest data pipeline challenges. It powers the entire Salesforce Customer 360 platform to help organizations ingest, harmonize, and unify all customer data across channels and interactions into a single, real-time customer profile so every experience across the Customer 360 is more automated, intelligent, integrated, and real time.
As the world's first real-time CRM, Salesforce Customer 360 and Data Cloud provide your entire organization with a single, up-to-the-minute view of your customer across any cloud.
Data Cloud for Tableau brings that trusted, up-to-the-moment customer data to life by layering on visual, explorable, and actionable analytics and insights. 
Data Cloud makes all Salesforce data natively available in Tableau, providing the most valuable insights to help everyone across the organization unlock customer value and make better, faster decisions. Data Cloud for Tableau takes the complexity out of building a real-time customer data platform, so you can more easily visualize, automate, explore and act on your data—from any source—and track the KPIs that matter most to the business.
We're also providing secure, real-time, and open data sharing between Salesforce and Snowflake. This allows Data Cloud for Tableau to directly access data stored in Snowflake, and vice-versa, enabling a real-time Customer 360 view across the two platforms without moving or duplicating data.
Data Cloud for Tableau allows you to discover hidden insights in all your customer data, enabling you to:
Natively connect to trusted, unified customer data
Instantly analyze with the click of a button
Take action with AI-powered insights in the flow of work
Cut costs by consolidating data warehouse investments
How do Data Cloud and Tableau work together? 
Let's get into the nuts and bolts. Think of Tableau as your data visualization and business intelligence layer on top of Data Cloud—allowing you to see, understand, and act on your live customer data.
These features cover functionality for enterprise customer data in five key categories: Connect, Harmonize, Unify, Analyze and Predict, and Act.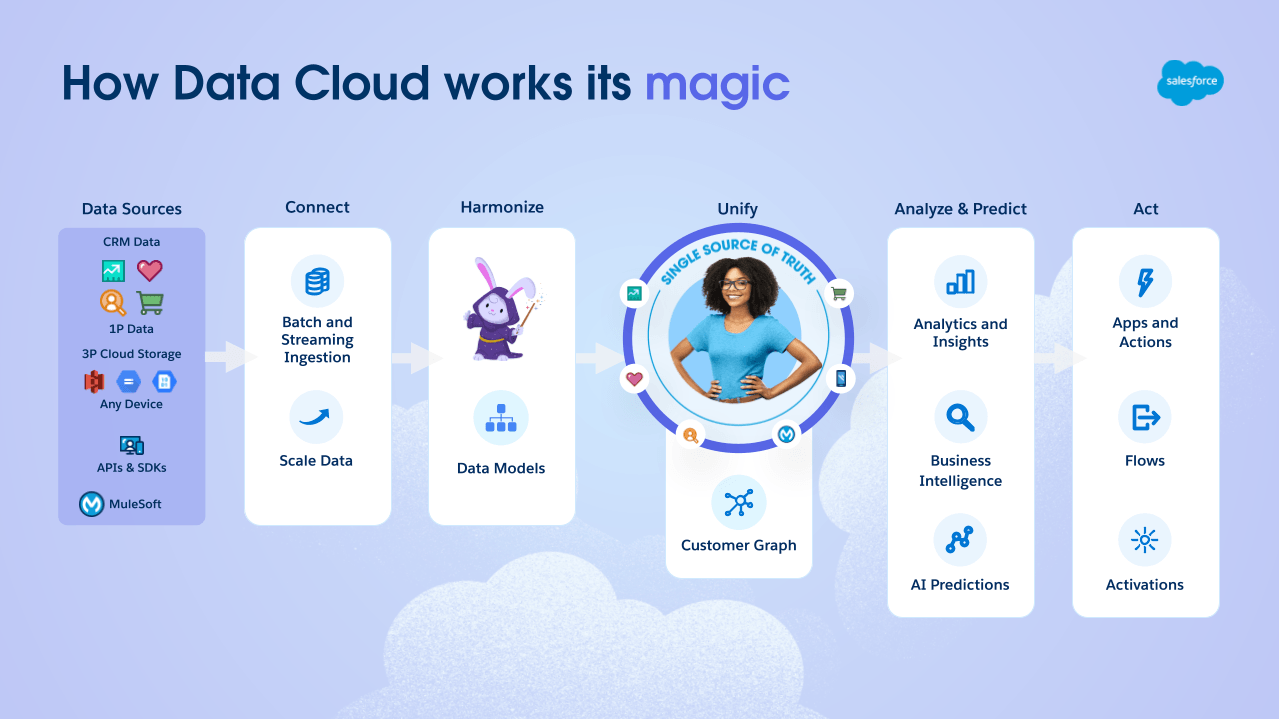 Data Cloud features cover functionality for enterprise customer data in five key categories: Connect, Harmonize, Unify, Analyze and Predict, and Act.
Connect 
First, we bring it all together into the Data Cloud. Built-in connectors bring in data from every single channel. That includes live data streams, streaming data from web and mobile, and APIs integrated with MuleSoft to bring in external data from legacy systems or proprietary data lakes. 
Data Cloud unlocks all your customer data—current and historical—in the Salesforce Customer 360 platform and beyond. Because it's native to the Salesforce platform, you get the business user experience and developer extensibility, while realizing the power of the AppExchange for our ISVs.
But Data Cloud also goes beyond the Salesforce ecosystem. Open and extensible, Data Cloud integrates seamlessly with your existing data architecture, including: 
Open data access—and zero-copy data—with Snowflake, meaning you can access data in Snowflake without moving or copying it
First-party advertising with Google, Amazon, and Meta
Bring your own AI with AWS
Harmonize
Data Cloud for Tableau harmonizes all of your customer data using a knowledge graph. (Or, because it's optimized for customer data, let's call it a customer graph.) As you ingest and integrate data, the customer graph uses AI modeling to map relationships between data points and allows them to be consumed together.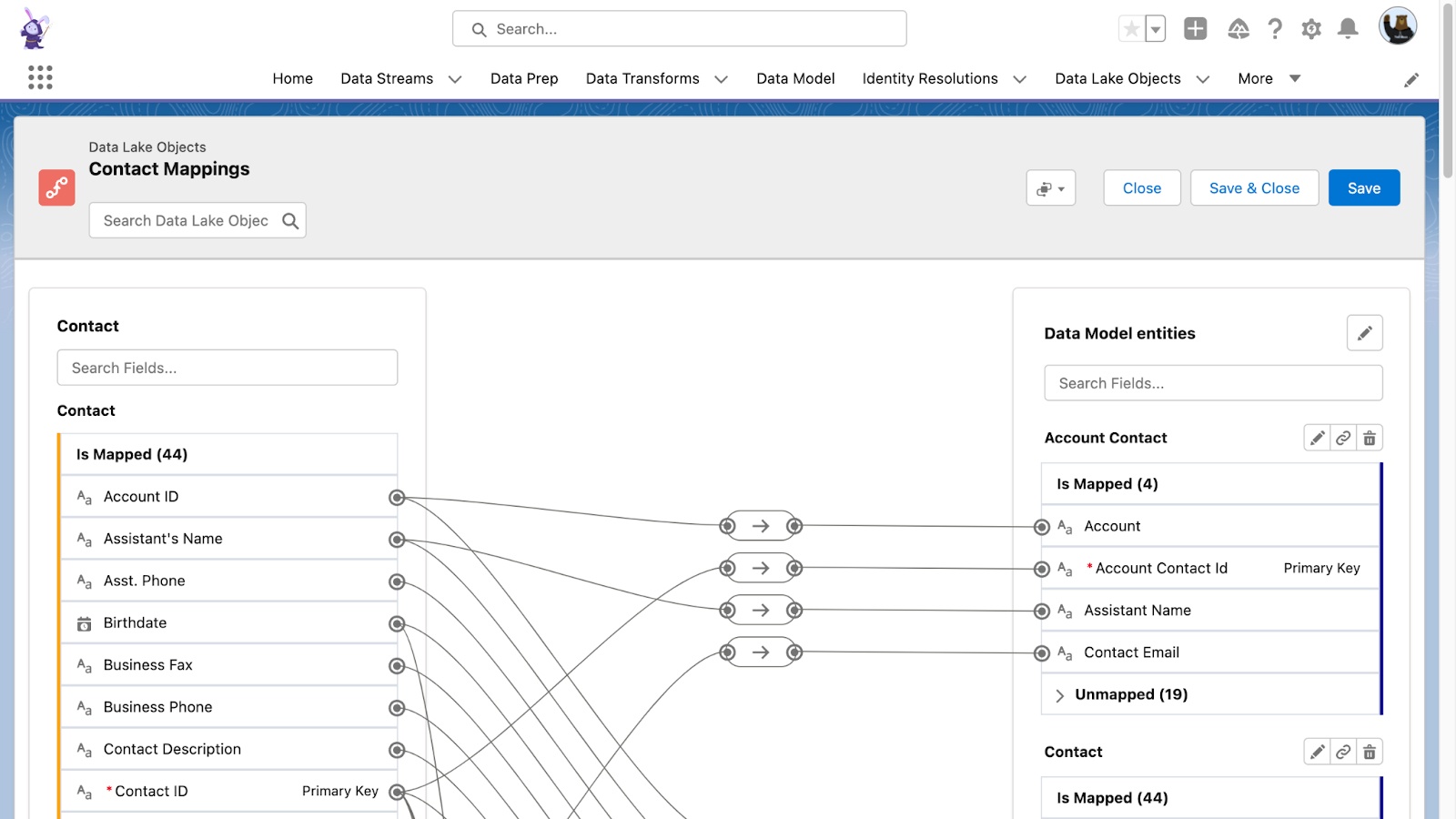 Harmonize your customer data into a unified view by mapping data sources into shared data models in Data Cloud.
Unify
The power of the customer graph keeps going. With identity resolution and deduplication capabilities, you can ensure that all of your customer data is kept up-to-date and nothing gets lost as you work at the speed of change. This customer graph is your source of customer truth and evolves as your data does—meaning unifying billions of customer profiles just got a little easier.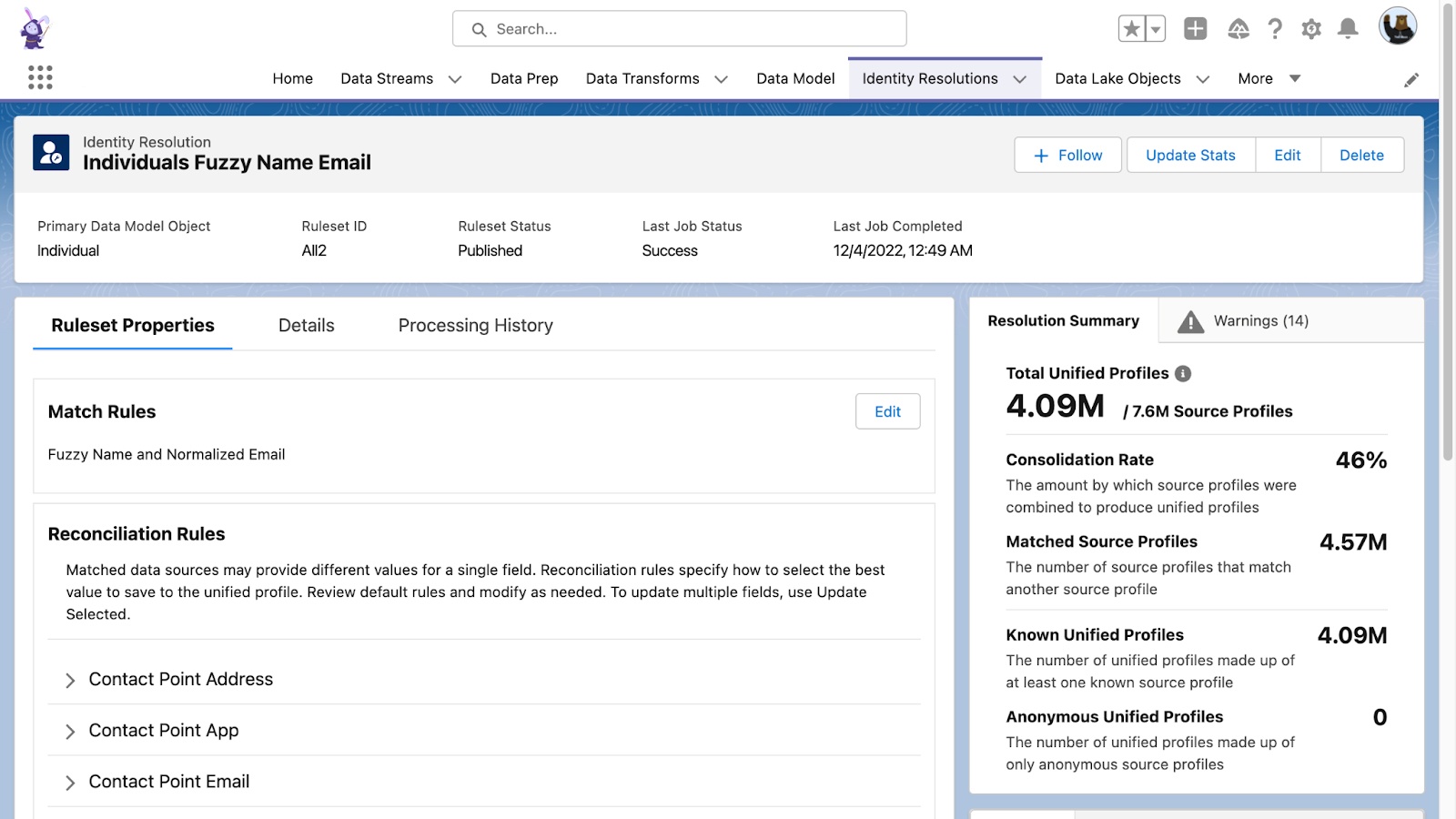 Create rules in Data Cloud to help resolve conflicts and collisions between mutiple data sources.
Analyze and Predict 
This is where it really gets fun. Go from a data set to an intuitive dashboard in Tableau with a single click of a button. Deep data exploration is enhanced with flexible, market-leading visual analytics to help you tell a story with data. The intuitive user experience makes data exploration possible for everyone, so no matter your skill level, you'll be able to use data to make informed decisions.
Create data visualizations that transform billions of harmonized records into new insights into your customers and your business.
Act
And this is where your business can find success now. Using intelligent predictions, recommendations, and flows to uncover answers to business-critical questions, you'll have the next best action at your fingertips. With actionable intelligence spanning the entire Customer 360, every department will have what they need to drive better business outcomes. Think: better personalization, workflows, engagement, productivity, and more. 
Build automations in Salesforce; take action in Tableau.
How can I use Data Cloud for Tableau in my organization? 
With Data Cloud for Tableau, everyone across the organization can instantly visualize, automate, explore, and act on hidden insights in customer data. 
Sales leaders can reduce time to close with instant access to sales pipeline and purchase data. By closely monitoring KPIs like sales velocity, win/loss rate analysis, forecasting, and pipeline health, sales leaders can: 
Increase sales operational effectiveness 
Get ahead of trends that may impact the business and forecast
Increase speed to ramp sales reps to productive sellers 
Marketers can drive engagement with up-to-date campaign and engagement data. With access to KPIs for sales, open rates, click-through rates, web traffic, return on ad spend, and more, marketers can: 
Optimize marketing spend in real-time
Drive efficiency in marketing budgets
Get a real-time view of marketing optimization and budget allocation effectiveness to save money and drive growth
Service and support leaders can boost customer satisfaction with unified case data. Real-time KPIs, such as call volume, time to resolution, net retention, CSAT, and resource utilization, can help service and support:
Optimize call center resourcing
Reduce the cost to serve
Quickly spot problems, triage support, and scale services
Talent and people operations teams can use data to strengthen relationships and employee satisfaction, while making talent acquisition and retention more efficient. Access to KPIs for headcount and employee sentiment (drilled down by performance, level, and department), can enable talent and people ops to: 
More quickly spot trends that impact costly employee attrition
Spot key performers to inform talent development 
Optimize recruiting pipelines
Do more with less
Where can I learn more? 
To take a closer look, check out the Data Cloud for Tableau demo. 
View the on-demand webinar: Uncover Real-time Customer Insights with Salesforce Data Cloud for Tableau. 
Subscribe to our blog
Get the latest Tableau updates in your inbox.