Tableau Shows What's Next for Data Analytics and AI at Dreamforce 2023
Learn more about AI-powered analytics for everyone.
At Dreamforce 2023, the Tableau keynote was packed with innovations that will empower everyone as we charge ahead into the AI Revolution. AI is changing everything—from how we work and innovate to the products and services we create for our customers. But to fully reap the benefits of AI, companies have to be able to trust and act on their data. That's why it's never been more essential for companies to create a comprehensive analytics strategy and become data-driven. 
But what does it mean to be data-driven? It means giving employees the tools and resources they need to grow their data skills. It means nurturing a culture that embraces data-driven thinking. It means harnessing the power of data to make agile decisions, gain a competitive edge, and drive innovation. Being a data-driven company means empowering everyone with data while continuing to support the analysts who help make all of this possible.
Our latest product innovations make it easier for everyone to see, understand, and act on their data. Regardless of your role, department, or industry, Tableau is your trusted partner for your data and AI journey. Let's take a look at the product innovations from DF23. 
Tableau Pulse 
In the past, proficiency in data and analytics required specific skill sets. Now, with Tableau Pulse, we can lower the barrier and empower more people with curated insights that matter most to them. Tableau Pulse takes you beyond seeing and understanding your data—it equips you with the information you need to act on it.
Tableau Pulse is powered by Tableau AI—our suite of predictive and generative AI capabilities that uses large language models to make data conversational.  Instead of slicing and dicing data, interpreting visualizations, and manually connecting the dots, Pulse allows you to input prompts or ask questions about your data in natural language. 
Whether working in Slack or looking at your personalized Pulse homepage, you can see the metrics and KPIs you need to do your work. The best part is that, over time, Pulse will observe what you care about most and show you relevant insights.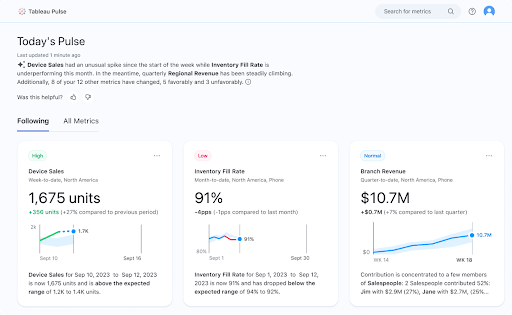 Your personalized Tableau Pulse homepage displays a summary of the key metrics that you follow. Below the summary, each metric card includes a key metric, a visualization, and AI-generated insights.
Einstein Copilot for Tableau 
At the opening Dreamforce keynote, Marc Benioff introduced the new Einstein Copilot that shows up across Customer 360. Whether you work in Service Cloud, Sales Cloud, Marketing Cloud, or Tableau, Einstein Copilot can assist you in completing your tasks. 
Since the launch of Tableau, users have loved our drag-and-drop technology that fuels creativity and deep data exploration. Now, with Einstein Copilot for Tableau—a conversational AI assistant—Tableau Cloud users can visually explore their data and find insights faster. Einstein Copilot automates data curation by generating calculations and metadata descriptions. And it follows best practices to help you create dashboards to act on your findings. 
Imagine you own a pet store and want to host an event for recently engaged customers. Rather than using drag and drop to create the segment, Einstein Copilot can help you get started by suggesting business prompts relevant to your data. Einstein Copilot does this by combing through metadata and running statistical analysis. Or, if you already know what you need, you can ask Einstein Copilot in plain language: "Show me customers who made purchases in the last three months, broken down by purchase type."  And if you use Salesforce, all of the segments you create in Tableau are automatically published to Data Cloud, making it easy for your team to know which customers to engage.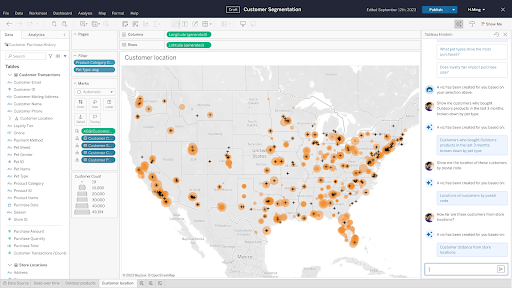 Using the Einstein Copilot panel, you can type questions or choose a recommended prompt, and Einstein will create or update your visualization.
Intelligent Apps and Salesforce Unified Analytics Experience
A few years ago, we launched Revenue Intelligence—an out-of-the-box application that enables sales teams to forecast accurately, manage pipelines, and close deals faster. Revenue Intelligence is powerful because sales professionals get contextual, AI-powered insights, recommendations, and predictions in Sales Cloud so they can stay in the flow of work.
Now, we're rolling out new intelligent applications that are purpose-built for Salesforce clouds. These out-of-the-box intelligent apps span sales, service, marketing, and commerce. They infuse predictive, prescriptive, and generative AI to help you get insights faster and identify your next best steps. And because they're native to Salesforce, you can have confidence knowing you're building on a trusted, flexible, and scalable platform. All these apps are interoperable with Tableau, so it's easy to dig deeper into the data when you have additional questions. 
Service Intelligence helps service leaders track their team's case workload and improve service operations. 
Segment Intelligence helps marketers show their impact to stakeholders and improve their segments and activations in Data Cloud for Marketing. 
We are also enhancing our Revenue Intelligence offering with additional out-of-the-box dashboards for sales leaders and providing a new premium SKU that includes Tableau Explorer licenses. Now, in addition to purpose-built insights, sales teams will also get deep data exploration capabilities from Tableau.
Over the last few years, we have made significant progress in making our products interoperable to provide seamless experiences for CRM users. With Salesforce Unified Analytics Experience, you can 1) access all your analytics from one central hub in your CRM, 2) infuse Tableau vizzes into your Salesforce clouds with the native lightning web component, and 3) jump from Salesforce into Tableau for deeper data exploration.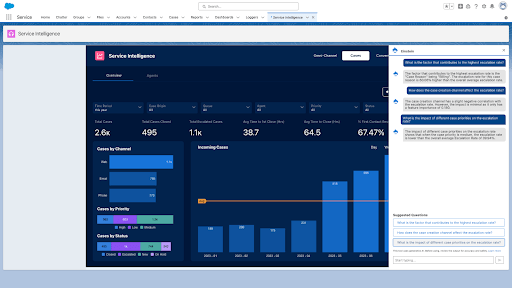 In the Service Intelligence dashboard, you can access insights on your team's case workload. Einstein helps you proactively understand the trends in your data.
See the innovations in action 
If you missed us at Dreamforce and want to see demos for each of our product innovations, you can watch the entire Tableau keynote on Salesforce+.
You can also explore recent product releases and submit ideas to let us know what you'd like to see next in Tableau. 
If you're interested in trying Data Cloud, we currently have a free trial for Sales Cloud and Service Cloud customers that includes two Tableau Creator licenses. Get started with Data Cloud today. 
Finally, thank you to the DataFam and Trailblazers for your unwavering support and passion for Tableau. We'll continue to look to our communities for feedback and inspiration as we explore everything AI has to offer. The era of AI-powered analytics offers opportunities for everyone, and we're on a mission to turn those opportunities into realities.
Subscribe to our blog
Get the latest Tableau updates in your inbox.