Tableau Accelerators Pre-Built Dashboards Available on the Salesforce AppExchange
Discover best-in-class pre-built dashboard templates dashboards on the Salesforce AppExchange to jumpstart analysis.
In today's data-driven world, organizations constantly seek ways to gain deeper insights, make informed decisions, and drive business growth. The power of data analytics cannot be underestimated, and tools like Tableau have been at the forefront of helping businesses harness the full potential of their data. There's even more reason to get excited about Tableau, as Tableau Accelerators are now available on the Salesforce AppExchange.
Unleashing the Power of Tableau Accelerators
Tableau Accelerators are powerful, pre-built dashboard templates to turbocharge your data-driven decision-making. These accelerators offer your organizations the agility to swiftly implement and customize expert-crafted dashboards, providing rapid access to data-driven insights. With dozens of functions and industries, they draw from industry best practices, enabling businesses to become more data-driven and easily make informed decisions. Tableau Accelerators empower organizations to turn data into action, driving greater efficiency and results.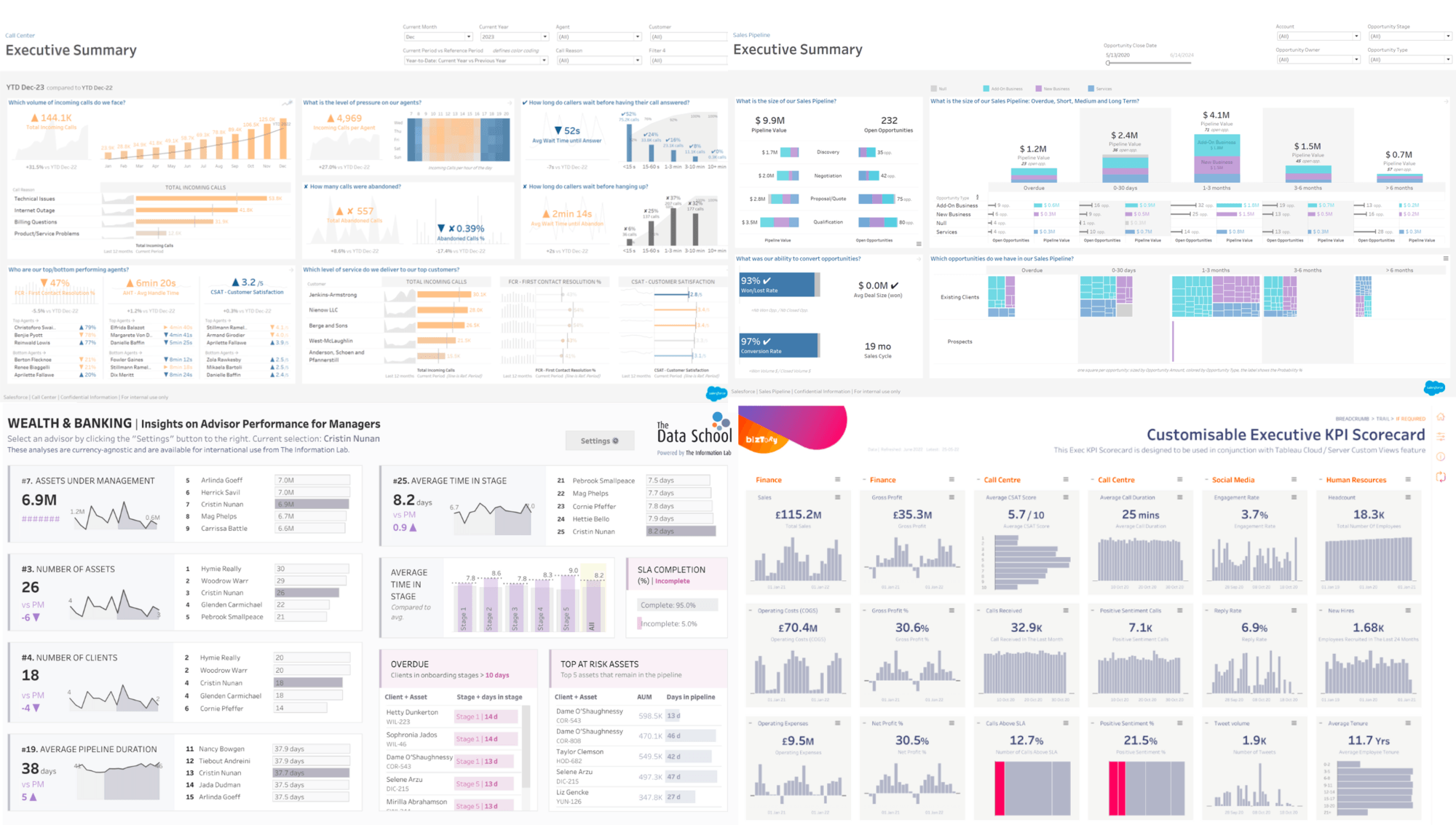 Accelerators–built by Tableau and our trusted network of partners–span a wide variety of use cases across departments and industries.
Drive Easy Implementations
With Tableau Accelerators now available on Salesforce AppExchange, you can quickly discover and implement the right dashboard for your needs through the leading enterprise cloud marketplace you know and love. Accelerators are purpose-built, helping you answer business-critical questions straight away. Instead of going through the lengthy process of identifying the right metrics, figuring out how to visualize them best, and creating the content, you can simply use an Accelerator that has already done the heavy lifting.
Accelerate Time to Value
Time is of the essence in today's fast-paced business environment. Tableau Accelerators are not just ready-to-use; they are fully customizable dashboard templates. This means that not only can you get started quickly, but you can also tailor these solutions to your unique business requirements. By doing so, you accelerate your path to data-driven insights and extract value from your data at a pace that suits your organization.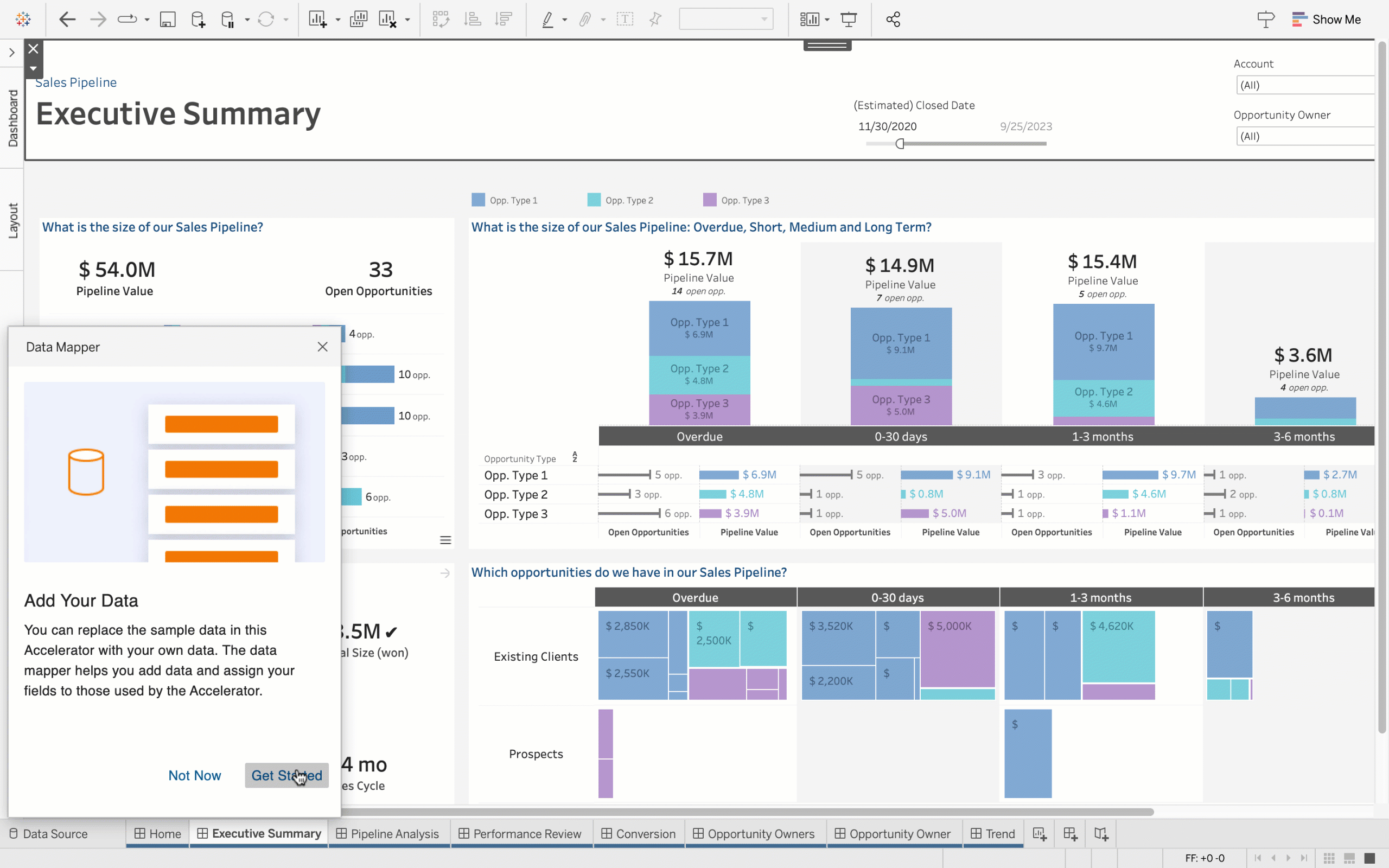 The Data Mapper tool for Accelerators enables you to swap out the sample data with your organization's in a matter of minutes.
Leverage Expert-Built Solutions
One of the standout advantages of Tableau Accelerators is that they are built by industry experts who leverage market best practices to address use cases across 100+ functions, industries, and use cases. This means you're not just getting a generic analytics tool; you're gaining access to specialized solutions crafted by professionals who understand the intricacies of your field and have deep expertise in helping customers like you overcome business-critical challenges with technology. This level of expertise can be a game-changer when making data-driven decisions.
Enable Action to Achieve Greater Results
Data is only as valuable as the actions it inspires. Tableau Accelerators empower your organization with actionable insights that can steer you toward informed business decisions. By leveraging these solutions, you're enhancing your data strategy and enabling your entire organization to become truly data-driven. The result? Greater results, improved efficiency, and a competitive edge in your industry.
Get Started Now 
In a world where data is king, Tableau Accelerators, now available on AppExchange, are the knights in shining armor. They simplify the implementation process, accelerate your time to value, tap into expert-built solutions, and enable your organization to take action based on data-driven insights.
If you want to supercharge your data strategy, make informed decisions faster, and achieve greater results, it's time to explore the world of Tableau Accelerators on AppExchange. With a marketplace you already know and trust, it's easier than ever to harness the full potential of your data and transform it into a valuable asset for your organization. Don't wait—start your journey toward data-driven success today.
Subscribe to our blog
Get the latest Tableau updates in your inbox.