Visualize your listening habits with Last.fm and Spotify data
Do you know which artist you listen to the most? Do you know when you last listened to an artist? What happens when your kids take over your Spotify account?
Your music listening history contains all sorts of great information. I analyze my music data to discover new insights, find the "lost" bands I stopped listening to a while ago, and much much more. In this post, I'll help you start uncovering insights in your very own listening data! I'll even share some questions you can ask to kickstart your analysis.
How to get your personal listening data
First thing's first: you need to get some data. The best way to collect long-term data is to use Last.fm. For a shorter-term data set, you can get three months of listening history from Spotify.
Scrobbling with Last.fm
Last.fm is a music service that lets you track your music with what they call "scrobbling." Here's how you can turn scrobbling into data:
Create a Last.fm account (it's free!).
Enable scrobbling so that Last.fm can track all your listening across your digital music services.
Once Last.fm has a few weeks of listening data, use my friend Ben's LastFmToCSV converter—simply pop in your username and it'll create a CSV for you.
I've been scrobbling data with Last.fm since 2007. Don't be disheartened if you are only just starting—even a single month of music data can be interesting. And if you start now, you'll have a year of data to look at before you know it!
Requesting your Spotify listening data
Don't want to wait for scrobbling to capture your listening data? If you have a Spotify account, you can request three months of data directly from Spotify! Just follow these steps:
If you don't have a Spotify account yet, create one here (it's free!).
Once logged into Spotify, head to the privacy page where there is an option to download your data.
Wait a few days for Spotify to send you an email with your data.
Although this is an easier method, you only get a three-month snapshot of data. But there's still plenty in there to get some great insights into your recent listening habits.
Finding stories in your listening data
Now that you've got data, you're all set to explore your listening habits! The following are questions that guided my analysis, as well as the stories I uncovered. Download this Tableau Public workbook to see the calculations behind each viz, or click on each viz to learn more about it. You can also favorite the workbook to keep it handy as a resource.
Which tracks and artists do you listen to most?
This is probably the first question you're going to ask. For me, the question revealed a tad embarrassing answer. For 10 years of listening data, 7 of my top 10 tracks are from the movie Frozen. I'd like to blame my kids for that, but I'll let you judge for yourself who chose to play those tracks back in 2013.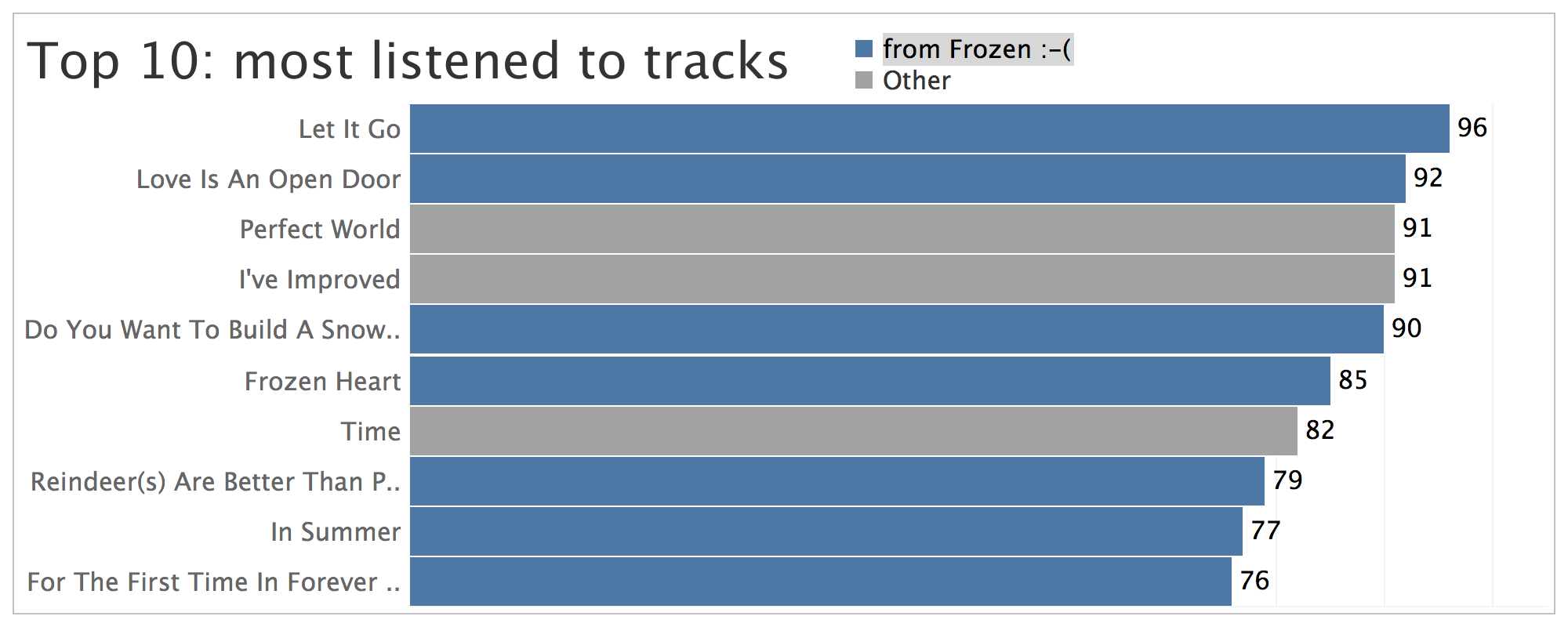 When do you listen to new music?
As I get older, do I listen to more or less new music? My hunch tells me that as time goes on, I'd settle into my old favorites and shy away from new artists. But the proportion of new music I've listened to each year changed from 44% to 37% between 2016 and 2018—looks like I might be settling into things I know.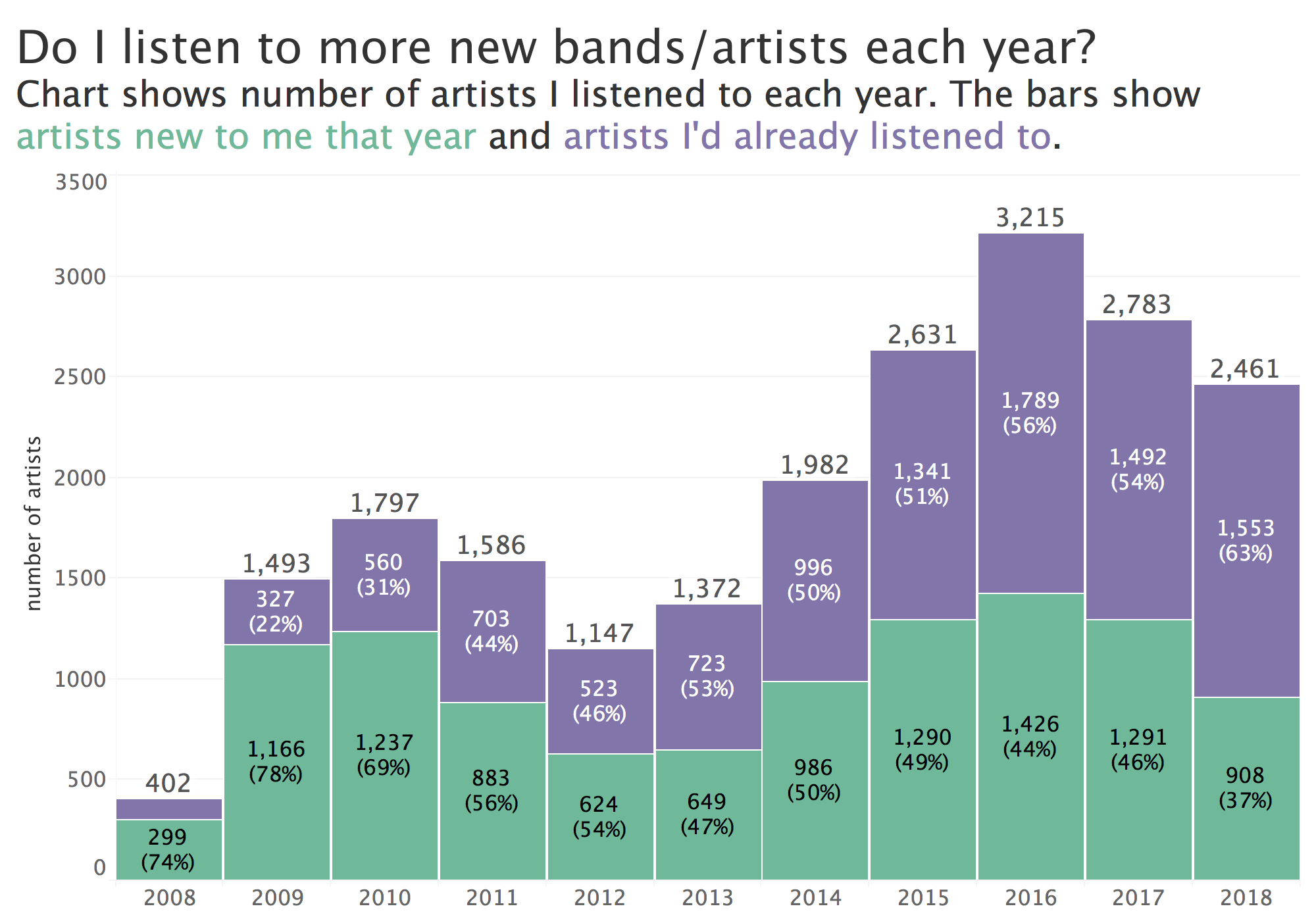 What artists do you binge listen to?
The viz below shows my listening streaks. Each trail that rises from the x-axis is a listening streak. The higher it gets, the more consecutive tracks I listened to by that artist. This year, one of my longest streaks was The Comet is Coming, a psychedelic jazz-rock band from the UK.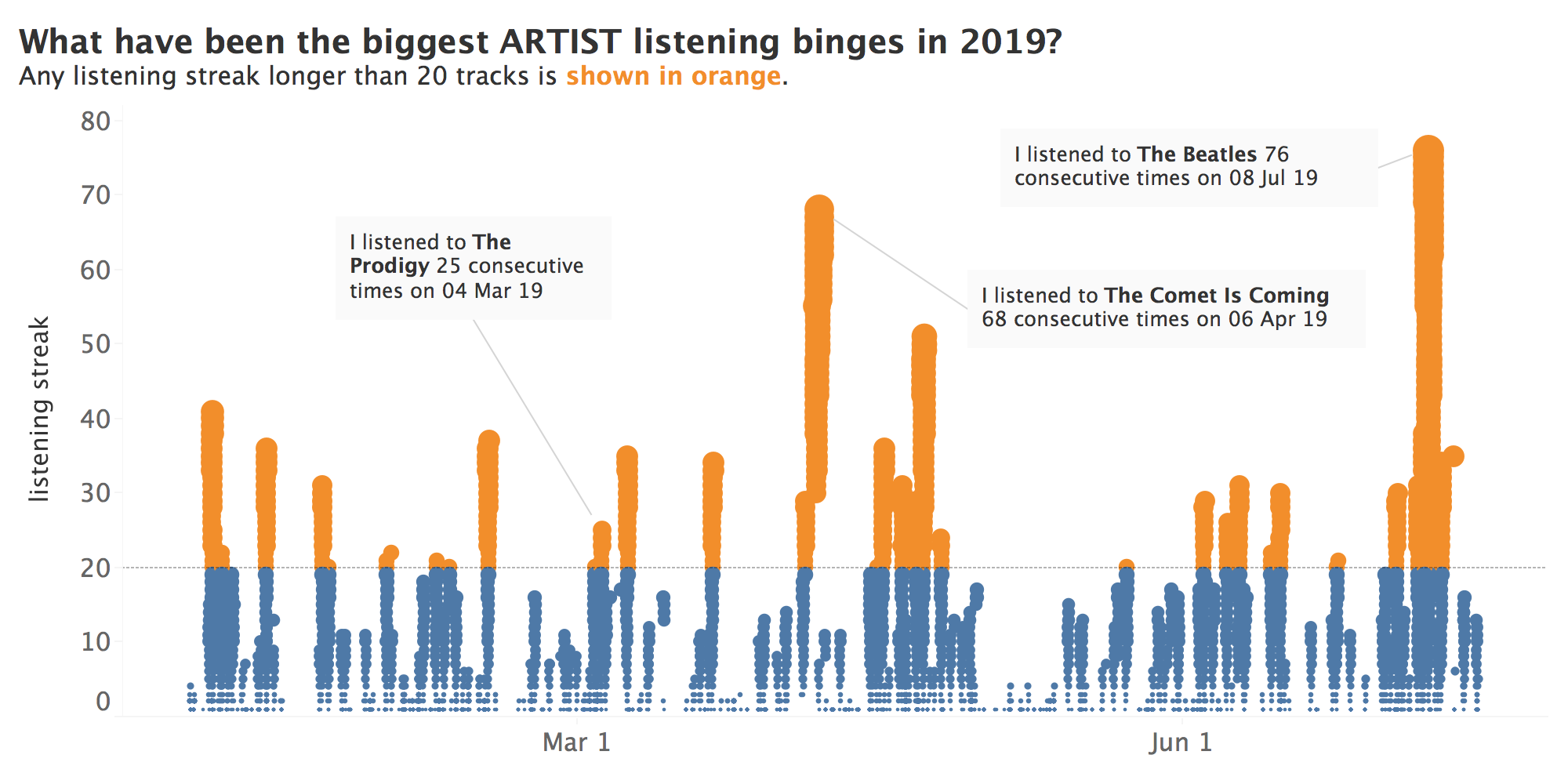 Do biopics and musicals impact your listening habits?
Biopics and other musicals reignite our interest in artists. Just imagine my binges below scaled up to the millions of people who've seen these films!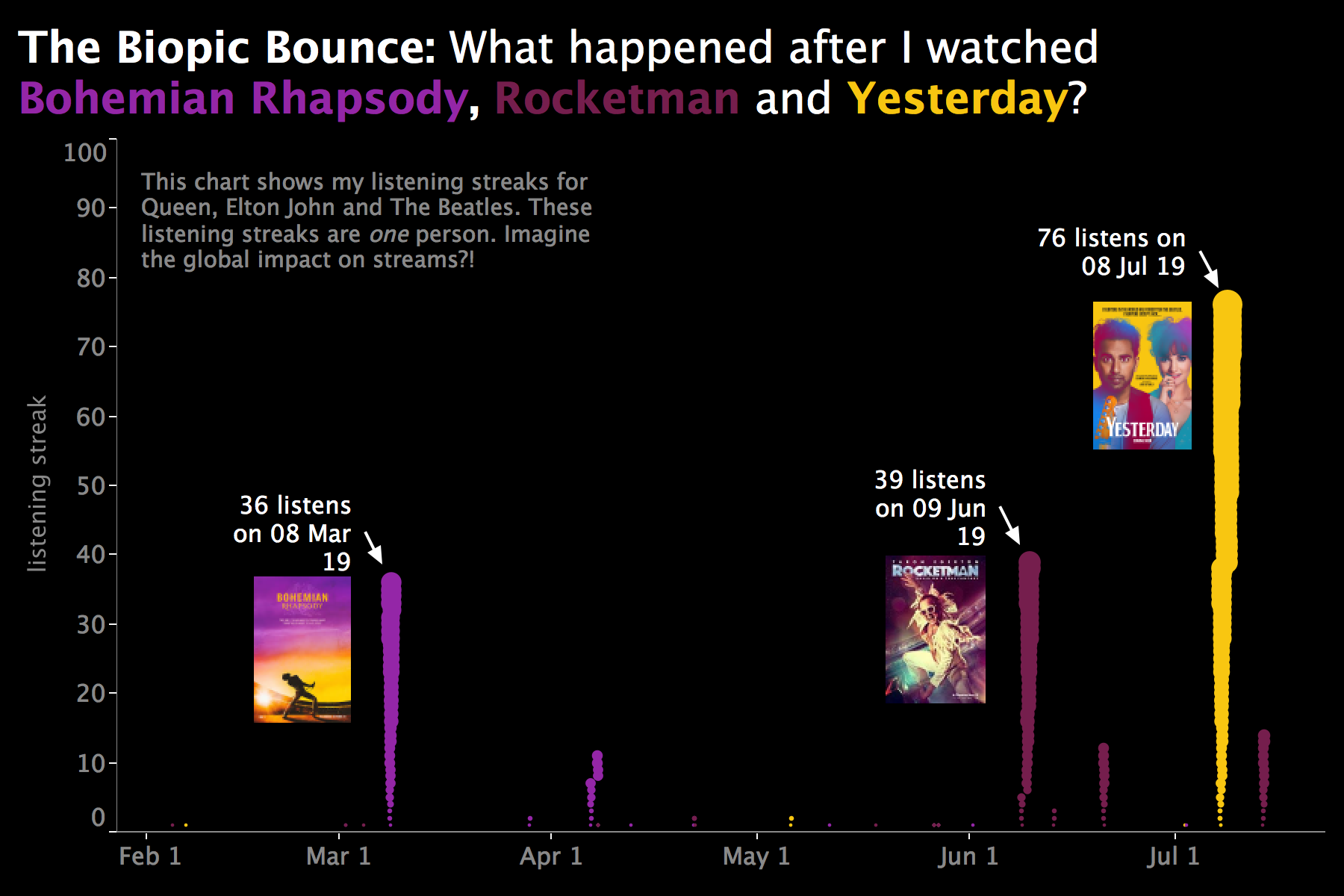 Which artists can you rediscover?
I use the viz below to hunt around for long-forgotten music. Each dot is an artist, and each dot's size shows me how many times I've listened to that artist. The x-axis shows the last time I listened to them. The y-axis shows the first time I listened to them.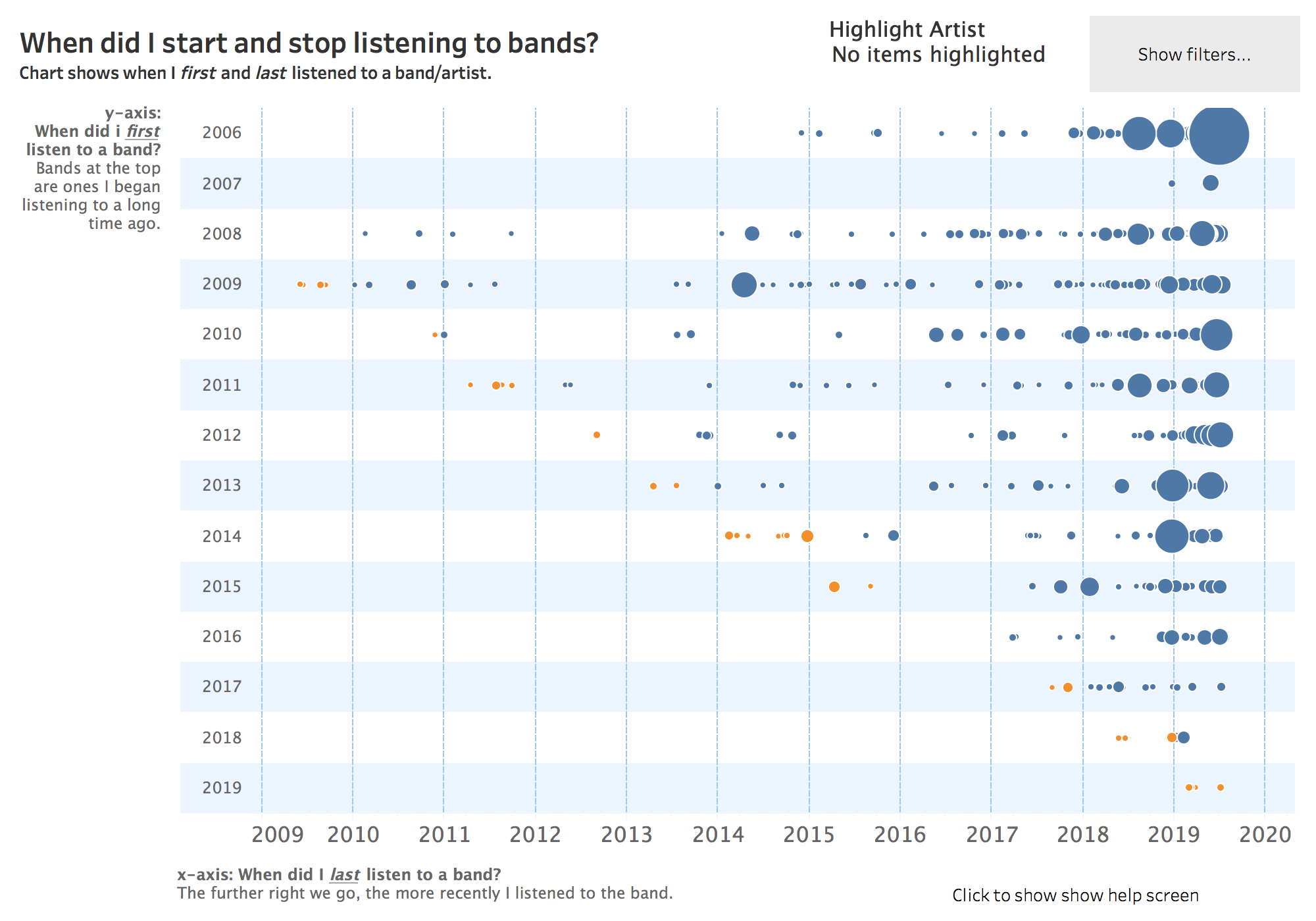 More ways to visualize Data + Music
I hope you've enjoyed this post! Let me know what you think, and share what insights you find in your music history on Twitter using #DataPlusMusic. And don't forget—you can follow me on Tableau Public for even more inspiration!
Excited about music data but not wanting to visualize your own listening habits? Lucky for you, we're celebrating Data + Music all summer long! There's tons of great resources to inspire your next Tableau Public viz, including this guide to visualizing music industry trends with Spotify data.
Subscribe to our blog
Get the latest Tableau updates in your inbox.