Introducing the new Tableau platform, reimagined for the enterprise
Meet the new Tableau platform, reimagined for the enterprise. Introducing new enterprise subscription plans and new enterprise capabilities from governance and security to platform scalability.
As more businesses accelerate digital transformation initiatives, leaders are gaining a better understanding of the value of data, and want to scale analytics across their organization. However, on the road to becoming a data-driven organization, choosing an enterprise platform often presents leaders with compromises: Strong governance or agile, self-service? Deep, powerful capabilities or approachable features for broader use cases? A platform that's readily scalable or cost-effective?
You shouldn't have to consider trade-offs in order to enable everyone in your organization to make better decisions, faster. And you shouldn't have to stockpile point solutions to address the spectrum of needs for everyone from your specialized, power users to everyday business users. That's why we're making it easier for customers to get value from Tableau and to empower all of their employees to be data-driven.
Today, we're excited to announce the new Tableau platform, reimagined for the enterprise—including new enterprise subscription plans and new enterprise capabilities from governance and security to platform scalability.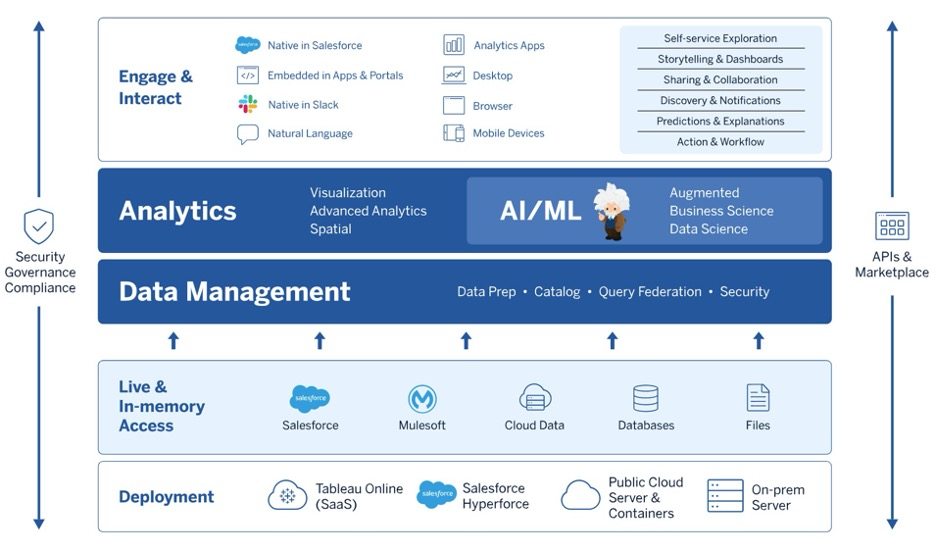 The Tableau platform
Enterprise subscription plans
You may associate enterprise solutions with depth and complexity—often, they provide the advanced capabilities that hardcore users demand, but at the expense of a steep learning curve or limited use cases. We recognize your need for deep and broad capabilities to help your whole organization succeed at scale, regardless of an individual's skill level or relationship with data.
To make it easier and more cost-effective for you to empower more people in your organization with trusted and governed data, we're bundling Creator, Explorer, and Viewer licenses for Tableau Online with Data Management, and Data Management plus Server Management for Tableau Server. This means you can more easily procure and deploy these capabilities to help everyone across your enterprise drive better business outcomes.
Increase trust with integrated data management and centralized security
New and improved governance capabilities will help you get the right people connected to the right data, when and where they need it.
Data management improvements
As part of the upcoming Tableau 2021.3 release, we're introducing some new data management capabilities. In Tableau Catalog, you can now see inherited descriptions right within your web authoring flow. Additionally, data quality warnings are now available in subscription emails—complete with links to go directly to impacted dashboards.
Linked tasks in Tableau Prep Conductor allow you to schedule multiple flow jobs to run one after another on Tableau Server. Prep Conductor can now also generate a set of missing rows in a table based on dates, date times, or integers. This helps fill gaps in your data to ensure complete data sets and more accurate visualizations.
Centralized security
In preview, new security features increase flexibility and segmentation by allowing Tableau administrators to centrally configure which users and groups have access to which slices of data. With centralized row-level security, Tableau admins can define and manage row-level security among data tables and have it consistently applied across all connected Tableau flows, data sources, and workbooks that depend on that data.
We're also introducing a new content type: virtual connections. Create and share access to many different tables through a governed database connection, embed service account credentials, and extract data from data tables centrally to reuse within Tableau Server and Tableau Online.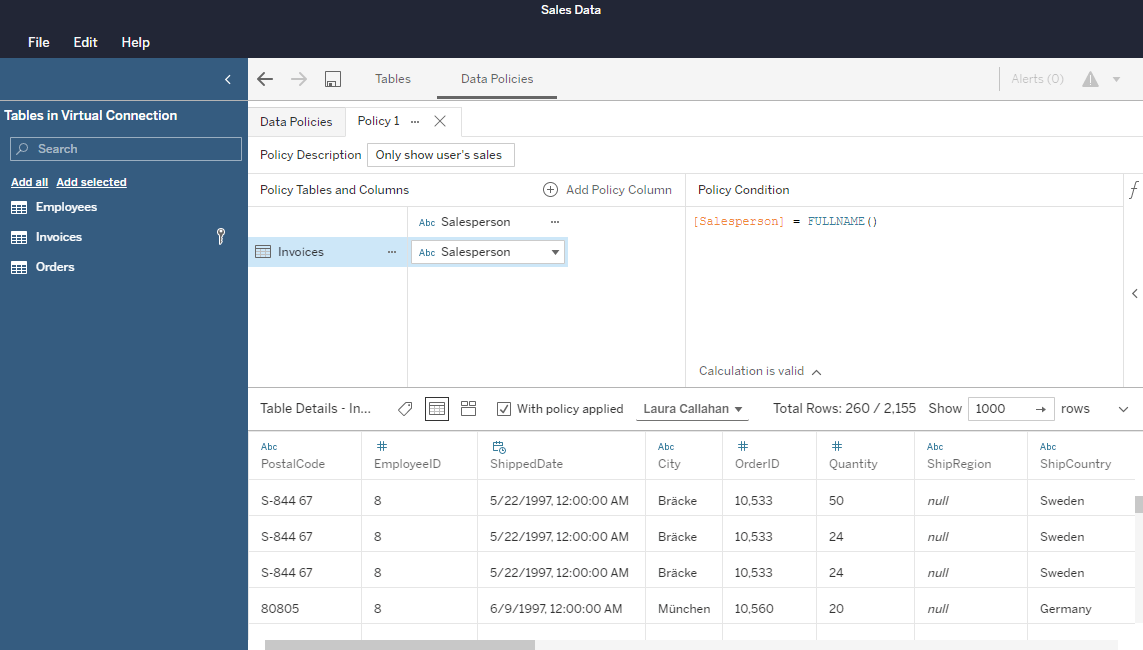 A salesperson can use a virtual connection with embedded credentials to securely connect to invoice data. The row-level security policy in place ensures the salesperson only sees the data related to their customers.
Simplify deploying and scaling your mission-critical analytics platform
We're introducing new resources and capabilities to help you streamline the deployment and management of your governed analytics environment.
Enterprise architecture
Coming later this year, an enterprise reference architecture with tiered topology will allow IT teams to deploy Tableau with an industry-standard approach to availability, performance, security and compliance, and scalability. Each layer of server application functionality is bound and protected by access-controlled subnets with secured access guidelines for admins, proxy integration (with browser, mobile and desktop) and AuthN plugin enforcement. The enterprise deployment guidelines are technology agnostic and platform independent, providing flexibility to easily secure, scale, and manage tiers across subnets whether you're deployed on-premises or in the cloud, with virtual machines or containers.
Resource management
We're making it easier for IT teams to better optimize the performance of Tableau Server by defining hardware resource limits. Starting with the ability to limit Backgrounder resource usage, you can improve job queue performance. Look for new resource management capabilities as part of Tableau Server Management early next year.
Dynamic scaling
Earlier this year, we launched support for Tableau Server in a container. Next year, we're adding dynamic scaling in a container, beginning with Backgrounder. This will help you respond to changing workload demands within your Tableau Server deployment to ensure more consistent performance.
You can have it all—enterprise analytics without compromise
Don't sacrifice governance for self-service — With integrated data management and governance that enables, not restricts, you and your workforce can stay within a trusted environment throughout the entire data and analytics lifecycle.
No choosing between powerful or intuitive capabilities — Encourage curiosity, creativity, and data-driven decision-making for users of all skill levels with AI-powered analytics through an intuitive interface. Lower the barrier to entry to interact with and explore your data through drag-and-drop and natural language interactions, no-code machine learning, and one-click statistical modeling.
The people's choice is also trusted by leaders — Tens of thousands of organizations around the world choose Tableau because they get much more than great analytics software. Tableau enables you throughout your data-driven journey to empower everyone by providing everything you need to be successful. Build your Data Culture with Tableau Blueprint, the most comprehensive methodology to unlock people's potential and grow analytics adoption. Cultivate an internal data community and engage with the global Tableau Community of data enthusiasts to grow data skills.
Empower everyone with scalable and cost-effective analytics — The Tableau platform provides unparalleled flexibility and choice, fitting with your existing investments and growing alongside your organization's evolving needs, regardless of your technology and data strategy. Our enterprise subscription plans take into account what large organizations really need to drive adoption, removing surprise costs and platform dependencies without sacrificing functionality.
Ready to discuss expanding your Tableau deployment? Reach out to your account executive to learn more about our enterprise subscription plans today.
Subscribe to our blog
Get the latest Tableau updates in your inbox.