Connect with the DataFam at Tableau Conference 2021
In 2008, we held our first Tableau Conference for a couple hundred people in Seattle. Since then, it's grown into a global, interactive event that unites the world's largest data Community.
And it's all because of you, our DataFam. Thank you for all that you do for data and for each other.
You are the magic ingredient that makes TC so special—you are innovative, brilliant, kind, and helpful. Whether we're virtual or in person, we can always count on you to bring your passion for data while lending a hand to help others along in their data journey.
We're excited for all the ways you'll get to learn, connect, support, and have fun with our DataFam during TC21. We've pulled together this insider's guide to help you make TC21 your best one yet!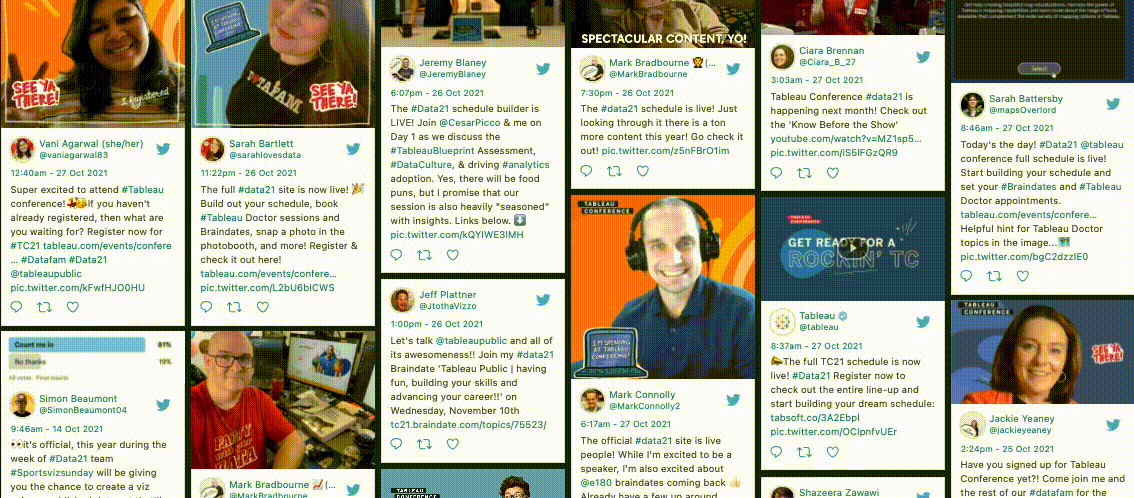 Connect with your DataFam
Support your DataFam
Have Fun with your DataFam
Community Episode Directory
Across our 17 Community episodes, there is truly something for everyone—whether you're a Tableau beginner, expert, a new DataFam member, or Zen Master. We've got you covered! Get the inside scoop on all community-led content from some of the speakers themselves:
Power of Community
Iron Viz 2021 Championship
#DATASaber: Accelerating Data Culture with Community in Japan (in Japanese)
Find Your Voice: How Community Builds Confidence
Tableau Zen Masters Share Their Best Advice
Data+Diversity
Data + Diversity: How Tableau is building an Inclusive Community
Data + Diversity: A Fireside Chat with Dr. Michael Sorrell and Jackie Yeaney
Data + Women and You: The past, present and future
Data Leadership
How to Become an Advocate for Data Literacy
Tableau Foundation: Democratizing police budget data
Product Tips and Tricks
Trucos Rápidos de Tableau ¡en Español! (Tips/Tricks in Spanish)
Shhh....Tableau Secrets from the Experts
Tableau Drilldown: How to level up in Tableau
Tableau Speed Tips: Tricks for all skill levels
Make It Better: Tips for Better Dashboard Design
Inclusive Design: Making Dashboards Engaging, Informative AND Accessible
Minimalist Designs for Maximum Communication
I never MetaData API I didn't like