Unlock the value of your Azure data with Tableau
Learn about Tableau connectivity improvements to Azure with new Azure SQL Database and Data Lake Storage Gen2 connectors and other product updates.
In Tableau 2021.1, we've added new connectors to help our customers access more data in Azure than ever before: an Azure SQL Database connector and an Azure Data Lake Storage Gen2 connector. As our customers increasingly adopt the cloud, we continue to make investments that ensure they can access their data anywhere. Alongside extensive support for Amazon Web Services and Google data services, we offer connectors to support all of your critical Azure data investments.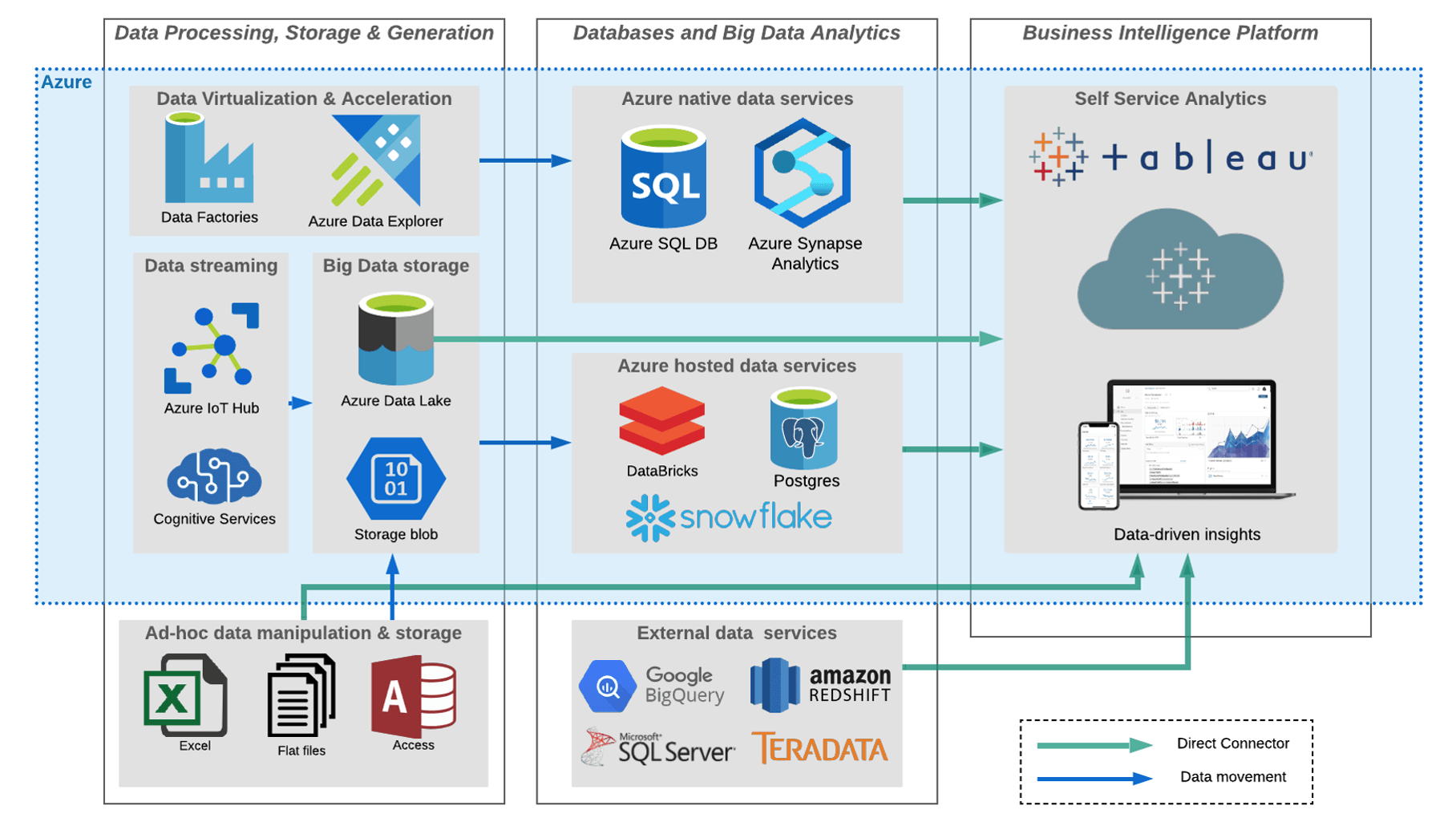 Our customers leverage various different services in Azure to store and manage their data. Tableau has a breadth of connectors to allow you to plug into all of these solutions and analyze data at every step of its journey, supplying insight to users across your organization. The reference architecture above demonstrates the various Azure services you may be using together to meet your business needs. With Tableau's new and updated Azure connectivity you can gain more value from your data investments by adding seamless and powerful analytics to your Azure stack.
Azure Data Lake Storage Gen2
Data Lakes have become a staple of enterprise data strategies. They offer a low-cost, big data storage solution. But the true value of data lakes comes from being able to plumb them for new insights. These insights can be ad-hoc or can inform additions to your data processing pipeline. You may just need to quickly ask a question of a csv file stored in your data lake without worrying about moving the file to an enterprise data warehouse. Alternatively, your data lake may store autogenerated files that you want to transform into a curated data set and share throughout your organization.
Tableau's new Azure Data Lake Storage Gen2 connector unlocks both of those critical use cases. A direct connector to Azure storage makes it easy for any user to connect quickly to the data they need—without taking extra steps to download or move data, or relying on IT processes to push the data to another data storage service. This native connector also unlocks new opportunities to find value in your data assets by analyzing your data lake directly.
Azure SQL Database
Many customers rely on Azure SQL Database as a managed, cloud-hosted version of SQL Server. Whether you are a new Azure SQL Database user or are migrating your on-premises SQL Server to the cloud, Tableau is there for you. We released an entirely new Azure SQL Database connector which will support Azure Active Directory authentication—a critical security requirement.
One thing we've learned from our cloud customers is that a savvy cloud business leverages various solutions to meet their organizations' needs. Azure SQL Database may be your main database, or you may combine it with another data warehouse for marketing, an ETL tool for data processing, and a data catalog to help users find what they need. This new connector makes it easier than ever to integrate Tableau into your entire suite of data solutions.
All Tableau Azure connectors will support Azure Active Directory authentication in 2021.1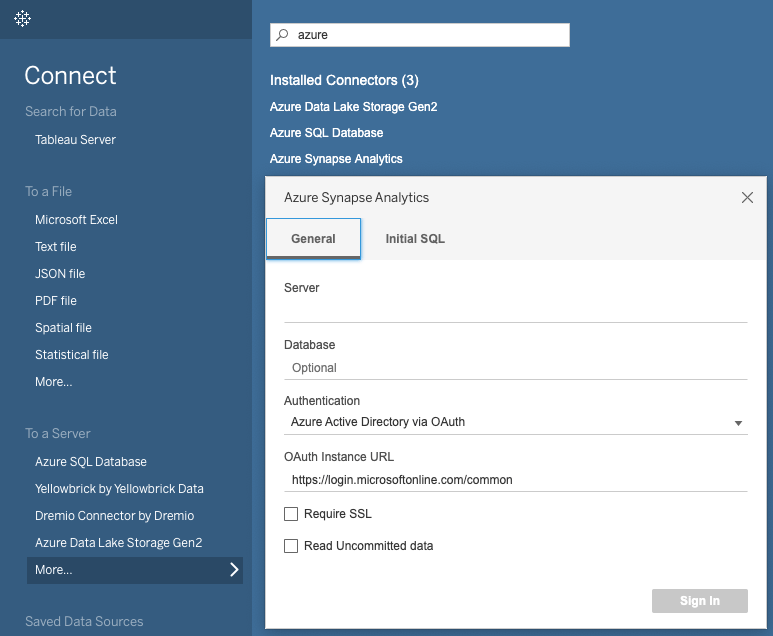 For customers leveraging the Azure platform, Azure Active Directory is a crucial security requirement. We've added AAD authentication support to all of our Azure data connectors: Azure Synapse, Azure SQL Database, Azure Data Lake Storage Gen2 and Azure Databricks.
Tableau is committed to ensuring you trust every element of your platform. That means leveraging the most relevant security and identity management tools. Azure Active Directory is not only a cloud standard, but it also simplifies identity management for your organization. This is why Tableau invested in added AAD support to all of our Azure connectors. Now your IT team can manage identity in a single location and end users can easy authenticate using one set of credentials.
Tableau on Azure is an enterprise platform
Tableau is unique in its ability to offer enterprise customers both the deployment flexibility and the security they need from an analytics platform. In addition to connecting to your data in Azure, you can also deploy Tableau Server on the Azure cloud while leveraging key Tableau enterprise capabilities.
In 2020.4 we added the ability to use Azure Postgres database as an external repository for Tableau Server. The Tableau Server Repository is a PostgreSQL database that stores data about all user interactions, extract refreshes, and more. By deploying the repository on an external database you can take advantage of the benefits of a cloud database, including streamlined backups and flexible scaling.
In 2021.1 we also added the ability to use Azure Key Vault as the key management system for Tableau Server. This integration allows you to leverage Azure's native key management system to encrypt your Tableau extracts. This investment makes it easier to deploy Tableau within your Azure ecosystem and ensure security across your organization.
To learn more about deploying Tableau Server on Azure you can check out our whitepaper. To learn more about how Tableau customers have found success on the Azure platform please visit our solutions page. To get the latest version of Tableau Server and try our all of these new features, upgrade to Tableau 2021.1 today.
Subscribe to our blog
Get the latest Tableau updates in your inbox.