Our continued investments with Snowflake for enterprise success
Learn about our continued work to integrate Tableau and Snowflake for exceptional cloud analytics.
The past year showed us the importance of data and analytics like never before, paramount to empowering organizations with agility and resilience in the face of uncertainty. Though 2020 was challenging and full of change, one constant was our committed work with our partner Snowflake on behalf of our mutual customers. Together, we're helping them eliminate data gaps, empower every user with data and analytics, and deliver richer experiences.
We're continuously collaborating and maturing our integration to ensure we stay ahead of the technology capabilities our shared customers have come to expect. Today, we'd like to share a little more about what we have been doing to support our Tableau and Snowflake users.
Looking back on a year full of product enhancements
As a Snowflake Ready Technology partner, we are committed to a technically sound integration that offers an excellent customer experience. We first introduced the Snowflake connector for Tableau in 2016, and in the last two years, we've seen more than 600% growth in our joint customer base—a testament to the myriad of improvements to our connectivity and partnership with Snowflake. In particular, 2020 was a big year for our work together.
Security is of the utmost importance when it comes to our connectivity and integrations with partners, and the past year saw huge improvements with authentication for Snowflake. Most recently with Tableau 2020.4, we were proud to announce OAuth support for authenticatication via AWS Private Link and Azure Private Link. This helps ensure our connectivity with Snowflake is robust and optimized for the enterprise, offering customers the best combination of functionality and security in authentication options.
With Tableau 2020.3, we released new OAuth documentation with Snowflake to provide clarity and guidance while also adding support for OAuth in Tableau Prep, helping to bring an easier authentication experience to those reshaping and cleaning their data before analysis. In the same release, we added one of our most popular requests from customers: the ability to write to a database (including Snowflake) directly from Tableau Prep.
In our first release of 2020, we added Snowflake Role support, giving customers the ability to override the default role in the Snowflake dialog. The role defined in the connection can then be applied in OAuth scenarios.
Alongside these new feature improvements, Snowflake has also been doing a lot with our Salesforce family. At the Snowflake Partner Summit in June, Tableau and Salesforce were awarded Tech Partner of the Year for Accelerated Analytics, thanks in large part to Tableau CRM (formerly known as Einstein Analytics) and new integrations that make it easier than ever to access or move data between Salesforce and Snowflake. These integrations include a direct Snowflake connector in Tableau CRM and the new Tableau CRM output connector to Snowflake.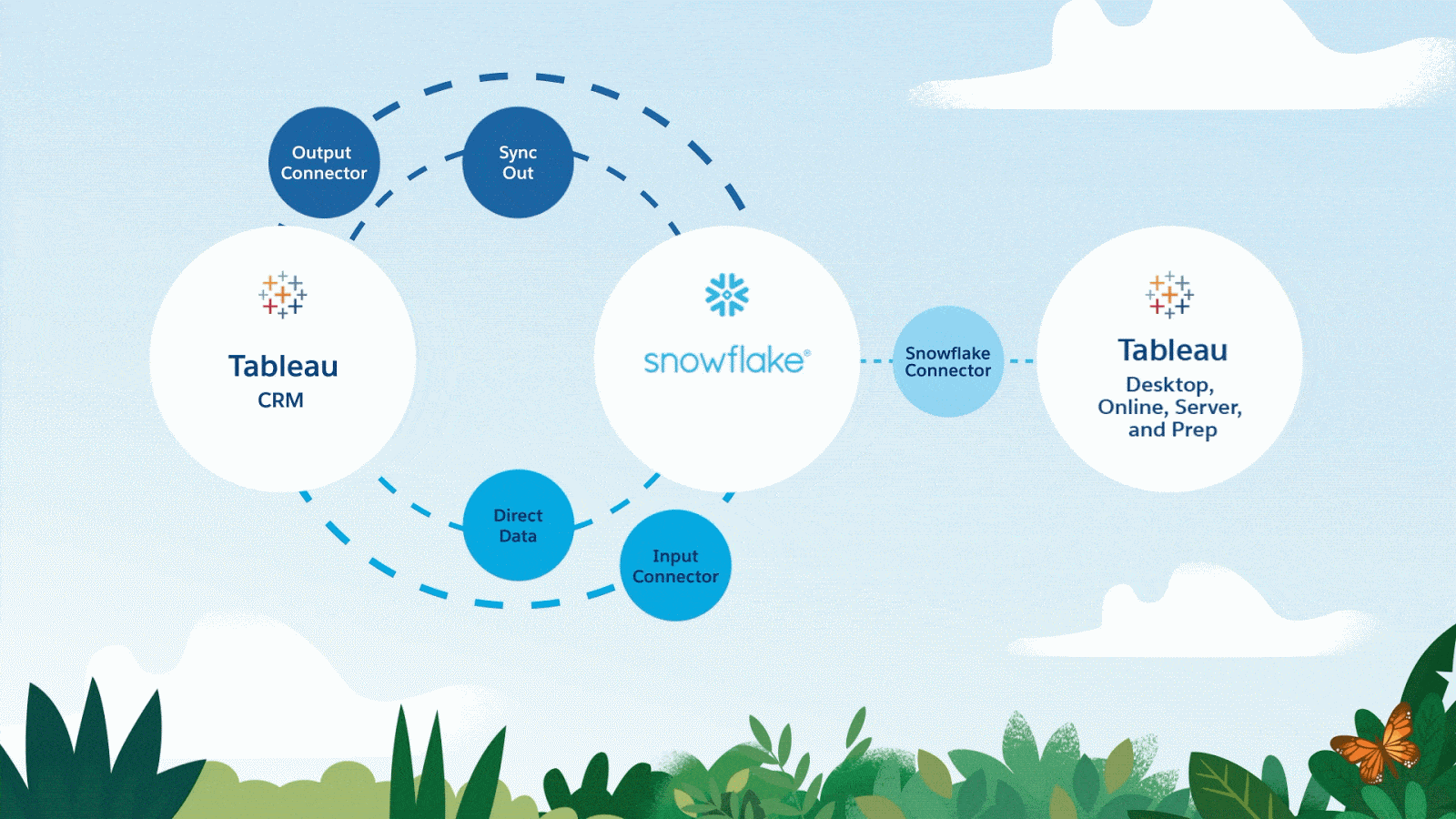 Highlighting some amazing customer success stories
While we are very proud of new and exciting features with Snowflake and Tableau CRM, nothing means more to us than seeing our customers succeed with data to drive their businesses forward.
During a year in which data and healthcare have been vastly important together, we highlighted how Paladina Health uses Tableau and Snowflake to better facilitate efficient healthcare access for patients while reducing costs. For all those in the healthcare industry, we joined this storytelling with some great advice from nib Health Group to create our joint whitepaper, How Healthcare providers and payers drive outcome-based analytics with Snowflake and Tableau.
Marketing teams across the world have been able to see and access more and more data, but with that comes more questions around how to best reach their customers and audiences. Strava took the approach of full self-service, simplifying the process for their marketers to better understand customer growth and retention. They centralized their data in Snowflake, connecting all of their data into Tableau dashboards to help the business better understand how their marketing campaigns were performing.
To effectively prepare for their IPO, Dropbox created reliable metrics on a modern analytics platform to enable a culture of data-driven decision-making. With Tableau and Snowflake, Dropbox can offer the organization a single source of truth, while freeing up hundreds of analyst hours to focus more on forecasting and modeling.
This year also provided us with opportunities to look back on our own cloud journey with Snowflake, and to look ahead at the growing prominence of cloud analytics. Within Tableau, we achieved some major milestones in a years-long process to migrate our on-premises data to Snowflake. Finally, in case you missed it, our Chief Product Officer Francois Ajenstat joined Snowflake to discuss the future of analytics for everyone, as well as Snowflake's partnership in our mission to help people see and understand data.
Make the most of your data in the cloud
All in all, it was a banner year for Tableau and Snowflake, and we look forward to continuing our work together with you, our customers. Visit our Snowflake solution page to learn more about how we can help you today, watch our recent sessions at the Snowflake Data Cloud Summit, and get resources like pre-built dashboards to monitor your Snowflake usage with Tableau!
Subscribe to our blog
Get the latest Tableau updates in your inbox.