Congratulations and welcome to the 2021 Tableau Ambassadors
Meet the 2021 Tableau Ambassadors. They're our biggest, most diverse class yet—and they're passionate about helping everyone see and understand data.
Tableau Ambassadors evangelize our brand, our products, and our community. The ambassador program recognizes leaders who share our passion for helping people see and understand data—and make the Tableau Community a more vibrant and inclusive place for all.
Please join us in giving the 2021 Tableau Ambassadors a great big DataFam welcome! We can't wait to see how this group makes the community a better place. Learn more about the ambassadors by checking out their bios and following them on Twitter. Keep reading for a breakdown of the new ambassador class in the best way we know how: by the numbers.
What to know about this year's class
We're honored to welcome our biggest class of ambassadors ever. At 327 people, the 2021 Tableau Ambassador class represents a 93% increase from last year across all branches: Forum, User Group, Tableau Public, Social, Student, and DataDev Ambassadors.
We're also excited to officially welcome a new branch, the Tableau CRM Ambassadors, to the class. These power users of the native analytics and AI solution for Salesforce love to share their expertise on the specialized platform and build bridges between the Salesforce Trailblazer community and the Tableau Community.
We asked this year's ambassadors to fill out a survey to introduce you to these new faces, as well as the returning experts. Meet the 2021 Tableau Ambassador class, based on the 81% who responded …
This class is amazingly talented
Every year, we're blown away by the level of talent in our ambassadors, and 2021 is no exception. Together, the survey respondents have more than 1,500 years of experience using Tableau, authored more than 260 Vizzes of the Day, and racked up 1,740,780 points on the community forums. Tableau certifications? They have those, too—more than 200.
They bring wide-ranging voices and experiences
Our survey revealed a wider range of voices in the ambassador program than ever before. This class represents 42 countries—up from 31 last year—speaking more than 55 languages. Twelve countries are even getting their first ambassador ever: Azerbaijan, Chile, Finland, Kenya, Mauritius, New Zealand, Norway, Pakistan, Poland, South Africa, South Korea, and Sweden.
They have wide-ranging backgrounds, too. The ambassadors represent every major industry. And while most are seasoned pros with many years of experience using the product, we're welcoming 23 ambassadors with less than three years using Tableau (excluding Student Ambassadors). We're excited for these new perspectives to shape the future of the program and the Tableau Community.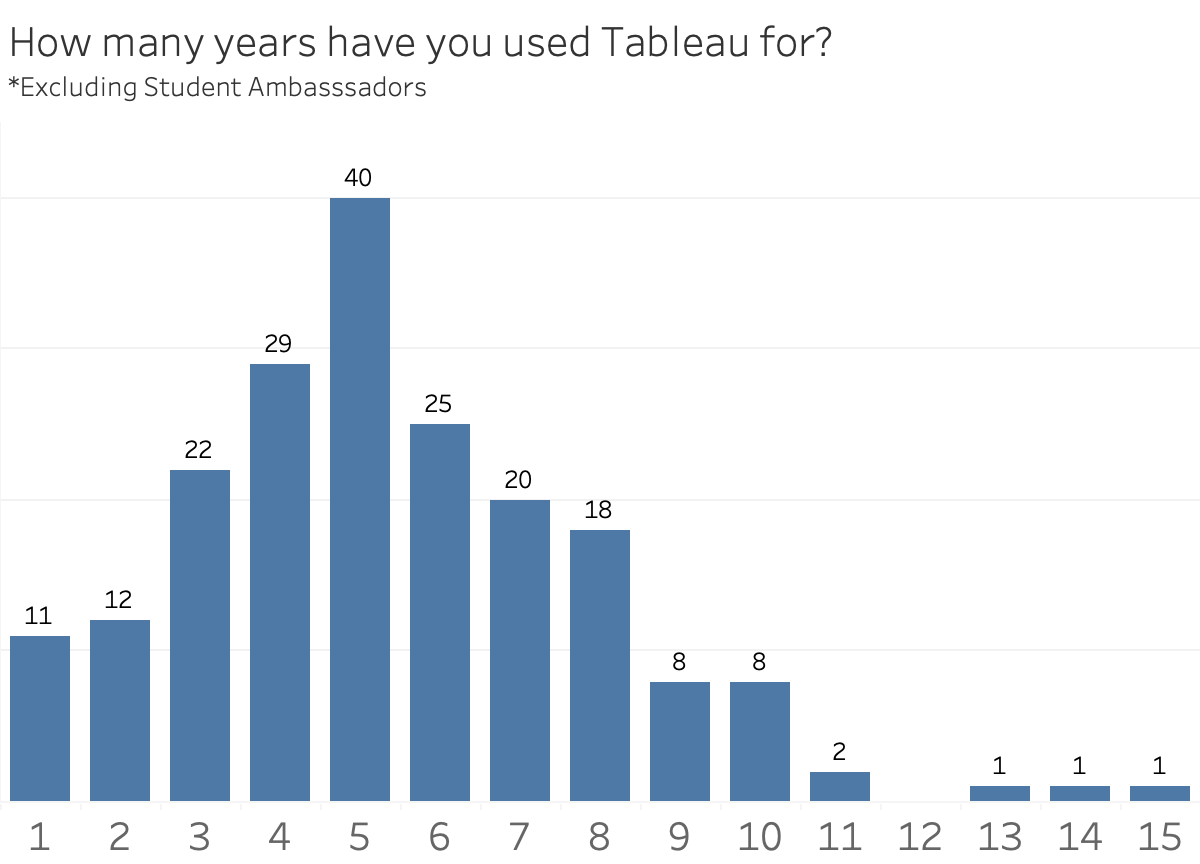 Their passion for Tableau is unmistakable
All of the ambassadors are incredibly passionate about Tableau and the data community. In total, our survey respondents have attended Tableau Conference more than 611 times, regularly participated in more than 100 Tableau User Groups, and contributed to every single community project in the last year.
And they share their expertise across 116 blogs, 188 Twitter handles, and 38 YouTube channels. You can also check out their work on one of their Tableau Public profiles (216 in all), connect with them on the community forums, or attend one of the 80+ Tableau user groups they lead.
What three words come to mind when you think about the Tableau Community? 2021 Tableau Ambassadors, 712 words submitted
Get to know the 2021 Tableau Ambassadors
Forum Ambassadors
Forum Ambassadors are the stewards of the health of the forums, answering questions. moderating content, and providing feedback on the platform. Learn more about each Forum Ambassador.

User Group Ambassadors
User Group Ambassadors lead by example, sharing resources and best practices from their years of experience. They mentor the next generation of data storytellers and leaders. Learn more about each User Group Ambassador.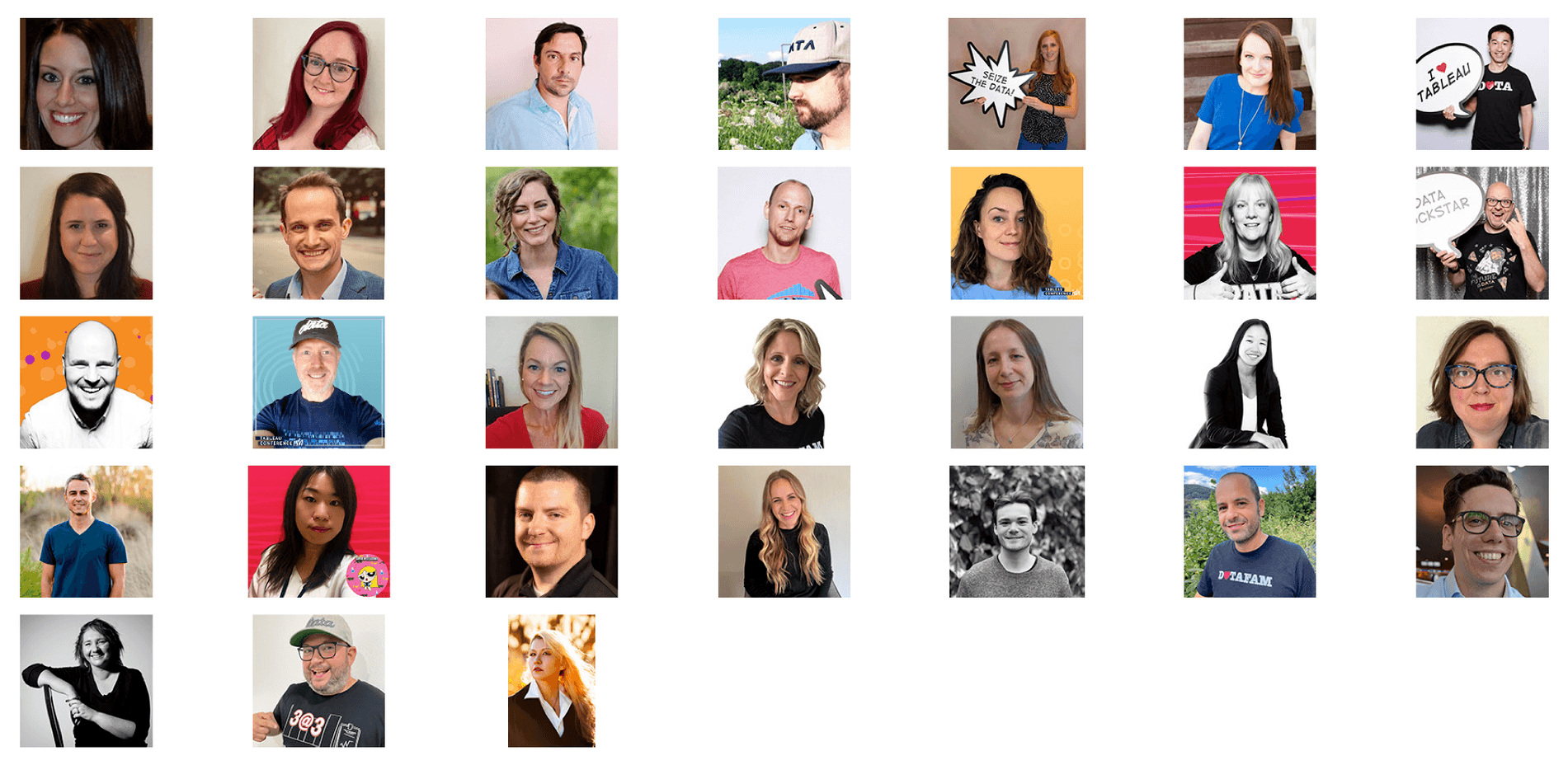 Tableau Public Ambassadors
Tableau Public Ambassadors design beautiful vizzes, telling stories through data while inspiring others. They support our programs and have created unique community programs to help others grow their own skills. Learn more about each Tableau Public Ambassador.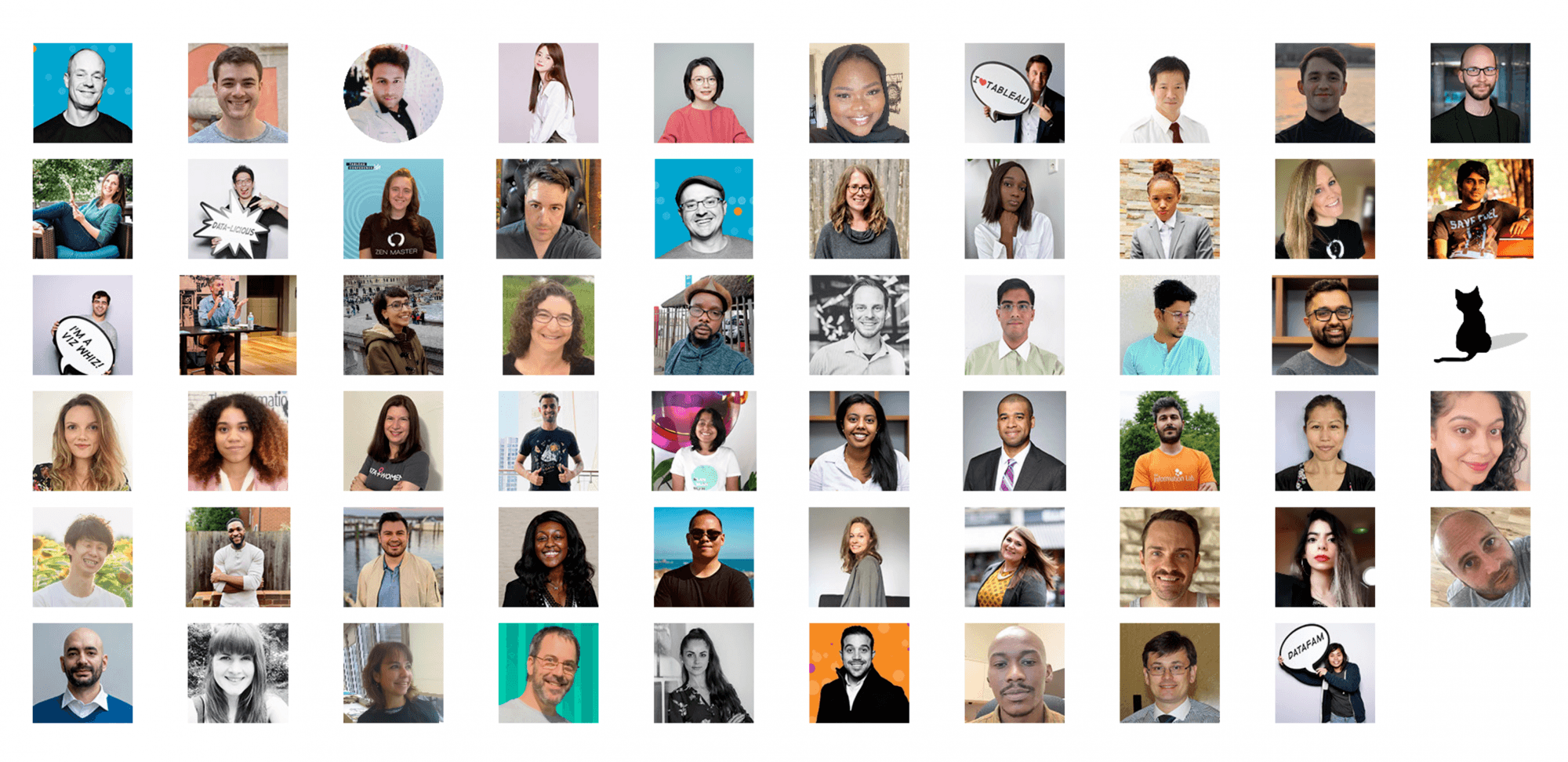 Social Ambassadors
Social Ambassadors go above and beyond to drive thought-provoking conversations about data in social media. They champion others and welcome all people to the #DataFam. Learn more about each Social Ambassador.

Student Ambassadors
Student Ambassadors are Tableau champions in higher education, empowering, and inspiring others to acquire fundamental skills. These skills improve employability and lead to people gaining credentials that will help them now and in the future. Learn more about each Student Ambassador.


DataDev Ambassadors
DataDev Ambassadors use Tableau APIs to build and innovate on the developer platform and want to share their technical knowledge and creativity to inspire others. Learn more about each DataDev Ambassador.


New! Tableau CRM Ambassadors
Note: Because this group joined the Tableau Ambassador Program in May 2021, we did not reopen this branch during the 2021 nomination and application cycle. Learn more about each TCRM Ambassador.


Thanks to everyone who submitted an ambassador application. Each and every one of you help make the Tableau Community the greatest in the world. And who knows, maybe we'll be welcoming you as an ambassador in 2022.
Subscribe to our blog
Get the latest Tableau updates in your inbox.