Apply or Nominate to Become a Tableau Visionary
Have what it takes to become a Tableau Visionary? Here's everything you know before you get started with your application or nomination.
Applications and nominations for the next class of Tableau Visionaries are open! Nominate yourself or tell us who you think should join the 2024 class of Tableau's community leaders.
Tableau Visionaries demonstrate mastery of Tableau, teach in the community, and collaborate with others to help everyone see and understand data. We count on our Visionaries to push us to be better partners, help us create products people love, and build an inclusive community where everyone belongs.
Some of the projects the 2023 Visionaries have helped with this year include: piloting new chart types on Tableau Public, providing feedback on Tableau Pulse to our product teams, and delivering countless hours of presentations, including at Tableau Conference, Dreamforce, VizIt events, and countless other community gatherings.
To support our community leaders, Visionaries get insider access to Tableau and other fun perks during their one-year term. If you or someone you know would be perfect for this role, apply or nominate by 11:59 p.m. PT, Thursday, January 11, 2024.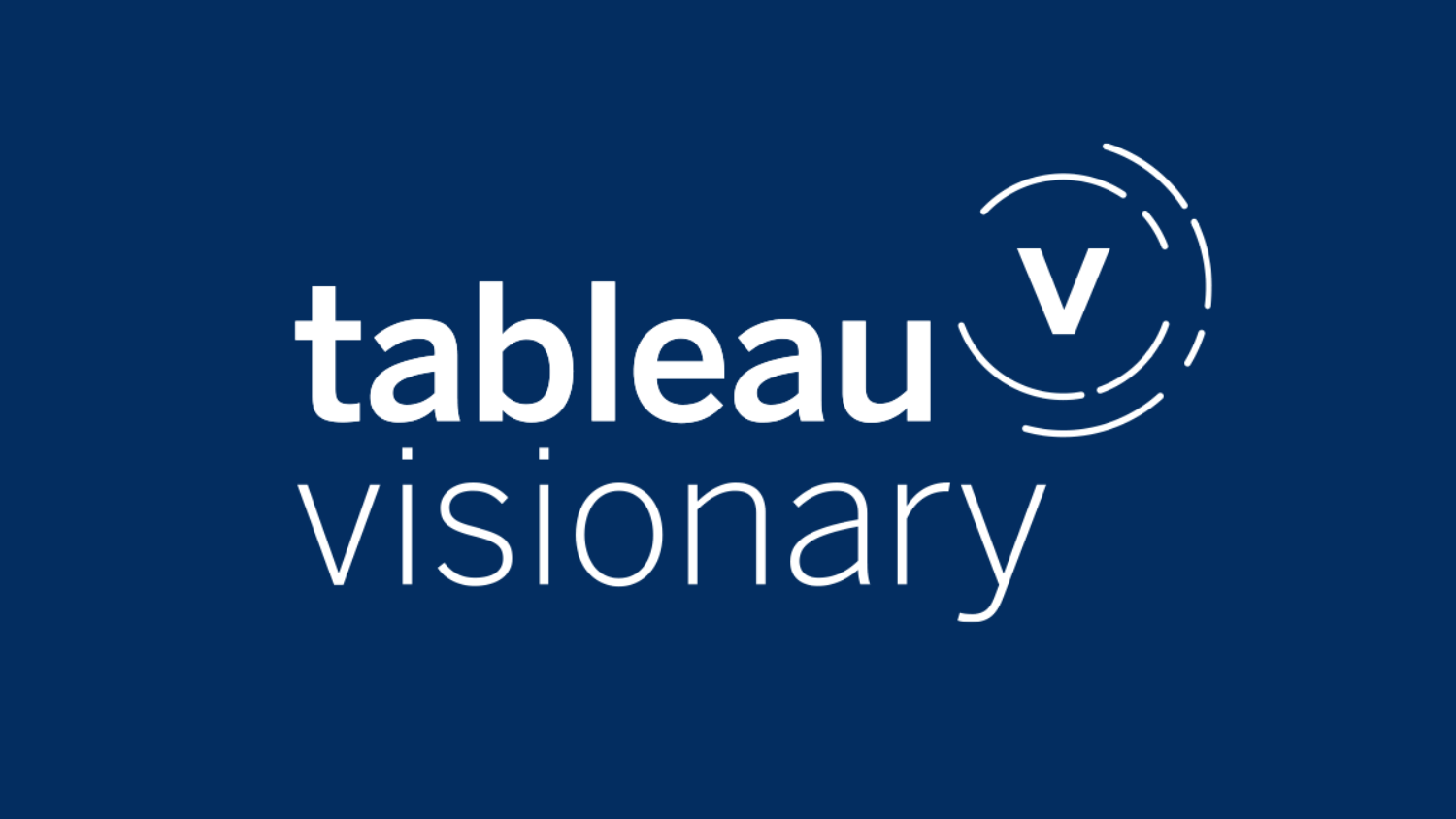 What will the 2024 class of Tableau Visionaries do?
The new cohort of community leaders will be critical to creating a world where everyone can see and understand data. During their one-year tenure, we ask community leaders to: 
Share their mastery: The Tableau product roadmap is ambitious. We continue to launch new capabilities at an unprecedented clip. The platform is now broad enough that no one person can be an expert in everything—and that's okay. Community leaders demonstrate their passion for the part of the platform they love, whether it's visual analytics, data prep, server management, extensibility, or beyond. By sharing their expertise, they help everyone in the community achieve more.
Teach the next generation: Tableau is committed to enabling 10 million people with in-demand data skills in five years and the community is crucial to helping us get there. The Tableau Community has always been a place to engage with and learn from passionate, data-driven people. From blogs, podcasts, and YouTube tutorials to Tableau User Groups, Tableau Community Forums, and Tableau Public, the community and its leaders play a key role in educating and supporting the next generation of data talent.
Improve how we collaborate: By working together, Visionaries create better experiences for everyone. For example, they share product ideas in the Community Forums and advocate for them with developers; they provide feedback on product prereleases; they experiment with new digital platforms, like digital networking software and Slack; they share how their organizations are using Tableau; and they identify new community voices to amplify. We need partners who are willing to experiment and push the community forward to the next great thing.
Get to know some of the 2023 Tableau Visionaries
Over the past year, many Tableau Visionaries have shared their stories in a series of webinars aptly named "My Tableau Story." Dig in to pre-recorded episodes or sign up here to learn how some of our Visionaries got started with Tableau, connected with the community, and started helping people learn about data.
Tableau Visionary application and nomination process
Are you an aspiring Visionary? Do you know someone who should join this year's class? Please submit your applications and nominations today—we don't want to miss anyone! Here are some tips to make your application or nomination stand out:
Tableau wants you to apply: We strongly encourage anyone interested to apply–because no one is better at knowing how you contributed to the community than you are.  Through your application, we can get the best understanding of who you are, what you've done to support the community, and why you want to be a Visionary. If you don't apply, and you are nominated, we will contact you to request additional information.
Share your impact: Every year, we receive many applications that are far too humble. Our recommendation: Take this as your chance to brag (we won't judge you and remember: your application will remain confidential). Reflect on the impact your work has had on helping other people and share that impact in the most tangible way possible.
Here's what we mean: While this statement is great, "I published a tutorial on how to use a new way to use a feature and presented it to a user group. Here's the link." Adding an impact statement makes it even better: "My tutorial was then referenced by three community forum users when answering customer questions." By going the extra step (even if it feels like bragging), you will help us understand what you did and show us how you had an impact. 
Share their impact (on you): A nomination is a great way to show how thankful you are for someone's contributions. In your nomination, share how someone's work has enabled you to get better at Tableau, overcome a challenge, or inspired your next project. Don't underestimate the power that your testimonial will have in helping us select your nominee as a Visionary. Submitting a nomination is fast and easy. Here's that link again.
Make sure what your share counts: When we consider your membership in the 2024 class of Visionaries, we will only evaluate contributions made to the Tableau Community during the prior year. References to contributions made before 2023 and contributions that aren't in a public, not fee-gated space (like your workplace) will not be considered when we look at your application.
We expect to announce the 2024 class of Visionaries in February 2024 and can't wait to share who is selected!
Tableau Visionary application process FAQs
What's the review process for a Tableau Visionary?
Tableau's Community team creates a selection committee of employees from across our organization–this diverse group intentionally represents varying levels of expertise, backgrounds, and familiarity with the Visionary program. Before reviewing any applications, the committee evaluates the selection process itself and seeks out opportunities to create as fair and equitable reviews as possible.
Each committee member scores nominees and applicants according to a rubric that describes teaching, mastery, and collaboration. Evaluations are then discussed during meetings, members share their perspectives, and challenge biases. Occasionally, when a question arises or more perspective is needed, the committee reaches out to applicants, nominees, or stakeholders to ask for clarification.The committee then uses the rubric scoring and employee feedback to determine the new cohort. 
Due to the high volume of nominations and applications and to respect the confidentiality of those involved in the selection process, we do not share reasoning for those who aren't selected.
Does Tableau intend to grow the number of members in the program?
We don't have a firm target for program participants—our priority is on selecting qualified candidates who embody the values of the Tableau Visionary program. As with all aspects of the Tableau Community, we are committed to elevating diverse voices, decreasing cultural bias, and showcasing experiences and perspectives that better reflect communities we serve. 
Does Tableau select Visionaries based on how many times they were nominated?
We do not select community leaders based on the number of nominations we received. We do carefully review all nominations and appreciate thoughtful sharing about why someone should be a Visionary.
Do my contributions at work qualify me for this role?We avoid selecting individuals whose work is internal and private to their organization. We respect that as our communities have grown, internal communities have flourished. Though we applaud these efforts, we only select members whose work meets our criteria of working and elevating others in public, not fee-gated spaces.
Subscribe to our blog
Get the latest Tableau updates in your inbox.