Tableau Partners recognized in annual awards for driving customer success
Learn about Tableau partners whose outstanding solutions and support for our customers we celebrate after a challenging 2020
We just completed our annual Tableau Partner Executive Kick Offs (PEKO), where top partners from around the world join us virtually to celebrate all the great performances in 2020 and hear from Tableau executives on our direction for FY22. Tableau executives discussed our vision, strategy, and specific areas of focus globally and by Theater that we can together best support our mutual customers and community. We all missed meeting in-person this year—that real-life connection is hard to replace for relationship-building, fast decision making, and having a little social time together—but heard great feedback across all three Theaters about this year's digital event. Despite all the headwinds, we are persisting and growing together.
During a very difficult year, we're incredibly proud of the resilience and adaptability that partners demonstrated while navigating significant change and challenge. Our Partners' contributions and support were critical to the success of Tableau's Leading Through Change efforts which enabled our customers and Public Sector entities like the WHO, states across the US, and governments in Asia to manage through the crisis with insight and transparency. As a broad use example, our COVID-19 Data Hub helped organizations navigate the pandemic, easily access up-to-date information, answer important questions from stakeholders, and discover key insights to act on during the evolving situation.
PEKO is also where we announce the nominees and winners of our annual Tableau Partner Awards in each Theater. For 2020, we also launched five new global awards for top performances by business model (Reseller, Services and ISV) as well as Top Solutions crafted by Partners (Reseller\Services and Technology). There were so many amazing performances in FY21, it was very difficult to choose the winners. Thank you to all of our nominees for their incredible work in 2020! I'd love to share the stories for all the winners, but given space, we'll take a close look at our global winners and their noteworthy achievements and then broadly celebrate the Theater winners:
Global Partner Awards

Reseller Partner of the Year: FedResults (AMER)
FedResults was our leading Reseller Partner for 2020 in terms of revenue growth, achieving 594% YoY which was achieved while adding more than 40 people solely dedicated to the Tableau business. They also adapted to all-digital engagement by hosting webinars, digital meetups, and Tableau Days to bring the power of Tableau to potential customers in new ways, passing >400 leads to Tableau which created a multi-million dollar pipeline. At the same time, their Tableau customer portfolio renewed at 91.42%. Thank you FedResults!


Services Partner of the Year: Accenture (EMEA)
Over the past year, Accenture EMEA was an invaluable Assist partner to the Tableau Enterprise sales teams—bringing deep analytics expertise to shared clients and delivering implementation, systems integration, training, and solutions-building services for all Tableau offerings, including TCRM. To ensure customer success as they grow, Accenture increased the number of Tableau Certified teammates by 30% globally. Accenture EMEA has been and continues to invest in developing brand-new solutions to serve our mutual customers in banking, manufacturing, healthcare, and communications, and we look forward to continued success in 2021. Congratulations Accenture EMEA!


Technology Partner of the Year: Snowflake
Snowflake enables customers to unite siloed data, discover and securely share data, and execute diverse analytic workloads. The team remains in lockstep with Tableau to deliver impactful and seamless integrations for joint customers—including mission critical improvements to SQL Query optimizations and TCRM integrations. As an example, flexible cloud management has been essential for healthcare providers, like Paladina Health, to support proactive, cost-efficient approaches to patient care in the last year. Thank you Snowflake!

Impactful Solution of the Year – Services/Reseller (Implementers): Prominence Advisors (AMER) - Clinician Decision Support Solution
Prominence Advisors created a seamless way for Prominence Health to access critical decision-making data from within their existing workflow. This solution both accelerated time to value with Tableau for Healthcare Provider organizations, but also saved clinicians hours of time weekly and improved patient outcomes and satisfaction. These are all critical impacts as COVID has put enormous strain on clinicians' time, health, and wellbeing. This solution drove huge growth in Prominence's business with Tableau. Great work Prominence Advisors!


Impactful Technology Solution of the Year: AWS
AWS was instrumental as customer requests poured into Tableau from across the globe for help scaling customer sites, Tableau Public, and the Tableau COVID-19 Data Hub in response to the pandemic. The combination of AWS technical resources and investment contributed to quickly scaling Tableau Public, which saw a 10X increase in traffic. Using AWS Data Exchange, the Tableau COVID-19 Data Hub quickly became the trusted source of open data to help the world see what we were and are still up against. This solution has been highlighted across numerous AWS events such as re:Invent 2020 and TC-ish. We appreciate you AWS!

Congratulations also to all of our 2020 Theater Tableau Partner Awards winners!
Theater Partner Awards
Note: These awards are primarily performance based. Nominations and winners are deliberated and selected by the internal Tableau Partner Team.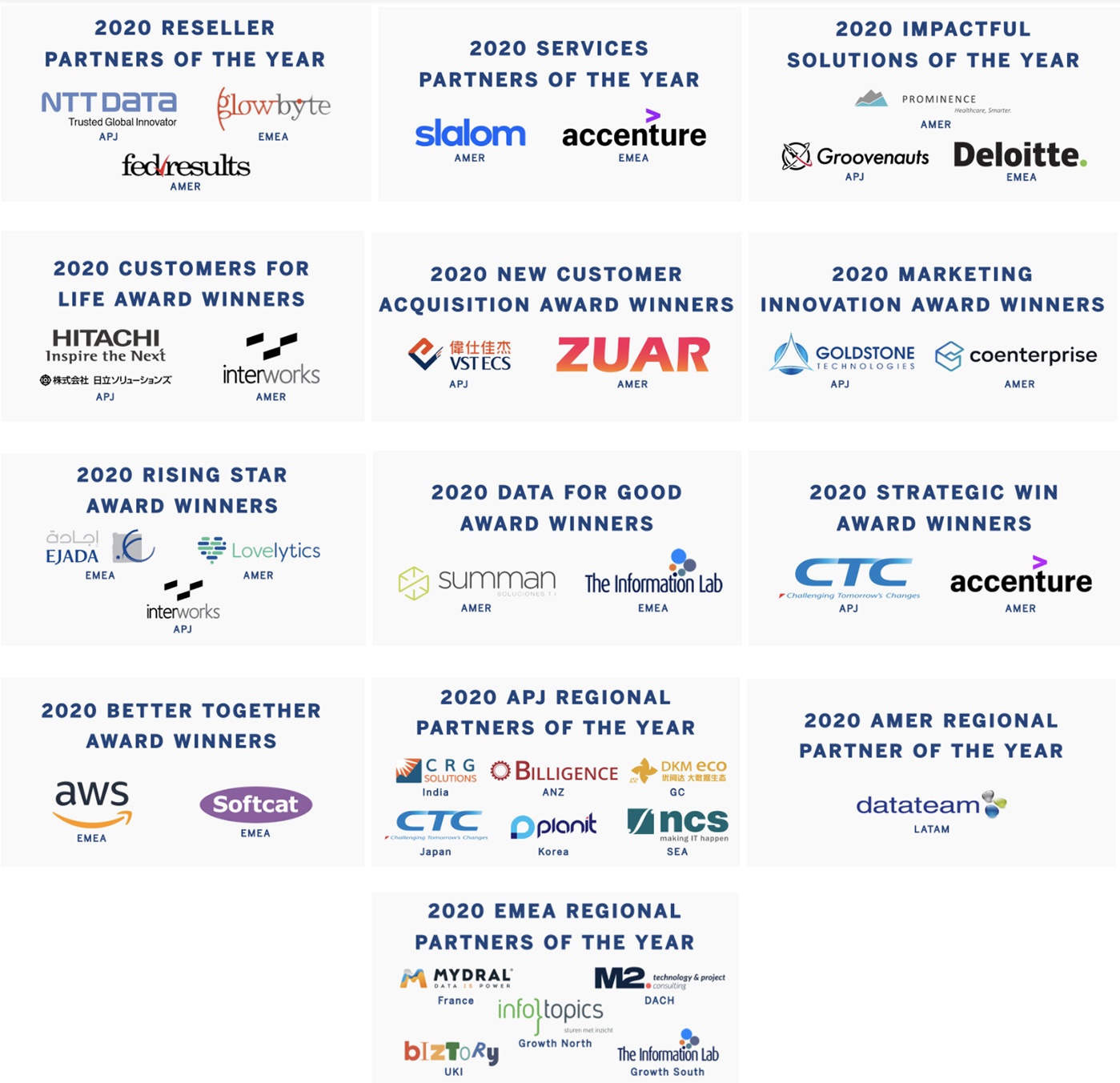 Thank you so much to all of the Tableau partners for your contribution in FY21 and we look forward to even greater performance and success together in FY22!
Julie
Subscribe to our blog
Get the latest Tableau updates in your inbox.