Salesforce Tableau named a Leader in the 2023 Gartner® Magic Quadrant™ for Analytics and BI Platforms
Leaders share Tableau's commitment to innovation with AI advancements and analytics solutions that help organizations unlock the value of their data.
Two decades ago, we ignited a revolution based on the idea that everyone could benefit from seeing and understanding data. We haven't stopped pursuing our mission and innovating on your behalf. Tableau continues to be for everyone—no matter what platform, no matter where your data is stored, no matter what technical proficiency, and no matter what use case you have.
Today, hundreds of thousands of organizations use Tableau to unlock the value of their data. We've continued delivering more innovations, with more than 100 new capabilities in the last year, including our fastest-growing offering, Tableau Cloud. And our DataFam community is more alive than ever, with over 2.5 million individuals strong. As the customer company, we enable organizations and individuals to connect with their customers with the power of data. 
Gartner® published the 2023 Magic Quadrant™ for Analytics and Business Intelligence Platforms. Salesforce Tableau has been recognized as a Leader in this category for our 11th consecutive year.
We are humbled by this recognition and couldn't have done it without your support. Thank you for your continued partnership, unrivaled passion, and generosity with your time. Your candid feedback and creative problem-solving help shape the Tableau platform, making it more powerful and easier to use. You inspire us with the amazing manner in which you support each other in your Tableau journey, bring your data skills to the next level, and nurture powerful connections across and beyond the DataFam community.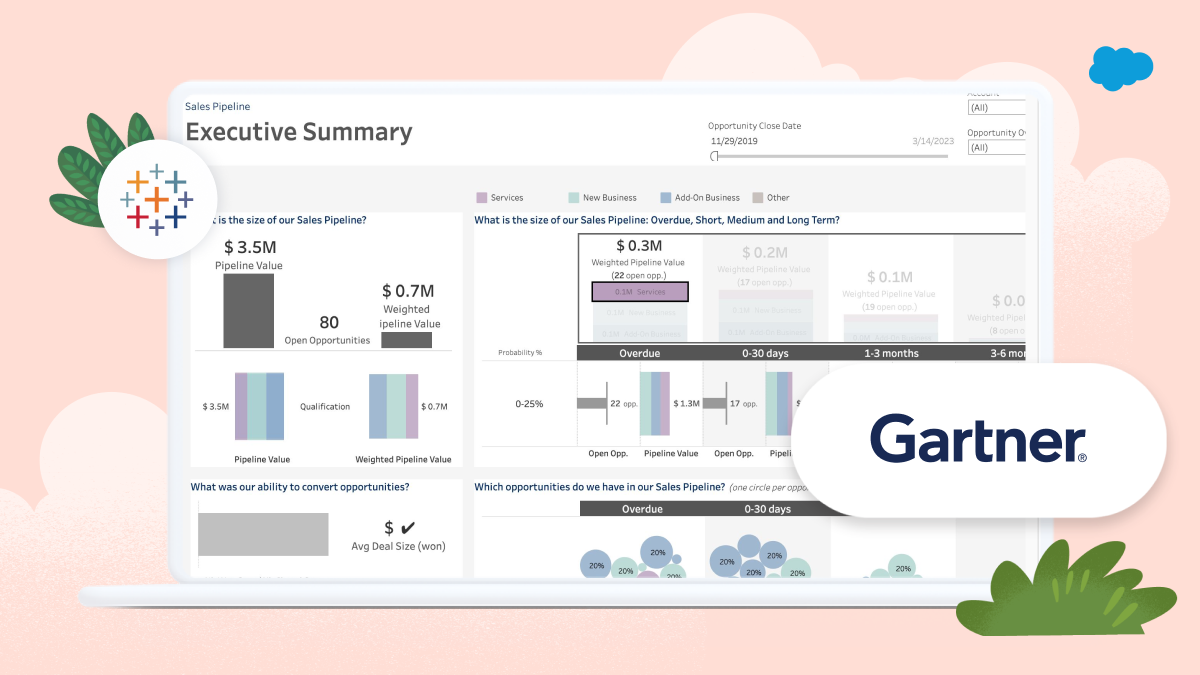 How is Tableau bringing analytics to everyone?
Analytics have come a long way over the past 11 years, and the future promises to be even more exciting. With the continued explosion of data, recent advancements in AI technology, and the ever-increasing demand for data-driven insights to navigate uncertainty, the field of analytics is transforming businesses in unprecedented ways. 
While we've made significant progress, we still touch only a fraction of all the people who can benefit from data. Over a billion knowledge workers across organizations of all sizes don't leverage the power of data to make better, smarter decisions. There's a lot more to be done to achieve our mission.
We know that using analytics in daily decision-making can help organizations make more informed, efficient, and effective decisions to drive growth and success—73% of business leaders believe data reduces uncertainty and drives better decisions, but their organizations still need to see adoption at scale. Customers tell us their barriers to adoption: a lack of trust stemming from data explosion, complex tools that fail to reach most users, and an inability to drive action when data shows a clear path. Salesforce is committed to bridging the gap: 
Building a complete and trusted view: Data is everywhere—organizations have unprecedented quantities of data from their hundreds of apps, workflows, and customer interactions. How can we ensure someone, when they see data, is getting accurate and comprehensive information? Salesforce Data Cloud for Tableau is our answer. Data Cloud unifies your customer data to enable a single, complete, and trusted view. Our powerful Hyper query engine is built-in, enabling lightning-fast queries while still providing a real-time view. We are investing to make this experience intuitive for everyone - this year we'll deliver instant analytics, a way to go from data to analysis in just one click—no modeling, transformation, or prep required. 
Empowering every individual: Even a product as intuitive and powerful as Tableau requires skill and curiosity. With the power of Einstein GPT, we think every individual can be made more powerful and more effective if we reach out to them with the right data. Our Data Stories technology is helping us automate the process of building personalized, relevant insights. We'll also build better integrations with collaboration tools such as Slack, so that these relevant insights find you where you work, instead of requiring you to learn and access new systems. 
Driving value with data: Too often, reports are dead-ends. We are enabling the next step of the value creation cycle to help everyone take immediate actions driven by data insights. Tableau users can make in-context decisions and automate workflows from within their dashboards with a single click. We are also building more analytical apps that provide insights in the flow of work with ways to take action in the system of record. These solutions accelerate time-to-value with purpose-built experiences for distinct industries and departments.
Every organization now strives for digital transformation and knows it always starts with a data transformation. Failing to adapt in our fast-paced and data-driven business world can cause missed opportunities, inaccurate decision-making, and inefficient resource allocation. 
The future of analytics will be marked by increased automation, more personalization, and greater emphasis on delivering contextual insights in the flow of work. Twenty years ago, Tableau began a journey to bring people closer to data. Now more than ever, we are committed to leading the next evolution of data and analytics by making insights ubiquitous for everyone.
What's next on our journey together?
Learn how to secure, scale, and simplify your data with Tableau. See what's coming soon from our development teams, explore features from previous releases, or share your ideas for what you'd like to see in the next version of Tableau.
The future is bright. We are just getting started. Thank you for your partnership.
Salesforce acquired Tableau in 2019. In 2022 and 2023, recognized as "Salesforce (Tableau)" and 2013-2021: recognized as "Tableau".

Gartner does not endorse any vendor, product or service depicted in its research publications, and does not advise technology users to select only those vendors with the highest ratings or other designation. Gartner research publications consist of the opinions of Gartner's research organization and should not be construed as statements of fact. Gartner disclaims all warranties, expressed or implied, with respect to this research, including any warranties of merchantability or fitness for a particular purpose. Gartner Magic Quadrant for Analytics and Business Intelligence, 
Subscribe to our blog
Get the latest Tableau updates in your inbox.