Coming Soon
Explore upcoming features coming soon to Tableau
Einstein Discovery in Tableau
Einstein Discovery in Tableau brings trusted, intuitive predictions and recommendations from Einstein Discovery to every Tableau user across your organization. Get smarter, guided decisions for every team with cutting-edge, augmented analytics in a no-code required, rapid iteration environment.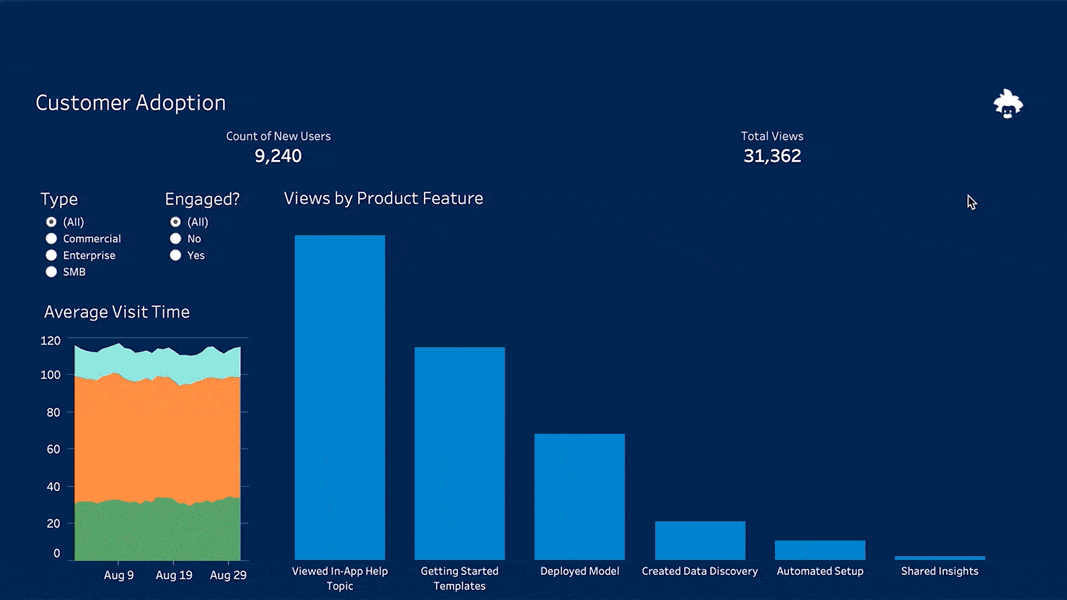 Einstein dashboard extension
Enjoy on-demand, interpretable ML predictions from Einstein Discovery natively integrated in Tableau dashboards. Users can click on one or more rows of data from a Tableau visualization to get dynamic predictions, see key drivers of predictions, and learn ways to improve predictions based on the model.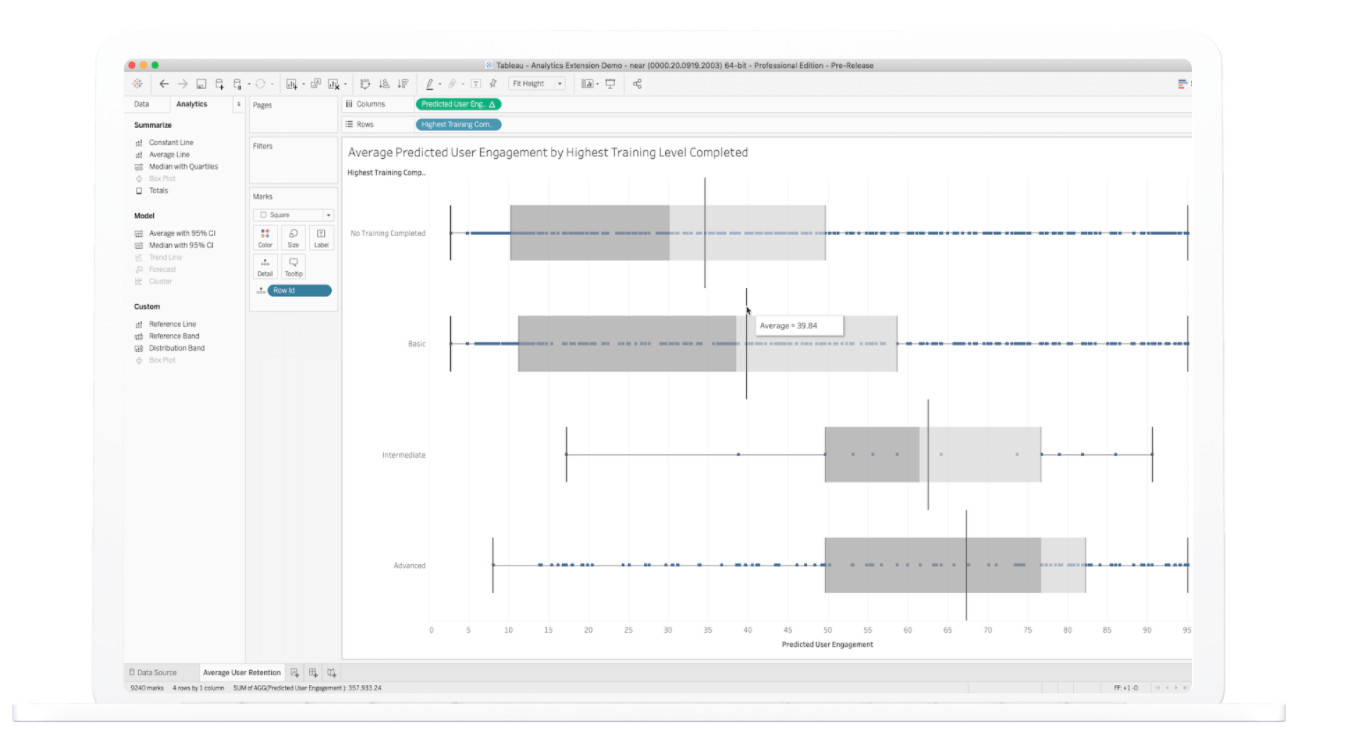 Tableau Calc
Feed Tableau analytics with dynamic predictive intelligence and connect Einstein predictions directly into Tableau calculated fields. Construct, share, and scale interactive visualizations and dashboards incorporating dynamic predictions using existing Tableau infrastructure, and test new scenarios using Tableau parameters. Note: Available in Tableau Desktop and Tableau Server.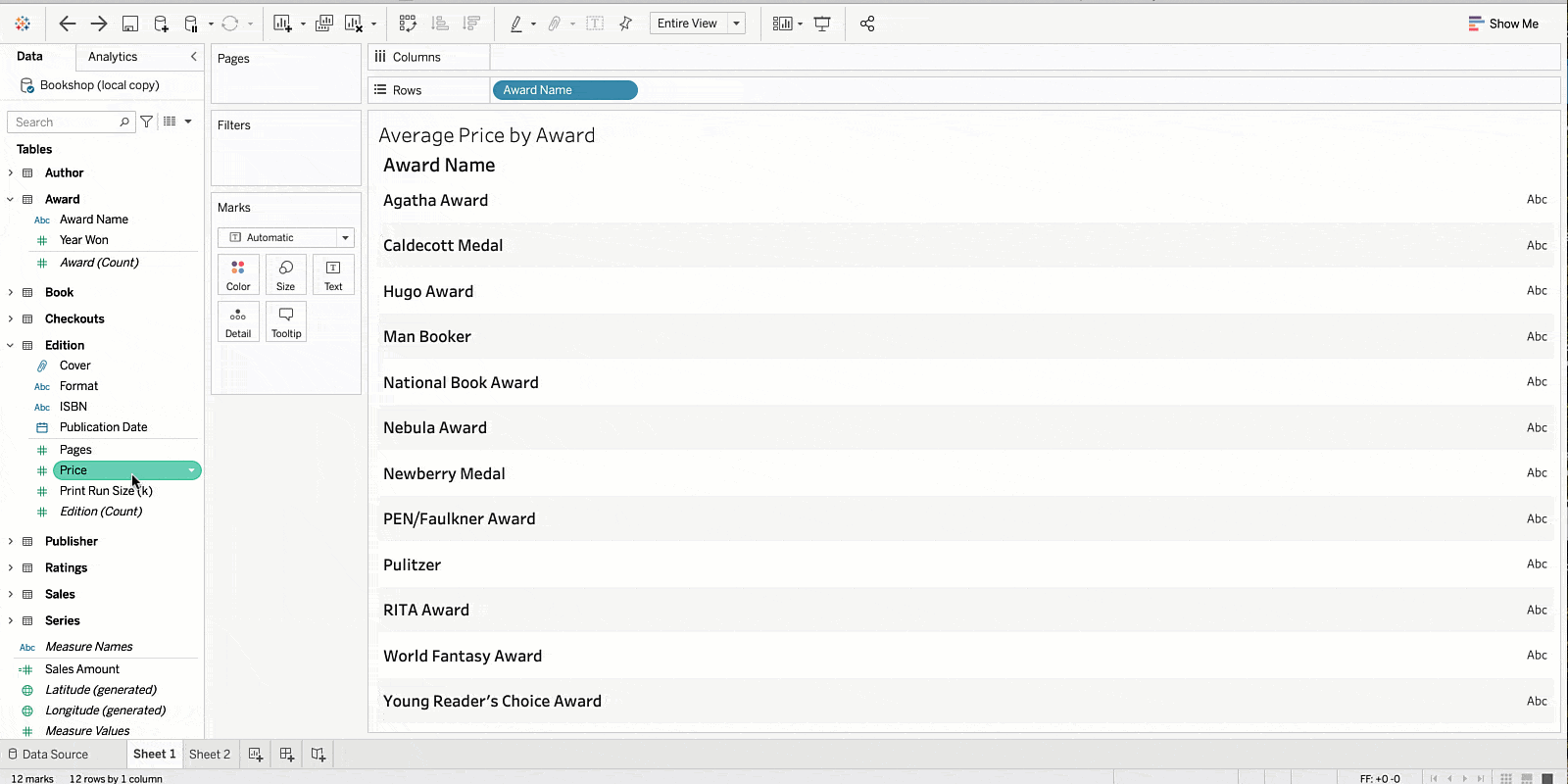 Quick LODs
Create Level of Detail expressions more easily. Use context menus or drag-and-drop a measure onto a dimension to automatically create a Level of Detail expression with the default aggregation.
Unified notification experience
Manage all of your notifications in the newly redesigned notification center within Tableau Server and Online. This dedicated space shows your shares, comments, extracts, and prep flows all in one place, consolidating all of the important changes across your organization. You can also control where you receive these notifications via preferences—directly in Tableau, email notifications, or both—helping you to never miss an important alert to take action.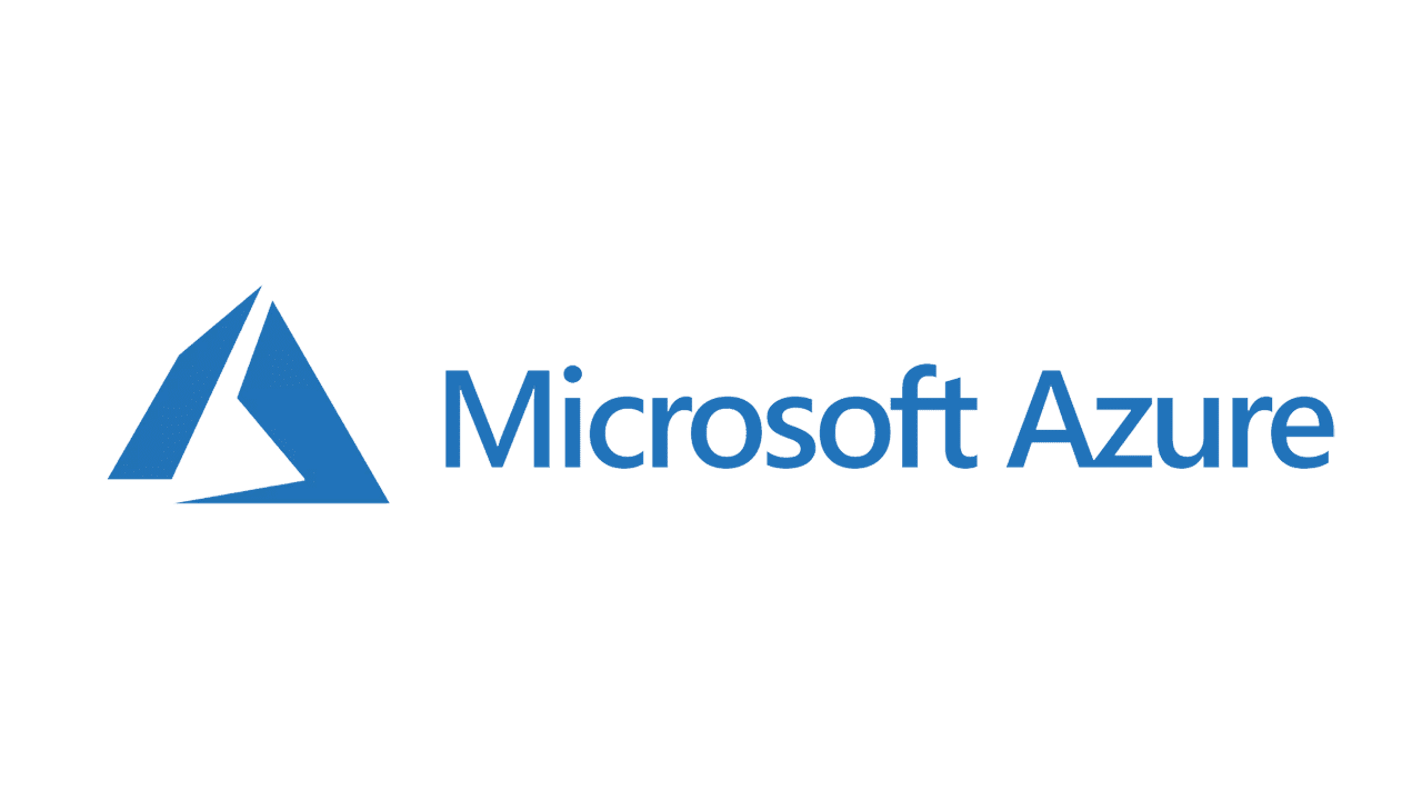 Microsoft Azure connectivity improvements
You can now connect to your data in Azure SQL Database (with Azure Active Directory) and Azure Data Lake Gen 2. In addition, we now have support for Azure Active Directory in two of our existing connectors in Azure Synapse and Azure Databricks. For guidance and best practices around optimizing Tableau and Azure together for analytics, read our updated Tableau Server on Microsoft Azure Whitepaper.
Read our Whitepaper
Ask Data improvements
The new Ask Data help center centralizes all onboarding and administrative information for Ask Data users. For admins and data source owners, you can find best practices and usage statistics to see what questions your end users are asking. For business users, find helpful training information to learn what kinds of questions you can ask and other helpful tips. Anyone can also submit feedback and suggestions directly to the product team.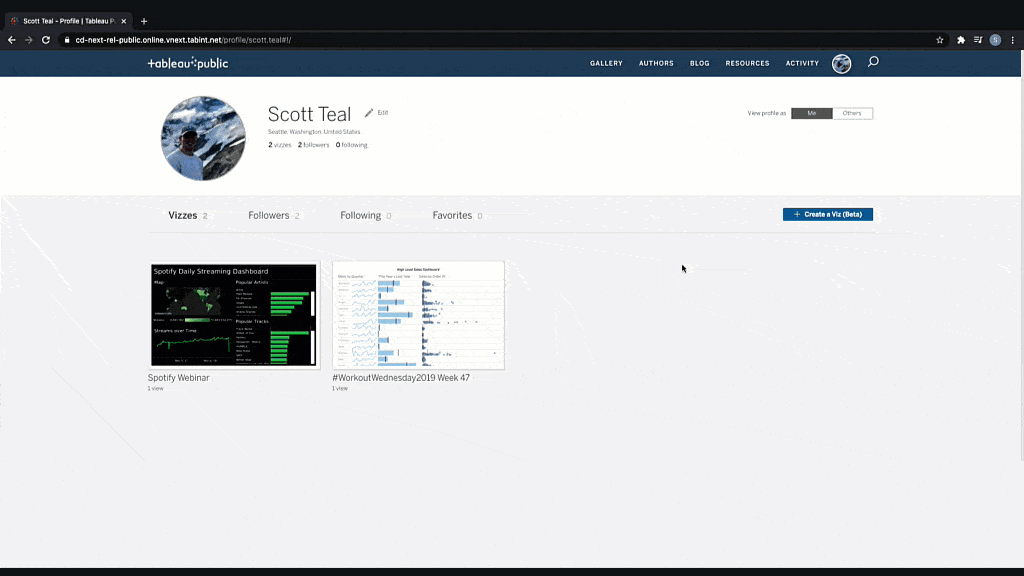 Web authoring on Tableau Public (beta)
Create new visualizations on Tableau Public right from a browser. With web authoring in beta on Tableau Public, you can connect to data in Excel and text-based files including CSV, JSON, PDF, Spatial files, Statistical files, Tableau Data Extracts, and Hyper Extracts.
New dashboard extensions on Tableau Public
Parameter Actions
With this extension you can simply click on a mark or multiple marks on a worksheet and update a parameter with those values. This allows you to update reference lines, calculations, filters and more with just one click.
Date Updater
Say goodbye to workarounds or manually updating your date parameters. This extension allows you to refresh any date parameter whenever a workbook is opened.
Data-Driven Parameters
This extension allows you to add a parameter to a Tableau dashboard whose domain is based on your data. This means you no longer have to manually edit the parameter to update it. With this extension your parameter values update automatically!
Semiotic Hierarchy
Drag and drop your way to dynamic trees, circle pack, and network layouts.
In-product Extension Gallery
With the in-product Extension Gallery, all your connectors and extensions are a simple click away. Easily discover connectors and extensions with an enhanced browsing experience, search and filter options, and complete the installations all without leaving your Tableau workflow.
Header and axes improvements
Take advantage of new improvements to display headers and axes in Tableau Desktop, Server, and Online. Notice a better experience in how you draw borders, lines, and tick marks. You can also now reorder headers below a viz, overlapping labels will be skipped on the left, and scrolling will feel smoother. And as a part of this refresh, header and axis objects are now native HTML elements in the browser, so users can search for text with built-in browser search capabilities.
KMZ spatial file support
We're making spatial analysis with KML files easier within your workflow. In addition to KML files, you can now connect directly to KMZ files, the corresponding compressed file type.
Snowflake spatial support
We're expanding Tableau's spatial database connections to make solving location-based questions easier than ever. You can now connect directly to tables in Snowflake that contain spatial data, and instantly visualize that data in Tableau.
Web authoring improvements
Enjoy expanded formatting options while creating and editing dashboards on the web. You can now format filters, parameters, and legends directly in the browser.
Device designer for web authoring
You can now design device specific dashboards all within the browser. Add, edit, and customize your dashboards' layouts to create a design optimized for the best viewing experience on a phone, tablet, or desktop.
JDBC for SAP HANA connections on Windows
Connecting to SAP HANA databases from Tableau products on Windows platforms will now use a JDBC driver by default instead of an ODBC driver, which makes the connector consistent across Mac, Linux, and Windows systems. Connections from Tableau to SAP HANA on Mac and Linux platforms already use JDBC.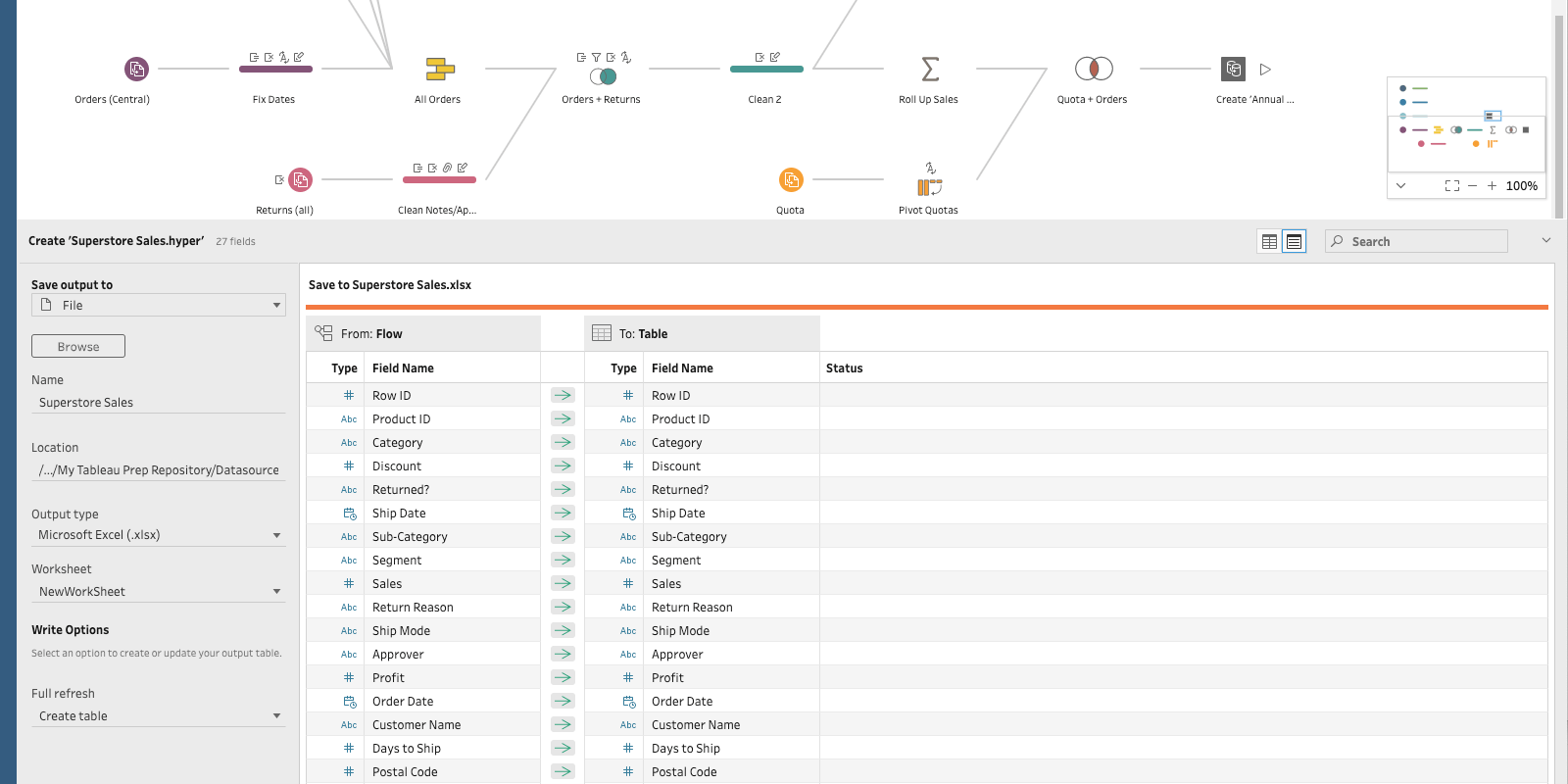 Write to Excel in Tableau Prep
Tableau Prep expands its output capabilities to include ability to write to MS Excel. In addition to writing your data to CSV and Hyper files, you will be able to create new excel files, or add/replace data in existing ones. With the Tableau Prep visual and direct interface, you can easily see what tables are available in your Excel file and determine how your flow fields map to existing fields in the Excel tables.
Automated data quality warnings
Data quality warnings (DQW) will be automatically created based upon extract refresh and Tableau Prep flow run failures so that data freshness (or lack thereof) is communicated without any manual effort. These can be combined with existing DQWs set manually or via API to add another layer of data quality information to your environment.
Tableau Catalog search improvements
Search for a table or a database, and see the most relevant results returned. Matches by name are now ranked higher than matches by columns. To ensure you are finding the most trustworthy content, certified tables and databases will be ranked at the top, and assets with a data quality warning will be ranked lower.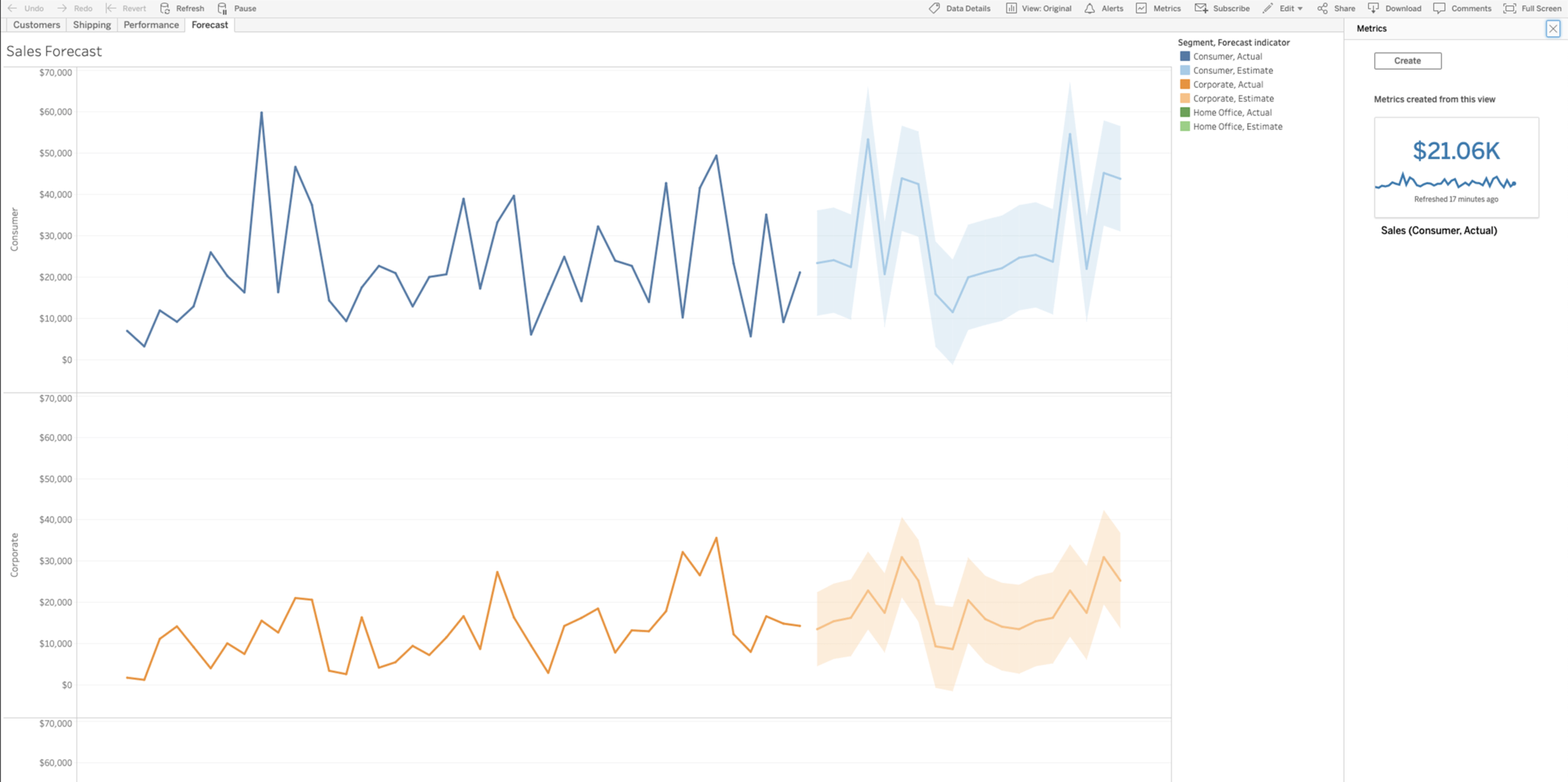 Metrics improvements
You can now easily see all metrics on a viz by opening the metrics panel while viewing a dashboard. Having this visibility makes it easier to find and create the metrics relevant to the data you care about.
New product activation method
Opt-in to Server Authorization to Run (ATR) product activation of Tableau Server deployed in cloud or virtual environments, which abstracts licensing from underlying hardware changes.
Tableau Server Management (TSM) improvements
Support for Azure Key Vault for Tableau Server
As part of Tableau Server Management, integrate with Azure Key Vault for Tableau Server data extract encryption at rest to centralize key management and unlock more advanced security and compliance scenarios.
Resource Monitoring Tool (RMT) search and filter
Search and filter Tableau Resource Monitoring Tool data to quickly find specific content, events, and sessions generated by Tableau Server.
Learn More About Tableau Releases