Increase trust and visibility with data prep and management enhancements
Tableau 2021.3 brings new data prep and data management capabilities, including linked tasks for automated prep flows, and data catalog features to increase visibility and trust.
Fully realizing your data-driven vision is closer than you think. The Tableau 2021.3 release enhances Tableau Data Management features to provide a trusted environment to prepare, analyze, engage, interact, and collaborate with data. So what's new?
Automate your Prep flows in a defined sequence, with automatic data quality warnings for any failed runs
Enable data quality warnings for email subscriptions to dashboards
Inherited descriptions for columns are now available in web authoring
Generate missing numeric or date field rows in a new Prep step
Let's take a closer look at each of these new capabilities.
Keep your data fresh with linked tasks for automated prep flows
New in Tableau Prep Conductor, linked tasks allow you to set your flows to run in sequence. Customers often have one or more flows dependent on another flow. Before linked tasks, you needed to calculate or guess when to schedule each flow run. This created risks, like missing the right time windows and ending up with stale data, or over-scheduling flow runs and overloading the server. At the same time, scheduling run times very conservatively could cause long waits to get the fresh data.
In addition to the manual scheduling, such an approach didn't provide for any triggers to prevent the next flow, in case something went wrong with the previous flow. Now, we've automated the process with linked tasks—you can stop guessing and tell your scheduler which flows should run, in which order (link up to 20 flows!), and what actions to take should your flow runs succeed or fail.
Let's say I have multiple flows I want to link. In case the run fails, I want to set a data quality warning on the failed flow and stop the next flow from running. The first thing to do is pick a schedule for a job: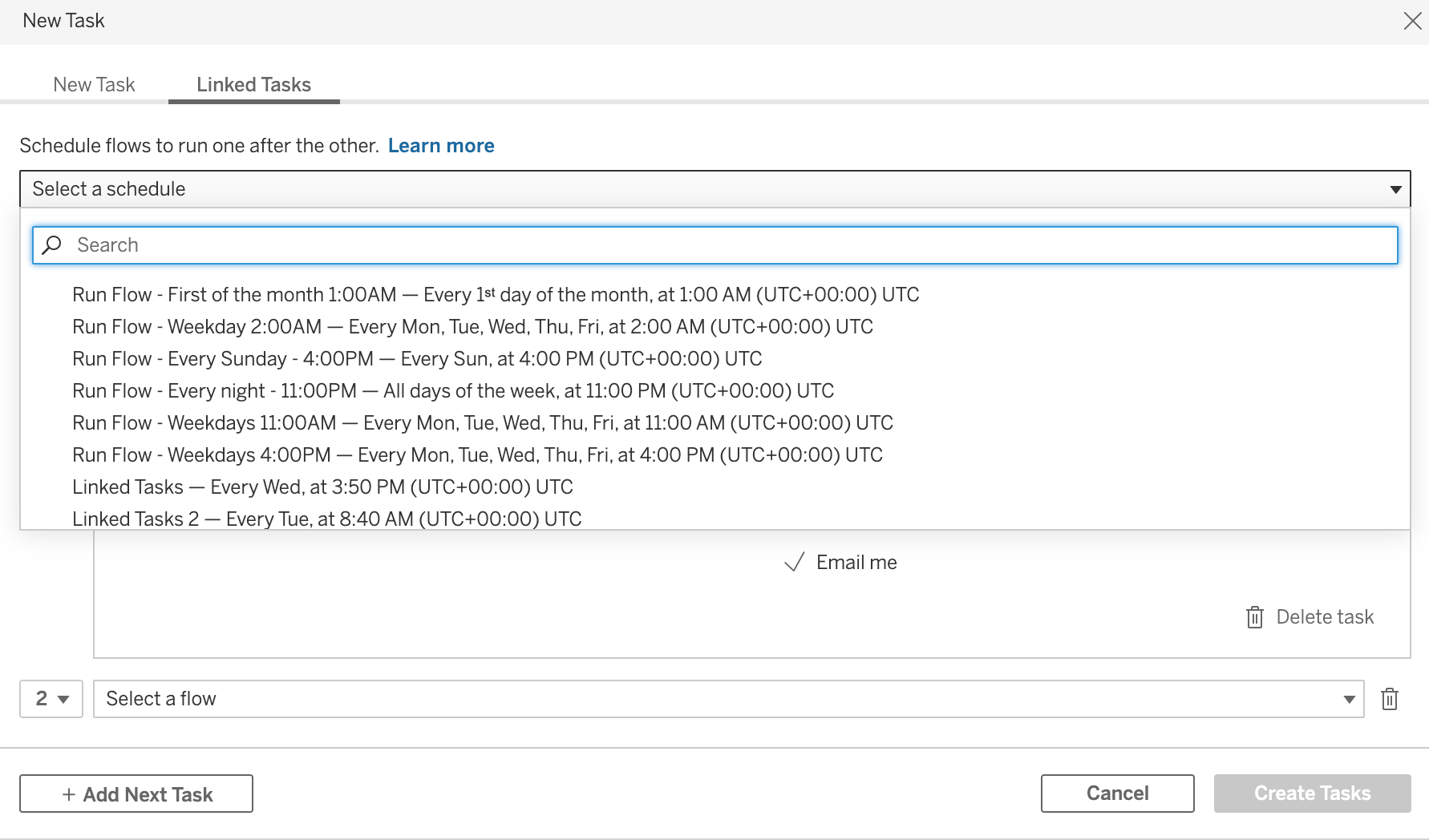 When setting up the linked tasks, I have the option to specify what to do if the flow succeeds or fails. If the task succeeds, it automatically starts the next task. If it fails, I can add a data quality warning and/or stop the remaining tasks from running.

Having added the first flow in the linked task, I can add another flow by selecting "Add Next Task".
I automatically see all the downstream flows to choose from. Once I'm done with setting up the sequence, I see all the scheduled linked tasks under the "Scheduled Tasks" tab: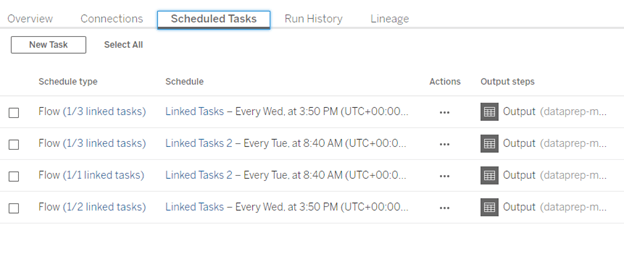 Another nice thing about this feature is that flows are automatically visible in the Catalog lineage tool once they've run—and if any of the flows have data quality warnings, they will be surfaced in multiple places within the Tableau ecosystem.
Keep everyone informed in the flow of analysis with data quality warnings and inherited descriptions
Data quality warnings help users to learn about potential data issues in many places across the Tableau platform, including Data Details with Catalog, within Tableau Prep, and in the Data tab Tableau Desktop. And now, email subscription users don't need to worry about getting stale reports—you can surface data quality warnings directly in emails. The warnings will display in the emails if there are any set up on the upstream assets—like tables, databases, datasources, or flows. Admins can control whether data quality warnings in subscription emails are enabled per site.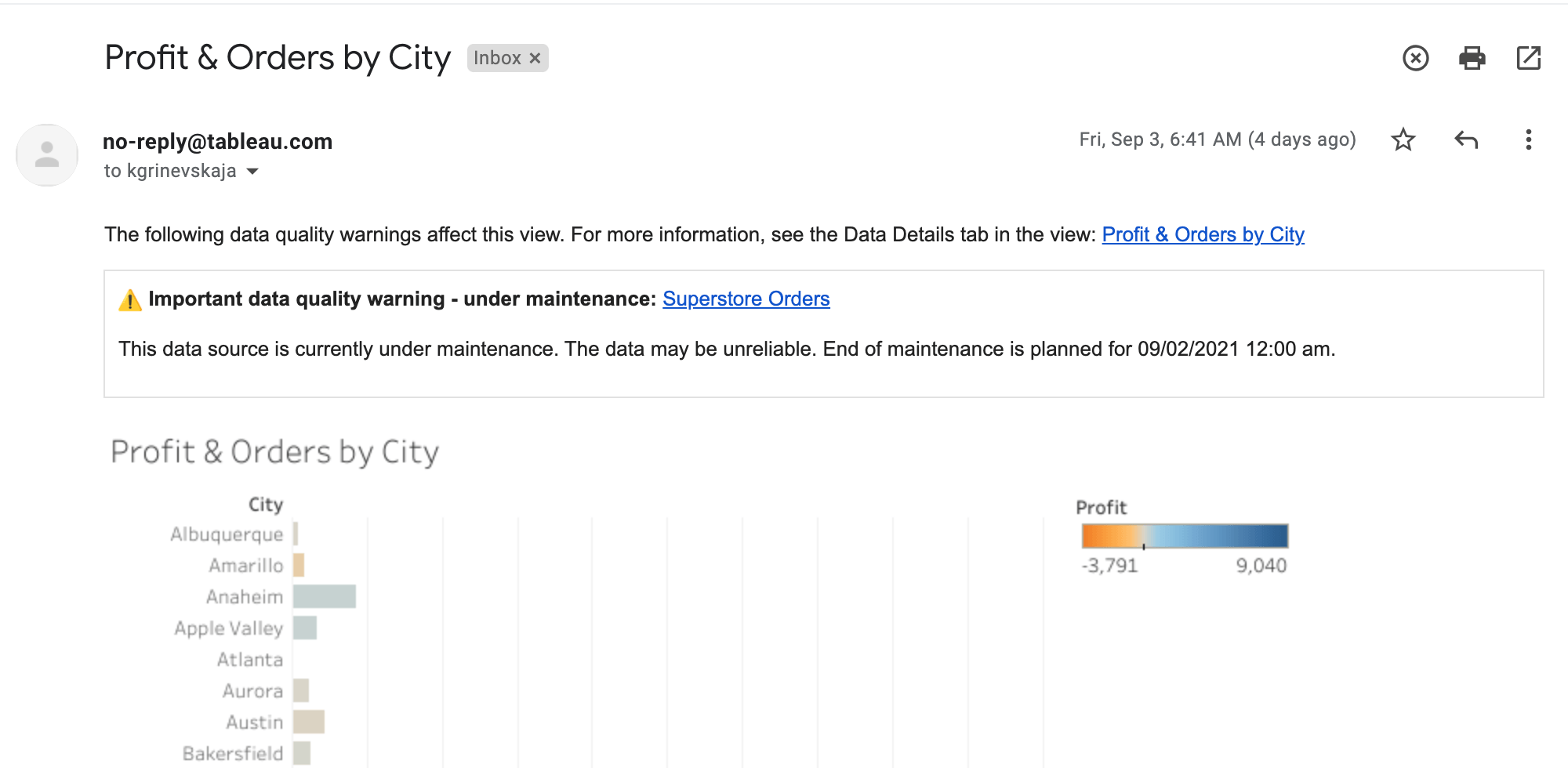 Data preparation within Tableau is enhanced by Tableau Catalog's inheritance capabilities. In Tableau 2021.2, we introduced inherited column and field descriptions in Tableau Desktop to show analysts upstream column descriptions for published data sources and workbooks. In Tableau 2021.3, similar capabilities are available in web authoring.
When a user creates a new workbook or a data source, or works with one that's already published, the upstream descriptions for non-calculated fields are shown in the tooltips: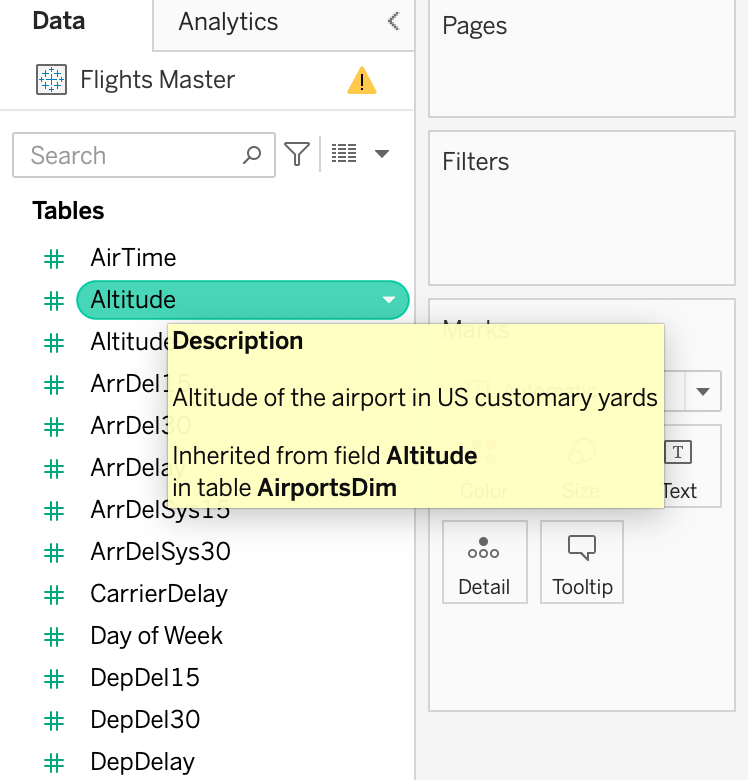 No matter how complex the lineage is, the nearest inherited description will be displayed to the end user. Flows, data sources, and multiple levels of tables can be part of the lineage. Analysts will always see the closest existing column or field description.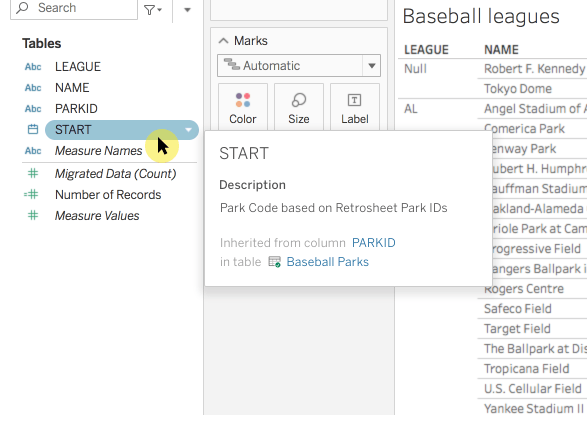 Unlike other data catalogs, Tableau Catalog brings the metadata like data quality warnings or descriptions right to the analysts. And with our existing APIs, these descriptions can flow all the way from external systems—like enterprise data catalogs or data warehouses—directly to authoring spaces like Tableau Desktop and web authoring within Tableau Server or Online.
This offers a convenient way to curate your data sets in a single place while keeping end users informed of which data they are using in the authoring mode—no need to inspect other tools or switch between apps.
Clean and shape your data faster by generating missing rows
Tableau Prep Builder also has new functionality with our 2021.3 release. You can now use a new step type, New Rows, to generate missing rows for numeric or date fields. This feature is a popular customer request and it makes data preparation way easier. When you have gaps in your sequential data set, it can be tricky to create calculations, understand trends, and analyze the data. The easiest way to fix it previously was to manipulate the data set manually. Now, it can be done with a couple of clicks inside Prep.
Using this new step is easy—simply choose whether you'd like to generate new rows based on a single field or multiple fields. Next, specify the incrementing condition and what values should be in each row. Tableau Prep makes it easy to see which new rows were generated—simply look at the middle pane. This new step makes data prep faster and more flexible than ever before, helping you get to analysis and insights faster.
Learn more about Tableau 2021.3
Many of the features in Tableau 2021.3 put a spotlight on governing and managing your data without compromise. When you equip your organization with trusted and governed data, you can drive greater success with analytics at scale and better business outcomes. Get the visibility and control you need to ensure that trusted and up-to-date data is always used to inform decisions.
Check out these resources to learn more:
Subscribe to our blog
Get the latest Tableau updates in your inbox.