Announcing the 2022 Tableau Visionaries
The 2022 Tableau Visionaries honors the Tableau Community's most distinguished leaders. Learn more about them and connect with them in the Community.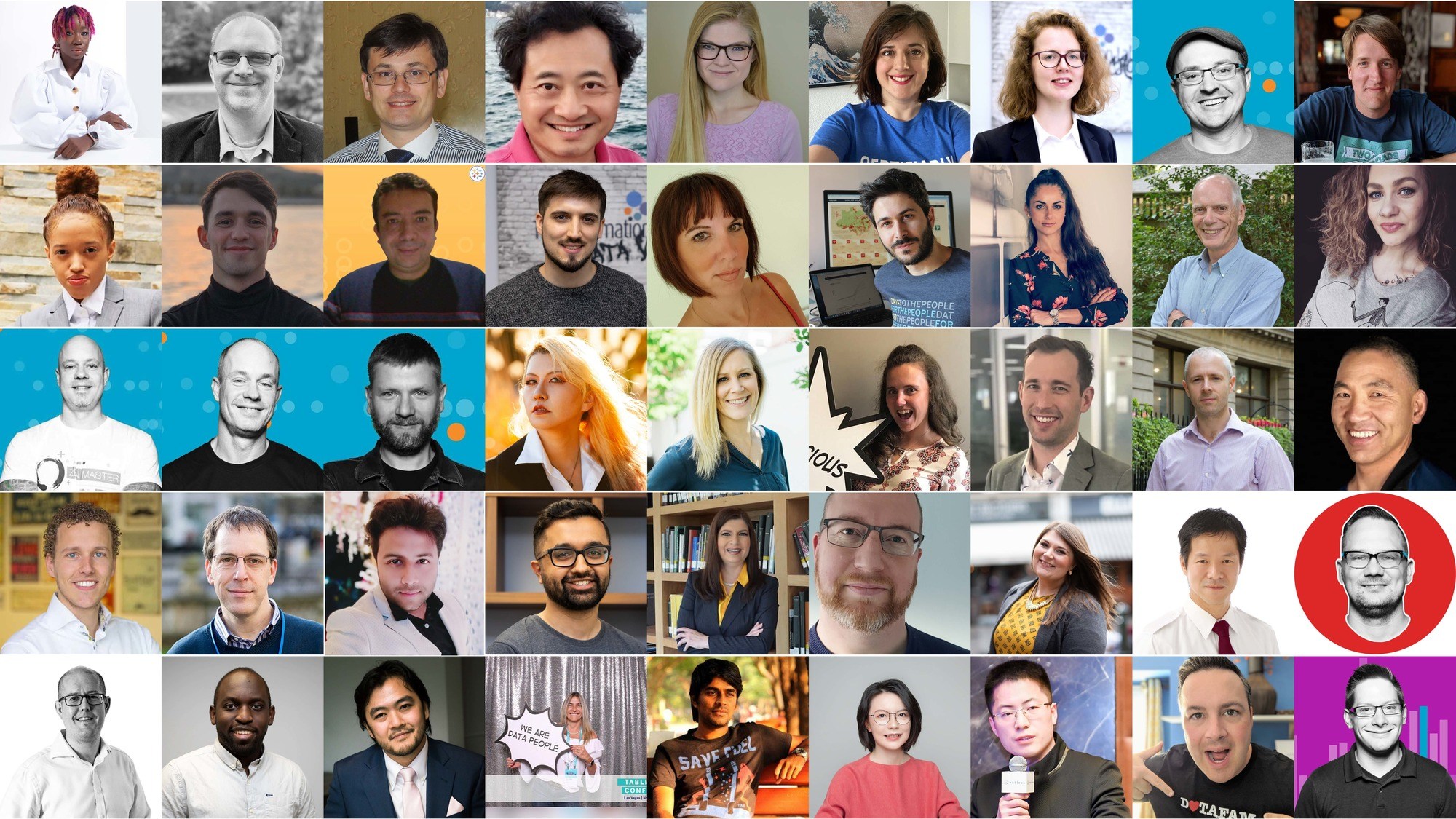 It's our privilege to announce the 2022 Tableau Visionaries—a new title replacing Zen Master—honoring the Tableau Community's most distinguished leaders. This group of 45 members inspires us by sharing their mastery, teaching, and collaboration to make Tableau better for everyone.
The new leaders represent Tableau's largest, most regionally, and linguistically diverse group to date! We're excited for you to learn more about them and connect with them in the Community.
In the coming months, we'll be kicking off a new virtual series showcasing the voices and journeys of the 2022 Tableau Visionaries. They'll welcome new members and discuss how they got started with Tableau and built their skills. They'll also share how they like to connect with the community and what they're most passionate about in data and analytics. Sign up for Community updates to get invited.
In the meantime, check out our Tableau Visionaries' profiles on the new website and follow them using this list on Twitter.
Introducing the new 2022 Tableau Visionaries:
Adam Mico
Annabelle Rincon
Anya Prosvetova
Brian Moore
CJ Mayes
Diego Martínez
Donna Coles
KT
Sean Miller
Veronica Simoes
Vinodh Kumar V R
Zak Geis
We're also delighted to recognize our returning Visionaries. Join us in welcoming them back for another one-year term.
Abisola Oni
Alexander Mou
Alexander Varlamov
Ann Jackson
Carl Allchin
Chantilly Jaggernauth
Diego Parker
Filippo Mastroianni
Ivett Kovács
Jim Dehner
Judit Bekker
Ken Flerlage
Kevin Flerlage
Klaus Schulte
Lindsay Betzendahl
Lorna Brown
Luke Stanke
Marc Reid
Mark Wu
Merlijn Buit
Neil Richards
Rajeev Pandey
Ravi Mistry
Rosario Gauna
Samuel Parsons
Sarah Bartlett
Satoshi Ganeko
Simon Beaumont
Tim Ngwena
Toan Hoang
Wendy Shijia 汪士佳
Yupeng Wu
Zach Bowders
Tableau Visionary Hall of Fame
Entering the ranks of the Tableau Visionary Hall of Fame, we are honored to welcome Bridget Cogley and Chris DeMartini as our new inductees and thank them for their dedication to the Tableau Community.
They will hold the title of Tableau Visionary in perpetuity, joining Adam McCann, Andy Kriebel, Anya A'Hearn, Chris Love, Craig Bloodworth, Jeffrey Shaffer, Jonathan Drummey, Joshua Milligan, Kelly Martin, Robert Radburn, Steve Wexler, and Tamas Foldi. We will also recognize them on the official Visionary web page.
What is a Tableau Visionary?
As part of this announcement, we are thrilled to announce Tableau Visionary as the new name chosen to replace Tableau Zen Master. We love how this title reflects this group's history of pushing Tableau to be better for everyone and helping us innovate with our products. Their mastery, teaching, and collaboration with others in the community helps us deliver on our mission of helping people see and understand data.
To learn more about Tableau's Visionary program, our selection criteria, and register for a notification email when next year's application process begins, visit the program's website.
Subscribe to our blog
Get the latest Tableau updates in your inbox.