How I TC: A behind-the-scenes look at how Tableau leaders prepare for the biggest data event of the year
For data lovers there is no bigger moment of the year than Tableau Conference. For one glorious week, people worldwide connect around data. They learn, share, and celebrate together in ways that make us proud of our DataFam.
Even though TC is virtual for the second year running, the show must go on. Whether it's in-person or online, a successful TC takes a tremendous amount of planning, rehearsals, production, sweat, outfit changes, and sleepless nights.
Tableau leaders from around the world shared with us how they prepare for TC—what they love and don't love so much, and what they're looking forward to most. The biggest common denominator? They all miss seeing the Tableau Community in person and cannot wait for TC to be live and in-person again.
How soon in the year do you start thinking about TC?
Mark Nelson, President and CEO of Tableau: When do we stop thinking about TC? Never. :-) That's a little tongue in cheek but not really. Throughout the year, TC activities are never far from our minds.
Jackie Yeaney, Chief Marketing Officer: Oh goodness, as soon as one TC ends my mind starts planning the next one. How can we be even more insightful, engaging, and fun? What do we want to keep, and what should we rethink? What could be completely different? The intensity really picks up about four months ahead of the event.
Francois Ajenstat, Chief Product Officer: In earnest, TC development starts about five months out from the event. We start thinking about the demos coming out, the things we want to include in the keynote and in Devs on Stage that will fire up the community. It's a crazy time because a lot of things we're planning to announce are in the future. We have to get dev teams to finish code, prototypes, and figure out how to name this thing. It's fun, invigorating, frustrating, chaotic, everything at the same time.
What do you love most about TC?
Mark: Without a doubt the chance to connect with customers and the Tableau Community. It's the best part of my job, hands down. And there's no better place for it than TC to see the passion of our Community up close.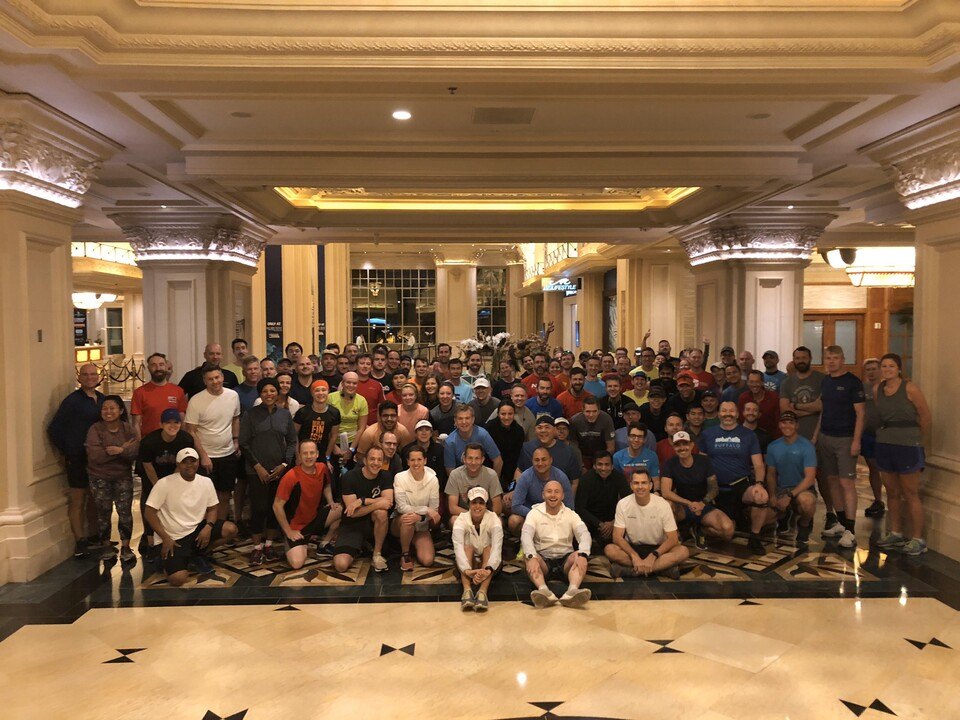 At Tableau Conference 2019, Tableau leaders go on a morning run with our DataFam, aptly called #RunData.
JY Pook, Sr. VP and GM, Asia Pacific/Japan: The energy—it's like no other conference. You have to see it to believe it. What's great about the event is the opportunity to bring our customers, partners, and community together. For everyone to feed off the positive energy and love for data. What's even better is the opportunity to connect with teammates. Everyone has so much fun together.
What do you dread or fear the most?
JY: [When TC is live] queuing up for food at the conference! The lines are long and I guess, the food itself. I end up missing Asian food after eating pizzas and sandwiches for a whole week.
Jackie: My fear is virtual event fatigue. I'm thinking about that 24/7. We've been obsessing about making it an experience you can't help but watch and engage with. We are using a compelling "red thread" theme throughout. We won't have long presentations. We will do more interviews and panel-style sessions vs. monologues. We are implementing more ways to engage live during the event. And we have interspersed surprise and delight moments.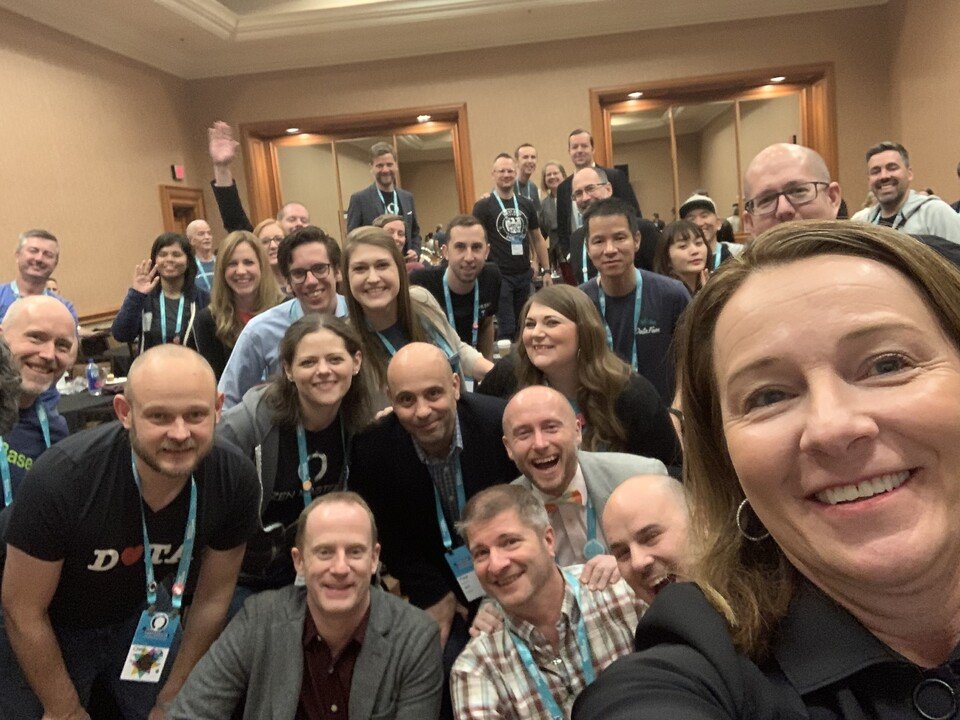 CMO Jackie Yeaney takes a selfie with Tableau Zen Masters and Ambassadors at TC19.
Francois: I hate the rehearsals—you have no idea how much I hate the rehearsals. It's tough but extremely valuable to make sure we deliver a great keynote for our customers. We agonize over the content, the words, the design, and the feeling we want to create. But it's so worth it. After spending months working on this, it pays off. This is the one moment of the year you get to make a big splash. This conference matters.
Dan Pell, Sr. VP and GM, EMEA: Missing out on the parties. Even in this hybrid world, nobody celebrates like the DataFam. Although on the plus side, the virtual world means I can attend more events without putting on shoes.
What's your go-to way to prepare for your major presentation?
Mark: If possible, I prefer to memorize a presentation or speech so I can really focus on the audience and connecting with people. I am more used to speaking directly to an audience or, of course, I am comfortable doing video calls from home. Working on a set built in our Tableau HQ was definitely a new experience for me!
Jackie: I tend to go over my script to the point of obsession. I need it to be locked 48 hours ahead, so I can spin it in my head over and over. Mentally right before I head on out, I always remind myself of my favorite quote by Maya Angelou, "People will forget what you said, people will forget what you did, but people will never forget how you made them feel." If I concentrate on truly connecting with the audience, the rest will take care of itself.
Francois: When we do TC live, I don't sleep for about a week. I dream the speech, and I rehearse it in my head. It's actually part of my process, and I really agonize over it a lot.
Dan: It's all about balance for me. To bring the energy, I need to build in time for pre-event headspace or meditation. In the virtual world, I think managing your energy is even more important than ever.
How many outfits do you try on? (be honest)
Mark: I am a hoodie or fleece vest kind of guy, so I don't have a huge wardrobe of suits and jackets. I bought my first jacket in nearly 30 years for TC this year. I picked out one option at the store right before filming and luckily everyone was OK with it. I did buy a spare shirt in case of spills!
JY: After almost 10 years at Tableau, I've amassed loads of Tableau T-shirts, and it's always been about choosing which Tableau T-shirt do I wear and would look best. But alas, I always end up with the classic Data Rockstar T-shirt under a blazer. You can't beat a classic.
Jackie: I am not exactly a fashionista so way ahead of my talk, I figure out my outfit so I can concentrate on what I'm saying vs. how I look. Let's just say I panic about this early and have a few trusted friends that provide honest feedback so, once we decide, I can simply forget about it. For TC in person I have every outfit (about three or four a day) completely mapped out and written down. Don't want to leave anything to chance.
Francois: I probably try on about four outfits. I try getting a new outfit for every TC, top to bottom, rarely do I do repeats. That's not to say I'm royalty, but I want to have something fresh. It helps build my confidence when I get onstage.
Public speaking: Love or loathe it?
Mark: Neither! I am pretty comfortable speaking to an audience, just don't make me watch myself on video. :-)
JY: I'm not in love with the thought of it, especially when prepping, but once I'm there, speaking to hundreds and thousands of people in our DataFam, I am in the moment and thoroughly enjoying the experience.
Dan: LOVE. Luckily, I've always enjoyed the opportunity to use my voice to advocate for what I believe in.
Jackie: Honestly, I have to say both. It does ultimately bring me joy. But I also get silly anxious ahead of time. I get super nervous right before and have to remind myself I've done this many times.
Francois: I kind of secretly love it. I love the energy and connection with the audience. I still stress over it, like the first five minutes, like why did I sign up for this? Remember, I don't sleep for a week before a major event, but I secretly love it.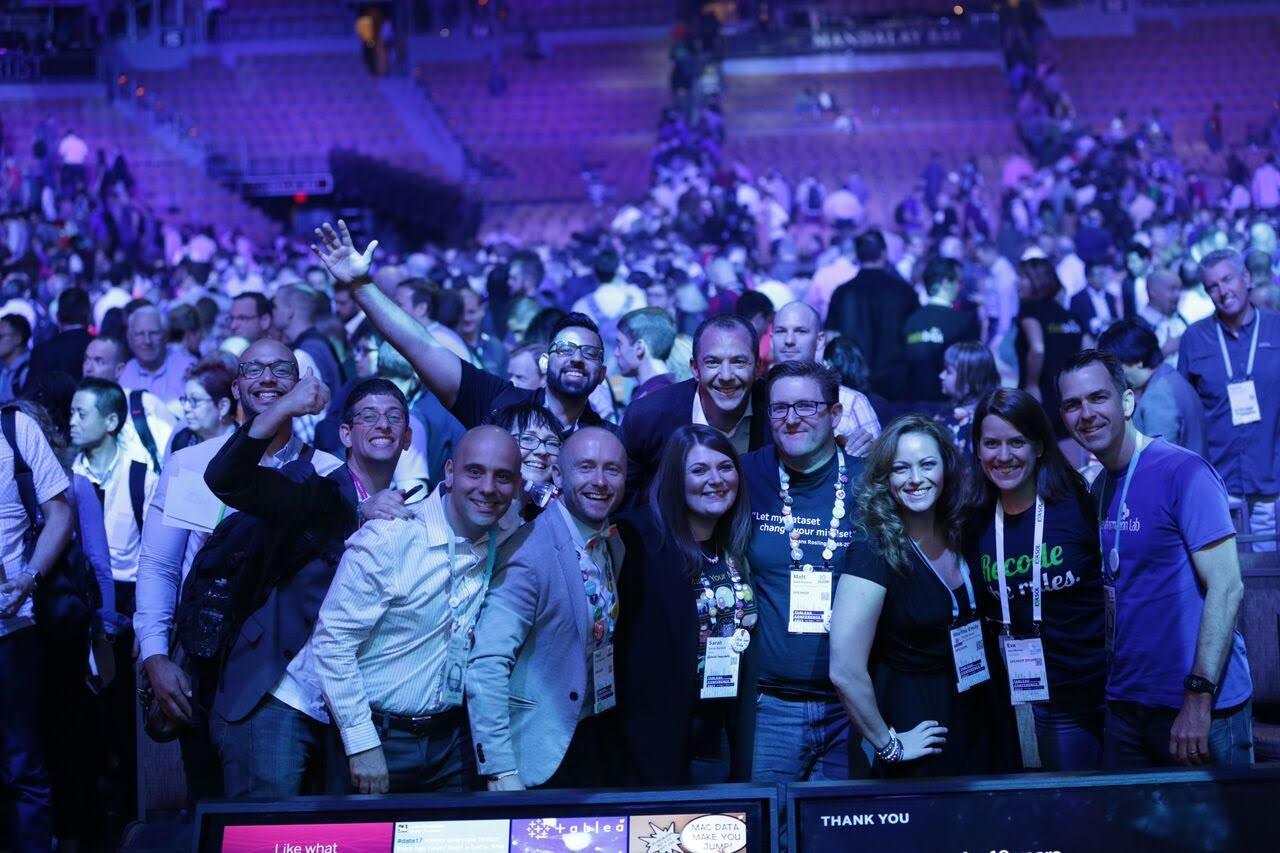 CPO Francois Ajenstat (center) with our DataFam at TC19.
What do you love most about our DataFam at TC?
Mark: What the Tableau Community has created has genuinely been part of changing the shape of modern business intelligence. They make a huge impact on our customers, on one another, and on this company.
JY: Without a doubt it's their passion and fervent love for the brand. Their energy and passion reinforces the mission we're on, and at the root of this is their strength in the mindset—showcasing the continuous learning journey everyone can be on.
Dan: Their insane commitment to what we do. They really are the secret sauce of what makes Tableau such a powerful force of change for businesses, communities, and individuals.
Jackie: They genuinely want to help each other succeed with data. No one holds their insights and skills tight to the chest. Our DataFam is all-in on helping people see and understand data.
What does your dream TC look like?
Mark: Back in-person, but keeping the ability to include people from all over the world that we can achieve with virtual. Hosting it somewhere I could go for a great run before the day starts. And we'd have a killer musical guest like Beck. (Hey, we got two out of three this year!)
JY: Being back together physically again! I can't wait to bring customers to TC and be in the midst of it all. And I can't wait to celebrate with our team.
Francois: The old TC. TC is unlike a traditional tech conference—it's truly a community celebration and a reunion of data lovers and people who have found their tribe. And the parties are always legendary.
Dan: This year is pretty close: a celebration of knowledge, learning, life, and community. Every employee, every partner, and the whole DataFam coming together.
Jackie: Wait and see on November 9!
Let's all data: Join our Tableau leaders for the biggest data event of the year, Tableau Conference, Nov. 9-12, 2021.