Now available in Tableau 2021.1—Einstein Discovery in Tableau, quick LODs, a new unified notification experience, and more
Tableau 2021.1 release introduces Einstein Discovery in Tableau, quick Level of Detail expressions, a new notifications experience, enhancements to Azure connections and Tableau Catalog, and more.
The newest release of Tableau is here! Tableau 2021.1 brings exciting functionality to help your people make smarter, faster business decisions. Upgrade to take advantage of these new innovations, and learn more about how Tableau brings AI into analytics to help users across your organization answer pressing questions.
Let's look at some of the exciting features in the Tableau 2021.1 release:
Enable smarter, guided decisions for every team with Einstein Discovery in Tableau. We're bringing trusted, intuitive predictions and recommendations from Einstein Discovery directly into Tableau dashboards.
Create Level of Detail expressions more easily within your workflow with quick LODs.
See all of the important changes across your organization with our new unified notification experience on Tableau Server and Tableau Online.
Enjoy significant Azure connectivity improvements to better optimize Tableau and Azure together for analytics.
Now we'll take a deeper look at some of the biggest new features in this release.
Bring the future into today's decisions with Einstein Discovery in Tableau
In Tableau 2021.1, we're excited to announce the first native integration of a Salesforce product with the Tableau platform—Einstein Discovery in Tableau! We're bringing the powerful predictive modeling capabilities of Einstein directly into the Tableau workflow so that anyone can make smarter, faster business decisions.
What is Einstein Discovery?
Powered by machine learning (ML), Einstein Discovery provides predictions and recommendations within Tableau workflows for accelerated and smarter decision-making. Developed by Salesforce, Einstein Discovery enables people to create powerful predictive models without needing to write algorithms. This offers everyone from data scientists to advanced analysts to business users an intuitive, no-code environment that empowers quick and confident decisions guided by ethical, transparent AI.
Einstein Discovery + Tableau, together
Einstein Discovery in Tableau means that you can now bring predictions and recommendations from Einstein Discovery to every Tableau user across your organization—all without writing a single line of code. Here's how:
Einstein dashboard extension: Enjoy on-demand, interpretable ML predictions from Einstein Discovery natively integrated in Tableau dashboards. Users can click on one or more rows of data from a Tableau visualization to get dynamic predictions, see key drivers of predictions, and learn ways to improve predictions based on the model.
Einstein in Tableau Calcs: Feed Tableau analytics with dynamic predictive intelligence and connect Einstein predictions directly into Tableau calculated fields. Construct, share, and scale interactive visualizations and dashboards incorporating dynamic predictions using existing Tableau infrastructure, and test new scenarios using Tableau parameters. Note: Available in Tableau Desktop and Tableau Server.
Bulk scoring in Prep Builder: Enrich your datasets with powerful analytics from ML models. By connecting to Einstein Discovery, you can integrate predictions while preparing data in Tableau, and score data in bulk, including writing in key drivers of predictions. Note: Coming in the April release of Tableau Prep Builder.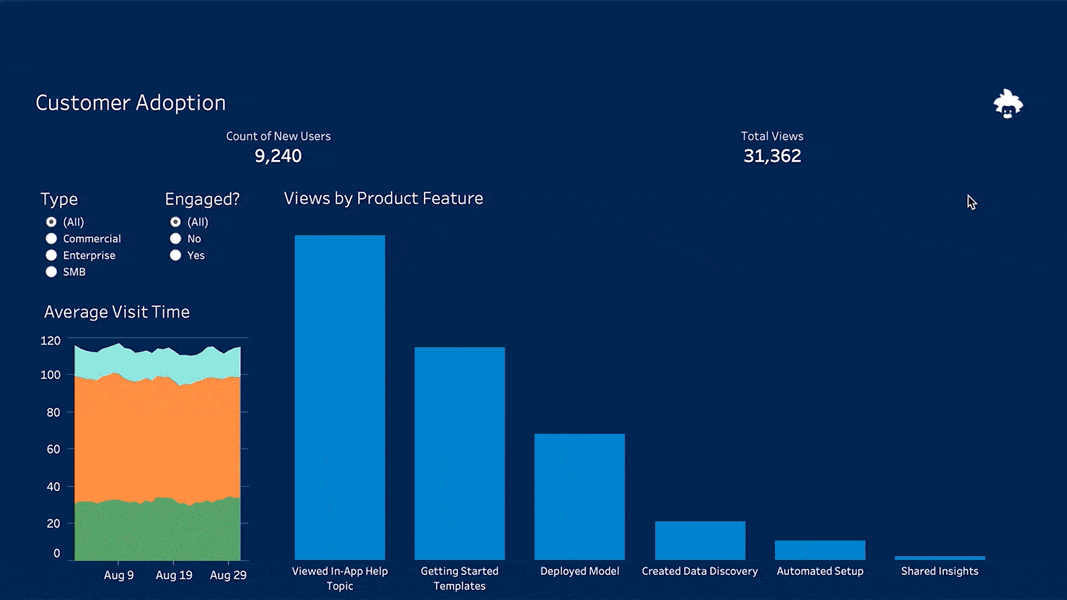 In the example above, the Einstein dashboard extension has been added to the right side of this customer adoption dashboard. Users can see top predictors, as well as insights of how to improve their engagement rate, directly in their flow of analysis.
For more detail on each of these integrations, check out our Einstein Discovery in Tableau blog post.
Stay on top of important updates with our new unified notification experience
We know that schedules are busy and there never seems to be enough time in the day, and we're right there with you. With our newly redesigned notification experience, we're making it easier for you to keep track of all the important changes across your organization.
You now have a dedicated space on Tableau Server and Tableau Online that shows your shares, comments, extracts, and prep flows all in one centralized place. And in your preferences, choose where and how you receive these notifications—directly in Tableau, in email notifications, or both—so you'll never miss an important alert or delay taking action.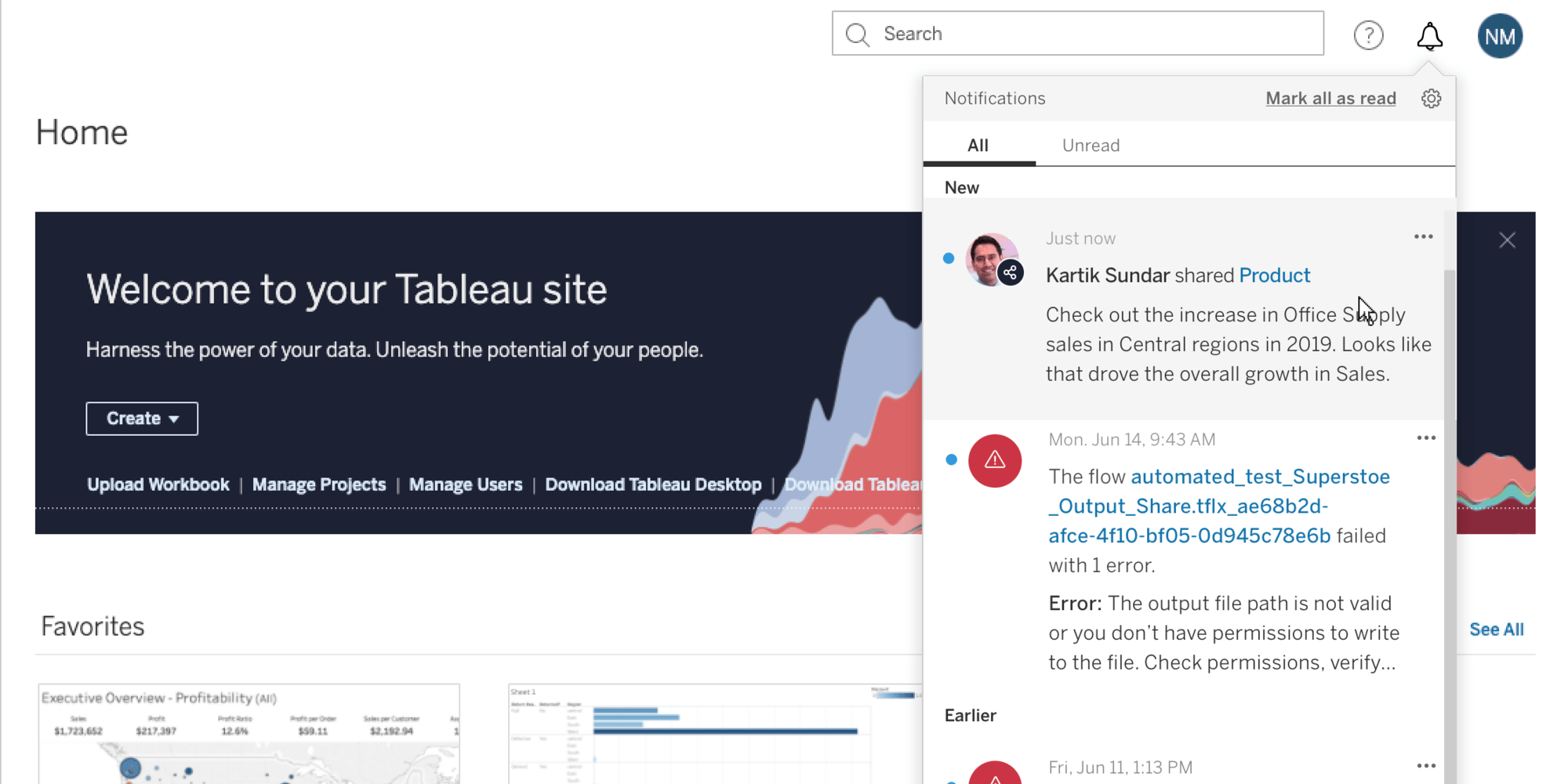 Level up your analysis with new analytics enhancements
Quick LODs
We announced quick LODs at Tableau Conference-ish last year, and now we're excited for you all to try this feature out for yourself! With the new quick LODs in Tableau 2021.1, you can create Level of Detail expressions more easily within your workflow. Simply drag and drop a measure onto a dimension, and Tableau automatically creates a Level of Detail expression with the default aggregation for you. You can also do this using the context menu—use whichever makes more sense in your flow of analysis.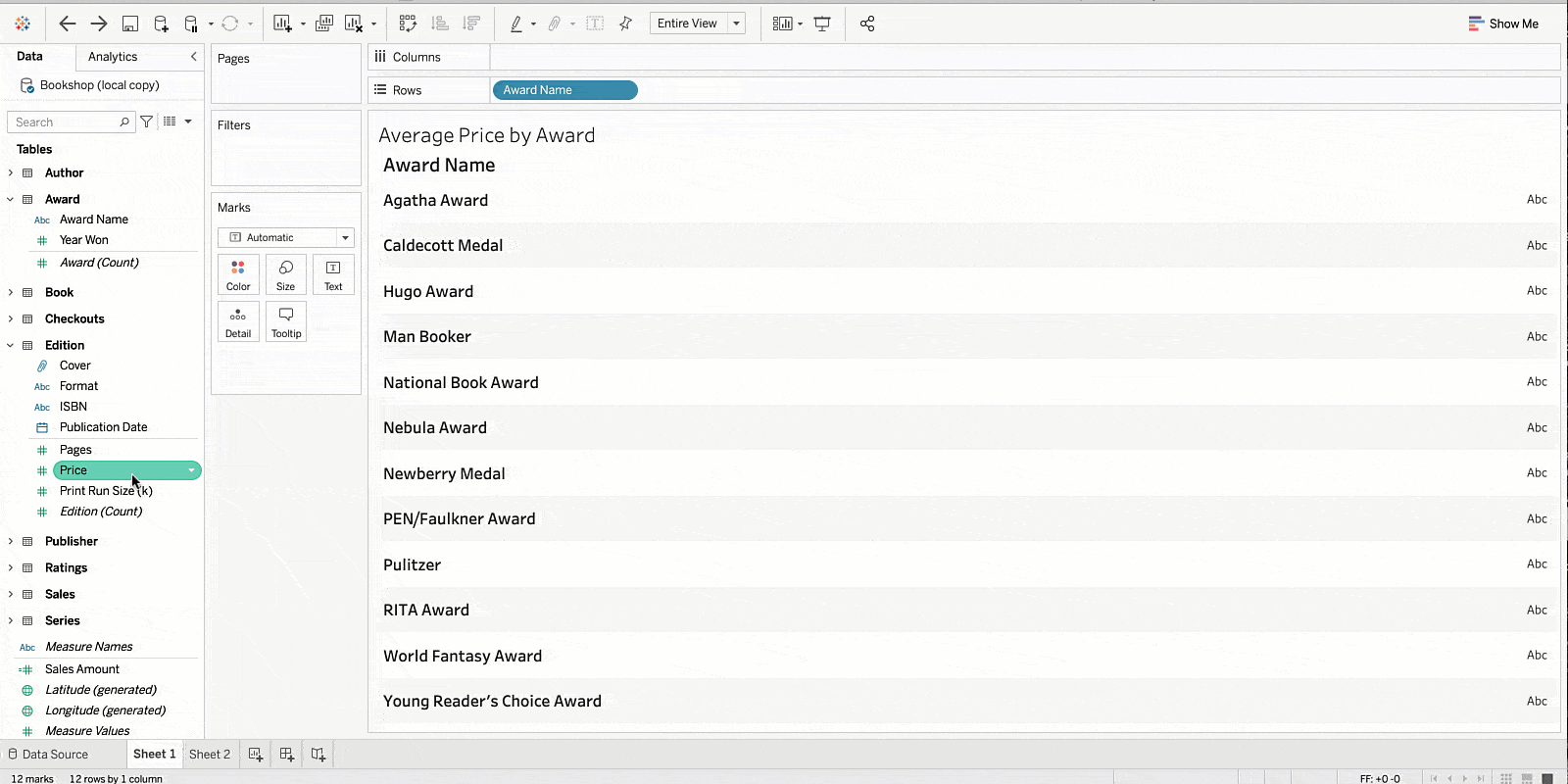 In-product Tableau Exchange
With the in-product Tableau Exchange, all your connectors and extensions are a simple click away. Easily discover connectors and extensions with an enhanced browsing experience, search and filter options, and complete the installations all without leaving your Tableau workflow.
Microsoft Azure connectivity improvements
We are continuously working on optimizing Tableau and Azure together for analytics. You can now connect to your data in Azure SQL Database (with Azure Active Directory) and Azure Data Lake Gen 2. We also now have support for Azure Active Directory in two of our existing connectors in Azure Synapse and Azure Databricks. To learn more, read our updated Tableau Server on Microsoft Azure whitepaper for guidance and best practices.
Enjoy expanded spatial support
And last but not least, some mapping updates to make spatial analysis easier. In addition to KML files, you can now connect directly to KMZ files, the corresponding file type—no need to manually unzip the KMZ file to extract the root KML file. And, you can also now connect directly to tables in Snowflake that contain spatial data, and instantly visualize that data in Tableau.
Better manage your data with Tableau Catalog improvements
This release also brings significant improvements to Tableau Catalog (part of Tableau Data Management) so that you can better understand the complete view of your data across your organization. First, we've added automated data quality warnings (DQW), which are automatically created when an extract refresh or Tableau Prep flow run fails. This way, data freshness—or lack thereof—is instantly brought to your attention, with no manual setup required. These can be combined with existing DQWs set manually or via API to add another layer of data quality information to your environment.
With improved search, users can now see more relevant results when searching for a table or a database. Certified content will be ranked at the top, and assets with a data quality warning will be ranked lower, to ensure you are always finding the most trustworthy content.
Thank you, Tableau Community!
You are at the heart of everything we do and the Tableau 2021.1 release is no different. We can't do this without you, so thank you for your continued feedback and inspiration.
Check out the Ideas forum to see all of the features that have been incorporated as a result of your brilliant ideas, and get the newest version of Tableau today.
Subscribe to our blog
Get the latest Tableau updates in your inbox.