Tableau powers smarter experiences and deeper insights in the Salesforce Customer 360
Innovations like Revenue Intelligence, Tableau CRM for Net Zero Cloud and CDP Direct Data highlight how Tableau is powering smarter experiences in Salesforce.
Editor's Note: Tableau CRM is now CRM Analytics.
Leaders seeking an advantage in today's digital-first world need look no further than their data. Data-driven decision making across all lines of business can help any organization answer questions, better serve customers, and surface new competitive opportunities.
At Dreamforce 2021, we announced several new Tableau innovations built for powering smarter experiences across the entire Salesforce Customer 360, including driving deeper insights from CRM data and accelerating time to value of analytics investments. Tableau CRM empowers Salesforce customers right where they work so they can understand their data, discover insights, and have confidence in their business decisions with AI-powered insights in every Salesforce cloud and industry.
Today, we're pleased to share some new examples of the power of Tableau CRM in Salesforce's Spring '22 Release for customers.
Smarter insights drive sales growth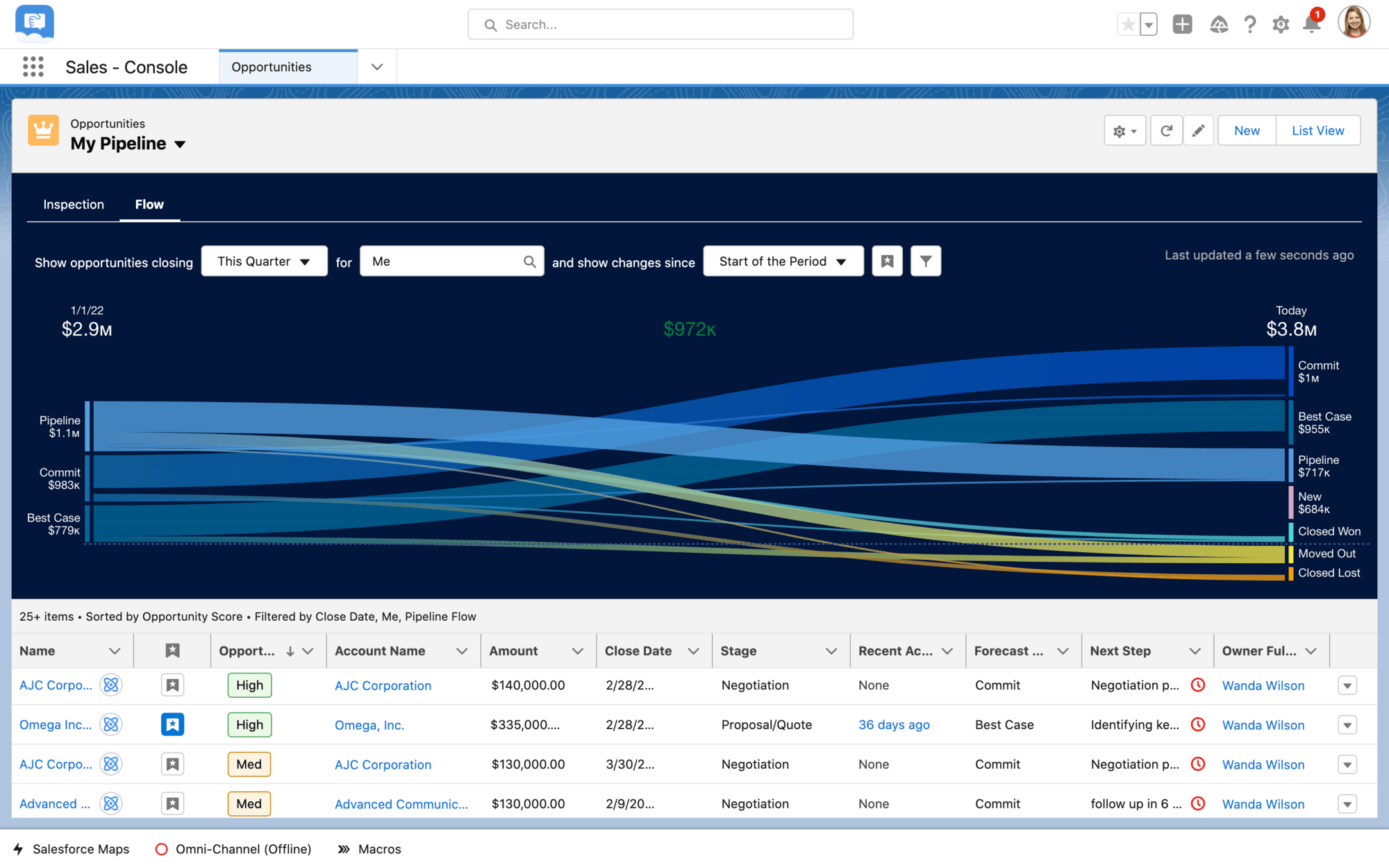 Revenue Intelligence: Pipeline Inspection Flow
In sales, data-driven selling has a strong competitive advantage over selling by intuition alone. Data-driven organizations are 23 times more likely to acquire customers compared to their competition and nine times more likely to surpass them in customer loyalty, according to McKinsey. Sales leaders simply need better, faster ways to analyze the health of their business across revenue lifecycles and customer touchpoints.
Revenue Intelligence brings together Sales Cloud, the world's No. 1 growth platform, with Tableau, the world's No. 1 analytics platform, to a unified revenue management command center designed to equip sales leaders with insights throughout the sales and revenue cycle. From closing deals to setting forecasts to building new pipelines, Revenue Intelligence helps turn insights into action.
With Revenue Intelligence, you can:
Exceed targets with actionable insights. Drive forecast accuracy in the flow of work purpose-built analytics to address pipeline gaps.
Adapt strategies with data. Quickly uncover winning trends across reps, territories, and customers to drive results at scale.
Confidently coach sellers. Improve deal health with AI insights to grow pipeline and close deals faster.
Augment data and AI everywhere. Empower everyone with insights tailored to your business by bringing Salesforce and external data together.
"When I look to drive growth, it all starts with making things as easy as possible for our sellers," said Marcus Jewell, Chief Revenue Officer, Juniper Networks. "We do that with Salesforce by finding ways to augment sales with a clear picture of the next best action. Salesforce allows us to gather data about our pipeline and customer engagements in a single place. Then, we use that data to inform our decisions about how to coach sales reps, which deals need our focus to make an impact, and where we can remove friction in the selling process. The visibility Salesforce provides across our business also allows me as a leader to forecast better, and we've even started using Einstein AI for a data-driven perspective to help de-risk the forecast and increase predictability."
A complete view of the health of your business and pipeline is imperative as sales organizations rapidly adapt to a new selling landscape. Revenue Intelligence can help any sales team maximize opportunities right in the flow of work in this work-from-anywhere world.
Power your organization with customer insights—without moving data
Not only do we help your organization drive revenue, we also know that the future is all about having access to trusted data right where your organization needs it the most. CDP Direct Data is a capability that brings the power of Tableau CRM directly into the Salesforce Customer 360.
Moving data can be difficult and time consuming, especially when data volumes are high. Salesforce CDP provides a unified view of data by incorporating it into one secure and live data source that can be shared across the organization. With Customer 360, you can use CDP Direct to query Salesforce CDP directly without moving any data. Leveraging the Lightning UI, you are empowered to build and embed insights right in their flow of work. With a single source of truth for the data, analytical insights come to you, right where you are.
Salesforce CDP is natively integrated into Tableau CRM. Benefits include:
Fast start. Accelerate your data prep with no connector or data setup needed.
Easy access. Reduce password fatigue with a single sign on to Salesforce to access both Tableau CRM and Salesforce CDP.
Secure and contextual. Centralize control as queries are run on the logged-in profile where sharing rules are automatically applied.
Metadata aware. Simplify your data mapping as CDP object and field labels are re-used to build analytical assets.
The future is Net Zero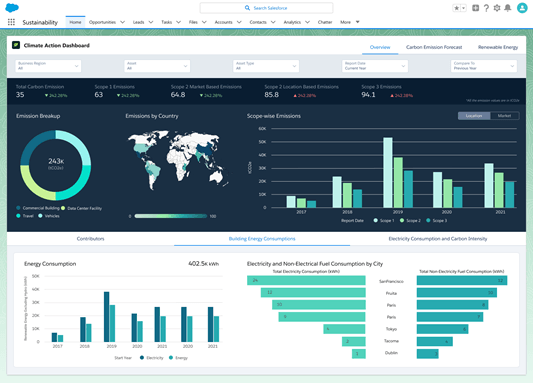 Tableau CRM for Net Zero Cloud
Sustainability is top-of-mind for many organizations, yet analyzing carbon emissions from energy usage and company travel can be complex and time-consuming. In fact, chief executives cited climate change as one of the top risks to their organization's growth, according to a KPMG 2021 CEO Outlook report.
With this spring release, Tableau CRM is also powering the dashboards, surfacing actionable insights, and providing the scenario planning and forecasting for Salesforce's Net Zero Cloud. Now any organization can take steps to achieve carbon neutrality with Customer 360 solutions.
Using Tableau's trusted analytics, all environmental data can be tracked, analyzed, and reported within Net Zero Cloud. This helps any organization more easily and efficiently quantify its carbon footprint and help formulate a climate action plan from a single source of truth. Tableau CRM for Net Zero Cloud is about making it easy to follow the measurements and adjust planning accordingly to reduce carbon footprints.
Key capabilities include:
A comprehensive view on the sustainability efforts by the organization across carbon emissions, forecasting, renewable energy focus, procurement activities, business travel, and auditing
Gain insights and zero in on problem areas that need to be addressed to meet the targets set by the organization. The insights also help the auditors to quickly validate the data by looking at key parameters all in one location
Empower teams with actionable data via easy-to-understand visualizations in an effort to democratize the sustainability efforts across the organization.
To learn more about how Tableau is helping Salesforce customers spot trends, predict outcomes, and make smarter decisions, check out the Salesforce Analytics Solutions page.
Subscribe to our blog
Get the latest Tableau updates in your inbox.