Leading through change: Tableau CEO Mark Nelson is setting the vision for the future of data analytics
iscover how Tableau Software CEO Mark Nelson's tech career started at summer camp—and how he's guiding the company through a digital age fueled by data analytics.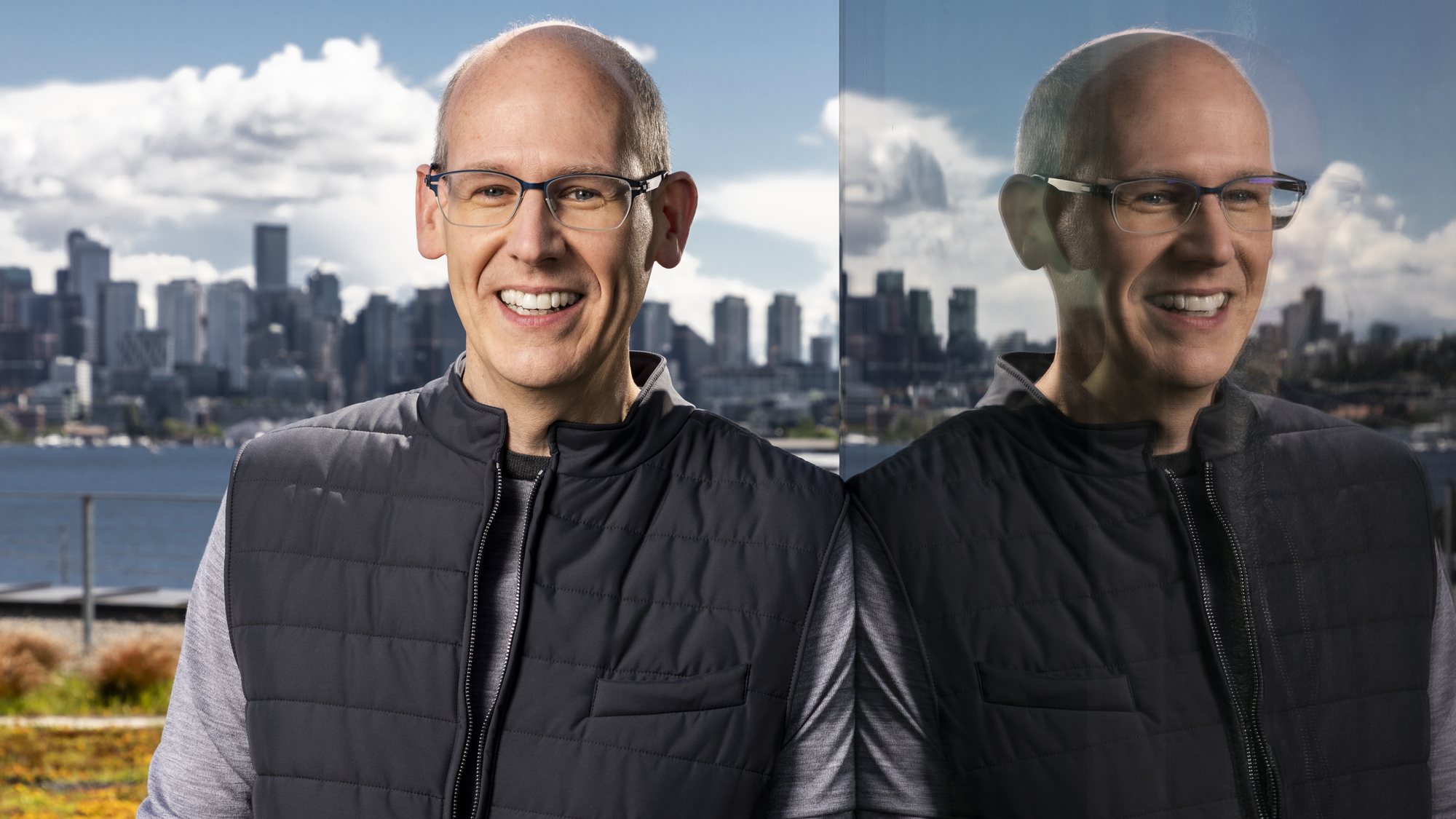 Tableau CEO Mark Nelson's journey to leading a global tech company has an unlikely start—summer camp.
"My first job ever—you can tell I was a geek—was teaching computers and computer literacy at a local summer camp," Nelson said. "I rode my 10-speed bicycle to a local camp … way back when on Apple IIs when they were the new machines of the day."
Even in those early days, Nelson was captivated by the seemingly infinite uses of computers. While getting a graduate degree in computer science, he researched high-performance computing applications for theoretical biophysics and then went on to a professional career building databases and middleware that powered websites that "have sold everything in the universe." He came back to working on solutions in the cloud because of his core belief that you can do everything with it. The timing is right. Nelson takes the helm at Tableau to guide the company through what's coming next in a digital age that's fueled by data.
"Mark is a thoughtful leader who brings deep technical knowledge and a strong empathetic approach to the leadership team," said Jackie Yeaney, EVP of Marketing at Tableau. "He understands what people need and how we can help them, and this has a direct impact on how we innovate within our products and what we prioritize on delivering to our customers."
From computer 'geek' to data leader
A dedicated runner and mountain climber, Nelson knows the value of perseverance in the face of big challenges. He's always admired other scientists, especially Marie Curie, and the endurance of explorers, from modern-day mountaineering legend Ed Viesturs to pioneers like George Mallory. Another leader he admires is President Barack Obama.
"Here's a person with the biggest job on the planet, and I love, love, love his leadership style and how he talks about that," Nelson said upon finishing Obama's latest book, A Promised Land.
"He's just a guy, he doesn't have all the answers," Nelson continued. "The key to his approach was to get the smartest people he could around the table, make a culture from where even the most junior person was unafraid to speak up and say what they thought was right and wrong to make the decision."
As a leader, Nelson is focused on developing a strong culture of collaboration and communication, openly encouraging conversations about bad news as easily as successes. He is also dedicated to delivering the best customer experiences possible.
"We start every project by asking, 'Is this good for our customers?' " Nelson said. "It's knowing the tech behind your product, but it's also about having deep conversations about a hard problem or challenge that needs to be addressed from a thoughtful, balanced approach. Then really focusing on how to best innovate for your customers from there.
"I always tell my development team: We only get to come to work every day at the pleasure of our customers."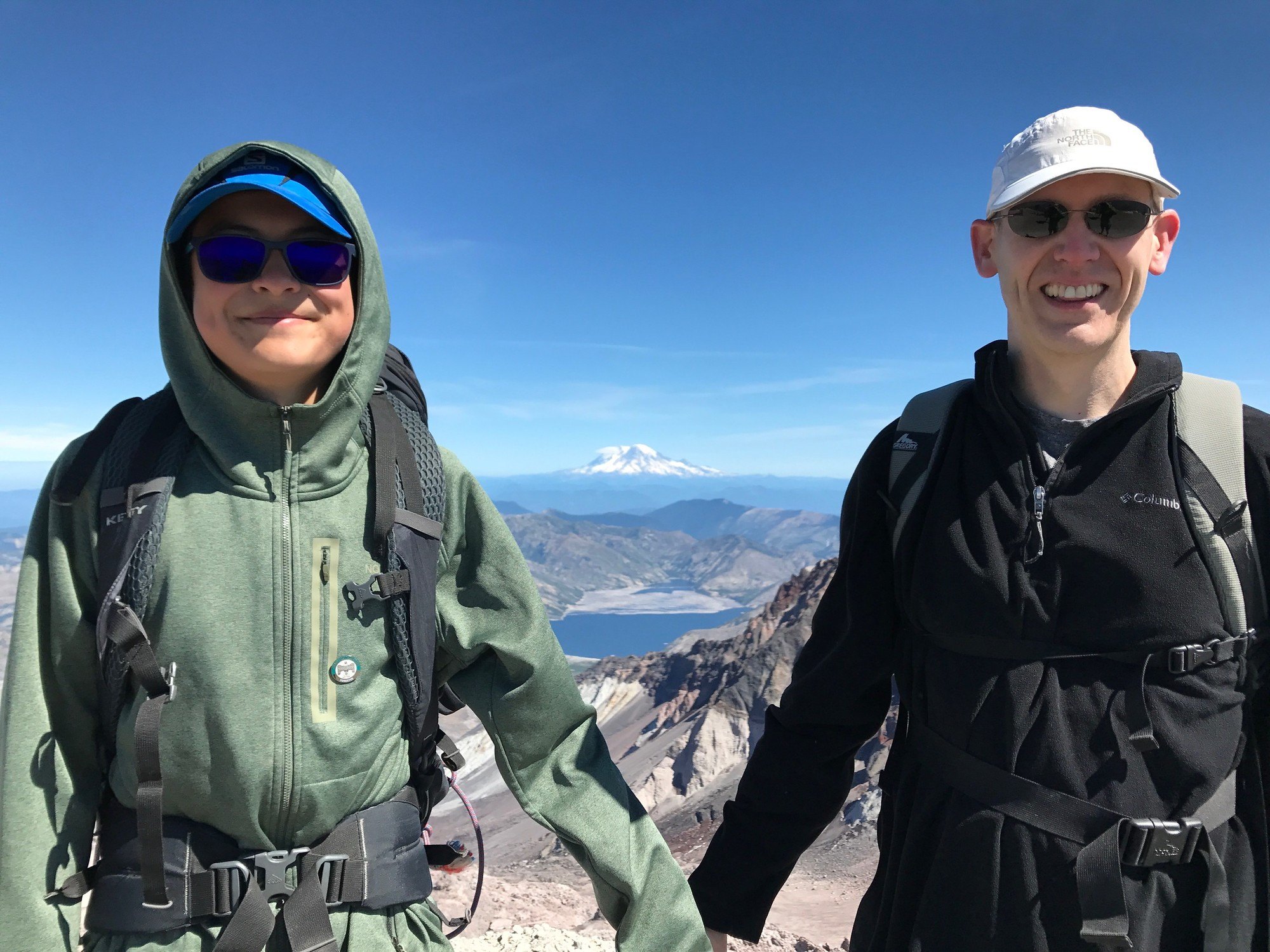 For Mark Nelson, mountain climbing is a family affair. Pictured here with his then-13-year-old son atop Mount Saint Helens in Washington state.
Tableau and Salesforce, like 'peanut butter and chocolate,' are better together
In 2019, when Salesforce announced its acquisition of Tableau, the world hadn't yet been turned upside down by a global pandemic. Demand for both companies' solutions skyrocketed in 2020 as the world shifted to digital—an always-online world that's powered by data.
"I think this is the most important time in the history of data," Nelson said. "This year has accelerated the relevance of Tableau in ways that are hard to articulate. It happened so quickly. The digital imperative is a data imperative, and it's more relevant in literally every customer engagement we have."
Salesforce and Tableau started integrating their platforms in 2020, and the need to develop a solution to help organizations make the most of their data became even more urgent.
"It's great that we're now swimming in data, but we're also now swimming in data chaos," Nelson said. "It's the nuts and bolts of how you process that data, how you control that data, and how that data gets to you. Most people won't realize what is sitting underneath the software they're using. We don't talk a lot about what goes into our database engines, or the amazing technology that makes what's possible today. And we have a lot more of that to build as we go forward."
As Product team leader at Tableau, Nelson was a key driver for the mission to democratize data for everyone and propel advancements that help customers better manage and prepare data for analysis. This mission is on full display in the Tableau integration with Salesforce—which puts the power of data-science capabilities into the hands of all business people. The integration brings the power to understand data to every part of the Salesforce 360 platform, and to augment analytics for everyone through AI and machine-learning capabilities like Einstein.
To Nelson, integrating the best of Tableau and Salesforce capabilities is like "peanut butter and chocolate." It brings together the powerful Tableau analytics platform with Tableau layered on top of customers' most important business data housed within the Salesforce Customer 360.
"We've always been about helping people see and understand data, and now they're also asking questions and getting answers from their data," Nelson said. "This is where the universe is going. Why us? No one else comes with our view of how to approach this market. We're not a reporting tool, we're not just an analytics tool, we are fundamentally about getting to those answers."
Leading through change with empathy
Nelson is a long-time supporter of social justice issues. In his leadership role with Salesforce and Tableau, he is on a team dedicated to working on issues like racial equity.
"The last year has taught us how much work we still have to do as a society and as people as we go forward," Nelson said. "Data can be a powerful tool to better understand systemic issues like racism and to identify potential solutions."
Tableau recently partnered with racial justice experts, such as PolicyLink, Urban Institute, and Feeding America, to launch the Racial Equity Data Hub. The project aims to democratize data by making it accessible to everyone, and disaggregate and visualize key data points about how racism uniquely affects local communities to help grassroots organizations identify possible solutions and track progress.
The Hub supports Tableau and Nelson's work to use data to realize the promise of equity. PolicyLink President and CEO, Dr. Michael McAfee, agreed with the power of data: "Data is critical to understanding how to craft solutions that ensure all people in America—particularly those who face the burdens of structural racism—participate in a just society, live in a healthy community of opportunity, and prosper in an equitable economy."
No matter the challenge, Nelson says, we can help with data.
"That is our superpower," he said. "With complex and emotionally charged issues, data is so important to really understand what is going on. We can be on the forefront of all of that because of our ability to see and understand data."
Welcome to the future: From data chaos to Data Culture
At Tableau, we know that every digital transformation is a data transformation, but making that leap to data fluency goes beyond adopting the latest technology—it's about making data accessible to everyone. Yet many organizations tell us they still struggle with what to do with their data.
Making sense of the data chaos is why Tableau advocates for building a Data Culture, where everyone has access to data so they can make better, faster decisions. Nelson says the opportunity for growing a Data Culture starts by showing the flywheel of success in one area, with an individual or a department, and getting people to talk to each other in forums, by industry, and with their peers. Once people understand how to use data, their enthusiasm to explore only grows.
"We are literally giving people a new telescope or microscope to look at their world with data," Nelson said. "We can now gather, process, look at that data to see things about the world around us we were never able to see before."
Nelson believes that we can examine almost anything under this data-driven microscope, with the potential to change almost everything.
"I firmly believe data will seep into every aspect of the human endeavour, it's not just a software thing or a business thing," he said. "I believe that medicine, sports, legal—you choose whatever the endeavor is—will be changed radically by data in the years ahead."
"That's where we're going," Nelson said. "It's going to seep into everything we do."
Subscribe to our blog
Get the latest Tableau updates in your inbox.