The 2019 Iron Viz Migration results are in!
The final 2019 Iron Viz qualifier contest has officially come to an end. For this contest, we asked you to visualize migration data provided by The Associated Press and we received 84 stunning entries! Who will join Joshua Smith and Lindsey Poulter on stage at the Iron Viz Championship? Read on to find out!
There can only be one winner but just participating in Iron Viz is a huge accomplishment. We'd like to thank all those who participated in the contests this year, making 2019 the most successful year yet! Across all three global qualifier contests, we received 294 entries (the most ever since Iron Viz started in 2011—and an increase of 31% compared to last year)! You challenged yourselves, stepped outside of your comfort zone, and hopefully learned something new along the way. All of our participants should be extremely proud! Don't forget to tag your entries with #IronViz on Tableau Public and check out #IronViz to see all the amazing vizzes.
We'd also like to thank The Associated Press for providing the data set. Didn't get the chance to participate in this qualifier contest? Download the data and create your own viz!
The judging: how it works
Iron Viz judging has been a hotly-debated topic in the community. In an effort to be as transparent as possible, we've summarized how the process works.
First-round judges from the community scored each viz, narrowing the list to a Top 10
We asked Tableau Ambassadors, past Iron Viz finalists, and others active in the community to help us narrow down the submissions to a list of Top 10 entries which then advance to final-round guest judges. A huge THANK YOU to our first-round judges, who volunteered their time and expertise—Anya A'Hearn, Divya Bharathi, Fiona Gordon, Gabriela Bouret, Russell Spangler, Sarah Bartlett, and Shine Pulikathara! Our judges had some difficult decisions to make and we appreciate their thoughtfulness and commitment to being fair.
Submissions were scored based on Analysis, Design, and Storytelling. We had multiple judges score each submission to minimize any potential bias.
Final-round guest judges scored the Top 10 vizzes and selected a winner
Next, our final-round guest judges independently reviewed the Top 10 vizzes and scored each based on the same criteria as the first-round judges. THANK YOU to our guest judges Alberto Lucas López, Dr. Nikola Sander, Paul Bradshaw, and Sonja Kuijpers.
Explore the Top 10 entries
Which vizzes made the Top 10? Find out below:
Be sure to follow these authors on Tableau Public and add the vizzes to your favorites!
And the winner is…
The Global Journey of Refugees by Hesham Eissa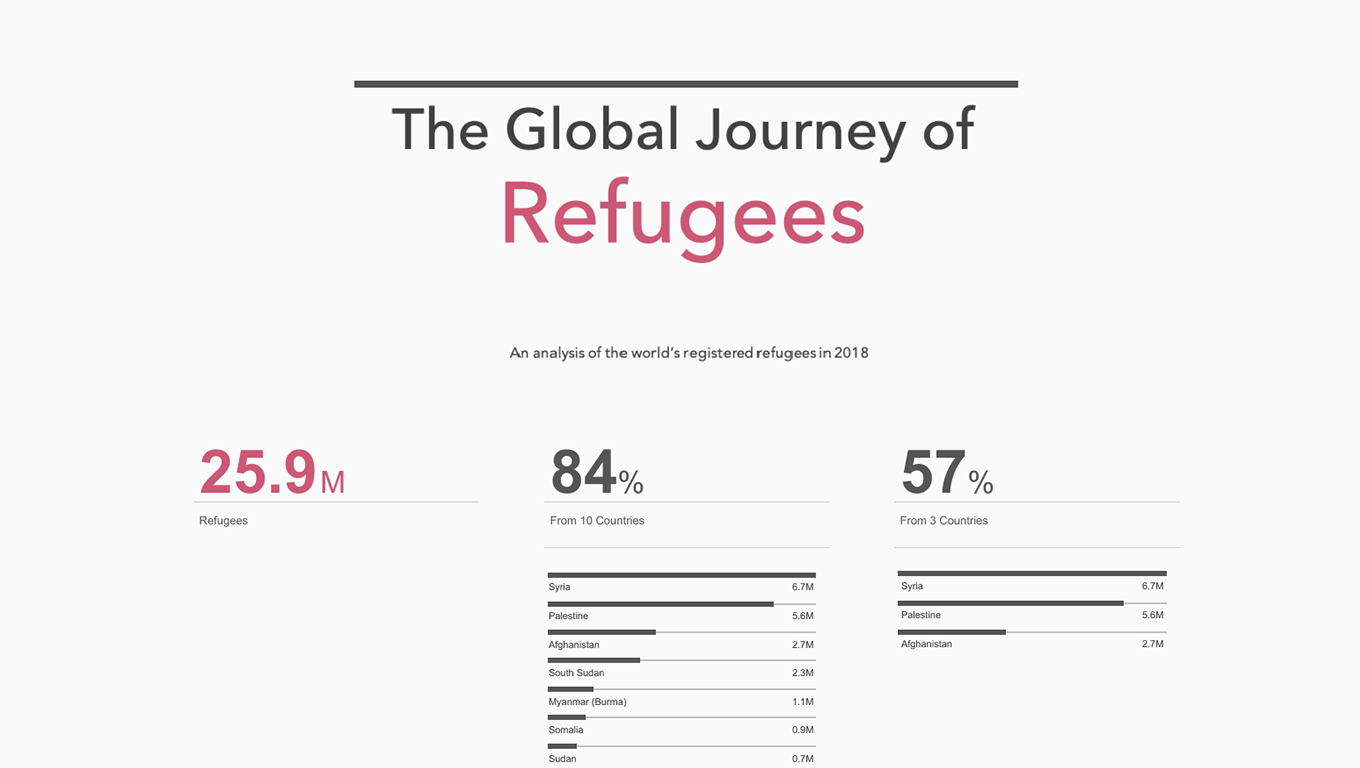 "The quotes really help to humanize the data and bring it into context. There are some really great examples of analysis, giving clear insights and a good sense of trends. Simple color palette, effectively applied," - Sarah Bartlett.
Congratulations to our winner and first-time Iron Viz participant, Hesham Eissa! Follow Hesham on Tableau Public to see the rest of his work.
He joins our two other finalists who will battle it out for the title of global Iron Viz champion at Tableau Conference 2019 (#data19) in Las Vegas. Don't miss the chance to see these data rockstars go head-to-head in front of a live audience in the ultimate data showdown to determine whose viz reigns supreme. Get your tickets now to join the largest data community in Las Vegas at Tableau Conference to see who will win the Iron Viz champion this year.
A quick note on feedback
Please note: The first-round judges determined that all submission feedback would be provided in the format of numerical scores only, and not written comments. If you are one of the 84 entrants, you should be receiving your numerical score shortly!
Subscribe to our blog
Get the latest Tableau updates in your inbox.