Data Literacy for All: Free data skills training for individuals and organizations
How Tableau's Data Literacy for All program can help you develop foundational data skillsets.
We use data everyday for our jobs and in our daily lives. Whether you're optimizing your sales organization or researching climate change, understanding data is a key ingredient for success. 
Although most people are familiar with the current trend of growing amounts of data, there is a skills gap in data literacy - defined as the ability to explore, understand, and communicate with data. Filling the data literacy gap is crucial, particularly since data skills are now a prerequisite for many jobs and even a requirement and need for many employers. As indicated in a 2022 Forrester study commissioned by Tableau found:
"Data skills are recognized as paramount for all workers. Decision-makers and employees in every department consider basic data skills the most important skills for employee success." 
To help address this demand we have developed two courses that provide foundational data skills for all learners. Whether you are new to data, looking to accelerate in your career, or seeking a new career path, these Data Literacy courses can help you develop a foundational data skillset.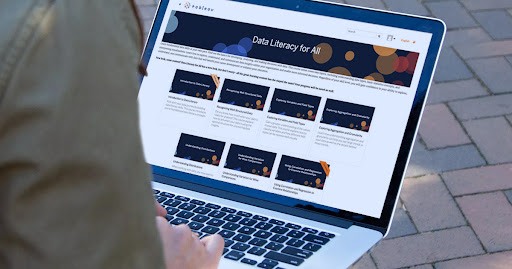 We hear from customers time and time again that developing data skills for employees is one of the main challenges they face when deploying analytics. Whether it's hiring new talent with data skills on their resume, or reskilling existing employees, having a baseline of data literacy across the organization is a critical component within a Data Culture. A Data Culture is the collective behaviors and beliefs of people who value, practice, and encourage the use of data to improve decision-making. As a result, data is woven into the operations, mindset, and identity of an organization.
Helping our customers fill their talent pipeline with trained candidates has been our focus for many years. Since inception in 2011, Tableau Academic Programs have been supporting data skills education  in schools, offering free software, curricula and learning resources to enable and empower students and their  future. 
Through our Academic education efforts, we have provided more than 2 million students and instructors with access to software and data skills. 
Our Data Kids' program offers activities for young learners to explore how to use data to unlock their interests. We are thrilled to expand our work with data skills education with Data Literacy eLearning.
Extending data skills to help close the data skills gap
Now that anyone can access data education for free we're taking our commitment further. We've created an initiative to bring data skills to 10 million people in five years. Because we realize that it will take more than enabling 10 million people to close the data skills gap and need your help. We've partnered with data-driven organizations to help drive the movement forward, from Tableau's Business Analyst Professional Certificate on Coursera (coming soon!) and the nearly 40 colleges committed to building data skills on our Tableau for Teaching Advisory Council to Pathstream's data and business analytics certificate program for non-traditional students.Will you join us on this important mission by making a pledge for data? Pledge to learn, teach and empower data skills to create a more data literate world. Join the data skills movement now!
Subscribe to our blog
Get the latest Tableau updates in your inbox.