Better together—why the Tableau Community is like a group of cyclists
Find out why the Tableau Community is a peloton of Tableau users—all working as a team to grow.
Long before Tableau's Chief Product Officer, Francois Ajenstat, organized at-home rides as part of virtual Tableau Conferences (TC), road cyclists had discovered the benefits of working together in a group. These groups became known as pelotons. 
Dive into a conversation between two Tableau Community members, User Group Ambassador Patrick McCormick and Social Ambassador and Visionary Annabelle Rincon as they discuss the interesting parallels between pelotons and the Tableau Community. 
Annabelle: Did you participate in one of Francois Tableau Community rides, Patrick? What were the benefits for you?
Patrick: I did join Francois' rides both years. In our virtual world it was a good way to see friends from past conferences and meet new people with common interests in Tableau and fitness. This year it was symbolic that one of the new leaders of the Tableau Community team, pulled the DataFam during the 2021 Tableau Conference ride by being #1 on the leaderboard. Britt Staniar, Tableau's Community Recognition Programs leader. He has had a similar impact in his new day job. How about you, Annabelle? 
Annabelle: I never got the chance to join any of the DataFam sessions live, but I do check the hashtag on my stationary bike to see who is riding. It motivates me to go further. Patrick, I understand you ride outside too. What is a peloton?
Patrick: A peloton is a group of road cyclists that work together to increase aerodynamic efficiencies that are not possible when riding alone. What this means is—in a peloton, like most teams, there are different positions and responsibilities. The lead cyclist "pulls" the other cyclists that follow him, this is called "drafting". This lead cyclist incurs the most wind resistance, but by following in close proximity, the other cyclists do not need to cut through as much wind resistance. Depending on the cyclist's position in the peloton, this reduction in wind resistance can be significant. The effort of pulling the peloton is shared among members of the peloton by occasionally changing positions. 
In addition to the aerodynamic benefits, it is enjoyable and motivating to ride with others. Part of that motivation might be the accountability to get out there and participate. Here's a picture of a peloton at an organized race that a friend shared with me. Pretty cool, right?
A friend of Patrick's at the Tour de France.
Similarly, I often check my stationary bike app to see who is participating to inspire me to join a  ride. It doesn't really matter what your final ranking is, what is important is starting and finishing strong together.
Annabelle: Thanks Patrick, you've inspired me to showcase my learning of a peloton in my favorite way…Tableau!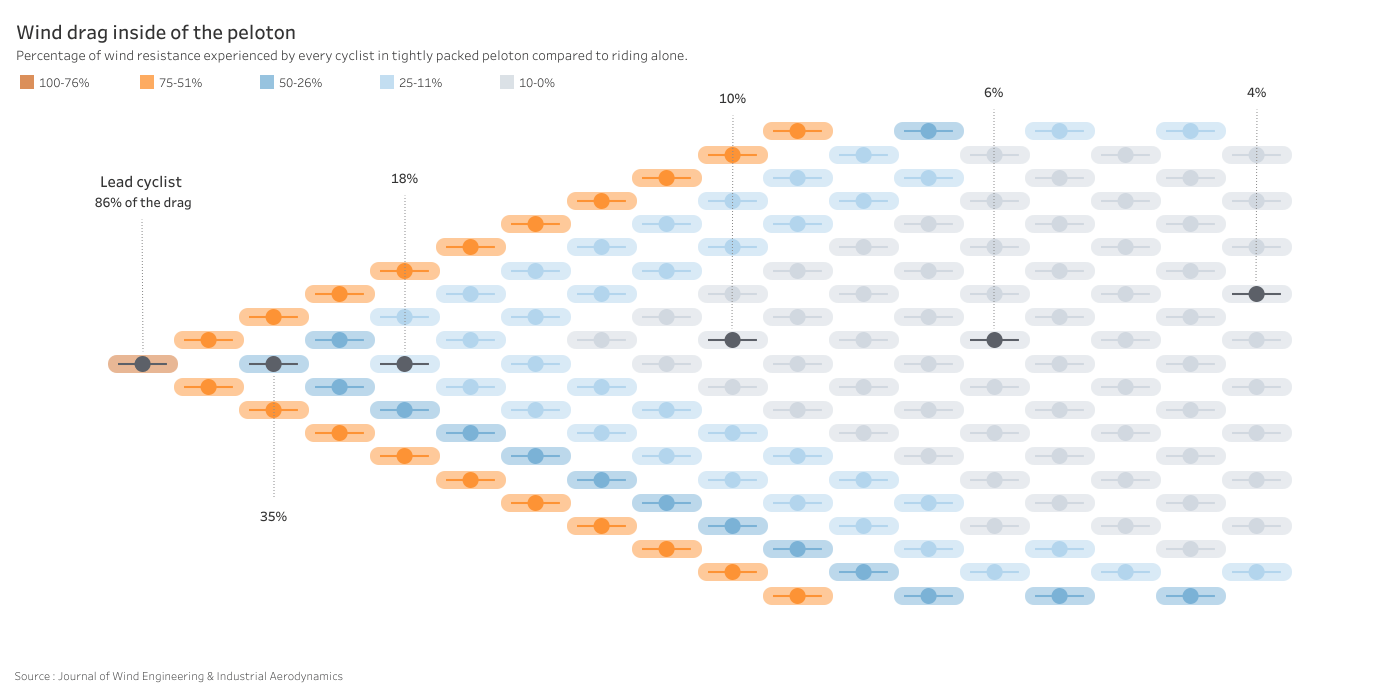 Annabelle Rincon's Tableau Public visualization titled "Wind drag inside of the peloton" which features the percentage of wind resistance experienced by every cyclist in tightly packed peloton compared to riding alone.
As a DataFam peloton we develop and hone our skills faster and better than we could on our own.
Patrick: That said, I can attest to the benefits of drafting in outdoor cycling. As I think about it, the Tableau Community is a peloton of Tableau users. The DataFam peloton can come together as a Tableau User Group (TUG), the Tableau Forums, Slack channels, Twitter, and more. As a DataFam peloton we develop and hone our skills faster and better than we could on our own. Community leaders "pull" in different ways. It may be by taking the initiative to get people together to collaborate in TUG events or it could be by organizing one of the many other community project activities such as Workout Wednesday or Back to Viz Basics. These activities enable sharing of knowledge and experiences. Getting activities like these going can be a significant pull. The benefits of a peloton can be realized by just two people working together as well. One example could be by asking another member of the DataFam for feedback and suggestions on a new dashboard that you're working on. These are the aerodynamic benefits of the DataFam peloton.
What do you think, Annabelle? What has your DataFam peloton experience been?
Annabelle: In the early stages of my Tableau experience, I tried to learn by myself. It was hard, I felt discouraged and I didn't know what to do next. But I started reading blogs in the Tableau Forums, and answering community members' questions when I could. When I saw community members giving me advice and time to solve my issues, it inspired me to continue my Tableau learning journey. I began to contribute more actively and give back to the community by leading some Tableau initiatives like the Analytics User Group and Data+Women Zurich, to help others grow. 
How did you get your start, Patrick?
Patrick: Before getting started with Tableau in 2012, I had experienced the value of professional communities. It is a great way to meet people in your profession and learn from them. It is helpful to step away from the context of your daily job and see how other people are doing things. In 2012 TUGs were more sparse, with none to be found in my state of Wisconsin, so I started one. The engagement and enthusiasm of Tableau users far exceeded anything I had experienced previously. It was next level. I found it gratifying to facilitate the community and give other people the stage. It was especially fun to see some of our local TUG members springboard their career into the larger worldwide Tableau scene. It was through my participation in the TUG that I have found several of my coworkers who are top shelf all-around people.
Patrick snapped this photo at the start of a metric century ride in the Summer of 2021.
Join the DataFam peloton
It might feel foggy and unclear at first, but there are many ways you can start riding with the DataFam peloton:
Join a Tableau User Group—available both in-person and virtual
Participate in a Tableau Community Project
Sign up and create a profile on Tableau Public 
Follow @Tableau on social media and follow the #DataFam hashtag
Sweat with us! Follow the #datafam hashtag on the Peloton app and ride on any bike.
Simply, share your struggles and your success with the Tableau Community—it's all part of the "ride"
Connect with the DataFam at Tableau Conference
DataFam, unite! Connect with the global data community—in person or virtually at Tableau Conference, happening May 17-19, 2022! For more information and to register, click here. 
 
Subscribe to our blog
Get the latest Tableau updates in your inbox.