Winners of the COP26 #Viz4ClimateAction challenge
In September, Tableau Public teamed up with TheSDGVizProject, short for Sustainable Development Goals, to promote a challenge looking at the global climate crisis. #Viz4ClimateAction was a data visualization challenge centered around the four goals of the COP26 Climate Change Conference: Mitigation, Adaptation, Finance, and Collaboration. We're pleased to announce that the top three vizzes were created by Nicole Klassen and Oana Tudorancea (joint entry), Michael Dunphy and Allison Burgunder. They will each receive a $100 gift card to the Tableau Store.
The three winning vizzes were chosen by Andy Cotgreave, Technical Evangelist at Tableau, and Clayton Aldern, Senior Data Reporter at Grist. Andy and Clay were impressed with the storytelling, fresh perspectives and design choices in vizzes on really diverse topics: climate finance, the Climate Action Tracker and composting in New York. In fact, the judges and the challenge hosts were blown away by the quality of all the entries, which are now displayed in the online COP26 Climate Change Conference Viz Gallery.
Co-authors: Nicole Klassen and Oana Tudorancea
Clay: "This is number one for me because in terms of the modes of climate action out there I think climate finance is the least well understood. It's the least tangible and the trickiest to explain. This visualisation dives in head first, and does a profoundly effective job of helping folks understand both what's at stake in terms of the finance flows and where we are. It's got this compelling question at the beginning; that phrasing, 'how are we paying for our climate inaction' is a nice reorientation that I haven't necessarily seen before. Given that framing, off the bat I feel like I'm ready to act, ready to learn more."
Andy: "The mix of design with storytelling is well balanced; the story that Nicole and Oana are telling is very clear and so we have charts that are easy to read. There's a good colour scheme; the drama of the rising line is enhanced by the redness of the colour palette. I love how the colour encoding is also linked in the paragraphs itself so I don't even need a colour legend. I think that's really space saving and a nice service to the end user. Any decisions to go off the beaten track feel like they've been made with intent."
Clay: "You get an immediate takeaway that I think ought to ring true to any folks who are covering this issue: there is an adaptation gap at the global level and a lot more financing goes toward mitigation than adaptation. And yet that's not true in Oceania. Oceania is paying more for adaptation and of course that makes sense because we're talking about places where you're feeling the effects of sea level rise and extreme storms already. I think this viz is a useful context for understanding these financial flows as a function of environmental necessity."
About the authors:
Nicole Klassen is a senior data analyst with a passion for using data visualization to help others, whether creating dashboards around important topics or participating in Viz for Social Good. She has used Tableau for 5 years and recently joined Tableau Community in February 2021. She studied psychology and prior to becoming a data analyst she worked in a wide range of areas, including human resources, program evaluation, and psychometrics.
Oana Tudorancea is a data viz enthusiast and senior data analyst. She studied Economics and Philosophy prior to beginning a career in higher education. Inspired by the Atlanta Tableau User Group, she recently began participating more in the larger international Tableau Community after using the software for five years.
Author: Michael Dunphy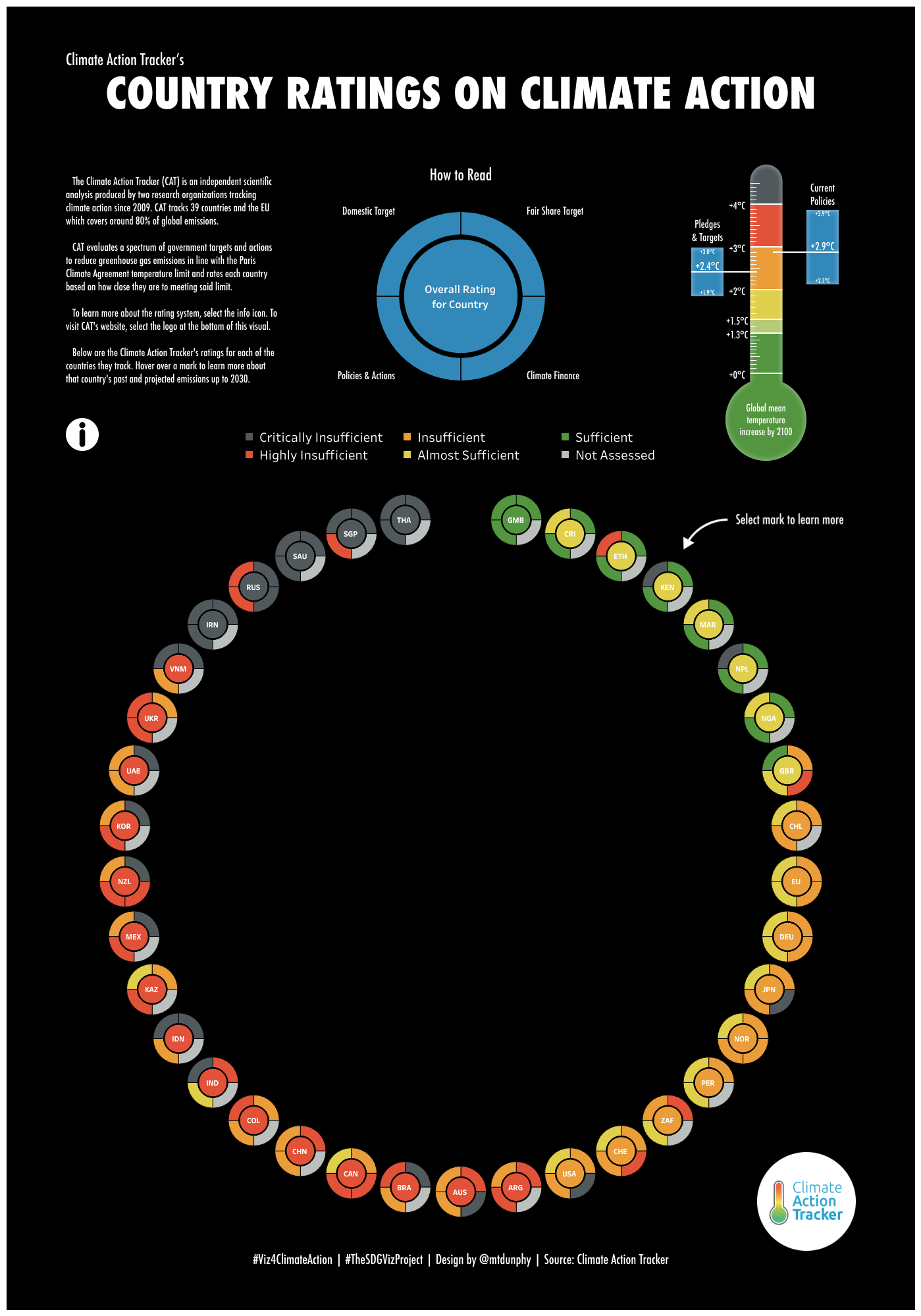 Clay: "I'm familiar with the Climate Action Tracker data set. The organisation is doing incredible work, nobody else is collecting data to the extent that they are, but the data can be hard to wrap one's head around. I would appreciate a more tangible visualisation of the data, and that's exactly what this does. The most impressive part of this visualisation is when you start to use it. If you want to know, for example, whether or not a country like Kenya is sufficient in its climate action or insufficient in its climate action. Clicking on the bubble in question is going to give you an immediate answer in a manner that you can ingest, at whatever mode you choose to engage. I learned something when I looked at this and I appreciate that it's a single screen well-contained mode of interacting with a complex data set."
Andy:"There is something powerful about the interactivity: when the user is forced to do a little bit of discovery. To discover the insight, they have to engage. They can then get more out of it. When you're doing that, it gives you licence to be more creative in the chart type you use. A vertical list would have been easier to read, but the radial is encoding the rank. I'm a fan of the symbols, I call them glyphs. It means you're able to encode loads of information in a visual way. It takes the audience a few times to cross reference the information, but once they understand, it's a shortcut. If you use this kind of chart routinely in your business, for example you see charts like this in the medical industry, the audience invests in learning the language and the payback is that it's a clever way of communicating a lot of data."
About the author:
Michael Dunphy is a student at the University of Maryland pursuing a Master's degree in Applied Political Analytics. He is a Data Analyst Fellow at the National Democratic Training Committee and was a Tableau Student Ambassador last school year. Michael was introduced to Tableau a year ago and set a goal to create two data visuals each week in 2021. "I am happy to say that I have maintained this goal so far this year, learning so much (and continuing to learn) from so many talented data enthusiasts within the community through these types of projects. I am honored to have been selected in the top 3 for this challenge."
Author: Allison Burgunder
Andy: "I like this chart because it's about taking action locally. Although the climate crisis is a global issue, we can think locally to make changes, where we can, and that's really important. It's a local New York story about composting. These are decisions that are in our hands, and it's really simple. It's a really simple story told effectively. After looking at it, I know this is what I need to do, and why."
Clay: "This is a competition about climate action, and this is what it looks like when climate action is something that happens locally. Certainly there are structural changes that we need to implement, certainly corporations need to move, certainly governments need to work together, but there are things communities can do as well. This visualization is a reminder of that type of effort, the fact that climate change is a global phenomenon, but that doesn't mean that climate action can't be local. There's a nice grounding characteristic in this that I really appreciate."
About the author:
Allison Burgunder lives in NYC where she works as a technology consultant. Talking about the inspiration for her viz, Allison says, "Acknowledging not only where my food has come from, but where it is going has encouraged me to support organizations providing healthy food access for all and reducing food waste. Through volunteering with the Lower East Side Ecology Center and GrowNYC, I have learned hands-on the importance of composting for the community and environment."


Although the competition is now closed, we hope the community will continue to use the #Viz4ClimateAction hashtag to promote vizzes looking at the climate emergency and the actions we can take individually and collectively. Special thanks to Tableau ambassadors at TheSDGVizProject Vinodh Kumar, Brian Moore and Jacqui Moore for bringing this challenge to life.
Curious to see what others created on this topic? View the COP26 Climate Change Conference Viz Gallery or search Tableau Public using #Viz4ClimateAction.
Subscribe to our blog
Get the latest Tableau updates in your inbox.