4 benefits of Salesforce-native analytics with CRM Analytics
Why Salesforce-native analytics in CRM Analytics matter for the business, customer-facing employees, and the IT teams implementing advanced analytics.
Data analytics are required for businesses to succeed, but what good are they if people can't actually get actionable insights from them?
Too often, advanced analytics efforts fail because insights aren't user friendly, or are siloed within a separate tech stack, inaccessible to the business users that need them. How often? In an IDC survey, 83% of CEOs said they expect to be working in a data-driven organization, but a mere 33% of employees are comfortable using data analytics to support their decision-making.
Take sales and service representatives. They spend the majority of their time within CRMs and don't have time to hunt for insights—they need actionable insights right within the flow of work so they can make faster, smarter decisions to serve their customers. CRM Analytics, the Tableau advanced analytics solution for CRM users, delivers on this need, and it's native to the Salesforce platform—where teams spend most of their productive time. But what does it mean to be Salesforce-native? (Hint: It's more than just embedded dashboards.) And how does that help your business?
CRM Analytics automatically takes advantage of Salesforce features and existing configurations. Every CRM user in your organization gets actionable insights faster, and advanced analytics are easier to deploy, manage, and maintain across large user groups. In fact, CRM Analytics users report a nearly 30% increase in user productivity and a 25% jump in close rates, according to a Salesforce customer survey.
Let's look at four ways Salesforce-native analytics benefit the business, the IT teams implementing advanced analytics, and the customer-facing employees using them.
1. Contextual analytics, in the moment
Data insights add the most value when you can act on the insights within the flow of your work. CRM Analytics delivers insights, predictions, and recommendations from a single interface, directly within Salesforce, so your sales and service teams can make every decision a data-driven one.
Let's say your sales rep is hustling to end the quarter by closing their seven outstanding accounts, and they'd benefit from knowing how best to use their time and increase their close rate. While they're on the phone with Customer A, CRM Analytics surfaces an insight—in the moment they're talking live with the customer—that a 10% discount may help close that deal. Rather than navigating to a new screen, the rep takes the approved action in Salesforce at the moment of insight, and just like that, deal closed and won.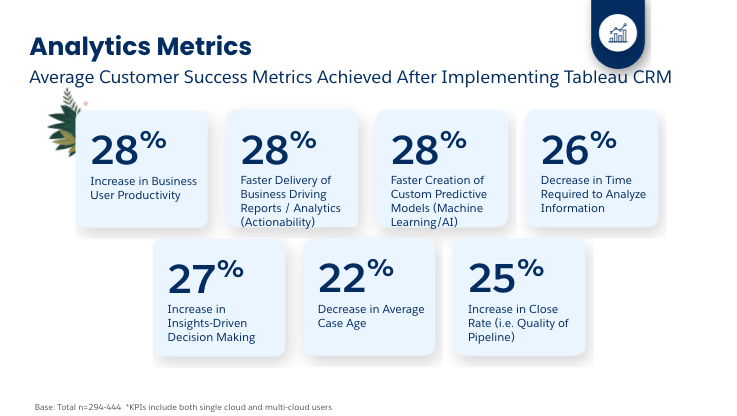 A Salesforce customer survey found that CRM Analytics users reported increases in productivity, data-driven decision making, and close rate, and reductions in time to analyze information and average case age.
CRM Analytics is constantly learning what makes an account successful, what makes a customer happy, and how different actions impact the business. With recommendations that meet the goals of CRM users and the business, it helps sales and service teams make efficient and profitable data-backed decisions. Plus, because it's native to Salesforce, you can easily integrate those insights and recommendations within your existing Salesforce workflows without any additional coding.
2. Intelligent, integrated predictions with built-in AI—no coding required
Today, any conversation about advanced analytics also needs to include artificial intelligence (AI). According to PwC, 67% of US-based companies agree that adopting AI technology has helped them create better customer experiences. And McKinsey reports that 79% of survey respondents agree that AI adoption in marketing and sales has helped increase business revenue.
Yet when it comes to taking advantage of AI, companies typically face more challenges than solutions. Most data analytics solutions require a separate AI stack, which means more tooling for IT and procurement, excessive custom code, constant updates, and added costs.
In contrast, Tableau provides a single stack for both analytics and AI, so IT doesn't have to devote resources to coding or additional infrastructure. That translates to massive cost savings. Analysts can use the same data they've prepared in CRM Analytics for dashboards to also power AI predictions and recommendations. And because these insights are integrated throughout the CRM experience, business users are more likely to adopt data and AI in their daily decision-making.
For example, a large consumer-packaged goods wholesaler relied on CRM Analytics to inform its roughly 10,000 sales reps. The former head of digital analytics told us that insights delivered in the flow of work increased sales and productivity. They shared that reps who had access to data insights in their pre-call planning delivered approximately 5% more revenue than those without. Reps using native analytics also spent less time doing administrative tasks—they were able to stay within Salesforce for tasks like creating and placing orders—and more time with customers. And the insights aren't limited to CRM—models created in CRM Analytics can be extended across all Tableau products to put data in the hands of everyone across the organization.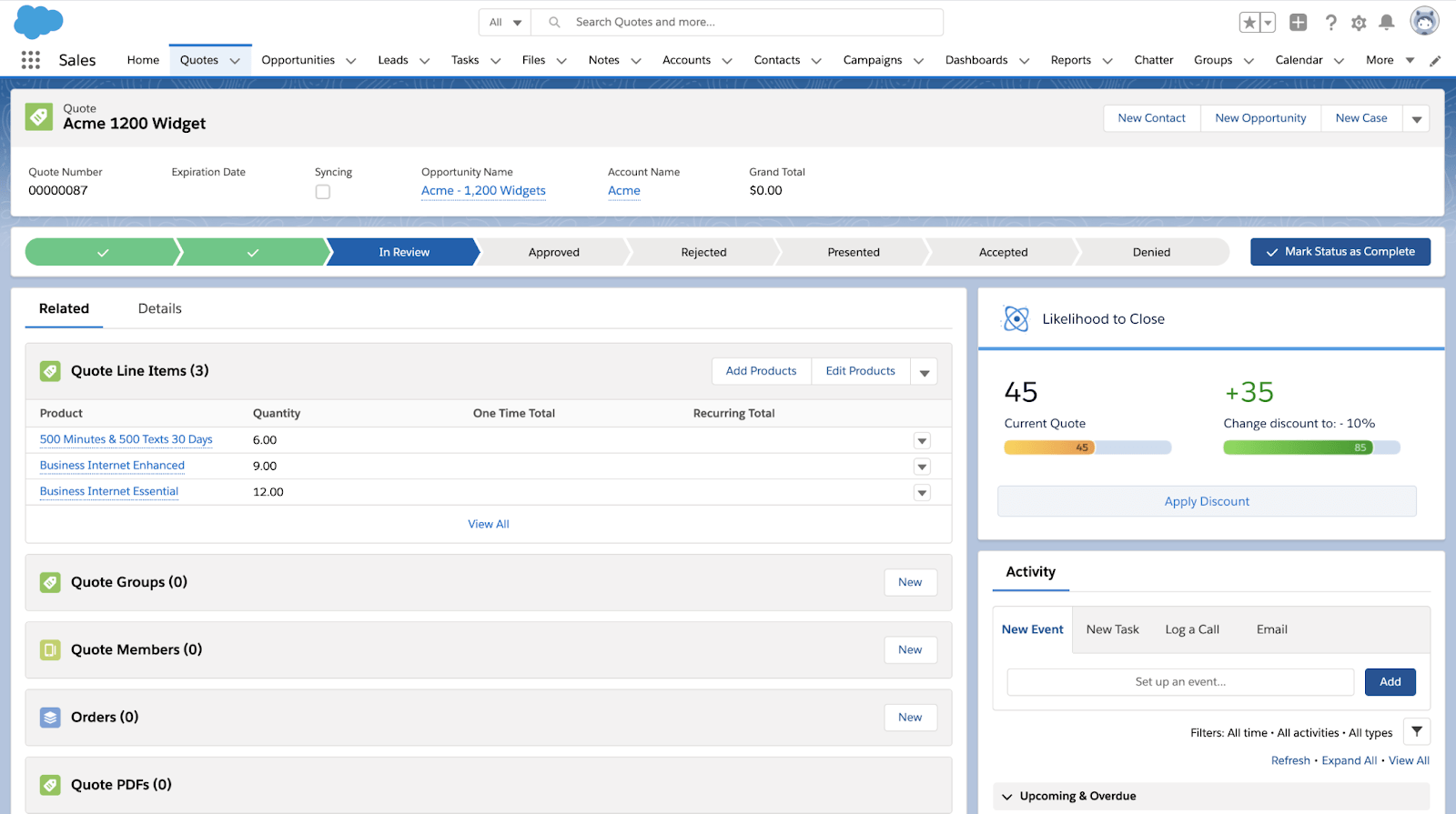 CRM Analytics delivers visualizations and predictions directly in the Salesforce customer account or opportunity page to help sales and service reps determine the next best move, whether closing a deal or resolving a customer issue.
3. Simplified security and data governance
"Native to Salesforce" also means that everything in CRM Analytics adheres to our number one value: trust. And trust starts with security.
Sales and service reps need to be as productive as possible: They want to access the CRM without a separate login step and get customized views of their data by account team, customer list, territory, and more. Salesforce admins must maintain the appropriate level of access to business data by role—which gets tricky with large user groups.
CRM Analytics eliminates this complexity. It inherits role hierarchy directly from Salesforce and automatically knows the user, their role, and their appropriate access level.
CRM Analytics also simplifies data governance, allowing you to adapt to new business requirements as user adoption and engagement grow. You can:
Use your existing identity, security, and data access policies in compliance with organizational standards
Centrally manage your data resources and easily combine and curate data from multiple sources
Establish repeatable processes to prepare data and build, publish, and certify data models
Allow users to author and consume content based on trusted, governed data that is up-to-date, accurate, and relevant
4. Easy deployment and scale
CRM Analytics is ready to go with a click of a button. Deployment is fully integrated with Salesforce CRM administration and setup tools, so there's no need to configure data parameters for new users. Simply enable and distribute licenses to existing CRM users so everyone can access powerful insights while working in Salesforce.
Just as your CRM scales with the number of licenses, the same is true for analytics. Performance automatically scales in the cloud as your CRM data load and user base expand. Unlike separate tools, which require additional infrastructure to add large numbers of users without slowing down performance, CRM Analytics easily scales, driving fast adoption without latency issues.
Native analytics start now
Sales and service teams need powerful analytics to drive better customer outcomes and a better employee experience. CRM Analytics connects teams with insights when and where they need them, right in Salesforce, without the added complexities and infrastructure requirements of non-native analytics tools.
Get started today with CRM Analytics. Check out our ebook to learn more: Native, AI-Powered Analytics in Salesforce CRM.
Subscribe to our blog
Get the latest Tableau updates in your inbox.