Events manager talks Tableau Store, TC conference gear, and event planning for employees
Believe it or not, Tableau's Employee Events Manager and Enterprise Buyer for our fabulous Tableau Store came from a background in medical sales and even considered a career change in law enforcement. Once you meet Christine Lê Louie, you get why that wasn't meant to be her path.
Christine has a talent for knowing what data people want. And to manage employee engagement events and curate the merchandise for our popular Tableau Store, you have to have a knack for knowing what makes people happy.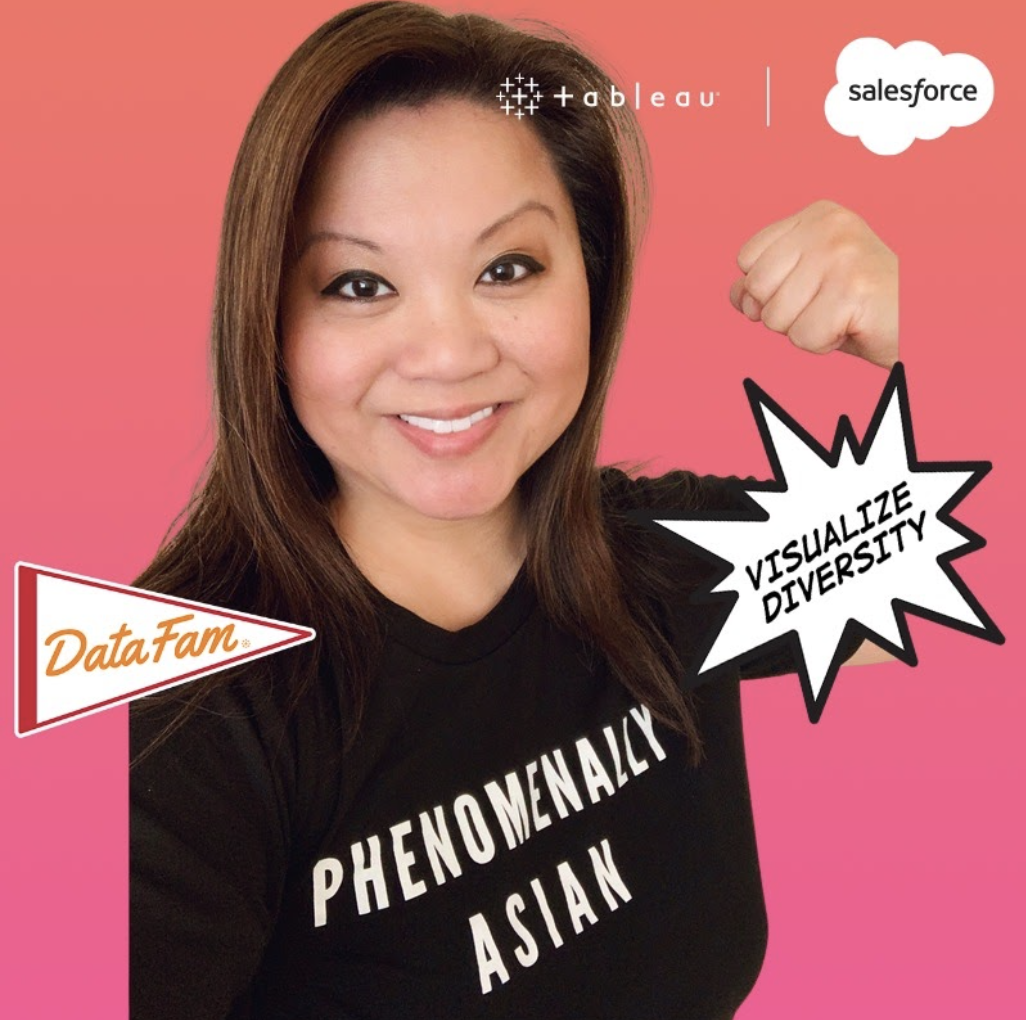 One of Christine's shining moments was the Tableau 2020 Holiday Party where she orchestrated one of the largest virtual, in-person hybrid celebrations for Tableau employees by enlisting the help of Seattle celebrity chef Ethan Stowell. Collectively, they partnered with 40 local chef-owned restaurants to create custom holiday menus.
In all, about 3,500 delicious, two-person, cook-at-home meal kits replete with drinks were picked up by Tableau employees for a virtual karaoke celebration. This monumental effort, the first of its kind, scored news in the community for pouring "hundreds of thousands of dollars" into struggling restaurants' coffers, while giving back through United Way of King County, whose charter helps the local community with access to food, rental assistance, and job training.
As we gear up for Tableau's biggest season with Tableau Conference, Christine shares a bit about her passion for what she does in keeping the Tableau DataFam happy, engaged, and inspired, along with what our Tableau Community can look forward to when our new TC21 gear launches in the Tableau Store on Nov. 2.
Why did you want to get into event planning?
Christine: I've always loved this quote by Maya Angelou, "I've learned that people will forget what you said, people will forget what you did, but people will never forget how you made them feel." I'm incredibly passionate about putting on employee engagement events that make people feel appreciated, with the hope of increasing team morale. I wanted to pursue a career in event planning, and Tableau was willing to take a chance on me.
You also select the merchandise for the Tableau Store. How did that happen?
Christine: I came from the branded merchandise industry and collaborated with Tableau to produce swag for events before joining the company. When I started in 2014, I was given the opportunity to take over the Tableau online store, which is now producing gear at an enterprise level for internal employees, marketing campaigns, sales enablement programs, and our amazing #DataFam community.
The Tableau Store is especially popular at our annual Tableau Conference. At my first conference, TC14, we were beyond elated to generate $50K in sales at our little pop-up swag store. At the last and most recent in-person TC in 2019, we sold $50K within the first hour of opening and generated over $354K of total sales in just three days. Any and all proceeds are always injected back into surprise and delight activations for our DataFam at Tableau Conference.
I like to describe opening night at the TC Tableau Store as a Black Friday sale with #DataFam attendees clamoring to buy our collectable data gear.
Opening day of the Tableau Store , in partnership with BDA, at TC19 in Las Vegas. [Christine Lê Louie]
You've been at Tableau for over seven years. How has it changed?
Christine: When I first joined, a lot of our gatherings were small, organic, homegrown-style events. I feel like my job, especially since we've grown exponentially, is to keep the spirit of Tableau alive. There's a special magic that emanates from our employees who we call our "special sauce," that is ever-present, even after the Salesforce acquisition.
For our holiday parties, we've gone from the Museum of Flight to taking over Seattle Center, including MoPOP, the Space Needle, and Chihuly Garden and Glass, for our last big hurrah in 2019. We strive to produce top-tier, unforgettable, premier events for Tableau employees and their loved ones.
Having the support from leadership to spend time and resources on our employees matters so much. Tableau is a company that truly cares about employee morale and wants to inspire people to do their best work while showing up as their most authentic selves.
You also help lead efforts in diversity, equity and inclusion, especially for Pride Month.
Christine: Tableau's growth journey in the DEI space has been meteoric over the past few years. I've had the distinct pleasure of heading up our global Pride activations, where for the first time in company history, our Tableau Leadership Team—former CEO Adam Selipsky, CTO Andrew Beers, and former EVP of Product Development and our current CEO Mark Nelson—led Team Tableau's contingent at the Seattle Pride Parade in 2019. We also sponsored Pride Parades in Washington, D.C., Austin, Texas, and Tokyo to provide Tableau employees and their families the opportunity to march and show off their #DataPride.
Tableau employees march in the Seattle Pride Parade in 2019. In order, starting third from right: Current President and CEO Mark Nelson, Employee Events Manager Christine Le Louie, former CEO Adam Selipsky, and CTO Andrew Beers. [Christine Lê Louie]
It's also a priority that inclusive language is used to ensure everyone feels seen, heard, and respected. I was closely tied to introducing pronouns at Tableau, which might seem small but is incredibly important in how we communicate with one another.
Diverse individuals help companies make better business decisions and produce better products. Tableau has the ability to make a difference in the world and needs to represent the communities in which we live and serve. As Salesforce puts it, businesses can transform lives, and Tableau's mission to help people see and understand data has transformed lives for the better.
As an events person, talk about how the pandemic challenged you to keep employees engaged.
Christine: The onset of the pandemic was specifically hard for Pride, the company holiday party, and Tableau Conference going fully virtual last year. It presented us with a set of problems that were entirely unprecedented.
For Pride, I was tasked to figure out how to engage our LBGTQ+ community and allies to ensure they were able to celebrate Pride month even if we weren't able to march in-person. We created Data Pride-At-Home Swag Kits that were shipped out so employees could still represent Tableau in their communities, or hang a flag behind them during virtual calls.
Tableau Data Pride-at-home Swag Kits for 2020. [Christine Lê Louie]
For the holiday party, we partnered with Ethan Stowell who enlisted the help of celebrated Seattle chefs to organize an unforgettable evening for Tableau employees. Each restaurant developed a special menu that included appetizers, dinner, dessert, a bottle of wine, and cocktails for two that employees cooked at home.
We were the first and only company in Seattle to produce an event of this scale with 3,500 meal kits from 40 different restaurants, picked up in a massive wave, in one single night. We received great coverage from SeattleMet and GeekWire who reported how Tableau injected much-needed dollars back into the community, especially for a group of businesses that had been struggling in the pandemic.
Each meal also included a 20% gratuity for service staff who became front-line workers overnight when Covid hit. Tableau employees who weren't able to participate had the option of donating the cost of their meal to United Way of King County. Overall, we raised over $50K to help our neighbors with rental assistance, access to food, or job retraining.
What do Tableau employees tell you they want?
Christine: One of the greatest things about Team Tableau is that we are passionate about giving back. I've noticed there has been an increased outpour of wanting to volunteer or give back in some way or another over the past 18 months.
When we embed a community element to any virtual event, it truly resonates well with Tableau employees. For our Pride-At-Home Swag Kits this year, we encouraged employees to donate to LGBTQ+ organizations worldwide as Salesforce has an incredible donation matching program.
We learned that people don't just want a free thing, they also want to know they're doing good in their local communities. In total, we raised over $61K to help organizations such as The Trevor Project, Human Rights Campaign, and Lavender Rights Project to continue their missions toward achieving equality for all.
A few of Christine's favorite Tableau designs and bestsellers of all time

.
The Tableau Store is so popular with the DataFam. What makes it different?
Christine: Everything we create has a function—we don't spend resources on tchotchkes, Tableau gear has a refined look and feel to it, with many of our custom designs coming from our internal creative team using visualizations from the product itself. We keep it simple, wearable, and discreet. Our gear is not yelling—Tableau!— at you because we never just stick a logo on a product. The artwork has meaning and everything has a functional purpose.
We also use a lot of eco-vendors who recycle and give back to the community, like Miir, Patagonia or Cotopaxi. And we especially make a concerted effort to buy from Black, minority, and women-owned businesses to ensure we support diverse suppliers.
New data gear launching for TC21 Tableau Store Nov. 2.
What are your favorite new pieces for TC21?
Christine: In addition to our official TC21 T-shirt, we have this cool Cotopaxi hip pack made of repurposed nylon fabric that I think will be a hot item. As a company, their creed is to Do Good. From their giving model to their sustainable product design, they see business as a vehicle to make an impact. Cotopaxi puts 1% of revenue toward addressing poverty and supporting community development. There's also a pretty slick tie-dye sweatshirt available along with some fun TC21 stickers.
Let's say the pandemic is over. What does your next dream event look like?
Christine: I want to plan a week-long celebration where Tableau takes over a whole area of Seattle and employees can come and go as they please. We could put on a huge Fremont neighborhood block party—where we are headquartered—and have local businesses serve up some fun bites and drinks with a bus bringing in employees from Kirkland and Bellevue, Wash.
There are so many opportunities to engage and support local vendors and entertainment, maybe we take over Gas Works Park with a huge beer garden too—I want to blow all our other events out of the water. And since we're a global company, we would replicate this in all our regional hubs and have a worldwide post-pandemic extravaganza. That is the dream.