Who are the Tableau User Group Ambassadors?
Learn about the 2023 Tableau User Group Ambassador cohort and how they drive learning and connect the great DataFam community through local and virtual events.
Tableau Ambassadors teach and share while fostering a positive and supportive space within the community. They give credit where credit is due, and prioritize inclusivity in everything they do. They shine the spotlight on new voices, innovative ideas, and make the communities around them better. Tableau Ambassadors serve in one of seven branches: Forums, User Groups, Student, DataDev, Public, Social, and CRM Analytics.
What do Tableau User Group Ambassadors do?
Tableau User Group Ambassadors are a diverse group of dedicated leaders who help the greater Tableau Community thrive by leading local, virtual, and even hybrid User Group events. They organize and spearhead events with topics on Tableau tips and tricks, up-leveling data skills to help you achieve your next promotion, and how data affects our everyday lives. They share best practices they've learned while leading these groups via training decks, blog posts, and presentations. User Group Ambassadors also love to recruit and train new leaders. They make themselves available to act as mentors and lend guidance to the User Group Leader community and the DataFam community as a whole. 
How can Tableau User Group Ambassadors support my Tableau journey?
Tableau User Group Ambassadors help our data community come together in person and virtually. They are leading and often speaking at events where the community can learn about a variety of topics. They also have held fun Remo networking events for the virtual community to create deeper connections during our Tableau Conference online, for our community that couldn't make it in-person. Ambassadors support the greater DataFam interested in leading their own events or have questions about finding the right group or groups that meet their needs. You can connect with them by attending one of the groups that they lead. 
Meet the 2023 Tableau User Group Ambassadors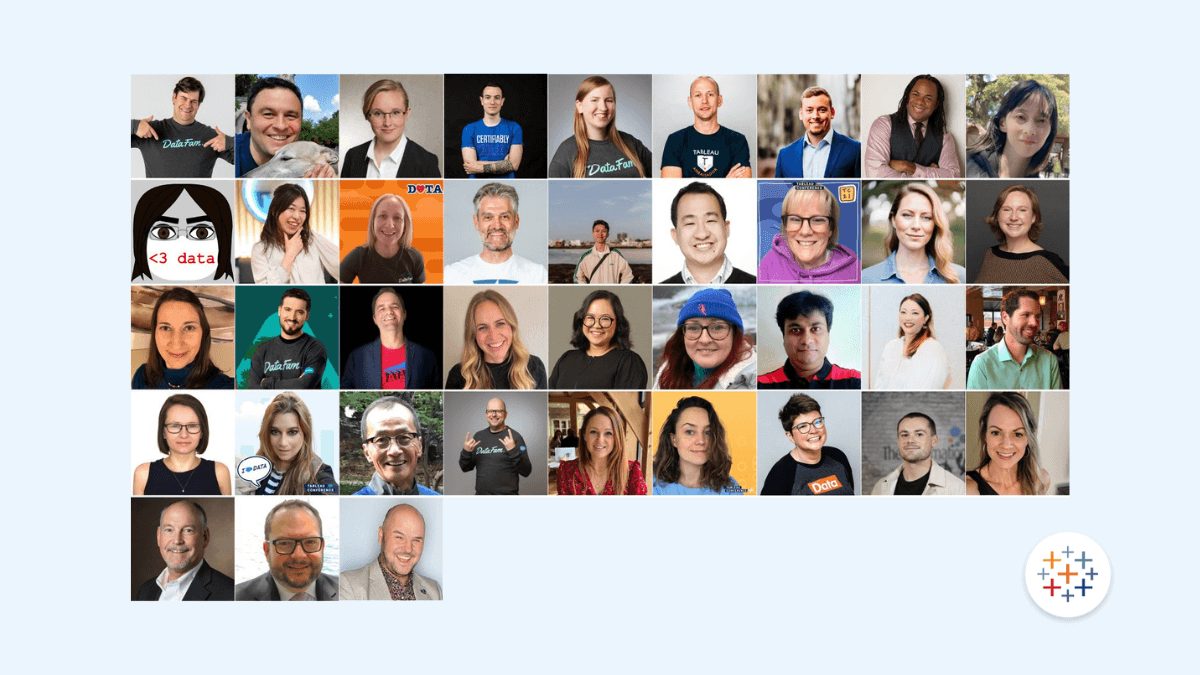 Headshots of the 39 members in the 2023 Tableau User Group Ambassadors cohort.
The 2023 Tableau User Group Ambassador class consists of 39 community leaders across 13 different countries. They are leaders of some of our most popular and influential Tableau User Groups like Higher Education, Virtual Healthcare, COMUNI[DATOS], and Veterans Advocacy. Meet the full cohort of 2023 Tableau User Group Ambassadors. We connected with a few User Group Ambassadors to hear more about what being a Tableau User Group Ambassador means to them.
Roshni Gohil
Roshni Gohil is an analyst at MIT's Investment Management Company (MITIMCo). While not knee-deep in data and Tableau, or trying to learn how real estate and investment management work, she tries to push user-centered design, business analysis, and project management processes on (sometimes) unsuspecting colleagues. Most recently, she analyzed fundraising data in Resource Development, where she finally got to mix user-centered design (including usability testing!) with data analysis. She also got to share some of those since-relearned data viz best practices with colleagues and incorporate them into working dashboards. Somewhere along the way, she co-founded and continues to co-lead the Higher Education TUG (HETUG) and MIT's internal TUG.
"Being a Tableau User Group Ambassador means that I have the privilege and responsibility of sharing how awesome the user groups are, how much you can learn simply by lurking, and if you're interested, how much you can get out of sharing what you've learned. Regardless of how small, basic, or specific your own use case may seem, there's a good chance that what you share will help someone at a TUG. In addition to the zillion local and regional Tableau User Groups around the world, there are user groups for industries (shameless plug for the Higher Education Tableau User Group), interests (Accessibility, Data+Women, Veterans Advocacy), levels (Newbies, Students) and tools (Server Admin, Prep). Regardless of your role, there's a user group (probably several) for you."
Alex Waleczek
Alex started using Tableau in 2015 after moving to New Zealand and quickly realized the potential for it to be more than just a reporting tool. He got involved with the local Tableau User Group, first as a presenter and organizer, and later on as a host. As an active member of the community on Twitter, he helped organize the Tableau Fringe Fests and the DataFam Community Jams to connect the community when people were stuck in COVID lockdowns. After working for a Tableau partner and a customer, he now leads the Analytics Practice for the largest Salesforce partner in New Zealand. He leads the Auckland Tableau User Group and the APAC #DataFam Check-In and is a second-term Tableau Ambassador. 
"To me, the TUG Ambassadorship is an acknowledgment of the work we do building and growing communities. I enjoy connecting and teaching people, so being recognized as a TUG Ambassador is awesome; it does change very little though daily. I think it motivates all of us but it's not a driver to start getting involved with a User Group."
How do you become a User Group Ambassador?
To become a User Group Ambassador it's important to remain an active User Group Leader by leading at least 4 events per year. While User Group Ambassadors are a diverse group of community leaders, they also have these things in common:
They are supportive of not only the groups they lead but others as well, and you can find them promoting other groups on social media,attending, and presenting at other Tableau User Group events. 
They are thought leaders when it comes to Tableau and creating fun, informative and inclusive events for all. 
They are engaged with the User Group Program and the Tableau Team and have a positive influence on everyone. You can catch them answering questions and helping prepare Tableau speakers for successful events.
New Tableau Social Ambassadors are selected annually. Interested in applying? Sign up to receive an email notification when 2023 applications open.
Subscribe to our blog
Get the latest Tableau updates in your inbox.