Visualizing COVID-19's impact on youth homelessness, and using data in support to help end it
Learn how a Tableau dashboard is helping counties in Washington state visualize and track progress toward ending youth homelessness.
Editor's Note: At Tableau Conference 2021, Tableau Foundation and the Seattle Seahawks were excited to announce a new collaboration with A Way Home Washington to expand the reach and visibility of A Way Home Washington's work throughout the state. Together, the partners are proud to champion a data-driven approach to preventing and ending youth and young adult (YYA) homelessness for the estimated 13,000 young people in Washington state who experience homelessness each year.
Full-circle moments that allow you to give back to others often come later in life. However, the lived experiences of two young advocates, who work with A Way Home Washington (AWHWA), have enabled them to empathetically help youth find their way home. From early childhood and during their teens, Esther Taylor and Leeze Castro faced and overcame many challenges, including homelessness. They both are very familiar with housing and food insecurity, job loss, limited finances, and unsafe living conditions. As young adults with friends who are also in their early twenties, both are in direct contact with people who struggled last year as a result of the pandemic. Jobs and social services (mental and physical) were scarce and isolation is leading to ongoing challenges, including anxiety and depression, all of which are magnified by homelessness.
A Way Home Washington is a statewide movement to prevent and end youth and young adult homelessness across Washington state. Unaccompanied youth and young adults experience homelessness at alarming numbers. Like in most states, most citizens are unaware of how great the numbers are or that young people of color and LGBTQ+ young people disproportionately experience homelessness. AWHWA partners with young people who have experienced homelessness and the state, city, and county advocates and service providers who support these young people, resulting in a coordinated effort to effectively address homelessness at the local level.
"Too many transgender BIPOC have experienced homelessness. Reflecting upon my own trauma and experiences reminds me that my community is still facing the hardships I've tried to forget, and these are cycles that need to be broken. I want to do whatever it takes for us to thrive—not just survive," stated Leeze, student stability fellow, A Way Home Washington.
Both Esther and Leeze have found homes, become advocates, and helped others during the pandemic. Navigating through hardships, including family instability, ultimately landed both these advocates with employment at AWHWA. Because Leeze and Esther understand first-hand, they bring empathy to their work on a daily basis.
"I never want a young person to experience what I have lived through. My life journey thus far, my work at AWHWA, and even the challenge of being a student with housing insecurities, has compelled me to pursue a career that will combine authentic advocacy, my personal life experiences, and strategic communication," said Esther, data consultant, A Way Home Washington.
A dashboard to assist youth advocates in near real time
AWHWA recently sought out additional information to better understand the impact that COVID-19 has on young people in the state. The Tableau Foundation team helped connect them with Keyrus, a global data and digital consultancy and a Tableau Gold partner, for a pro bono initiative. Together with Keyrus, AWHWA built the Household Pulse Survey Analysis dashboard that highlights 18-25 year olds, who are a key demographic for AWHWA. This data was based on a 20-minute online survey designed to measure and deploy data on how the coronavirus pandemic is impacting households across the country, from a social and economic perspective. Survey questions covered childcare, education, employment, energy use, food security, health, housing, household spending, Child Tax Credit payments, and intention to receive a COVID-19 vaccination.
AWHWA's flagship program, the Anchor Community Initiative (ACI), currently works with four diverse communities: Yakima, Walla Walla, Spokane, and Pierce counties. The ACI provides coaching and data support to these communities based on the principles of the Built for Zero model by Community Solutions. Advocates acquire real-time data that allows communities to measurably drive towards reducing and then ending homelessness for young people. AWHWA is expanding its statewide reach and programming, including expanding the opportunity to become an Anchor Community to more communities in the state.
"Tableau will be the cornerstone of our data infrastructure expansion as we build out our statewide youth and young adult homelessness dashboard which will allow any county in Washington to track their progress toward ending youth and young adult homelessness," said Liz Harding Chao, data & evaluation director, A Way Home Washington.
A youth advocacy model using data and strategic partnerships is transferable
Understanding COVID-19's impact on young people is also important to the work, and the Household Pulse Survey Analysis viz will allow communities to better understand how to support its young people through the many challenges they face, in addition to housing insecurity. The dashboards AWHWA created, in partnership with Tableau and Keyrus, provide key data disaggregation by age and national averages and allow for the compelling visualization of ​​survey responses about employment, housing and food insecurity, education, and wellbeing, relative to the pandemic's effect on young adults.
Local communities across our country are resourceful, innovative, and know their own backyards. The learnings from AWHWA's model with Washington state communities can be implemented nationally. Advocates can then work with their state and local partners to develop solutions that meet the unique needs in their communities.
The advocacy work of A Way Home Washington
Through legislative advocacy, a partnership with the state Office of Homeless Youth, and ongoing community partnerships, AWHWA works to:
Raise awareness by changing perceptions about homelessness and drawing attention to it
Support providers to effectively connect youth with stable housing, employment, education, and services
Strengthen local communities and help them take action to develop long-term sustainable plans
Advocate and work in partnership with the Governor's office and legislators on youth homelessness funding and policy priorities, including funding that goes directly to organizations in the Anchor Communities
Participate and collaborate with advocacy groups and organizations such as the Washington Coalition for Homeless Youth Advocacy
Maintain strong relationships with legislators who represent the Anchor Communities
Learn more about the work and programs of A Way Home Washington. Explore the dashboard for data analysis to support youth advocacy work during the COVID-19 recovery in your community.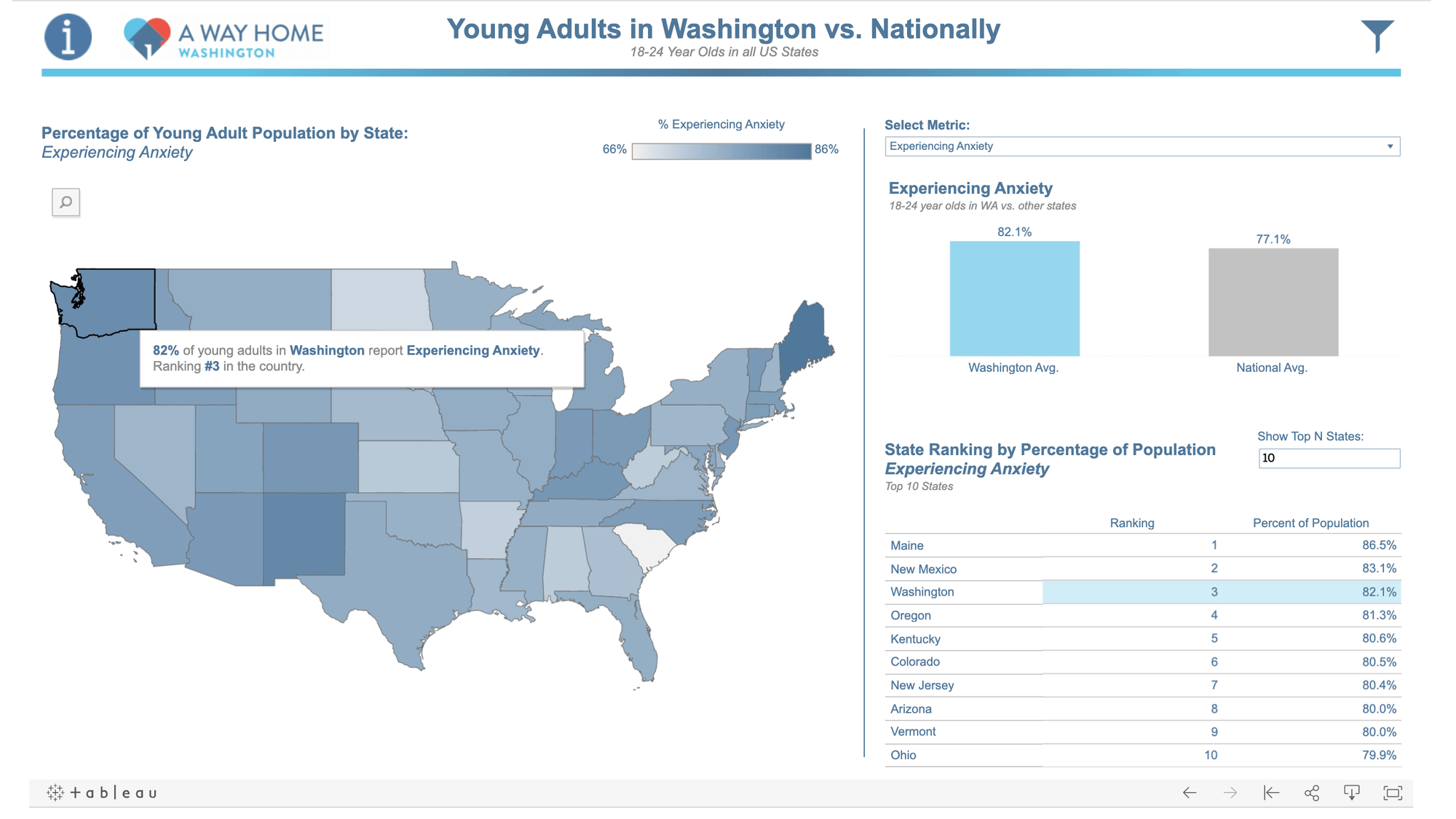 Subscribe to our blog
Get the latest Tableau updates in your inbox.