Tableau User Group Weekly: October 4 - October 8, 2021
A weekly snapshot of what's coming up in the User Group Community so you don't miss a thing.
Welcome back to this week's snapshot of the latest Tableau User Group events happening around the world. Catch up on the freshest content or join an upcoming event, all while getting inspiration from the DataFam. Not only will you learn new tips and tricks, but you'll see them in action too.
User Group Meeting of the Week: Blacks in Analytics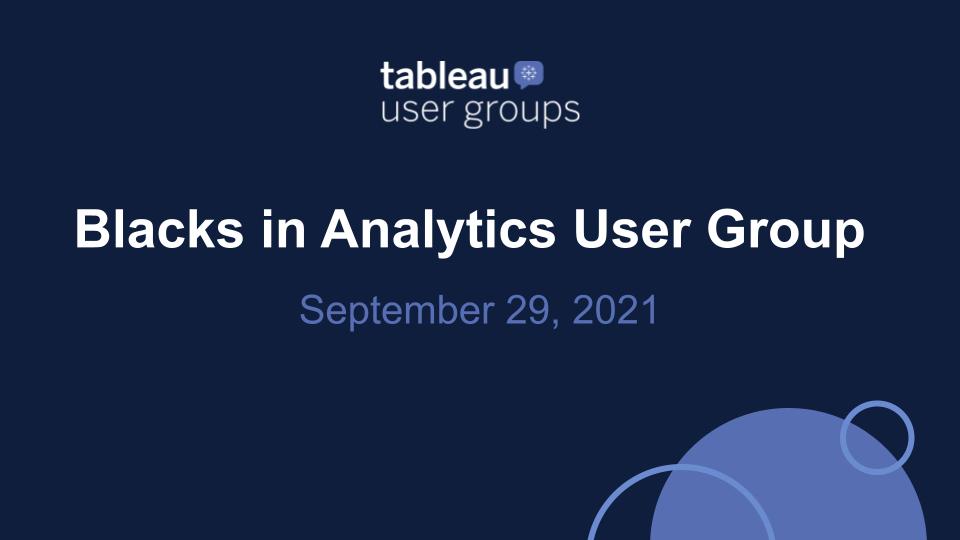 Last week, the Blacks in Analytics Tableau User Group came together to celebrate black cinema over the last twenty years through data storytelling. Brickson Diamond, co-founder of the Blackhouse Foundation, shared how data has made an impact in the independent film industry. Next, Autumn Battani, Tableau Social Ambassador, dove into her viz, Diversity in Film - The Last Decade of Popular Movies, which explores diversity across top-grossing films from 2009-2019. You'll also get some insight into another one of Autumn's vizzes, All Hail the King: The Film and TV Career of Regina King, which celebrates the work of Regina King. Then, Chantilly Jaggernauth, Tableau Zen Master, shared the story behind the creation of Millennials and Data (#MAD). Lastly, hear from Dennis Schultz, how the Blacks in Technology Foundation is helping blacks in technology find jobs. Dive in and watch the full recording here.
Coming up
Attend an upcoming virtual User Group event and learn from your peers across geographies and industries to help advance your analytics skills.
Colorado K12 Tableau User Group
Healthcare Tableau User Group
Seattle Tableau User Group
Veterans Advocacy Tableau User Group
Austin, Dallas/Fortworth & San Antonio Tableau User Group
Credit Unions Tableau User Group
Washington DC Tableau User Group
Buffalo Tableau User Group
Tableau Server Admins User Group
In case you missed it
Couldn't tune in live? Don't worry—review the recordings of the most recent user group meetings below.
Explore our full playlist of previous virtual user group meetups and join a user group in your city or within your industry today!
Subscribe to our blog
Get the latest Tableau updates in your inbox.