Now available in Tableau 2021.4—Centralized Security, Connected Apps, Tableau Exchange, Ask Data in Slack, and more
Tableau 2021.4 brings centralized security, simplified integrations, and long-awaited capabilities like copy/paste dashboard zones and data source editing on the web.
The latest release of Tableau has arrived! Tableau 2021.4 offers a ton of exciting updates and new features to better support secure, connected analytics in the flow of your business—and of course, some delightful capabilities to help you work faster and get more value from your data. Upgrade to Tableau 2021.4 now to take advantage of all the goodness in this release.
Let's look at some of the highlights in the Tableau 2021.4 release:
Centralized Security introduces simpler management of access to data with virtual connections and centralized row-level security rules.
Connected Apps simplifies the authentication experience for embedded analytics content.
New Accelerators in Tableau Exchange provide pre-built dashboards for certain data sources and industry-specific use cases.
You can now share Ask Data vizzes in Slack.
Save time with copy and paste in dashboards and the ability to edit published data sources from the web.
Plus, we've made improvements to Metrics, Tableau Mobile, and more!
Now let's dive a little more into some of the new capabilities in this release.
Manage which people have access to which slices of data with virtual connections and centralized row-level security
As more people adopt data and analytics within an organization, it's increasingly challenging to ensure that the right people have access to the right data. Data source filters, user calculations, and entitlement tables can become unsustainable approaches to managing row-level security. So we're giving Tableau Data Management a major boost to help enterprises securely scale analytics and support self-service access to data.
With Tableau 2021.4 we're introducing virtual connections, a new content type in Tableau Server and Tableau Online that are used to create and share access to tables, securely embed service account credentials, define data policies, and extract data centrally. Previously, every data source or workbook that used tables from a database had to store credentials for that database—but not anymore! With virtual connections, the credentials can be stored once and centrally managed, instead of in many places with different owners.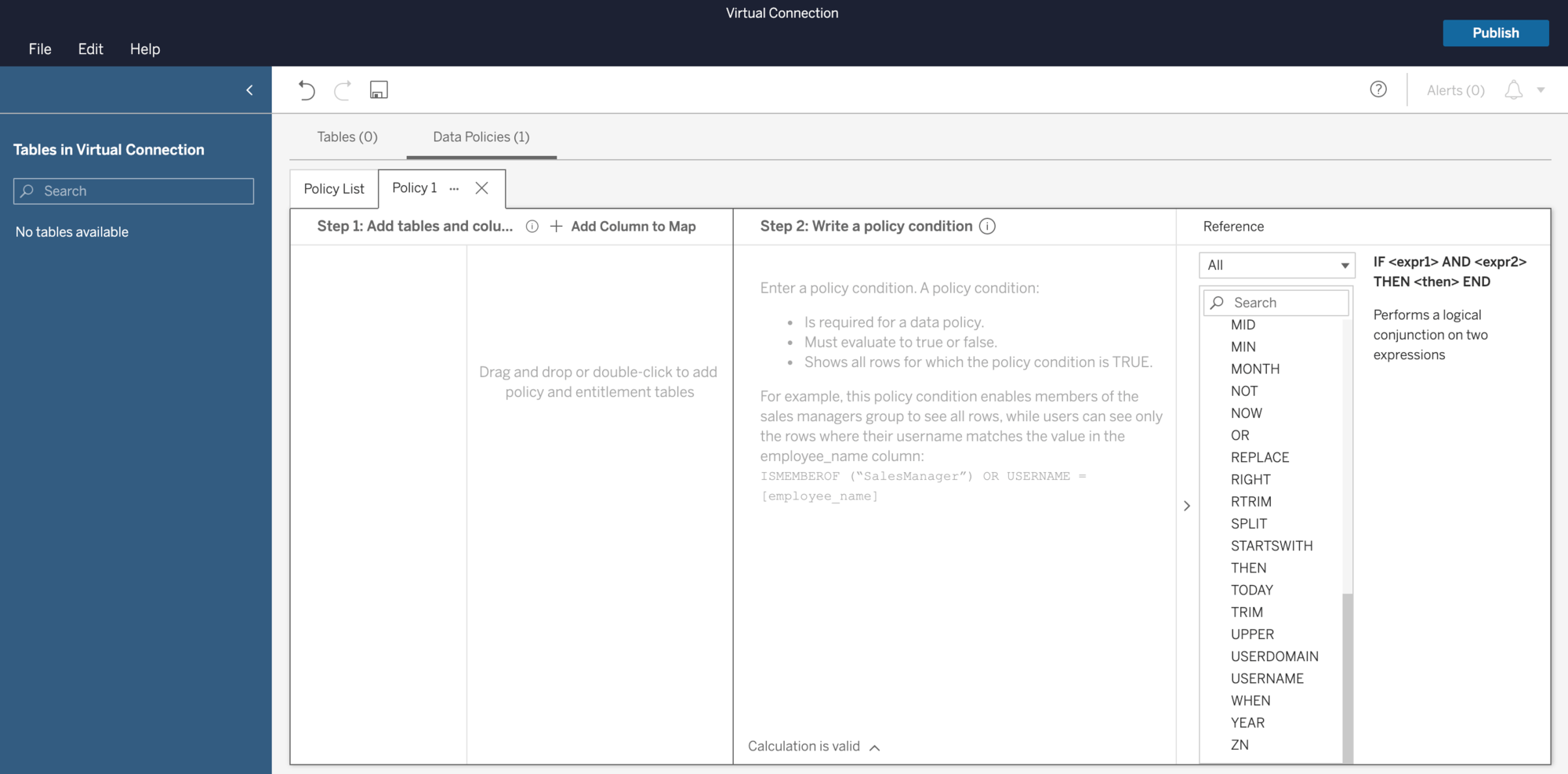 Virtual connections also allow you to define and centrally manage row-level security data policies on tables—giving you fine-grained control over your data security. Different users can view the same table, viz, or report and see only data they are authorized to see. For example, a regional manager would only see sales created within their team, but not sales from another manager's team. Centralized policies are applied across all connected Tableau flows, data sources, or workbooks that depend on that data—so they're much easier to maintain and enforce at scale.
Create a seamless and secure embedded analytics experience with Connected Apps
A critical way to empower people with data is to put analytics right in their workflows. But when visualizations are embedded into company portals or third-party applications, there are often extra authentication steps required before someone can access the data they need. With Connected Apps, you can now more easily integrate Tableau into your broader technology stack and create a seamless user experience with a single login.
Connected Apps establishes trust between Tableau and your application so authentication is only required once. Additionally, Tableau admins have better control over security, with the ability to manage user access to embedded content and the option to restrict what content can be embedded.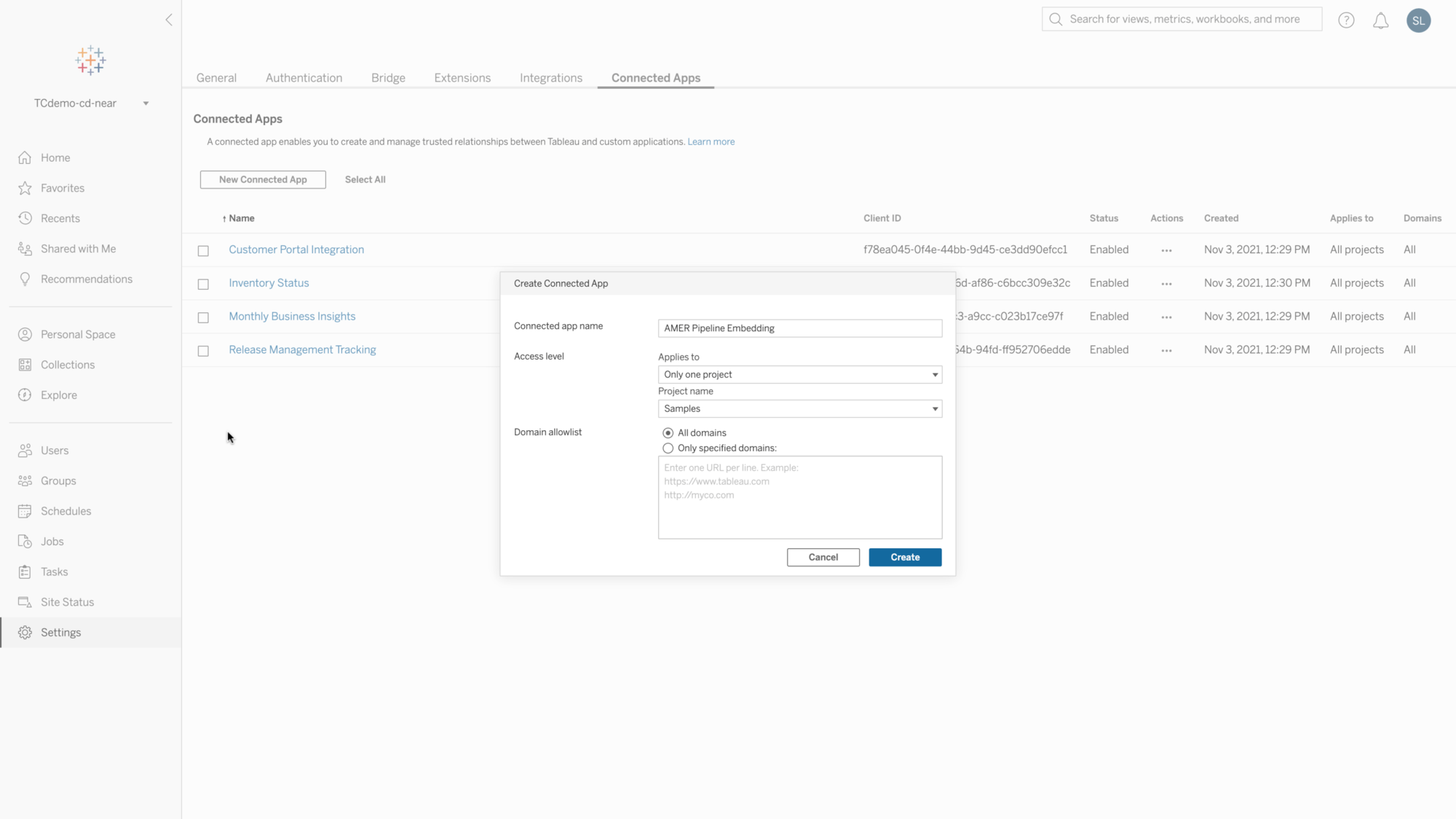 Get a jump-start on your analysis with Tableau Accelerators, now part of the Tableau Exchange
The Extension Gallery that you know and love is now the Tableau Exchange—and we're expanding it to include Tableau Accelerators, formerly Dashboard Starters. The Tableau Exchange is your one-stop-shop for offerings that can help you get a jump-start on your data analysis with pre-built solutions for specific data sources, use cases, and partner integrations.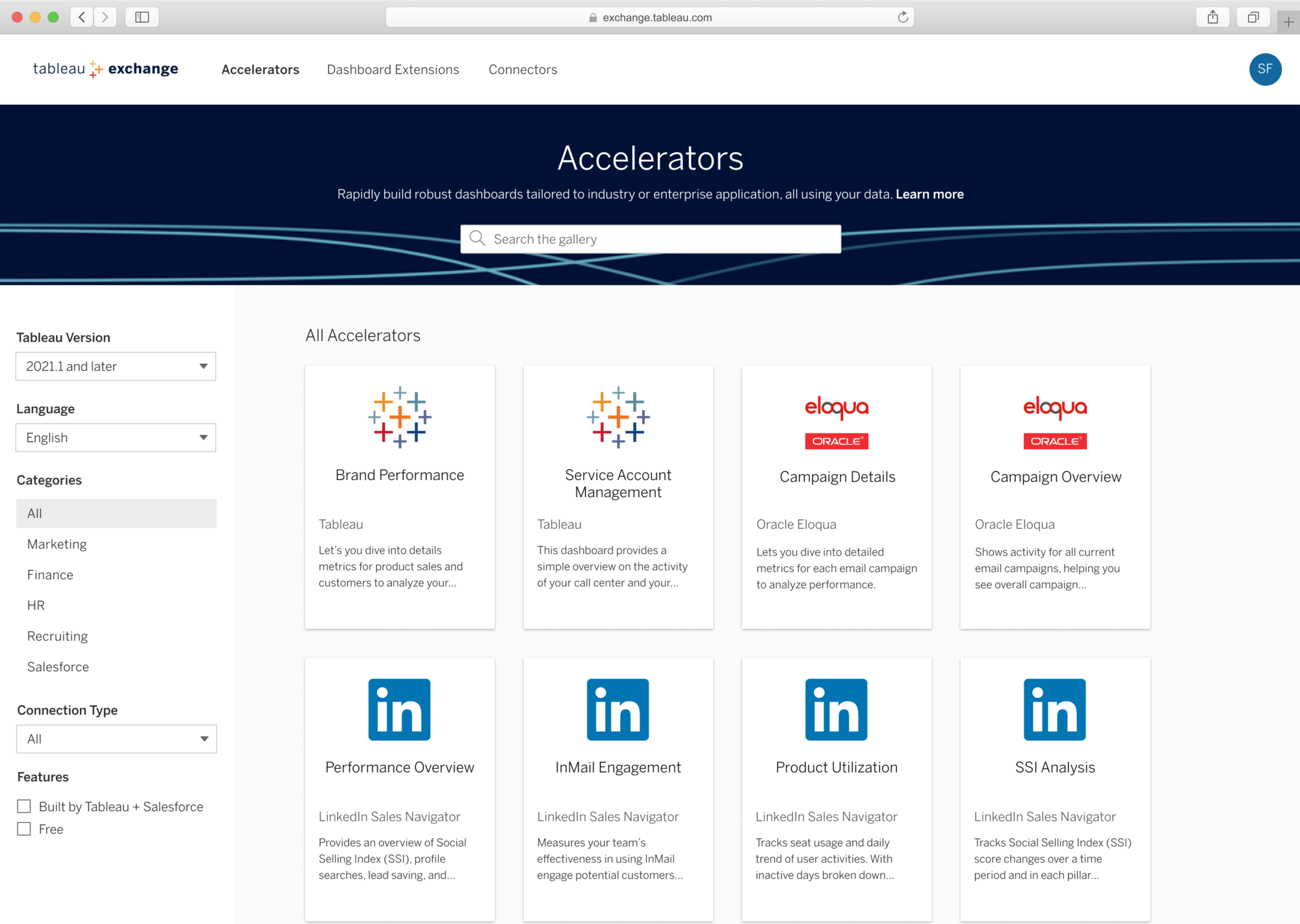 Today, you'll find more than 70 new industry-specific Accelerators to give you a valuable starting point for your analysis. Sometimes getting started is the most challenging step to take—so why wait? Beat the analysis paralysis with a visit to the Tableau Exchange.
Share Ask Data vizzes where the conversation's at—in Slack
Notifications in Tableau and emails can be helpful to alert you when someone shares analytical content—but wouldn't it be great to be notified right where you're already having important conversations? You know we're talking about Slack!
Tableau 2021.4 takes a first step in our AI integrations with Slack, allowing you to share a viz generated in Ask Data in Tableau directly to Slack, making it even easier to share insights with your teammates and continue collaborating. When a viz is shared with you, you'll get a notification in your Tableau for Slack App channel's "messages" section.
More improvements to help you get more value from your data—whether on the web, in the flow, or on the go
Edit published data sources on the web
Managing data sources on the web just got a whole lot easier. Say goodbye to downloading published data sources to Desktop to make your changes. You can now create, edit, and rename published data sources directly in Tableau Server and Tableau Online—including testing your changes and publishing—all without leaving the browser.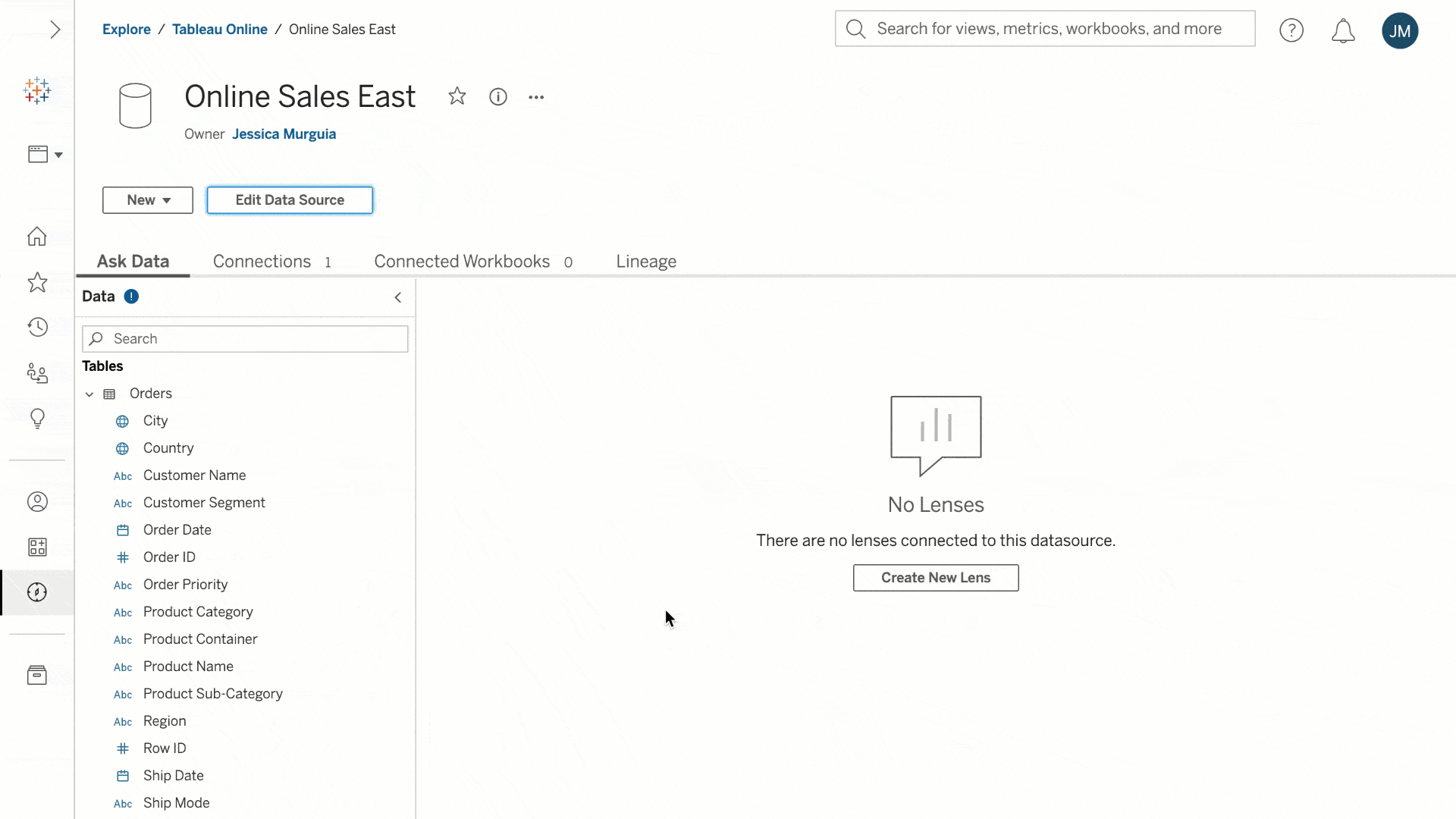 Copy and paste dashboard zones
We heard you loud and clear—and now copy and paste is here! Now you can easily copy and duplicate images, text boxes, and web page containers within the same and across different dashboards and workbooks in Tableau Online, Tableau Server, and Tableau Desktop. You can save a tremendous amount of time by maintaining and replicating the formatting, size, and details of vizzes and objects. And for folks with less experience in Tableau, you can more easily achieve beautiful results when building dashboards.
Get more value from your Metrics
Metrics are like headlines for your data, enabling you to track key data points without having to access full dashboards. Now, with Tableau 2021.4, you can embed metrics into your analytical apps, corporate portals, or webpages to provide more personalized experiences for different people and teams. Additionally, while creating a metric, you can now set the comparison period, the date range used by the metric, and automatically apply color status indicators so it's easier to spot a status change.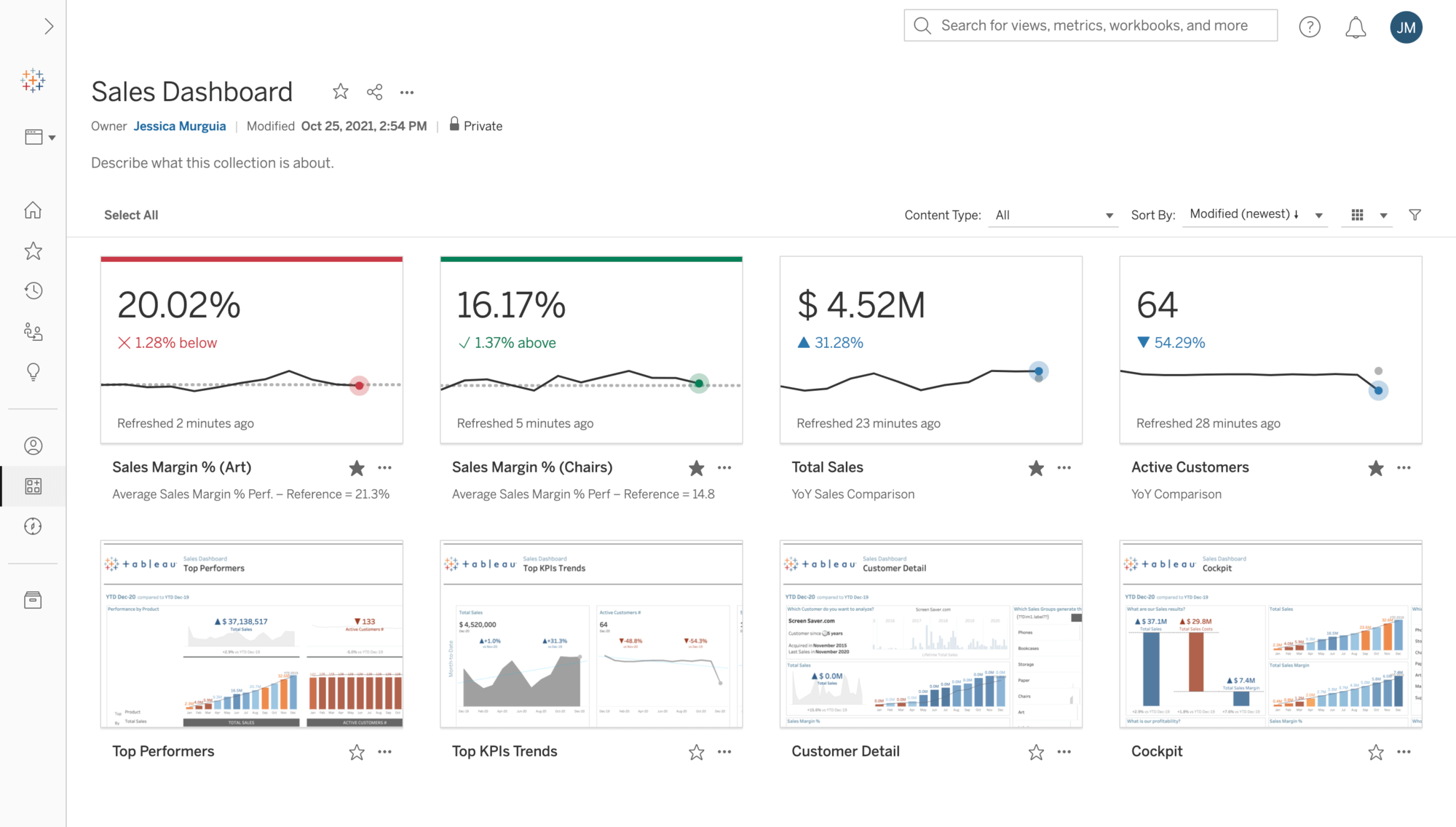 Find what's important to you, faster, in Tableau Mobile
Tableau Mobile now features a "Shared with Me" channel on the Home screen, including support for multiple versions of a viz being shared. You'll also be able to view Collections in a new Collection channel on the Home Screen, in Favorites, as a Start page, and in "Shared with Me."
Thank you, Tableau Community!
We truly can't do this without you—you motivate us every day with your invaluable expertise, dedication, and passion for using data to solve problems. And you've helped us make the Tableau 2021.4 release a great one. Thank you for your continued feedback and inspiration.
Stop by the Ideas forum to see all of the capabilities that have been incorporated as a result of your brilliant suggestions, and get the latest version of Tableau today to start using all these exciting new features.
Subscribe to our blog
Get the latest Tableau updates in your inbox.