Reflecting on a year of partnership to advance data for racial justice
Tableau Foundation marks one year of the Racial Justice Data Initiative with two grants in the Southern US.
One year ago, Tableau Foundation launched our Racial Justice Data Initiative out of a core belief that data can and should play a transformative role in the fight for racial equity and justice in the United States. We have forged new partnerships and deepened existing relationships with organizations committed to using data to raise awareness of inequities, point to solutions, and advocate for progress.
Just today, we announced two new partnerships that will deepen our commitment to advancing racial equity in the Southern US with—Southern Economic Advancement Project (SEAP) and Fair Count. We believe that data can be a powerful resource in both identifying the experiences and challenges of people whose voices we may not normally hear and help create the necessary programs, policies, and resources needed to ensure these same people are not left behind.
Across the two organizations, we are investing $455,525 in new software, training, and financial support to expand each organization's work with analytics, enablement, and data storytelling across 12 Southern US states. Connected through their founder Stacey Abrams, the organizations both focus on expanding economic opportunities and civic engagement in marginalized communities across the region. You can read more about the partnerships here.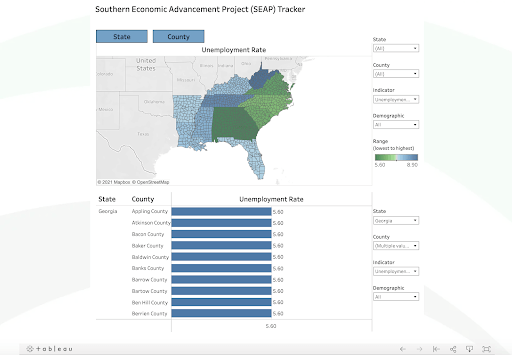 Souther Economic Advancement Project (SEAP) Tracker
In addition to supporting the development of SEAP's data-driven advocacy tools, we'll be co-developing a data skills training curriculum for academic institutions across the South. A core value of our racial justice work is the belief that expanding access to data skills can help build power in communities impacted by systemic racism with career pathways, and by creating a shared understanding of the issues and solutions.
With Fair Count, we'll be supporting their effort to visualize their quarterly Pandemic to Prosperity: South report, which focuses on 20 indicators critical to the post-pandemic recovery—from the number of adults who lack health insurance to the availability of COVID-19 relief funds. We know that returning to normal after COVID-19 is not an option: for too many Americans of color, normal means structural disadvantage and disinvestment. With these new partnerships, we're excited to help advocate for a more just and equitable vision for the future.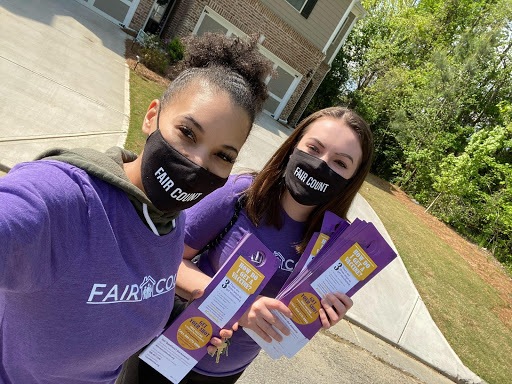 Volunteers during Fair Count's census outreach initiative (photo: Fair Count)
Looking back at a year of listening, dialog, and action
In the past year, we have supported our partners at PolicyLink in launching their Racial Equity Data Lab, an in-depth platform for empowering grassroots advocates and community organizations with data. We've collaborated with the Urban Institute on their comprehensive Do No Harm Guide, a toolkit for encouraging ethical practices around the use of racial data. Through a new partnership with Measures for Justice and the Association of Prosecuting Attorneys, we'll be supporting the development of new tools for local district attorneys offices to share transparent, racially disaggregated data on key aspects of the justice system, from arrests to sentencing. We've also launched the Racial Equity Data Hub, a platform for sharing data resources, dashboards, and case studies from contributing organizations to further the use of data for justice.
After a full year of deep collaborations around data for racial equity, we are energized by the potential of this work and the strength of our partner organizations in pushing for progress. We have also been reminded that change does not happen overnight—nor does it happen by signing a check and walking away. When we first announced the Racial Justice Data Initiative, we committed to a minimum of three years for developing and launching these partnerships, and put $12 million in software, training, and financial support behind the program. We're excited to announce that we've expanded the funding for this program with an additional $6 million from Tableau, and we intend to use this resource to deepen our partnerships in this work.
As we continue to expand our investments under the Racial Justice Data Initiative, we want to point you to a resource to track our progress. Tableau Foundation recently relaunched its Living Annual Report, a set of Tableau dashboards, updated weekly, that offer up-to-the moment insights on grants and partnerships. The relaunch captures our new focus area around Racial Justice, and in it you can see the full list of organizations we have made grants to and how it evolves over time. While Tableau Foundation has maintained the Living Annual Report since 2015, we recognize that the need for transparency around commitments to racial equity work in the past year is especially essential, and want to highlight this as a tool for accountability.
Learn more about the Racial Justice Data Initiative.
Subscribe to our blog
Get the latest Tableau updates in your inbox.