How to Connect Tableau to Salesforce Data Cloud for Deeper Customer Insights
Gain maximum business value from your customer data with Tableau's connectors and Accelerators for Salesforce Data Cloud.
If you want to keep pace with the speed of change, you have to be able to quickly analyze and act on the customer data you've collected. This can be challenging for many organizations because their data is siloed across different architectures, systems, and teams. And to make analysis even more complex, the data is often messy and unorganized, requiring complex transformations and fragile dependencies to transport from source to destination. When data is siloed, unstructured, and inaccessible, it's almost impossible to get the information you need to make good business decisions.   
If you want to exceed your customer's expectations—and boost your bottom line—your organization must have a culture of making data-driven decisions. With Data Cloud and Tableau, you get a unified view of all your customer data and actionable insights to help you connect with your customers and grow your business. 
What is Salesforce Data Cloud? 
At Dreamforce 2022, Salesforce announced Data Cloud—a solution that ingests, harmonizes, and unifies your customer data across all channels and interactions into a single, real-time customer profile. With Data Cloud, you can:
Natively connect to integrated, unified Salesforce data
Automate external data streams from the cloud and on-premises
Instantly analyze your data in Tableau with the click of a button 
Act on insights right in the flow of your work
Tableau compliments Data Cloud with secure, scalable, and flexible analytics. Enabling users with clicks-not-code solutions empowers everyone to use data to meet customer demands. Let's take a closer look at how you can connect, explore, and embed visualizations with Data Cloud and Tableau.
How do Tableau and Data Cloud work together? 
Data Cloud and Tableau make data connectivity and consumption easier than ever before by ingesting and unifying data and providing business users with actionable insights. Data Cloud harmonizes all of your data in your Salesforce instance—and from external sources—while Tableau helps you explore and analyze the data in real time. You can connect the two with the Data Cloud Connector. 
The Data Cloud connector enables business users, analysts, and their data science and engineering counterparts to increase their view of customer data. Equipping enterprise-wide stakeholders with a single, unified view of each customer breaks down silos and ensures everyone is empowered to make data-driven decisions and meet the demands of their job. To learn more about how to set up the Data Cloud connector, check out this Salesforce Help article. 
Accelerated Queries, a service of Data Cloud, simplifies the connection with Tableau. The engine speeds up query time when querying Data Cloud data from Tableau with a live connection. Now you no longer need to rely on extract mode to get the data you need.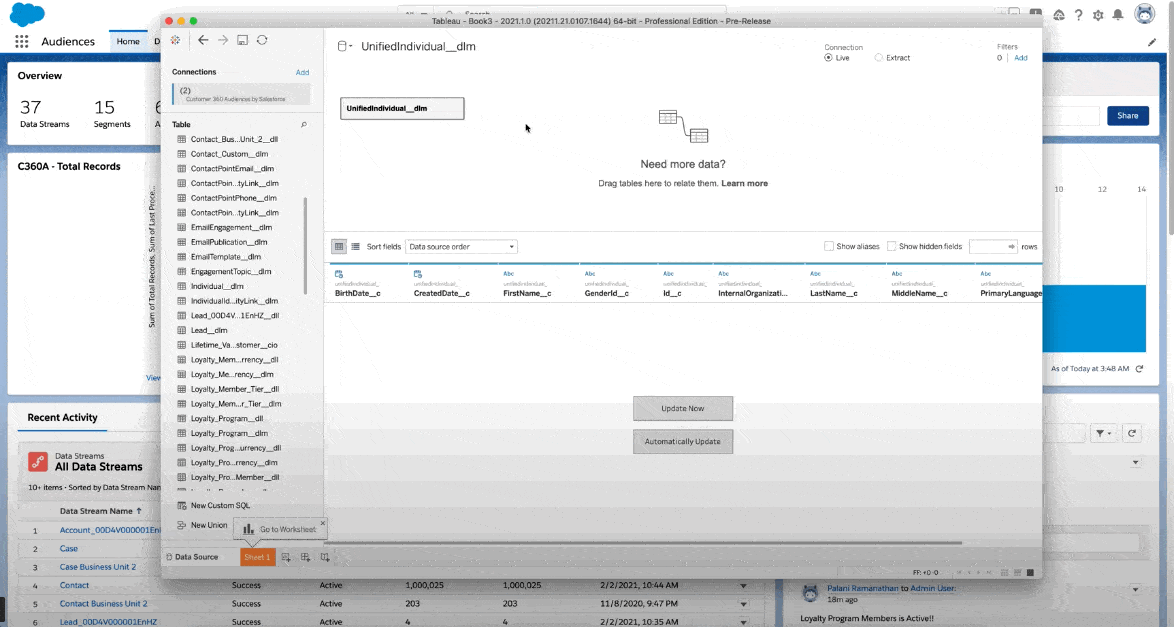 Customers can build dashboards and discover insights in Tableau using data from Data Cloud.
Jumpstart your analysis with Tableau Accelerators
After you've successfully connected Data Cloud to Tableau, you can begin visualizing your data and discovering customer insights. The fastest way to get started is to leverage Tableau Accelerators—pre-built, ready-to-use dashboards and workbooks. 
Created by functional experts, Accelerators help you bring analytics to your line of business, vertical, or sector. When you start with Tableau Accelerators, you significantly accelerate time-to-value and discover actionable insights.
Tableau provides Accelerators for identity resolution, email campaign management,  customer engagement, and more. You can explore more Accelerators by visiting the Tableau Exchange.
The email engagement dashboard of the Tableau Accelerator for Customer Engagement answers critical questions like: How effective are our email campaigns? Which customer groups have the best and worst engagement rates?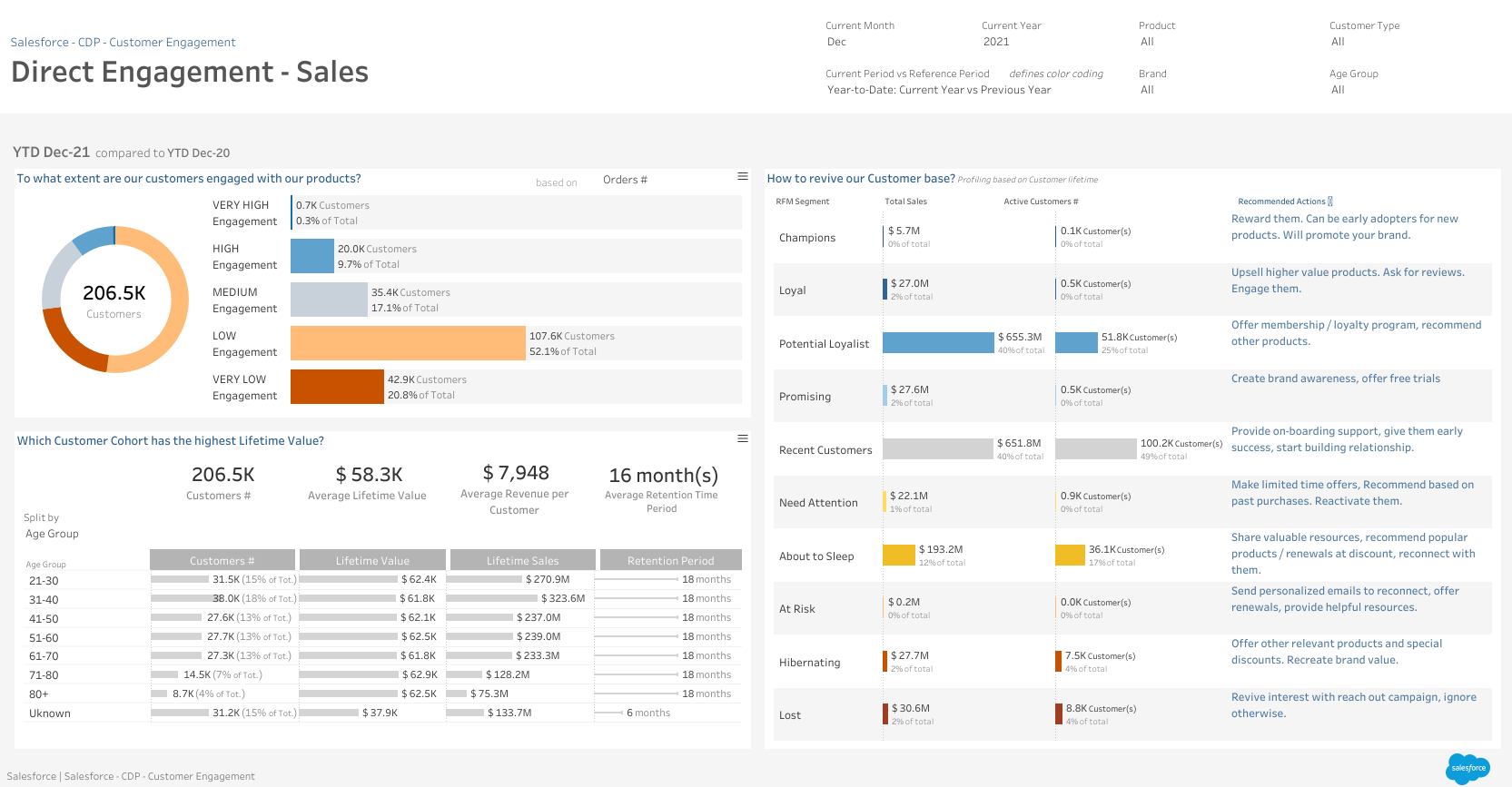 The sales dashboard of the Tableau Accelerator for Customer Engagement helps you gain insights into your customer base. This view helps you answer key questions like: What is the percent of total sales by repeat customers versus new customers?
The website engagement dashboard of the Tableau Accelerator for Customer Engagement helps you gain insights into customer engagement with your brand and product. This view helps you answer questions like: How often do our users visit our website? What hours are the peak website traffic hours?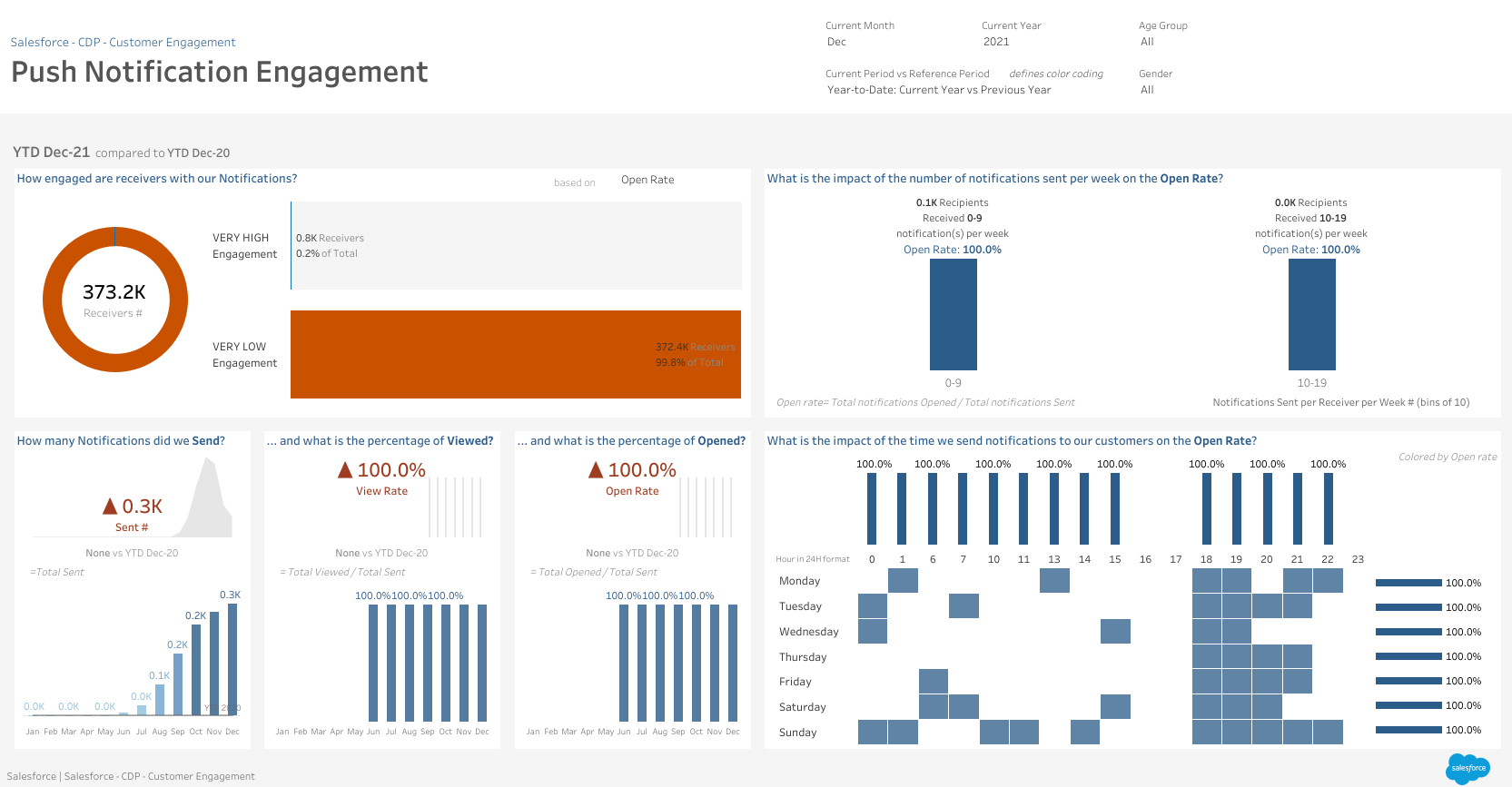 The push notification engagement dashboard of the Tableau Accelerator for Customer Engagement helps you gain insights into how your customers engage with your mobile app. This view helps you answer questions like: How successful are the mobile push campaigns? How can we design marketing campaigns for optimal business results?
Embed your dashboards in Data Cloud
When you're ready to share your insights, you can use the Lightning Web Component and embed your dashboards into Data Cloud. Drop the viz URL into the right side pane and adjust the height if necessary. By embedding Tableau dashboards in Data Cloud's UI, you can make insights and visualizations easily accessible to other Data Cloud users. 
Using the Lightning Web Component, you can embed dashboards into Data Cloud and customize the height and toolbar view within the editing pane.
Create exceptional customer experiences with unified customer data 
With Tableau and Data Cloud, you have the power to create meaningful customer experiences and grow your bottom line. The ability to unify, harmonize, and analyze customer data to find actionable insights is paramount to staying competitive. 
Want to learn more about Data Cloud? Check out the webinar or demo. If you're ready to get started, download the Data Cloud connector and choose an Accelerator that is best for your business
Subscribe to our blog
Get the latest Tableau updates in your inbox.