Growing the Tableau Economy with new 'Hire Me' button in Tableau Public
Hire and get hired with Tableau Public to drive data success, build data-driven organizations, and strengthen connections in the Tableau Economy.
Tableau Public provides a place for the global data community to develop data skills and, in turn, foster Data Culture. More than 2 million authors use the free platform to explore, create, and publicly share data visualizations—and grow their portfolios. It's a key component of the Tableau Economy, an ecosystem of customers, partners, and individuals leading the world's data transformations and built on the broadest, deepest data and analytics platform.
Like any thriving economy, we're investing to help the Tableau Economy grow. As part of that commitment, we continue to improve Tableau Public to help data people sharpen their skills, stand out, and get hired. We rolled out the new Hire Me button in Tableau Public to better connect the data community with organizations that need their expertise. Now, Tableau Public authors can indicate they're available for work, making it easier for hiring managers and employers to find top talent.
Hire and get hired in the Tableau Economy
When we talked to the most active Tableau Public authors to understand if and how they used the platform to source work, we learned that many were already using Tableau Public as a portfolio to land projects. From designing and creating dashboards, and data analysis and data science to providing Tableau training and automating tasks with Tableau APIs, we saw that the Tableau Community is actively putting their data skills to work.
Our survey also revealed that people aren't just finding work, they're also hiring talent with Tableau skills. Until now, they were finding and connecting with talent on LinkedIn, Twitter, and every other corner of the Internet imaginable. But what better place to find top Tableau talent than the world's greatest data community?
We rolled out the Hire Me button in Tableau Public to better facilitate how people are already hiring and getting hired. Data experts can now let the community know they're available for work, and profile pages—complete with a fresh new look and feel, intuitive design, mobile-friendly experience, and new capabilities like viz-card favoriting—now double as a place to find top analytics talent.
Tableau Public authors can now indicate they're looking for work with the new Hire Me button.
Managers and recruiters, find top Tableau talent
Hiring managers and recruiters can simply click on the Hire Me button to connect with an available Tableau expert. From there, simply submit a short contact form to start the conversation. It's a quick, easy, and straightforward way to find, contact, and engage with Tableau data experts from around the world.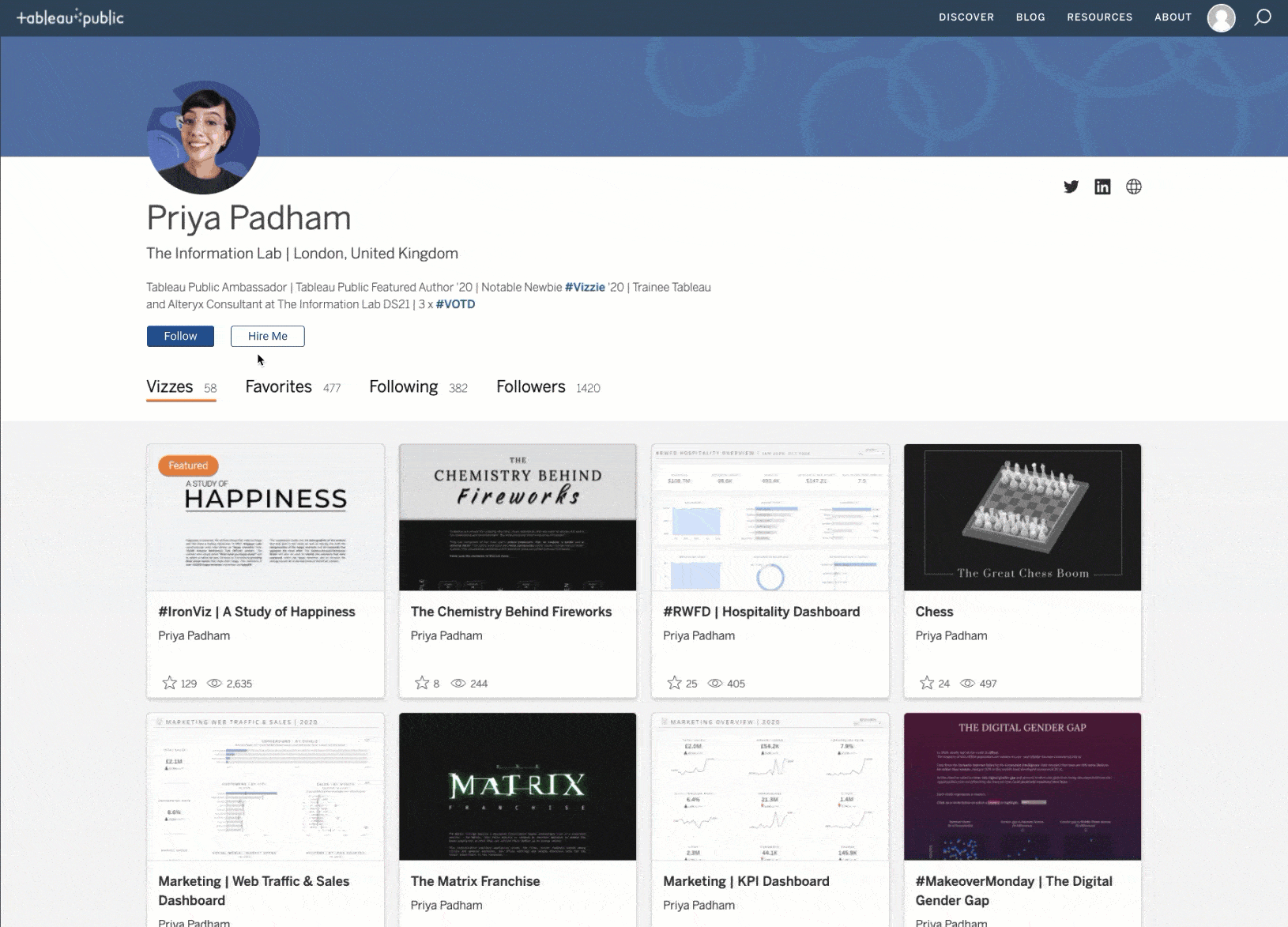 Want to connect with an available data expert? Send a message by clicking on the Hire Me button.
Find work, DataFam
We wanted to make it easier for Tableau experts to connect with prospective clients. Here's how to enable the Hire Me button to your Tableau Public profile:
Sign in to Tableau Public, navigate to your profile page, and select Edit profile
Select Available for Hire
Confirm your email address
Review the Tableau legal terms
… and voila, the Hire Me button will display on your profile page!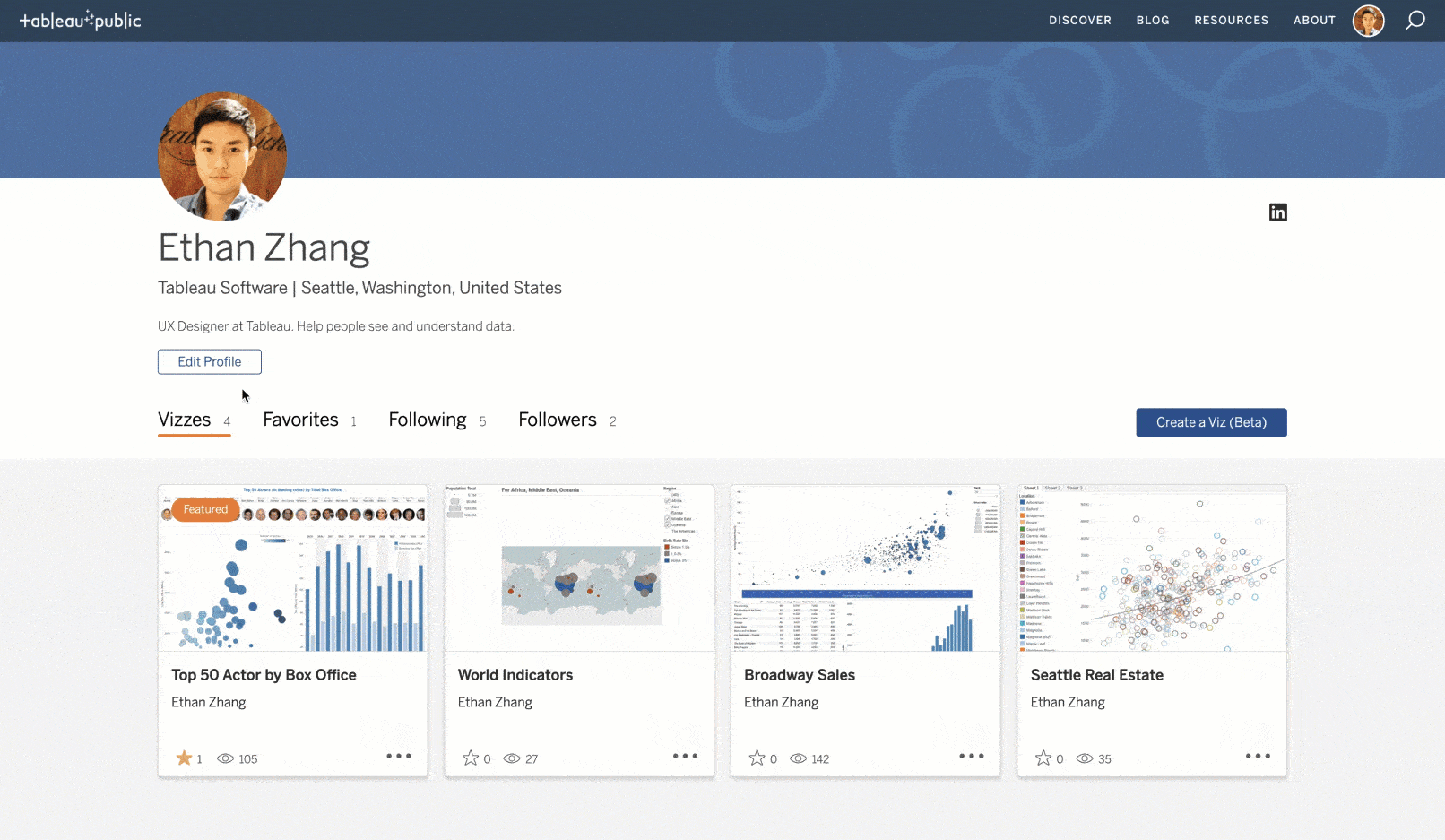 Simply edit your Tableau Public profile to display the Hire Me button and indicate you're looking for work.
Ready, set, hire and get hired
Try it for yourself:
Subscribe to our blog
Get the latest Tableau updates in your inbox.