Equal Opportunity Schools' new, data-driven framework advances inclusion in schools
By measuring students' experience of belonging in their classrooms, EOS aims to equip schools with an understanding of how to improve equity in advanced high-school courses.
Over the past eight years, David Farley has worked at three different schools within North Carolina's Charlotte-Mecklenburg Schools system. Though each of the schools faced its own challenges and circumstances, Farley noticed something similar across all of them. "In all the schools, Black and brown students were not being pushed to take advanced courses. When I walked the halls of the schools and looked in our AP classes, I'd see mostly White students, and I knew that was a problem."
Three years ago, Farley was brought into conversation with Equal Opportunity Schools (EOS), a Tableau Foundation partner that focuses on opening up access to advanced high school courses to students who have been previously overlooked or excluded. Farley became the site lead for EOS at William A. Hough High School, where he currently serves as assistant principal, and has worked closely with EOS over the years to identify and enroll diverse students in advanced courses. "Partnering with EOS gave us the data and tools to identify students who should be taking higher-level classes, and they are being successful—71% of students who have taken an AP class for the first time have achieved an A, B, or C, and 51% have passed their exam," Farley says.
Access as an inroad to equity
The story at Hough High School is not unique. Over the past seven years, Tableau Foundation has supported Equal Opportunity Schools to work with over 700 schools to identify racial gaps in access to advanced high school courses and to begin to close them. Through their partnerships, they've supported schools and districts in enrolling over 43,000 students of color and low-income students in AP and IB courses, for which those students otherwise would have been overlooked. The fact that they've done so with a very small core staff speaks to the broad applicability of their work and the way in which their data-driven approach can incorporate seamlessly into schools' and districts' overarching strategies.
This work, called Action for Equity, is twofold: It measures representation gaps in rigorous courses and through EOS's robust student survey infrastructure, provides schools with a more holistic view into students' potential. Rather than leaning on traditional metrics—GPA, test scores, and prerequisites—to measure student readiness for advanced courses, EOS's data framework captures more nuanced, robust metrics, like growth mindset, subject-matter passion, and leadership that indicate student potential, and using Tableau, they're clearly able to communicate this data to schools and districts.
What they've found, says Dr. Sasha Rabkin, EOS's Interim President & Chief Strategy Officer, is that students who may have been passed up for enrollment in advanced courses under the traditional assessment framework succeed when given the opportunity to stretch themselves. Studies from participating school districts show that scores on AP exams remain consistent when the courses are opened up to broader participation.
The power of EOS's approach is evident in these outcomes. By equipping schools and districts with the data they need to understand racial inequities in access to advanced courses, they're able to take immediate action to open up pathways.
The next phase in academic equity: belonging
Over the course of their work EOS has realized that, "Access is necessary but insufficient for achieving equity," Rabkin says. Getting more low-income and students of color into advanced courses is one step. But once they're in these classrooms, what is their experience? Do they feel supported? Do they feel like they belong? These factors are more difficult to measure, Rabkin says, but they're essential to understand.
"We like to say that opportunity precedes achievement—if you're not given the opportunity, you're not going to achieve," Rabkin says. "It turns out that we were right—Black and brown students are achieving, but what we realized is that they're often doing so in spite of the system that is still designed to exclude them." Advanced courses in high school are created to be exclusive, Rabkin says, and exclusive in education often means White, Asian, or affluent. Encouraging schools and districts to enroll more Black, Brown, and low-income students in AP or IB courses, he says, often means placing young people in environments not set up to support them—environments where by design, they may not feel they belong.
This concept of belonging, Rabkin says, is critical. Decades of research has shown that students who feel they belong do well both academically and psychologically. As EOS has collected data on access over the last seven years and worked closely with schools to desegregate advanced courses, they've uncovered the need to shift the focus from access alone, to what districts, schools, and teachers can do to create inclusive and supportive environments in these classrooms.
Capturing the Measures that Matter
The next evolution of EOS's work, called the Measures that Matter Initiative, aims to provide schools and districts with a data-driven method for understanding the conditions that create—or inhibit—belonging for students of color, and what they can do to build equity and anti-racism into their classrooms.
"We need a change from lagging to leading indicators," Rabkin says. Assessment in education is built around lagging indicators, or what Rabkin calls a "post-mortem data loop." For many schools, data on enrollment, grades, and test scores are the only metrics they have to respond to and they represent an end point. What EOS's core Action for Equity work aims to do is provide schools with real-time, diagnostic data on their equity ecosystems and student experiences, so schools can respond in the moment—instead of continuing to look backwards.
Through a two-year pilot study that analyzed survey data from around 90,000 low-income and students of color currently enrolled in AP/IB courses, EOS identified five key metrics that reflect the cues, experiences, and conditions of belonging for students of color.
They are: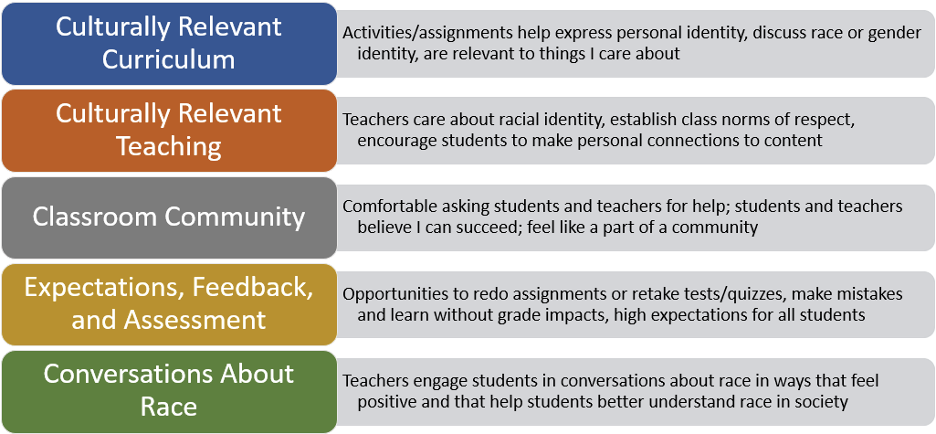 Beginning this fall, as many students begin to return to classrooms for in-person instruction following the COVID-19 pandemic, EOS will begin to roll out the Measures that Matter Initiative and the new data framework to its partner network.
The starting point will be a student survey. For each of the above categories, EOS will survey students with a range of questions or prompts that aim to capture their experiences. These questions range from: "In general, my teachers establish classroom norms and a culture of respect for all students and their backgrounds" to "I have participated in activities or assignments that helped me express my values and personal identity."
The approach to belonging requires the same real-time approach. While belonging can be a leading indicator (or predictor) of things like academic success, it is also a lagging indicator for conditions that shape students' experience of schools and classrooms. If a student reports in a survey that they do not feel their identity is represented or acknowledged in a classroom, the school can see that data right away and begin to work on more culturally relevant instruction.
"From our initial work on belonging, we saw that when students reported in their surveys that their classroom environments contained things like culturally relevant curriculum and community—factors that lead to belonging—they not only reported feeling like they belonged, but they were getting higher grades in AP classes, were more likely to take the test at the end, and were more likely to enroll in a second advanced course," Rabkin says. Their data is showing that for many students, belonging and achievement are closely linked.
As they do with advanced course enrollment and student potential data, EOS will share the belonging-related survey data, visualized in Tableau, with schools and districts. From there, EOS envisions a collaborative process involving students, teachers, administrators, and parents to respond to the data and implement changes in classrooms and schools that further belonging.
Driving culture change with data
In the Charlotte-Mecklenburg Schools, administrators are excited by the prospect of this new approach to data. For individual schools and the district as a whole, the data on belonging indicators will be a way to operationalize and deepen work that is already happening. Farley describes how Hough High School has established a space where students can meet monthly to discuss race, social issues, and anything that's top of mind, and Kevin Poirier, an assistant principal at West Charlotte High School, says they've focused on increasing belonging and community in advanced courses by setting up peer-to-peer study groups and opportunities to bond outside of the classroom.
"Across the district, we've been focusing on opening doors and increasing access, as well as fostering deeper relationships between students and teachers," says Stacey M. Brown, a High School Equity Specialist who serves on the district's equity committee. "We are focusing now on bringing students' cultures into the classroom so they know that they are not outsiders—that they definitely belong in the class. But we know we have a lot more work to do."
Subscribe to our blog
At Tableau, we find exciting news about data, analytics, and visualizations every day. Sharing that news through our blog is a key part of our mission to help people see and understand their data. From tips on using Tableau more effectively to learning how everyday people are dealing with data challenges, the Tableau blog is a place for data lovers.