Emily De Padua's Tableau Journey
Since the platform was founded in 2010, millions of people have used Tableau Public to develop their data visualization skills, find inspiration, and connect with like-minded data enthusiasts from around the world. We're thrilled to be celebrating this milestone and we also want to acknowledge the accomplishments of those in the Tableau Community, like Emily De Padua.
Emily De Padua is currently a Data Analyst at Disney Streaming with a love for people, data visualization, and Tableau. Originally a classical flute performance major from Rowan University, Emily's data industry experience ranges from Classical Music, Botanical Gardens, and Sports Media & Entertainment. When she's not browsing Tableau Public and Twitter for the latest design trends and inspiration, Emily is often studying Astrology and listening to her current favorite artist (when in doubt, Taylor Swift).
How long have you been using Tableau?
I started using Tableau in December 2016 at my first Data Analytics role at Philadelphia Union, Philadelphia's Major League Soccer team.My manager at the time and now a very cherished mentor, Kyle, tasked me with building a series of social media and web analytics dashboards for our marketing team. I knew very little about Tableau, but was intrigued right away because Kyle raved about Tableau's flexibility and all the ways we could use it for executive reporting. When building my first set of dashboards, I loved that I was constantly tasked with adding new features as my skills grew—which gave the dashboards a real organic, always improving, approach.
What role has Tableau Public played in your professional development?
I credit so much of my Tableau knowledge to being able to download, dissect, and reverse engineer every cool viz I discover on Tableau Public, especially in my early days! When I was first introduced to Tableau, I was a recent music school graduate dealing with a lot of uncertainties. Discovering Tableau was one of the first parts of my technology journey.
Tableau Public is an invaluable tool for my professional development. When I'm stuck on a solution or trying to fix a bug or find some design inspiration for a dataset, Tableau Public is one of the first places I start. I have so many Viz of the Days and vizzes featured on the Discover channels bookmarked to revisit over and over again. Constantly learning is an integral pillar to anyone's professional development, and Tableau Public is a key part of my data visualization practice.
What role has the #DataFam had on your Tableau journey?
I think there is something to be said about how communities like the DataFam can be a resource of knowledge that may not have been immediately accessible. With my classical music background, there are pieces of knowledge, paths, and even social etiquette of data visualization I would be clueless to if it were not for the DataFam. The community validation is huge, and I cannot stress enough how valuable it was for my journey. The DataFam taught me to ask,want,and dream for more. As someone who is typically cautious and hesitant to dream big, Tableau represents a tool where possibilities and ideas are limitless. Witnessing the DataFam's kindness, inclusivity, and talent have been an invaluable impact.
Do you have a favorite viz or author on Tableau Public?
Where do I even begin on this? There are countless authors on Tableau Public teeming with talent and creativity. It's impossible to name a favorite author—I refuse to choose!
There are two vizzes that hold a very special place in my heart, and both were from Iron Viz 2019. Dinushki De Livera's The Firebird Suite: Infernal Dance was the first time I had seen such an expert and beautiful way to connect Classical Music to Data Visualization. She truly brought the score alive in that data viz and I remember being at a NYC Tableau User Group meetup making small talk, and telling anyone who would listen to me to look at Dinushki's Firebird Viz. I would not stop talking about her work, I'm such a fan!
Tied for top favorite viz is, of course, Lindsey Poulter's The Emotional Valence of Broadway. The storytelling! The design! The very clear and concise guided journey! The color choices! How there's so much impact and knowledge within a deceptively simple and clean design! This is a viz I revisit over and over again, along with Lindsey's blog later published about her design process. Both of these were a huge resource for me when it ultimately came time for me to design my own Iron Viz entry!
You placed 10th in IronViz in 2020. Can you share with us what that experience was like?
'All By Myself?' was a viz born out of grief, longing, and the emotional turbulence that came with quarantining alone. In spite of the difficult topic, I really cherish this viz. It was a viz I would have made regardless of Iron Viz, and I was fortunate that not only was it relevant for that year's topic but that I even placed! It was a creative journey I wasn't even aware I wanted or needed. As data visualization developers, especially in a business setting, we work so hard to make other people happy and satisfied and it can be really easy to lose sight of your own creative voice. Through creating 'All By Myself?', I had reclaimed a creative voice that I hadn't even known was mine to begin with. Entering Iron Viz 2020 brought me out of a creative funk, and instead gave me a creative experience. Placing 10th was (and still is!) absolute bonkers to me and brought me to tears!
A year later, I firmly believe there really is no such thing as losing when entering Iron Viz. Not only did I come out of Iron Viz with more creative confidence, ultimately, 'All By Myself?' became a piece of art to talk about--with friends, family, dates, and eventually on job interviews. I was always nervous and hesitant to go after Tableau Developer roles because I was so critical of myself and believed that I could never land one. For anyone who has felt the same way and has talked themselves out of applying for really cool roles, I really hope you try. I'm so glad I tried— for Iron Viz, Tableau, and for those cool 'I can't believe I'm going for this because I really want this type of roles. I'm a Tableau Developer at Disney Streaming on a team that I love learning from and working with every day. To anyone who needs to hear this, I hope you try, because ultimately trying is a win in itself. May you always have that inspiration and determination to keep trying.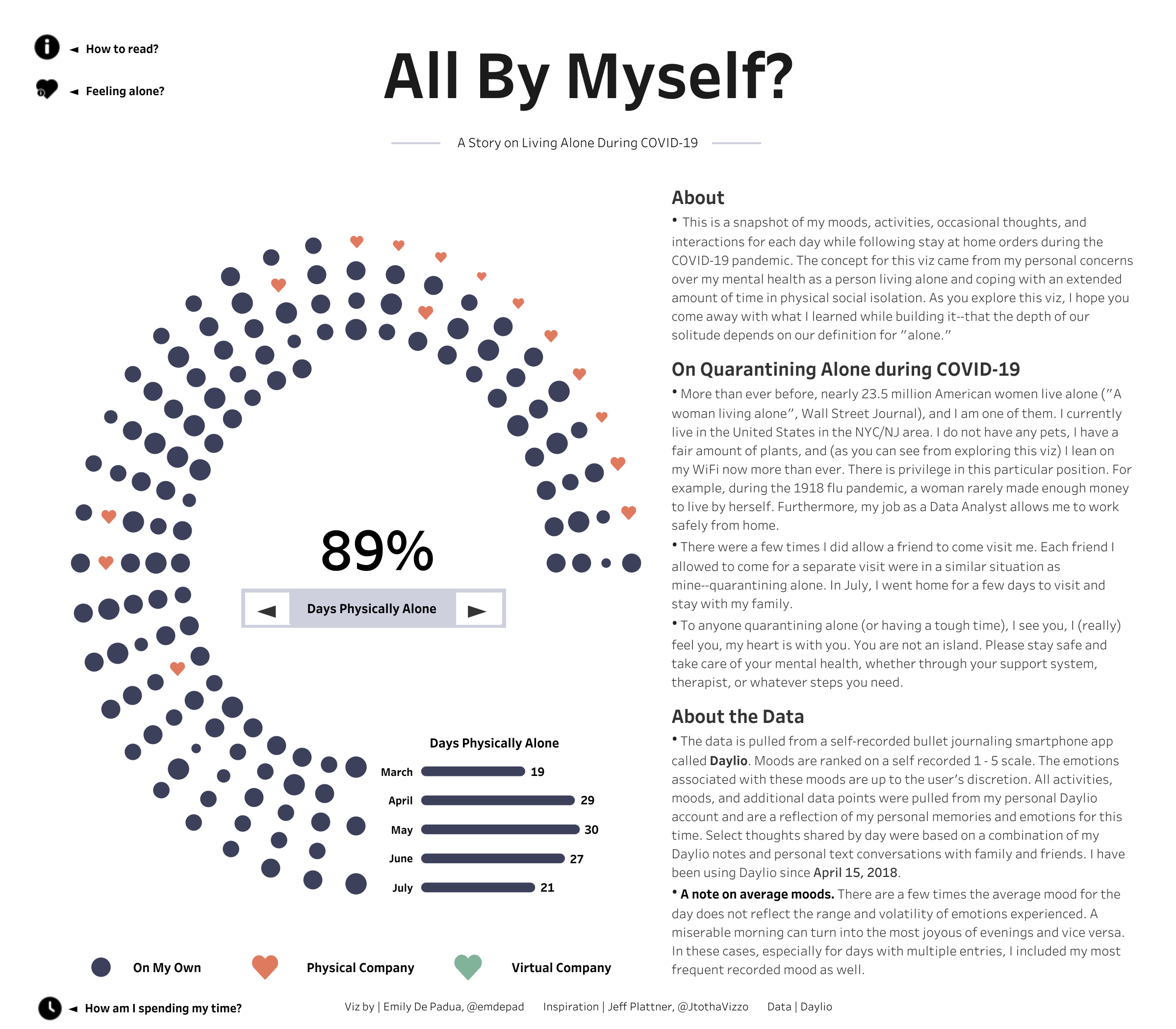 All By Myself? by Emily De Padua
If members of the DataFam visit New York City what do you recommend they do?
Oh my goodness, there is so much to do in New York City! Honestly, I won't be able to cover everything, so I'm primarily going to shout out my favorite spots.
Tonchin Ramen is on 5th & 36th. It's one of my favorite spots to eat. The menu is absolutely delicious. Yes, start with ramen, but the buns and chicken wings are also incredible orders. For those who like to drink, the cocktails are delicious as well. I have spent many nights getting dinner and drinks at this spot, the service is excellent, and my stomach (& heart) is always deliciously full after a Tonchin Ramen trip. For those eating alone (which I do pretty often), this is a very comfortable place to eat alone at the bar.
For a very pretty & aesthetic coffee spot, there's this fantastic place called Grace Street on 5th and 32nd that is divine. They t makes these delicious rose lattes (yes, rose, like the flower!) and although they are my top favorite, I am also a fan of their lavender lattes. I'm a total milk tea fiend, especially since I quit drinking coffee a few years back. This spot is a high recommendation for an afternoon tea or a late night cafe hangout that doesn't involve alcohol.
I cannot end this without a special shout out to some of the incredible botanical gardens in NYC. As someone who knew very little about plants at first, working at a botanical garden like Longwood Gardens taught me a deep appreciation and love for horticulture, and I'm always shrieking at my friends to go to a botanical garden. I love the New York Botanical Gardens, and am always itching to get out there for a visit as much as I can! If getting to the Bronx area is a little too out of the way, there is also Brooklyn Botanical Gardens, which is a lovely sight to see when the cherry blossoms are in bloom.
Emily was photographed at the local ice cream shop in her hometown after learning she placed 10th in last year's Iron Viz. Photographed by her best friend, Chelsea Pineda, to celebrate together.
Subscribe to our blog
Get the latest Tableau updates in your inbox.