Diversity & inclusion, data analytics, and marketing come together in Renee MacLeod's new role at Tableau
How Renee MacLeod is growing inclusive business practices in the data analytics world through the new Office of Inclusive Marketing at Tableau.
Washington State native Renee MacLeod has worked in technology most of her career, starting as an assistant in a CEO's office. Renee brought 20 years of tech and marketing experience into her role as Customer Evidence team lead when she joined Tableau Software in 2019. But it's her new role on the Tableau Global Brand Creative team that has Renee and her colleagues most excited.
Renee is already active in the Seattle community—promoting equality and racial justice for families and people of color with her work as board president at Families of Color. She will now work toward applying a more inclusive lens to Tableau's external marketing as the leader of our newly formed Office of Inclusive Marketing.
Here, Renee tells us more about her new role and how her expertise and experience lend themselves to molding an external marketing program—and company culture and policies—that promote diversity and inclusion of all people.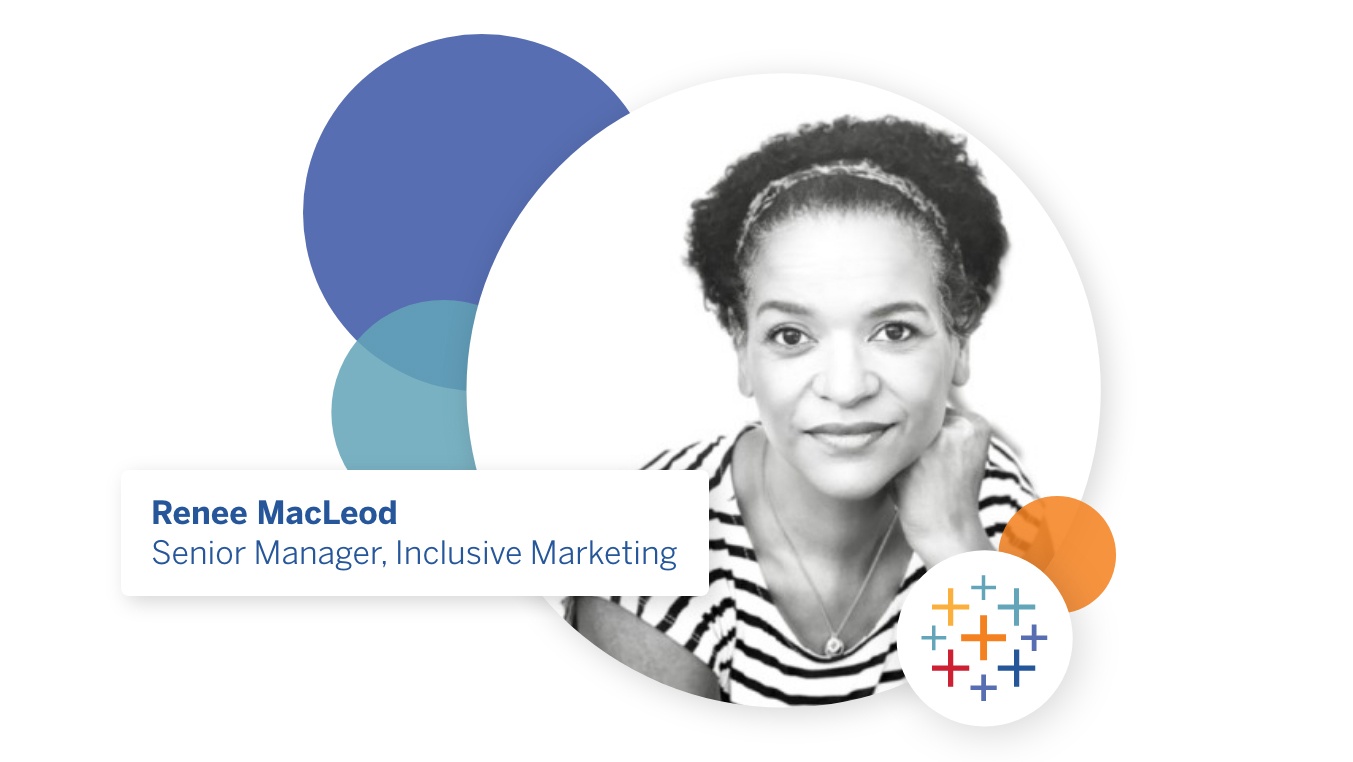 Molly: How did your role come to be?
Renee: I noticed conversations we were having as an organization after the murder of George Floyd and the greater reckoning that was happening across the country. At Tableau, even though people were starting to have that conversation, it wasn't clear who was at the table. My question was: Are there any Black people at the table deciding how to better support the Black community?
I understood the long-term commitment of the Tableau Equality Office, but was the commitment to also use our platform and the Tableau voice to drive change an authentic one? There was this fear in the back of my mind that we would pay lip service for as long as the media covered these stories … and then go silent once it stopped being the issue of the moment.
I found myself investing more time contributing my perspective and experience to inform how we could be inclusive not just in words, but in how we approach the work. This was the seed of the Office of Inclusive Marketing—a desire to define a long-term, strategic commitment to driving inclusion in the way we approach our marketing work, and by extension, the Tableau voice itself.
From the start, there was a great deal of support from leadership, especially from EVP of Marketing Jackie Yeaney. When I first talked to Jackie about my experiences and perspectives, I was very nervous and uncomfortable, but I felt like I needed to use my voice. Without inclusion and diverse perspectives we miss out on innovation and the opportunity to do our best work.
On a more personal level, it also compounds the already isolating experiences of being one of the few Black people on the team. It felt vulnerable and scary having that conversation, but it wasn't. Jackie heard me, and she followed up with me, asking me about things I'd said. She really listened and shared her ongoing commitment to driving change. A big part of that is investing in equality for the long term, including inclusive marketing.
I feel like my unique set of experiences and my training made me feel ready to have this conversation in this moment. To be someone who can help articulate the problem and advocate for the right solutions. If I hadn't felt safe though, I never would have said anything. I never would have taken the chance of bringing my full self to work.
Molly: There was a long overdue, much-needed shift in the dialogue on race and equity last year. Do you agree?
Renee: Absolutely. There is still so much work to be done, but it feels like more people understood and cared, or had their eyes opened. One of the things I noticed was more allies showing up in online comments and conversations, pushing back on racist messages. I saw people expressing care or concern and taking action in a range of ways I hadn't seen before, not just individuals but also organizations.
It was so strange to observe such an obvious shift in the dialogue. This showed up not just in the media, but when I would share my personal perspective as well. For the first time, when I would share my experiences with bias they weren't immediately challenged. I've rarely had the experience of being able to share without needing to immediately defend my perspective. It made me brave.
Molly: Can you talk about what you've already helped Tableau accomplish?
Renee: I have been lucky enough to work with so many great Tableau marketers and leaders this past year. Standouts are the work of the Tableau Foundation with the launch of our Racial Equity Data Hub and the Data+Diversity speaker series with the Tableau Community. Most recently, we launched the Do No Harm guide with the Urban Institute, which identifies approaches for data communicators to present data through a diverse, equitable, and inclusive lens. These are great examples of the interplay of inclusion and data.
You see that internally, too, as we are taking steps to make our own teams more inclusive. It's not just about diversity, but also creating a space that is safe and empowering so everyone feels like they can speak up. When I'm talking with folks coming from other places, other Black women, one of the first things we talk about is: "Can I say this in a meeting? Can we have this conversation?" I can say, "It's OK, we can talk about this."
Molly: What are some of your major goals?
Renee: What we hope to accomplish with the Office of Inclusive Marketing is to equip each person on our team with an inclusive lens. How can we all learn to ask ourselves the right questions about our work? Right now, it's not happening naturally. If we are doing research, are we thinking about ensuring representation across participants? Are we thinking beyond race and gender?
Data nerds are multifaceted folks. I hope we help our teams understand that if we don't bring in diverse perspectives, we won't get the benefits of those perspectives. We will not be innovative. We won't get access to the best people because we're only looking at a subset of the population. We are really limiting access to talent, thoughts, and ideas. We lose out.
Molly: What do you wish companies would do when it comes to inclusive marketing?
Renee: Top of mind is the need to have a shared language—how do you even articulate to an entire team of people with a range of unique experiences? It's all so new. So our Equality and Enablement teams encouraged our entire department to complete the Salesforce Equality Trail, which includes an inclusive marketing trailhead. It walks you through foundational principles of inclusive marketing, giving the entire team that shared language.
Two, is to understand that we need to get the data. This means making it safe for people to flag when they notice a lack of inclusion or the wrong tone in an asset or event or that all the speakers look the same.
So one, they need to notice, and two, they need to feel safe bringing it up, and three, they need a pathway to change it. What is the baseline of understanding and then how do we help move the needle?
Molly: What does everyone need to question in their thinking around approaching work with an inclusive lens? What work can we do on ourselves to make it better for everyone?
Renee: Read different perspectives, and listen and really hear what they're sharing without questioning or doubting their intent because it doesn't resonate with your own experience. Your audience has a range of identities, and you won't always be in perfect alignment with each of them. Experiencing dissonance with something someone is sharing is OK. It doesn't mean it's not true though.
If you find yourself putting up blockers as to why something can't possibly be done, just sit with that. Every day we reinforce our mental pathways calling it "best practice," but if we want to make change we need to proactively create a new way. We need to get comfortable with discomfort.
Learn more about Renee's work in her latest article How can we do no harm with data? A conversation with the authors of the Do No Harm Guide.
Subscribe to our blog
At Tableau, we find exciting news about data, analytics, and visualizations every day. Sharing that news through our blog is a key part of our mission to help people see and understand their data. From tips on using Tableau more effectively to learning how everyday people are dealing with data challenges, the Tableau blog is a place for data lovers.