Data literacy is the key to better decisions, innovation, and data-driven organizations
A recent Forrester survey exploring enterprise data literacy found that organizations that invest in data literacy and upskilling at scale experience powerful benefits like improved decision making, innovation, productivity, customer and employee experience, and more.
Organizations are constantly seeking ways to maintain market relevance and differentiate themselves from competitors, by investing in data as an asset. It's critical for businesses to identify useful signals from the ever increasing volumes of data being generated to make decisions quickly. Employees need to possess data literacy and skills to discover insights, trends, and patterns relevant to solving business problems. But data literacy as a shift in mindset can't be an afterthought, and must be prioritized by leaders to instill the necessary skills into an organization's culture.
In order to learn more about the state of enterprise data literacy, we commissioned Forrester Consulting to conduct surveys exploring the organizational issues, challenges, and benefits of data literacy efforts, upskilling, and the creation of a Data Culture. Conducted with over 2,000 decision makers and workers in 10 countries, the survey found that organizations that invest in data literacy and upskilling at scale experience powerful benefits like improved decision making, innovation, productivity, customer and employee experience, and more.
Before we share a preview of Forrester's survey findings, let's cover the basics and how data literacy helps organizations be truly data-driven.
What is data literacy–and why does it matter?
Data literacy is when an individual possesses the skills necessary to understand, explore, use, make decisions with, and communicate using data. Literacy is also about ensuring data-driven critical thinking, and learning the skills required to make that a reality. It's imperative that we learn to think critically, argue effectively with data, and recognize what data is relevant—the success of our decisions and investments depend on it. Without having a data-literate workforce, organizations limit or prevent their ability to build a successful Data Culture and get value from their data. Investing in more technology, architecture, tools, and processes, without investing in the skills and knowledge of employees, don't yield the benefits and differentiation businesses and communities seek. (This is why we've committed to closing the data skills gap for 10 million people in 5 years.)
Employees with data literacy or data skills can apply techniques to derive meaning from data and communicate their discoveries to grow sales performance, make operational processes more efficient, and other improvements. They can ask the right questions in pursuit of goals, collect and connect the right data to their question, determine whether or not information is reliable, and apply this knowledge with relevant business context.
Data literacy initiatives yield powerful benefits
The Forrester research found that organizations that invest in data literacy and upskilling across all departments—especially those with more mature initiatives—see dramatic benefits like improved customer experience, better decision making, greater employee satisfaction and retention, and more. In addition to such dramatic benefits, the research also identified numerous findings. Here is a preview of what to expect in the whitepaper:
The importance of and expectations for data skills are growing. No longer a skill set solely required of analytics teams, basic data skills have increased in importance in nearly all departments—IT, marketing, product, HR, finance/accounting, and others—becoming the most important skill for success. For employees to succeed in their daily work, decision makers consider data skills as the most important skills, with 82% of leaders expecting employees to have basic data literacy. To support broader data exploration and analysis, flexible, data-governance strategies can establish guardrails to the average, enterprise employee new to using data.
There is a gap between data training needs and implementation. While both decision makers and employees agree that data skills are important for workforce success, there is disagreement on whether or not employees are being adequately trained. And there are outstanding questions about how to determine whether an employee is truly "data-literate." The survey revealed a gap between the need for data initiatives and implementation, with less than half of workers responding that they've been offered data training—which is harming organizations' competitiveness.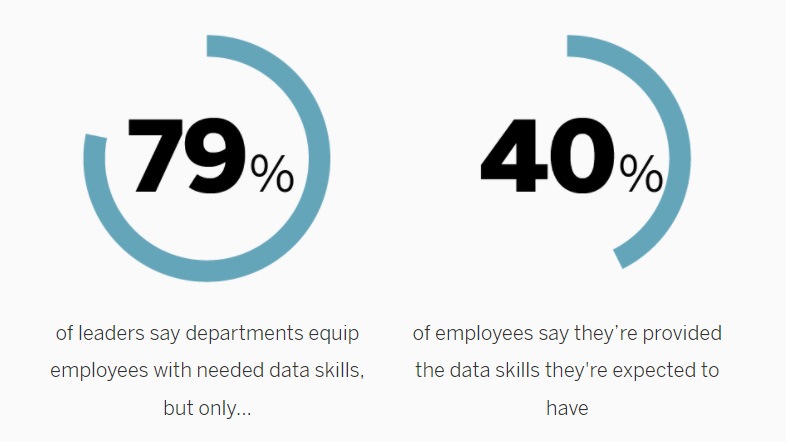 Forrester research found a disconnect between upskilling expectations.
With leaders underestimating the training needs of their employees or not knowing how to start data training initiatives, many organizations currently face a major challenge on their journey to unlocking the value of their data and building a data-driven culture. Fortunately, there are steps businesses can take and recommendations in the Forrester report. To dive into the data and learn how data literacy is the key to better decisions, greater productivity, and data-driven organizations, explore the whitepaper and visualization.
Subscribe to our blog
Get the latest Tableau updates in your inbox.