Bringing together Tableau and Einstein Analytics
We're bringing Tableau and Einstein Analytics together, introducing Einstein Discovery to Tableau dashboards, calculations, and Prep Builder. Learn more about what else is coming.
Editor's Note: Tableau CRM and Einstein Analytics is now CRM Analytics.
For the past 17 years, Tableau has been on a mission to help people see and understand data. Since we joined Salesforce last year, we've been able to accelerate that mission and our pace of innovation. My team is thrilled to continue building capabilities that help people and organizations make informed decisions faster. And we can't wait to unleash the power of Tableau and Einstein Analytics together.
We believe in analytics ubiquity and getting actionable data into the hands of everyone, everywhere. Joining Salesforce, we immediately saw an opportunity to create the world's best analytics platform by bringing together Tableau and Einstein Analytics. There are so many cool ways these technologies can come together to help everyone make the most of their data—from improving the quality of insights that help people act faster, to smarter data prep and easier sharing—no matter what application people are using.
With this vision, our customers will be able to realize the following benefits:
Connect to any data

: Whether external data, Salesforce data, or any other data, you'll have a simpler experience connecting to the data that matters to you.

Powerful analytics for everyone

: Bringing together the amazing visual analytics capabilities of Tableau with the deep AI capabilities of Einstein Analytics will empower users of all skill levels.

Insights for anyone, anywhere

: We're creating an experience that will help everyone take action faster—whether you're a Tableau user or in the Salesforce platform.
Today, we couldn't be more excited to see our vision coming to life. During TC20, we're offering a closer look at the ways we are bringing Tableau and Einstein Analytics together to deliver the best analytics platform out there.
Better together: Tableau and Einstein Analytics
We began by unifying our product development teams and understanding more deeply how both products serve different needs. Though both solutions focus on analytics, they were really tailored for different use cases, using different technologies. 
The Tableau platform offers limitless data exploration and visualization with broad connectivity to data anywhere, and a breadth of deployment and integration capabilities. At the heart of Tableau is a proprietary technology known as VizQL, which translates user actions into interactive visualizations, allowing you to explore your data, easily pivot your analysis, and answer that next question. Our platform helps ensure that people have ready access to data anywhere, and that anyone can get insights from their data, regardless of their skill level.
Einstein Analytics was built into Salesforce with deep, native integration across the Salesforce platform. Optimized for consumption within Salesforce CRM applications, Einstein Analytics allows you to combine internal data and external data and provides users with a more intelligent experience. This offers Salesforce users insights when they need them, all within the trusted Salesforce domain. Einstein Analytics also offers enterprise AI/machine learning capabilities, enabling companies to build amazing predictive models that help their business users go from insight to action, right within their CRM workflow.
Bringing AI predictions to Tableau with Einstein Discovery
Our first step is bringing the predictive modeling capabilities of Einstein Analytics into the Tableau platform. With Einstein Discovery in Tableau, we're introducing new, dynamic machine learning-powered predictions, explanatory insights, and recommendations to Tableau—coming in 2021.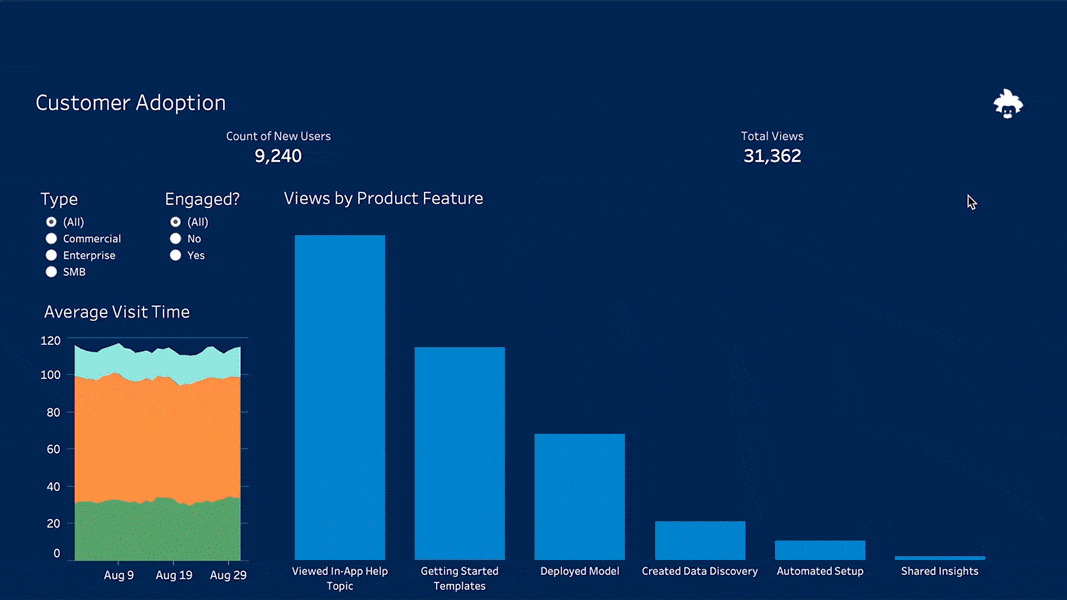 The Einstein Discovery dashboard extension brings predictions, explanations, and suggestions for improvement right into your Tableau dashboard, based on your in-context data.
Einstein Discovery is a core AI technology within Salesforce that automatically finds statistically significant patterns in your data that can reveal key insights, and generates powerful predictive models. These enable organizations to predict customer behavior, such as likelihood to buy or whether a customer will return a product.
Bobby Brill, a product management director on our Einstein Analytics team, showed us the following Einstein Discovery features during the product keynote at TC20:
Einstein dashboard extension

: A new dashboard extension will arm Tableau dashboards with predictions, explanations, and suggestions to improve predicted outcomes from Einstein Discovery—right within Tableau vizzes. Anyone accessing the viz can get a glimpse into the future, and even suggested actions to take—all with no coding required.

Einstein Calc

: We're also integrating Einstein Discovery into Tableau's calculation engine. Using the prediction capability is as simple as creating a calculated field with the new Einstein Discovery connection type. By simply dragging and dropping your predictive calculation onto your viz, you'll get real-time predictions powered by Einstein Discovery.

Bulk scoring and predictive insights in Prep Builder

: Tableau Prep Builder has brought data prep to even more people by making data prep easy and visual. Introducing Einstein Discovery to Prep will allow you to add a prediction node as a step in your prep flow and bring prediction factors and improvements into your data set.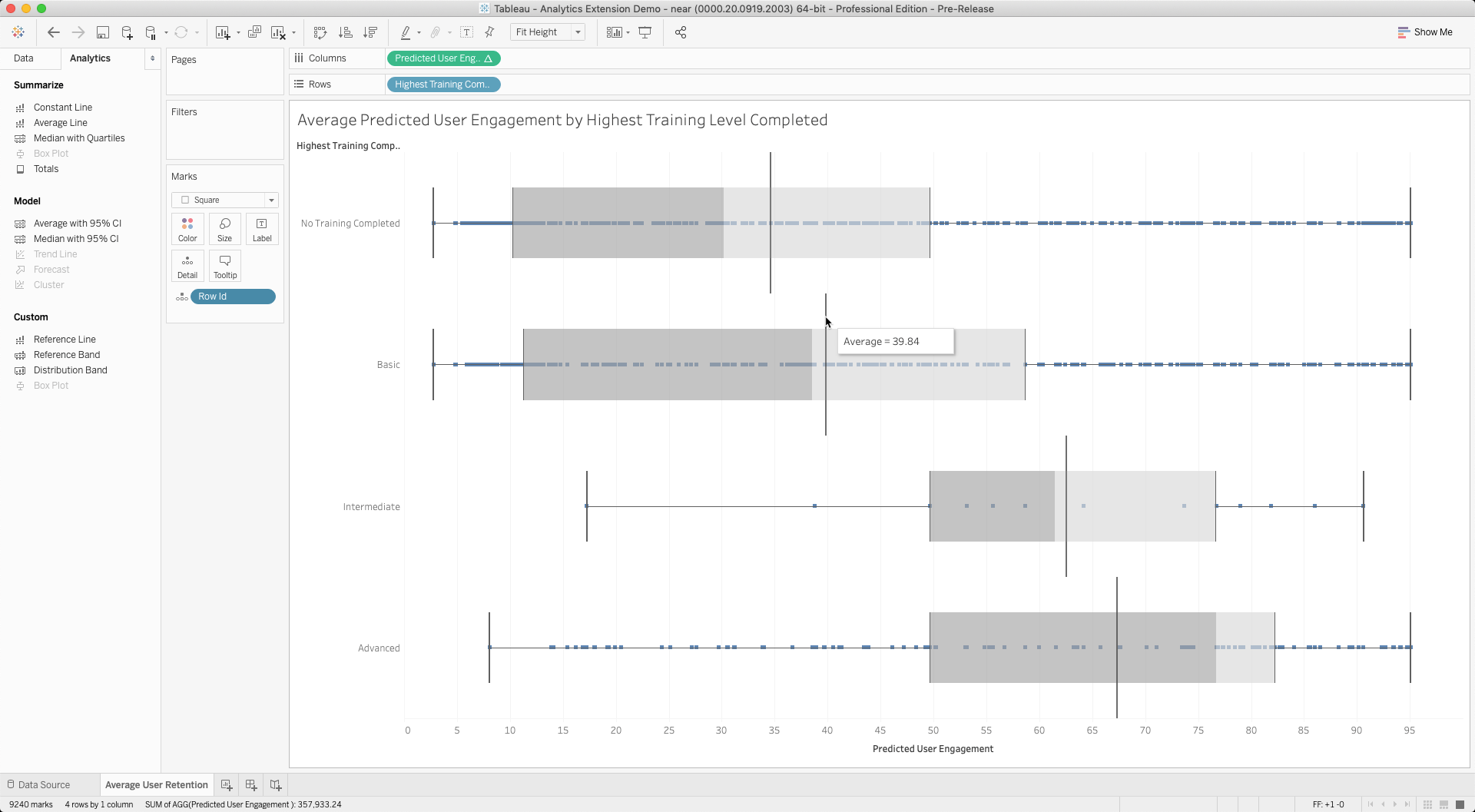 Connect Einstein predictions directly into Tableau calculated fields to drive your analytics with predictive intelligence—they work just like any other Tableau calculation.
By integrating Einstein Discovery in Tableau, you'll not only be able to understand what happened with historical data, but also have a view of the future with predictions. With Einstein Discovery in Tableau dashboards, calculations, and Prep Builder, you'll have an integrated predictive analytics experience for many key use cases, helping people in your organization to make informed decisions, faster.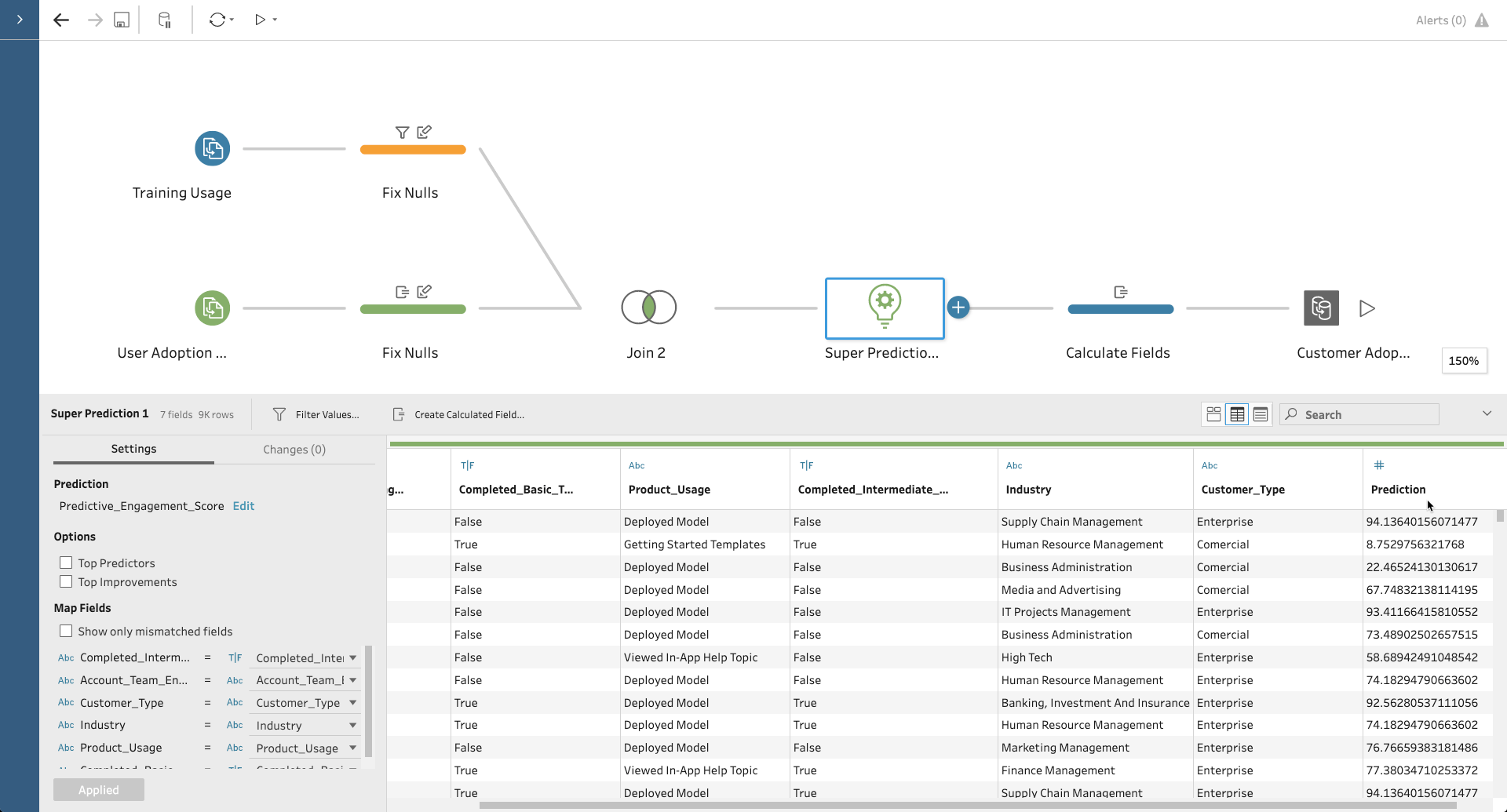 Add a prediction step in Tableau Prep to bring Einstein Discovery prediction factors and recommended improvements into your data set.
Building on our vision to bring together Tableau and Einstein Analytics
Our next step includes data access capabilities that make it easier to access data managed in Tableau or in Salesforce, from within either application:
Tableau querying Einstein Analytics data sets

: Tableau will be able to query data stored in Einstein Analytics, opening up deep exploration capabilities of Tableau queries for CRM data. This combines the scale, performance, and security of the Einstein Analytics data sets with the industry-leading data exploration experience within Tableau.

Einstein Analytics writing to Tableau

: Einstein Analytics will be able to write data to Tableau, creating extracts in Tableau containing Salesforce data.

Tableau Prep writing to Einstein Analytics

: Tableau Prep will be able to write to both Tableau and Einstein Analytics, so you can use the right platform for your needs.
After AI and data interoperability, the next focus area will be to unify the content authoring experience. This will enable people using Tableau or Einstein Analytics to create analytics content only once, that can then be consumed anywhere. 
All of this integration work will give customers a seamless experience—from visual exploration inside of Tableau, to applying your favorite AI and machine learning techniques for predictive modeling, and publishing the results in Tableau, in Salesforce, or embedded in portals and applications.
Introducing Tableau CRM
As a part of this, we're renaming Einstein Analytics to Tableau CRM. Einstein remains the overall AI brand for Salesforce, represented across the portfolio—including inside of Tableau. Einstein Discovery is available either as a part of Tableau CRM Plus or through Einstein Predictions.
We also want to reiterate that this doesn't change our commitment to our existing products. As we innovate and expand our collective capabilities going forward, we will continue to retain and build upon the current functionality of both Tableau and Einstein Analytics. We can't wait to see what amazing impact our incredible community will drive with these new solutions.
If you weren't able to join us live at Tableau Conference-ish, you can register for free, then watch our product keynote and tune into my Tableau + Einstein Analytics session for a deeper dive into these efforts with Kedar Doshi, EVP of Product Development for Einstein Analytics (now Tableau CRM). 
Subscribe to our blog
At Tableau, we find exciting news about data, analytics, and visualizations every day. Sharing that news through our blog is a key part of our mission to help people see and understand their data. From tips on using Tableau more effectively to learning how everyday people are dealing with data challenges, the Tableau blog is a place for data lovers.