Best of Tableau Web: September 2022
A highlight of tips, tricks and inspiration for Tableau and data visualization.
Welcome to the Best of the Tableau Web! Each month we showcase the amazing outputs from the Tableau Community, including blogs, podcasts, and even videos. This month we take things to the next level and recognize community members who have written the book(s) on data! 
I just received the newest DataFam title, Functional Aesthetics for Data Visualization, authored by Vidya Setlur and Bridget Cogley. A beautiful combination of research, theory, and practice, it provides a resource to understand the perception, cognition, and consumption of visual analytics. Functional Aesthetics goes far beyond charts to look at how we can make our visuals more effective and impactful.
This book is the latest in a growing list of DataFam-authored books, and I'm curious—how many of these are on your shelves, too? 
Tableau Desktop 
The first DataFam title I purchased was Ryan Sleeper's Practical Tableau which continues to serve as my go-to resource for all things Tableau Desktop. The sequel, Innovative Tableau is just as fantastic. 
Since then, Andy Kriebel and Eva Murray gave us #MakeoverMonday which features lessons learned by the DataFam through the Makeover Monday community project. 
And let's not forget Lorna Brown's Tableau Desktop Cookbook and Anne Jackson and Luke Stanke's Tableau Strategies.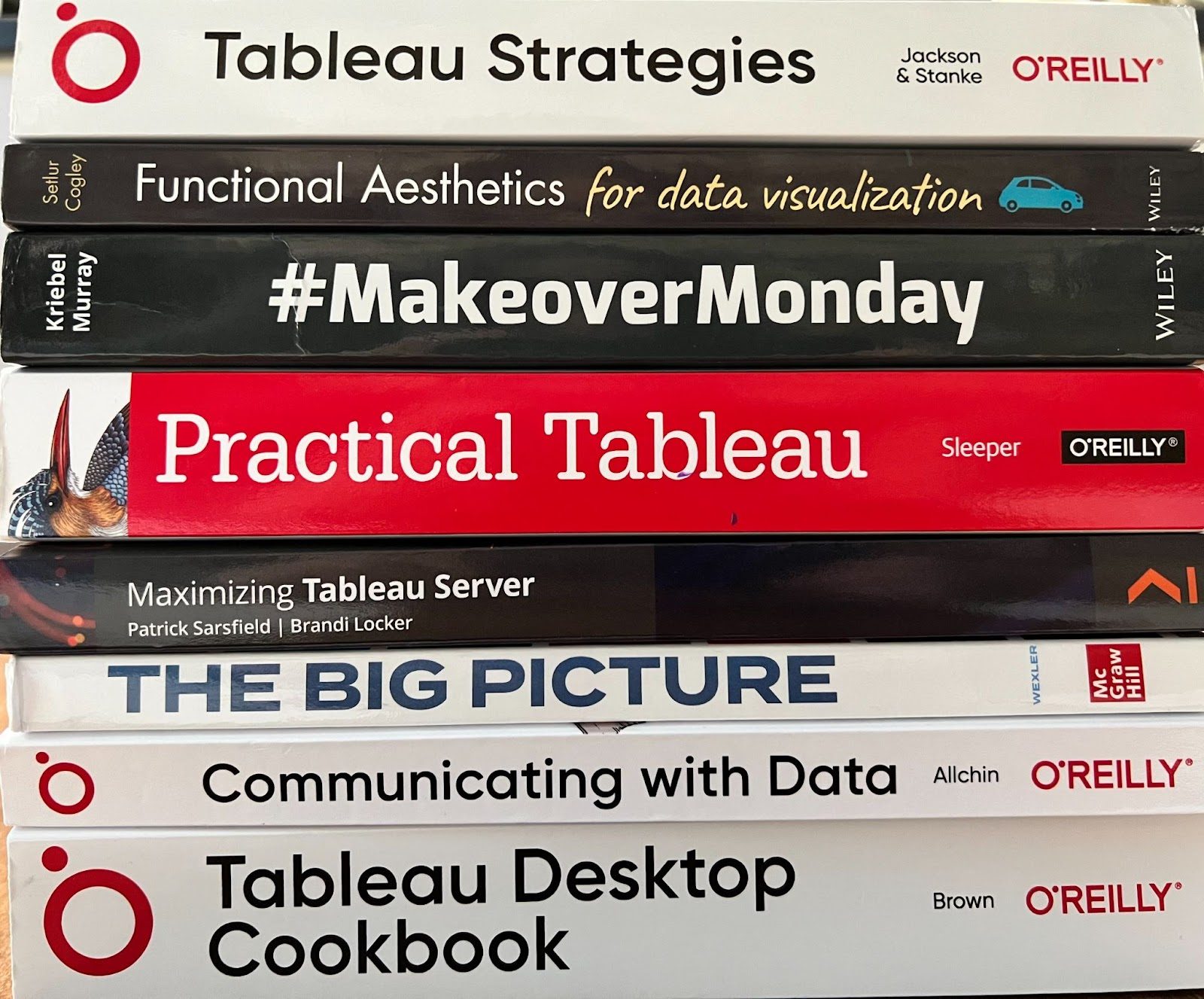 Tableau Prep and Tableau Server
Carl Allchin's Tableau Prep: Up & Running gives you everything you need to know about getting your data ready using Tableau Prep. 
In Maximizing Tableau Server, Patrick Sarsfield and Brandi Looker explore the features and function of Tableau Server to ensure users and admins get maximum value from their server environments.
Data fundamentals
For those who are new to data visualization, Steve Wexler's The Big Picture focuses on  how those in leadership roles can utilize visual analytics. It explains why we need more than just the numbers to make data-driven decisions. This book is my go-to when talking to consumers of data who need learning resources. 
For those interested in data literacy, Ben Jones wrote a series of books on the topic including Data Literacy Fundamentals, Learning to See Data, and Avoiding Data Falls.
Every time I see a new book from the DataFam I am first in line to preorder. I know how high quality it will be and how much value it will add to my growing analytics bookcase. So to those working on a book, or thinking about writing one, I wish you great success! 
And now, let's take a look at where all these amazing authors got their starts, with the wealth of quality content from the DataFam blogosphere. Don't forget to check out the list of blogs we follow for Best of the Tableau Web. If you don't see yours on the list, we invite you to add it here.
Calculations
Formatting, Design, Storytelling
Inspiration
Prep
Tips and Tricks
Visualizations
View last month's Viz of the Day on Tableau Public gallery.
Subscribe to our blog
Get the latest Tableau updates in your inbox.