Announcing the Launch of Tableau Public 9.1
Here at Tableau, we listen to user feedback to improve our products. That includes Tableau Public, our free version for anyone who wants to tell data stories on the web. We're excited to announce that both Windows and Mac users can now update to our latest version, Tableau Public 9.1!
Tableau Public 9.1 is Here!
Free for Mac and Windows
So What's New?
Tableau Desktop, Public Edition 9.1 mirrors a number of Desktop Pro updates that authors will find exciting.
Web Data Connectors: Connect to data via APIs
This is a big step forward. You can now directly connect to data on the web using the new Web Data Connector (WDC) interface. What's so great about it? This feature unlocks a world of data that's available over the web, and brings it to Tableau. You can now create your own WDC that reads data from virtually any site that publishes data in JSON, XML, or HTML formats.
Here is a screenshot of the WDC option within the Connect to Data interface: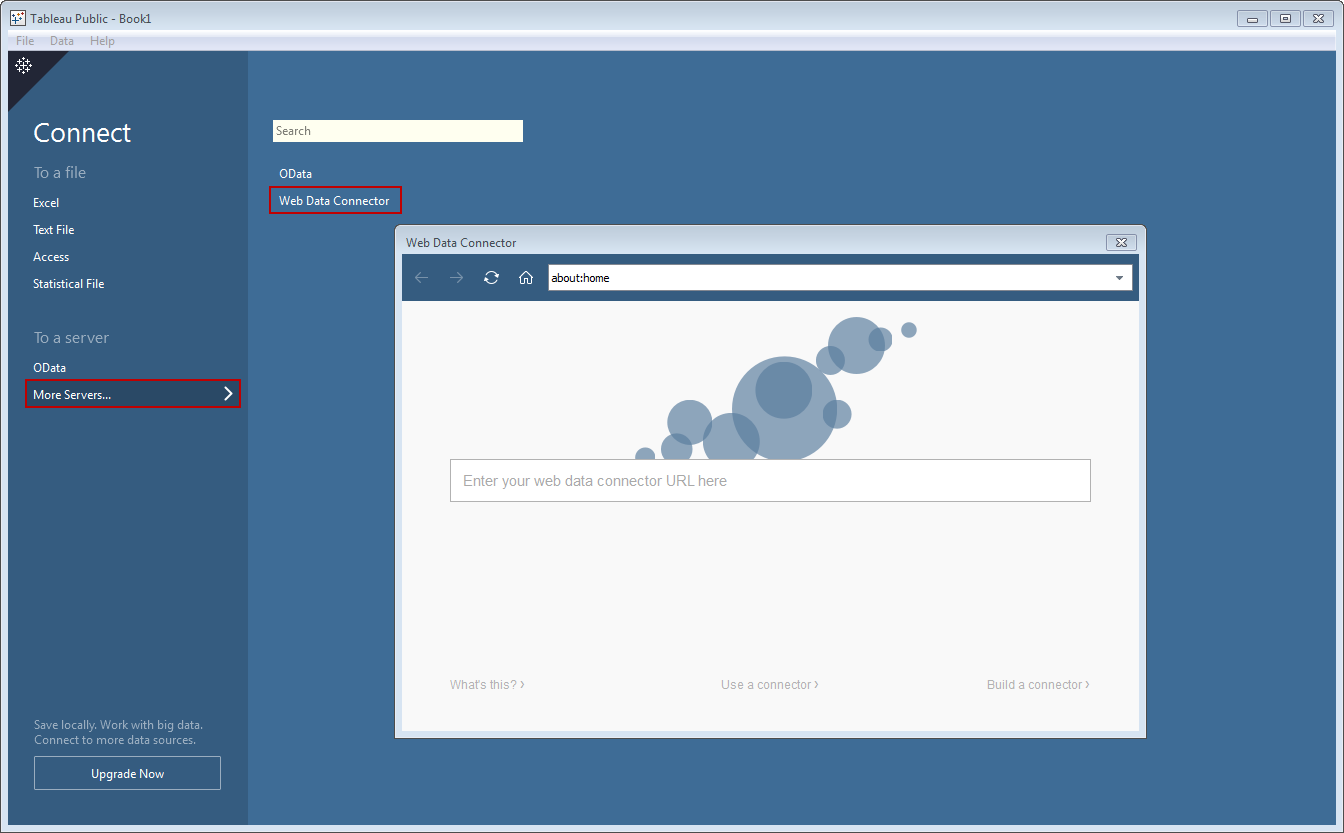 A number of beta users have already written Web Data Connectors that the Tableau Public audience will find useful:
Thanks to beta users like Craig Bloodworth of The Information Lab, Robert Rouse of InterWorks, and others for making these awesome Web Data Connectors available! This feature opens up a new door of innovation, so expect to see more useful WDCs from the community in the future.
Robert recently blogged about his Import.io Web Data Connector, and he created this video that shows it in action:
Robert Rouse of InterWorks shows how his Import.io WDC works.
Maps: Lock Pan and Zoom
We're all getting very used to interacting with maps on the web and mobile. We now pan and zoom to find a restaurant across town, or to track our Uber ride as it heads our way.
But sometimes we don't want our readers moving our data maps all over the place, and getting lost somewhere over the Atlantic Ocean with no idea how to get back. This often happens when we show a country map with states or provinces shaded, and other objects floating in the white space. We want that map to stay right where it is, no matter how the reader clicks, drags, swipes or pinches.
Well, now Tableau Public authors can lock that map in place by clicking Map, and unchecking "Allow Pan and Zoom", like this: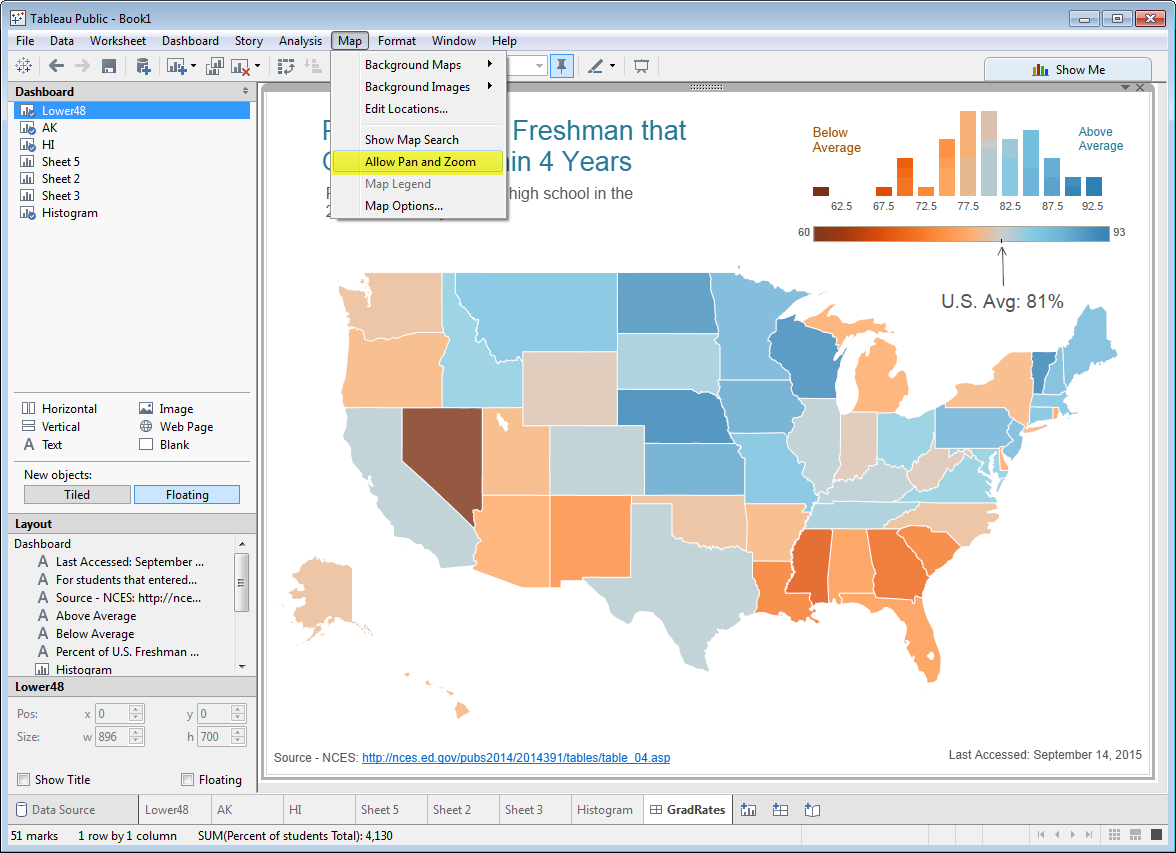 Here is the embedded version of this Back to School Month viz. Go ahead. Try to move it around, I dare you:
Maps: Measure Distance with Radial Selection Tool
With the launch of Tableau Public 9.0 last April, we added the ability to select marks on maps using the radial selection tool. With Tableau Public 9.1, as you drag out the circle, you and your readers get feedback regarding the size of the circle from the center, like this: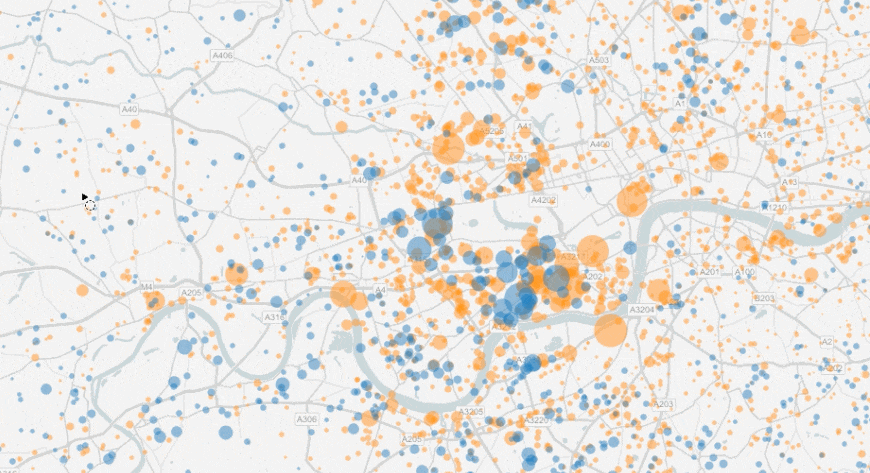 Product Update for Future Versions
Tableau Public 9.1 will let you know that it's time to update when a future version becomes available.
Other New Features
Other new features include Smart Histograms that suggest bin size, the ability to use the Calculation Editor inside dialogs, and an improved Analytics Pane that lets you drag median lines directly onto the visualization canvas.
We hope you will find these enhancements as exciting as we do! Tell us what you think by tweeting us @tableau. Also, if you have an idea for a future product improvement, be sure to add it to the Ideas Page, or vote it up if it's already there.
Subscribe to our blog
Get the latest Tableau updates in your inbox.