9.0: New Tableau Public Mapping Experience
With the release of Tableau Desktop Public Edition 9.0, the mapping experience has been reimagined. We have listened to feedback from bloggers and journalists desiring for more of a consistent user experience with popular mapping applications like Google maps and Bing maps, and we hope the new release satisfies most of these desires. 

The astute user will recognize that for several months, Tableau Public maps have behaved differently in the browser and in the desktop application. The experience in the browser, which was described by Ben Jones in his mid December blog post "Maps get new Zoom Controls", will now, with the 9.0 release, be matched by the desktop experience. In this post, I will briefly cover the new mapping features in 9.0.
Pan is the New Default Navigation
As the title suggests, pan is the new default map navigation mechanism – the new default mouse drag action is to pan the map. We hope that this will make navigating around the map more intuitive and in-line with other familiar mapping tools. Many users (myself included) never knew that Tableau maps had pan functionality built in; now it will be much easier to access.
New Selection Tools
In previous versions of Tableau Public, it could be difficult to accurately select just the marks you wanted on a map. With the 9.0 release, we have given vizzers two new selection tools: Radial Selection and Lasso Selection.

The Radial Selection zoom control allows your readers to select all marks that fall within a circular area centered on the location you first click on, and extending to the customizable radius you click on next: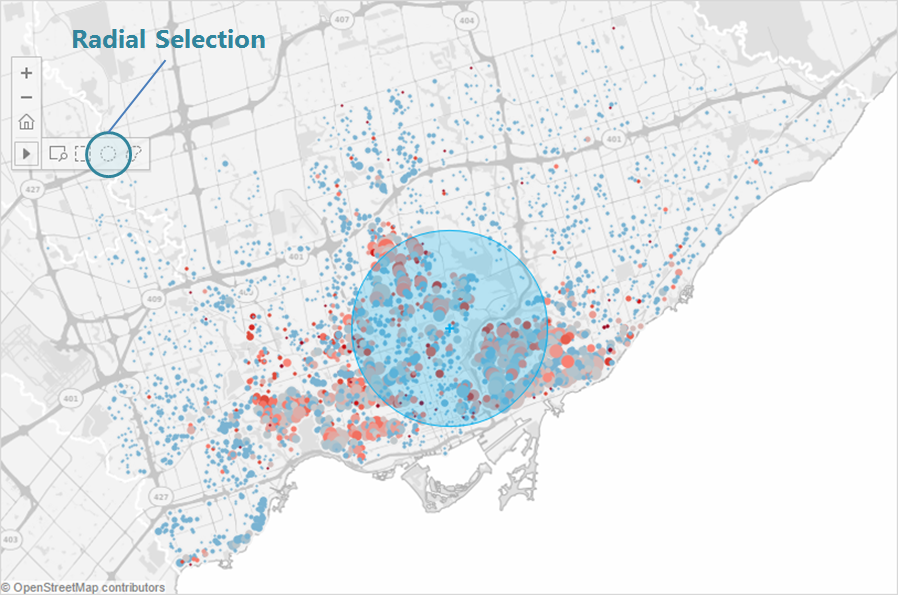 The Lasso Selection feature allows readers to select all marks that fall within an irregular area that they draw on the map: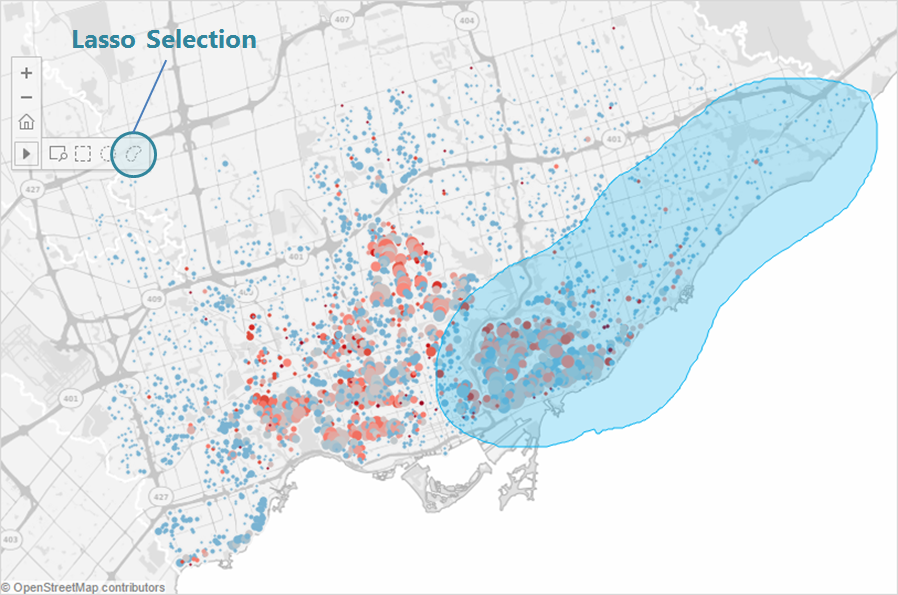 These two new tools will allow the user to select specific marks on their maps, useful when creating groups, contrasting sets, and presenting outliers.
Smart Search
I grew up watching this TV show called "Where in the World is Carmen Sandiego." It was great for my geography knowledge, and if you'd asked me to name any city or country in the world I could've done it.
Problem is, I'm not 12 years old anymore. Which is where the new Geographic Search comes in handy. You'll find it in the upper left of any map, and it works just like you'd expect. Type in any location you're looking for, Tableau will give you a list of highly-probable options you want, and then will take you to said location.

Check it out in the below visualization created with IPEDS data that lets users zoom in to a particular city, county, or zip code. Try it out for yourself! Also see that with the 9.0 release, Data Layers are back and updated with current U.S. census statistics. This map features counties shaded by 2014 population.
Finally, the 9.0 release means some new built-in geocoding. With 9.0 you can automatically geocode:
Argentina: Departmentos
Australia: postal codes and Local Government Areas
Belgium: Arrondissements
Brazil: municipalities
Canada: FSAs
Chile: Provincia
China: prefectures, counties and districts
German: Kreise
Italy: provinces and metropolitan cities
Japan: cities will match whether you use the name with an affix or not.
South Africa: district municipalities
USA: zip code and county updates, FIPS code values for county geocoding
Taiwan: special municipalities, cities and counties




We hope you enjoy the new mapping experience as much as we do - Happy mapping!



Subscribe to our blog
Get the latest Tableau updates in your inbox.